palace's ralph lauren collaboration is the best thing to have ever happened to fashion
Don't @ me.
|
09 November 2018, 11:03am
Photos courtesy Palace
Just about everyone turned out for Ralph Lauren's 50th birthday fashion show this September. Ye, Oprah, De Niro, Spielberg, Tommy Hilfiger, Diane Von Furstenberg, Michael Kors, Calvin Klein etc etc etc. It was a show of a scale and grandeur, implied and inherent in that list of names. 111 looks celebrating everything this most American of brands has stood for and created; from the grit of the old west to the old money of the east coast. Over the last 50 years Ralph Lauren has encapsulated and catered for preps, jocks, nu-cowboys, wannabe-Capones, and NYC hip-hop lo-lifes. Ralph Lauren is one of those brands who've designed a world and invited just about everyone to live in it. This was a celebration.

And then a VW Golf comes streaming through the scrublands of American frontier and pulls donuts around a horse that looks so American (USA! USA! USA!) it might as well be smoking a Marlboro Red and drinking a Budweiser. The VW Golf is emblazoned with a Palace logo and a custom Ralph Lauren number plate. The horse has Palace skateboarder Lucien Clarke on its back. As part of the brand's 50th anniversary, Ralph had given over some space to a bunch of young London skaters to fuck around with their legacy. A few weeks earlier we'd got a first inkling that this was coming when Palace billboards started popping up in Tokyo with a Polo logo on them.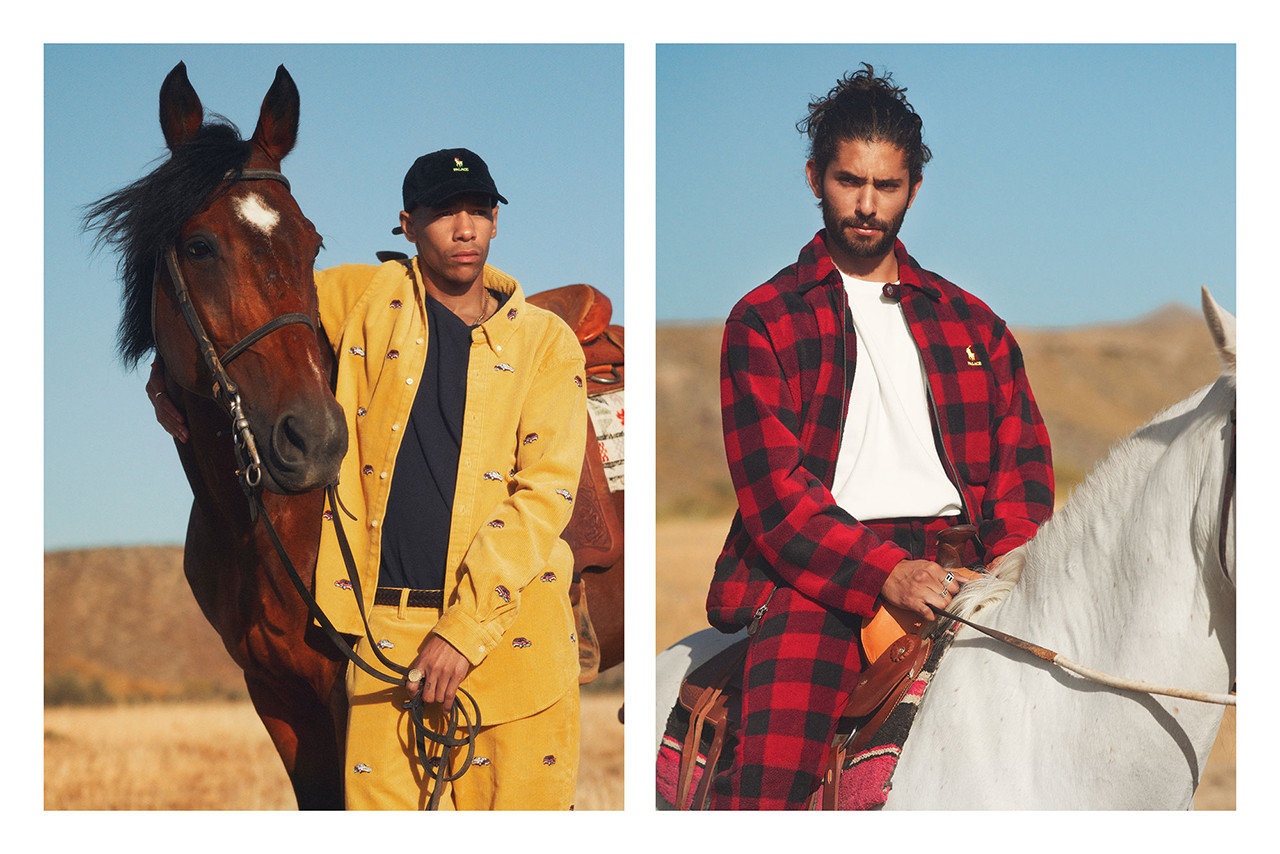 It's easy to see Ralph x Palace as part of that wider Big Brand x Cool Streetwear collaboration continuum. And since Supreme and Louis Vuitton worked together we've been busy proclaiming; the death of streetwear, or the death of high fashion, or the renaissance of both, or either, depending on where you stand, and what direction you're looking in. This babel of commentary (hi!) only intensified when Virgil Abloh strode down a rainbow clad catwalk after he'd ascended to the LV menswear throne Kim Jones had departed.
For all the soapbox fashion/streetwear philosophizing at the time, and as the clamoring horde of resellers, fuckboys, Do It For The Culture-vultures, and wannabe influencers fade into the distance, it all begins feels less revolutionary, and more of an expected development. Louis Vuitton have long prized collaboration, limited edition, exclusivity, in the same way Supreme have. Both are for the heads, even if the bodies are different.
But Palace x Ralph Lauren feels a little bit different, and that's 'cos Palace were always a little bit different. The clothes have a very British sense of humor and a British outlook in what they did. More real. They grew naturally out of the Palace Waywards Boy Choir, a group of skaters hanging out on the South Bank.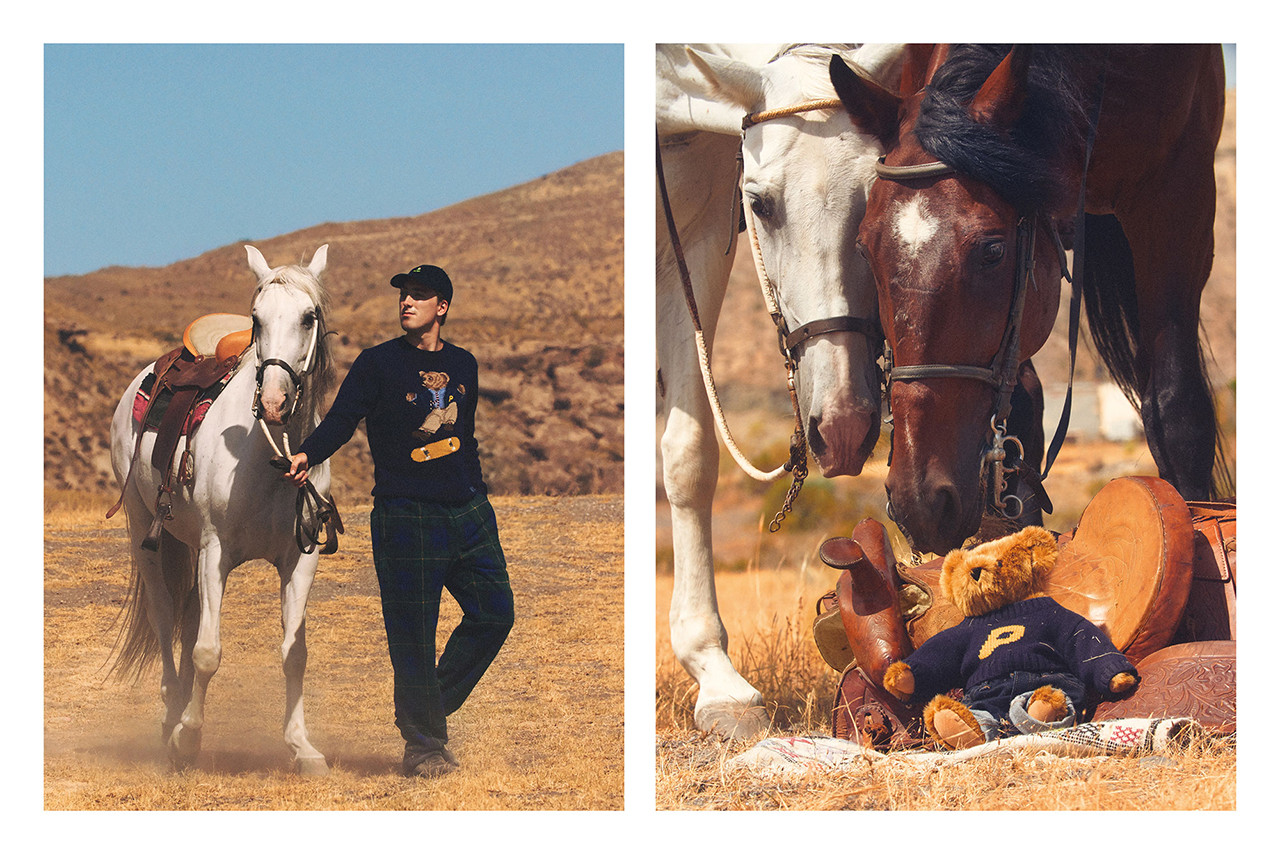 "I always think of skating as quite American, but Palace was so English," the photographer Alasdair McLellan said to me in 2016, when he was releasing a book of Palace photographs. "It was so different to anything that had been around before. The way they dressed was very British, it was a casuals' thing, a football terraces thing. The PWBC guys dressed like casuals; they didn't dress like skaters at all." And that's kind of the crux of it. That 'casuals thing' is the heart — or at the least the soul — of what Palace is, what sets it apart. Skatewear refracted through the fashions of the terraces, Italian sportswear and adidas trainers.
Which is equally why the Palace and Ralph Lauren collab feels so natural — coming together as equals almost. Because Ralph Lauren over here isn't quite old money Ivy League WASPs; it's more democratic, nightclub rather than country club, horsepower instead of actual horses. It is your older brother mate's souped-up hatchback. Hanging out the suburban rec. Day trips into town. Shitty scooters. Meat pies and fake Burberry. Shoplifting cans. Kicking footballs against walls.
Polo fits neatly into what Palace have always been doing and referencing; which is Britishness, in the broadest sense. But the actual Polo x Palace collaboration pushes away from the obvious — no cheap and easy and overplayed lo-life references. Instead it is a little more muted and classy; a very sophisticated brown cord puffa jacket, a very snazzy pair of plaid trousers, a pair of loafers you would not wear to the kind of clubs you go to because they would get ruined. There are embroidered GTI shirts, silk pajamas, a kick-flipping teddy bear jumper.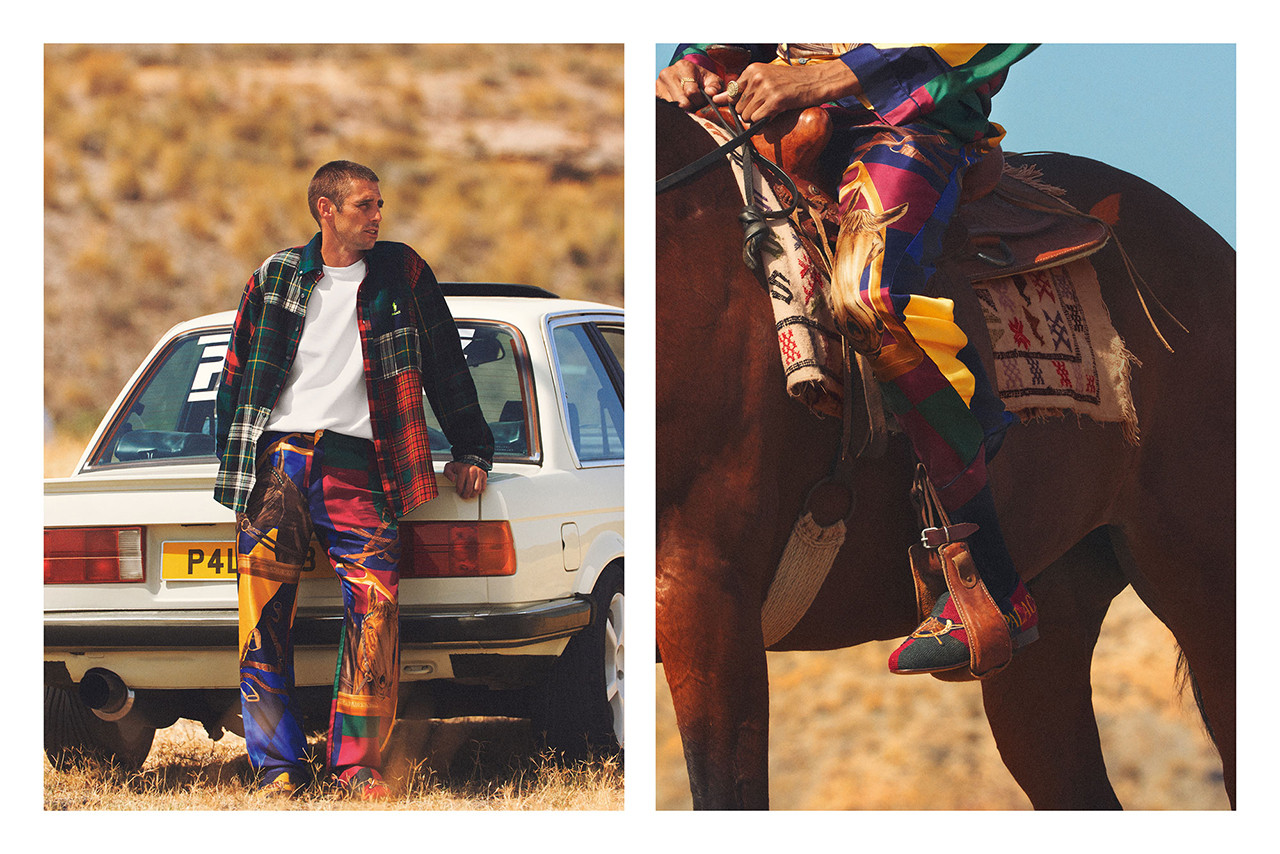 It is the best thing I have ever seen, or at least, the most fun and exciting fashion collaboration I have ever seen. In a world of collaboration fatigue this is a shot of espresso. It feels so good because it's a little more than combining two logos, but two worlds. It feels like a great big moment for Palace, who have also just opened a store in Tokyo, and next year celebrate their 10th anniversary. Palace are undeniably a massive brand now, and yet still feels intimate, fun, honest. Which is massive achievement.
A few days ago I found an old flyer popped up on via memories on Facebook for a night I was somehow the headline DJ at. It was about 2010. Supporting on the line up were PWBC, the skate crew the brand Palace grew out. Life at comes at you fast.
Read more
This article originally appeared on i-D UK.