Photography Kristin-Lee Moolman, Styling Ibrahim Kamara, The Earthwise Issue, No. 353, Fall 2018.
5 of fashion's most exciting talents tell us how they'll revolutionize the industry
As the British Fashion Council unveil the full NEW WAVE: Creatives line-up, we meet the visionaries changing fashion from the inside out.
|
07 December 2018, 12:24pm
Photography Kristin-Lee Moolman, Styling Ibrahim Kamara, The Earthwise Issue, No. 353, Fall 2018.
Yesterday the British Fashion Council introduced the new world order as they unveiled the full line-up of NEW WAVE: Creatives, a list of 100 of the most innovative and inspiring young creative talent from across the globe.
Alongside their picks for Designer of the Year and Model of the Year, the 2000-strong industry insiders that make up the Fashion Awards Voting Panel were each asked to nominate the behind-the-scenes trailblazers they believe are the most exciting working today. Shining a light on this year's emerging talents, the hot 100 list includes everyone from image-makers to hair and make-up artists, set designers to creative directors, models to digital influencers. And they'll all be celebrated at The Fashion Awards 2018 in partnership with Swarovski on Monday December 10 at the Royal Albert Hall in London.
From two-time i-D cover star and model of the moment Adut Akech to i-D Fashion Editor-At-Large Ibrahim Kamara, cover photographer Campbell Addy to i-D Senior Fashion Editor Carlos Nazario, the shortlist is filled with i-D family and highlights London's position as an international hub. "London, more than any other city, represents youth and creativity which makes it the perfect place to acknowledge their contribution to the global fashion industry," Caroline Rush, Chief Executive British Fashion Council, explained in a statement.
Ultimately, the list pays homage to the incredible success of both homegrown and international talent, while celebrating all those who play a vital role in the industry's cultural and creative reputation. With the future of fashion in their hands, a selection tell us the New Year's resolutions that the industry needs to follow and predict what creativity will look like in 2019.
Madeleine Østlie (Casting Director)
"We need to engage more with the contribution we make towards climate change, particularly in the supply chain and with regards to fast disposable fashion. Encourage sustainability and generate more awareness in the environmental impact of the clothing industry itself. Climate change is the greatest challenge of our generation, we need to all work to provide the future our children deserve. ACTUALLY work.
Beyond this, I'd like to create a platform that provides opportunity and visibility to an underserved body of talented people. What does creativity look like in 2019? It looks like Ibrahim Kamara. I know 2018 did too, but I can't help but continue to admire this original leading creative."
Ibrahim Kamara (Stylist, Fashion Editor-at-large i-D)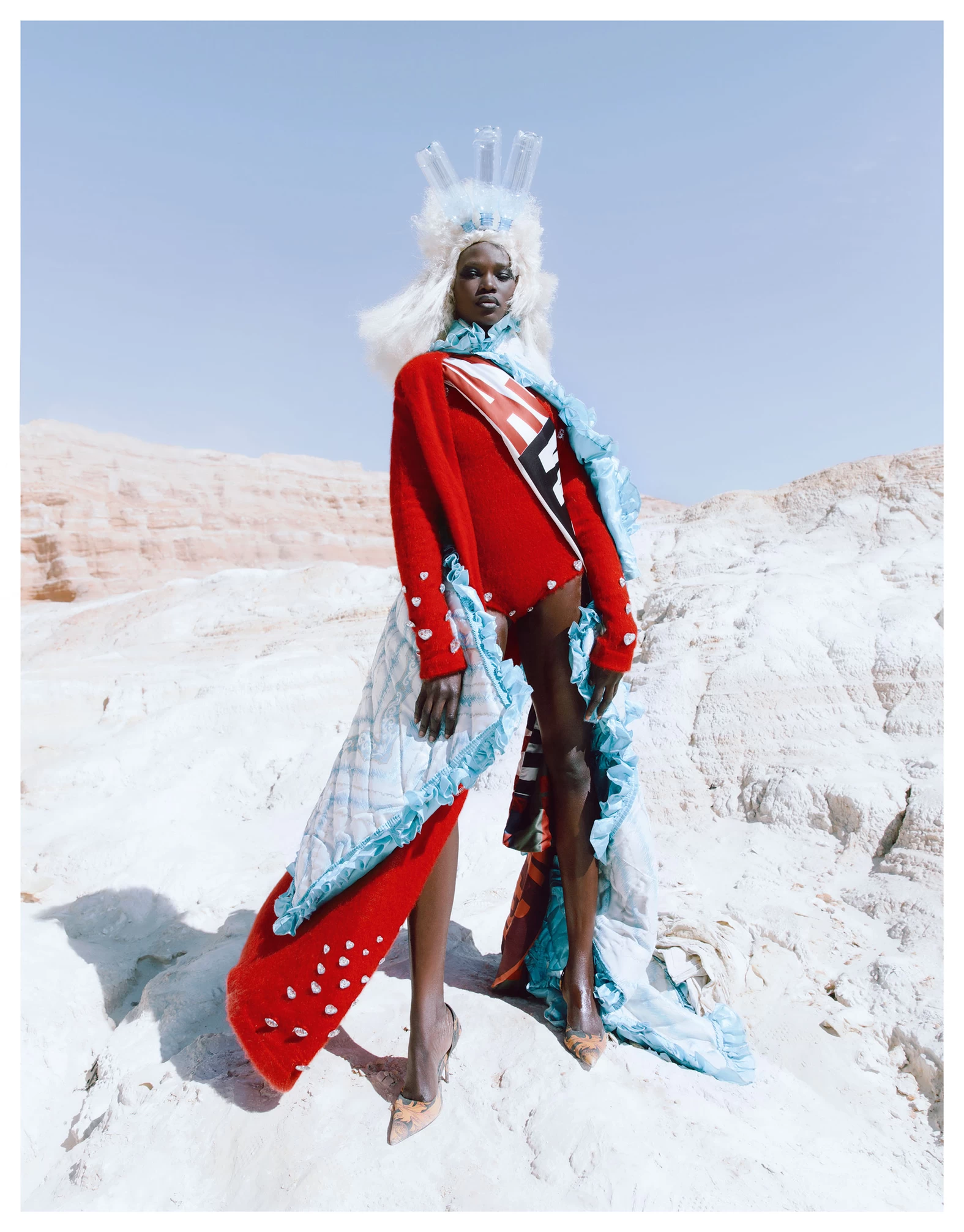 "How would I like to to revolutionize the fashion industry in 2019? Create work that speaks to people of all walks of life and hopefully inspire them. I hope to be involved in more exciting projects that are challenging and create space for new ideas."
Campbell Addy (photographer)
"One major resolution the fashion industry needs to follow in 2019 is to slow down, take time. Beyond that, I would still like to see more diversity behind and in front of the camera, more black women within our industry not just in roles such as models. We need more stylists, photographers, make-up artists, directors, editors-in-chief! I would also hope that in 2019 overtly racist fashion houses and creatives will be penalized for their prejudice. People can't speak about others like they did and still have access to an industry that in theory is about creativity and escapism. For me, creativity in 2019 is fearless and has no hierarchy."
Maxim Magnus (model)
"I think the industry needs to remember how much influence it has, and to respond to what the world is saying. Ignorance and silence is no longer the answer. I hope brands can work with people who have a voice and who try to make a difference. At the end of the day fashion is meant to make us feel great, and I'm so excited for what some designers are trying to do. I feel that fashion is more and more being democratized, but we have to make sure this continues. I hope many people in the industry also remember to treat people the way they want to be treated.
After shaving my head recently, I want to show that as well as cis-women, trans women with a buzz cut can also work in this industry. I want to make sure that 2019 brings more diversity to the catwalk as well; to see people who again make a difference in this world and use their platform to educate, spread love and awareness regardless from the topic. 2019 needs to be a year of tolerance and acceptance. I've recently worked with some of the industry's game changers and will continue to put my support behind brands and publications who strive for equality, and will educate those who don't yet.
Creativity is such a subjective thing. To me, it's questioning the norm and going against the grain. I'm going to explore my creativity in 2019 by going out of my comfort zone and doing things I've never explored before. To have built such an amazing platform and to continue to build this amazing platform has given me so many opportunities, and it's all very exciting."
Marc Goehring (Fashion Director, 032c)
"What does creativity look like in 2019? Doing whatever the fuck you want is the best way to be creative in any year. That's the soul of #schmoood."
The names of the 60 creatives that complete the New Wave are as follows: Adama Jalloh (Photographer); Adut Akech (Model); Akinola Davies (Filmmaker); Alexandra Van Houtte (Founder, TAGWALK); Ammy Drammeh (Make-up Artist); Ascia Faraj (Blogger); Bardia Zeinali (Videographer); Blanca Miro (Artist); Bolade Banjo (Photographer); Boris Meister (Graphic Designer); Campbell Addy (Photographer); Carlijn Jacobs (Photographer, Creative Director); Caroline Daur (Influencer); Coco Capitan (Photographer, Artist); Danny Reed (Stylist); Davide Micciulla (Video Director); Eva Al Desnudo (Photographer) Fenn O'Meally (Filmmaker, Journalist); Finn Buchanan (Model); Fran Summers (Model); Harry Lambert (Stylist); Hayett McCarthy (Model).
Watch Fashion's First Family: Inside Fashion East
This article originally appeared on i-D UK.