Photograph Santiago Felipe.
the artist turning björk into a 'björchid'
i-D catches up with James Merry about his fantastical headpieces for the Icelandic superstar's recent tour.
|
19 September 2018, 6:10pm
Photograph Santiago Felipe.
When embroidery artist James Merry first met Björk just under ten years ago, the creative connection was instant. Introduced by a mutual friend, Björk had just finished Volta at the time and was beginning a new project, what would become Biophilia. The pair met in New York, chatted over breakfast and soon after Merry was packing his bags and relocating from the UK to New York. Since then, Merry has followed Björk around the world, creating insanely intricate work for her shows, music videos, and visuals, while also working on his own creative projects for the likes of Opening Ceremony and Planned Parenthood.
He was only in New York for a couple of months before moving to Puerto Rico for almost a year, where he worked from a small house and studio on the beach. "That period was really special," says Merry. "It feels like a different life when I think about it now, and my driving license being Puerto Rican always surprises people." From there, Merry "lived out of a suitcase" for five years, following Björk around and arguably living an artist's dream. He spent half his time in New York and the other half in Iceland. But soon it became harder and harder for him to leave Iceland. "Meeting my boyfriend here also probably had something to do with it," he laughs.
Recently wrapping up Björk's Utopia tour, Merry reflects on the delicately intricate headpieces he designed. Inspired by bones and orchids, Merry describes the white headpieces with "as if mutated skulls has grown out of everyone's head and half-transformed into some sort of soft alien white bone-orchid." The idea evolved after him and Björk talked about transforming her silhouette from a distance for large festival shows. One of his newest pieces, "Bjorchid," is inspired by nature, as all of his work is. "I tried to nudge it a little more into the floral or orchid realm," he says. "So that it could be mistaken for some sort of hybrid between an alien flower, a jellyfish, or a mushroom."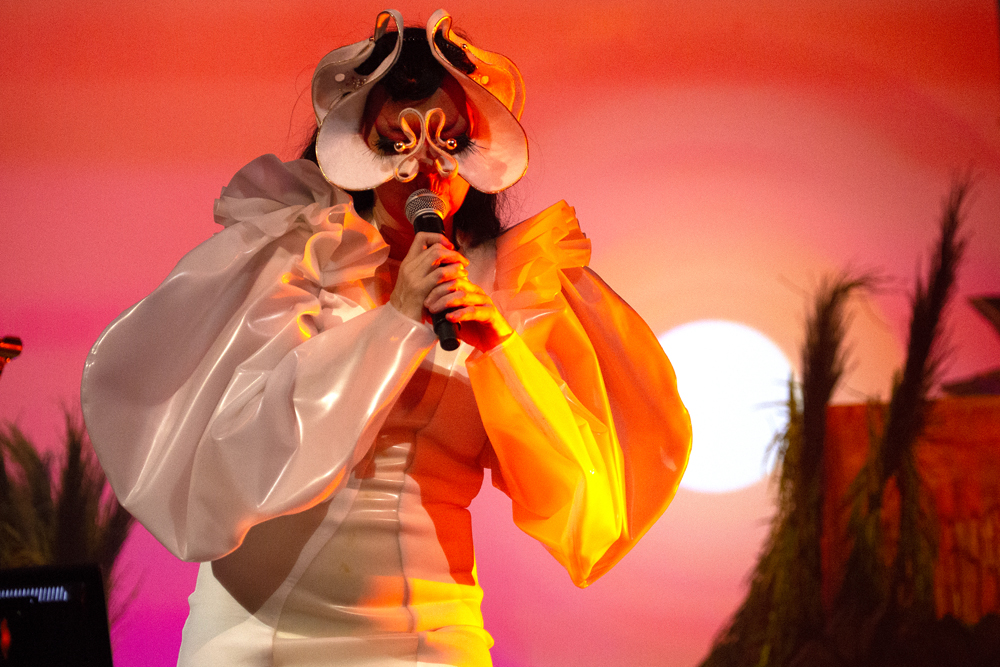 And Merry doesn't only create his work for Björk, he also works on his own individual projects, including his "Sporticulture" pieces, where he decorates sportswear logos with freehand embroidery of flowers, leaves, mushrooms, and birds. He describes his plant embroidery as his "very polite way of protesting" after growing sick of New York, being "trapped in an endless email hell" and missing being in nature in Iceland. "Deep down I was about to explode but, rather than throw a fit or hurl a TV out the window, I picked up my old Nike sweater and went very quiet for a few days and started embroidering moss and Icelandic glacier flowers onto it," he says.
This clever idea has since been copied, or "referenced," by many chain brands. He also often gets "blatantly copied" by fellow hand-embroiderers, something that surprises him more. "I've resisted the many urges and offers to mass produce my designs. But I decided a while ago to just focus on my own thing — keep it small, treat each one as its own mini artwork so I actually enjoy making them," he says. He's also fairly polite when it comes to copy-cats. "It's hard enough to make a living doing it, so it always feels a bit passive-aggressive to just step on someone else's toes, especially when it's fellow hand-embroiderers because hand embroidery is a small enough world already. But it's helpful in the end because it makes me want to come up with new ideas myself and keep moving forward."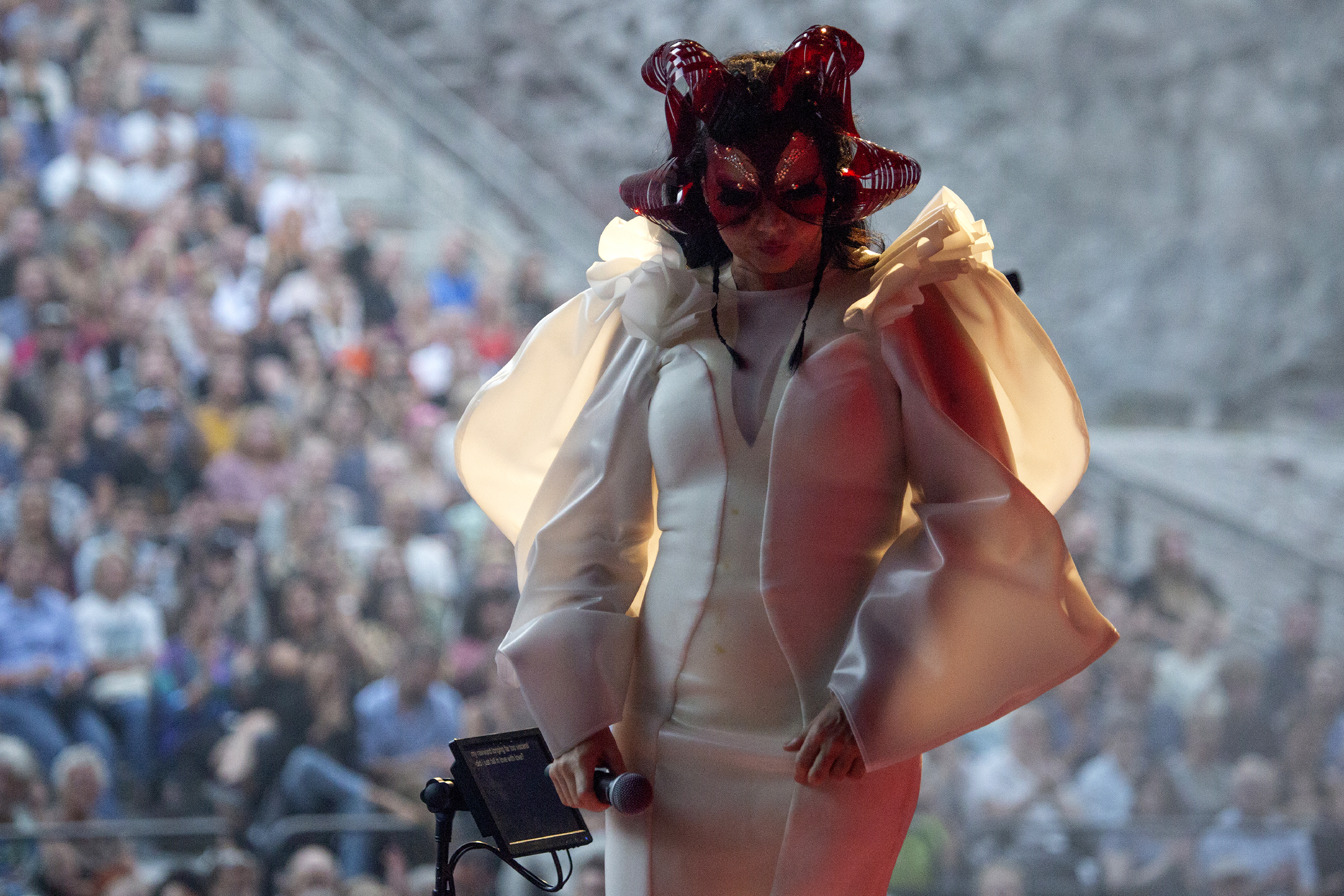 As his career develops, Merry becomes more and more inspired by his natural surroundings. He puts this down to him growing happier in nature the older he gets. He currently lives in a tiny cabin near Reykjavík in Iceland. "I would much rather direct my energies in that direction and put myself into a situation where I am gently reminded on a daily basis that human consciousness isn't the most important thing in the universe," he says. "That the seasons are changing, that I am just a small warm part of a much bigger chaotic ancient clockwork."
Merry finds creating things that are delicate and tangible rewarding, but will rarely embroider on something alone, instead using sportswear logos or headpieces as his canvas. "I think the idea of just doing pretty floral embroidery for its own sake is a bit boring to me," he says. "It only really excites me when I can put it in an unexpected context, clashing with something or growing out of somewhere it usually shouldn't."
Entirely self-taught, Merry learnt embroidery through a combination of books, YouTube and "instinct." Growing up in a family of artists, Merry instead decided to study Classical Greek at Oxford University, something he says he did to "pretend to be academic." He created his first piece of embroidery in 2001, when Aaliyah died and he, heartbroken, embroidered a picture of her onto his old school shirt. From there he began to create embroidered things as gifts for friends. In 2015 he created his first sportswear piece and began working on "bits" for Björk's Vulnicura album visuals.
The iconic headpieces, Merry says, grew from flat pieces worn around the face. "I started using wire but in my eyes it was still embroidery," he says. "I was beading the wire with pearls and making it jump off the face, but in my head I was still treating it like a thread. I guess the progression between the two things was quite natural — even though it eventually developed into something else entirely, that's how it started." He continues to teach himself new methods, creating silicone pieces and "learning as he goes."

Merry's work is peaceful and otherworldly, connected to the modern world only through Björk, vintage logos and social media, but also so far removed from anything remotely fast-paced. Taking what is usually associated with grandparents and old traditional hobbies, Merry's unique creations make embroidery relevant. Done from the quietness of his cabin, you can barely even organize an interview with him without "sheep herding" interruptions. He plans to continue this for as long as possible, spending this winter "locked in the studio with my new robot overlord [his secondhand embroidery machine], trying to trick it into making some interesting glitches and new projects." And, of course, continuing to collaborate with Björk.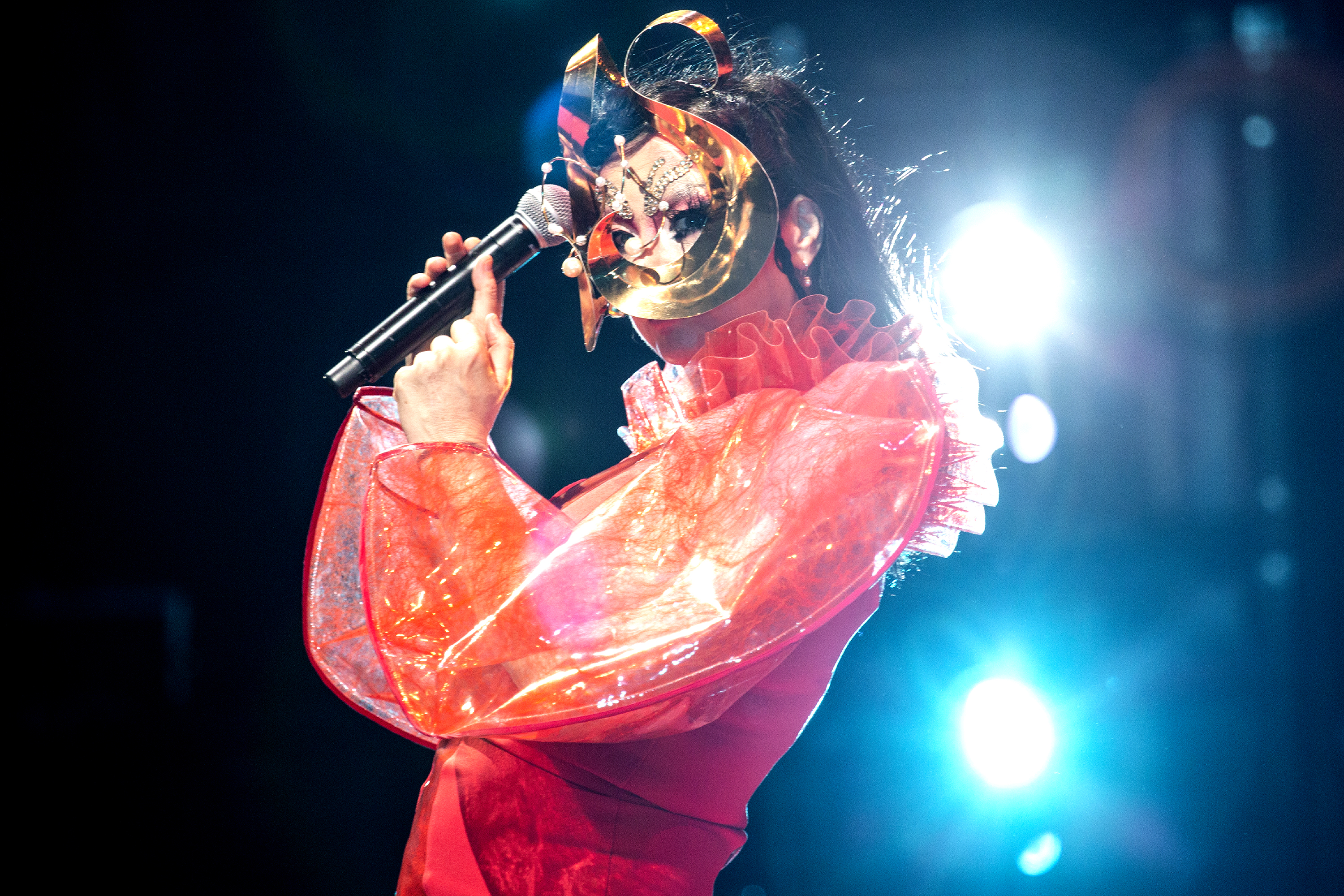 Tagged: