Photography Olga De La Iglesia
nigerian brand wekafore spotlights the children of african immigrants
Wekaforé Jibril designs 'African propaganda' to counter oppressive narratives. He talks to i-D about Afrofuturism, Americanizaion, and casting the children of Spain's African immigrants for his new campaign.
|
17 September 2018, 4:22pm
Photography Olga De La Iglesia
Lagos-born designer Wekaforé Jibril is quickly gaining international attention for his resolute aesthetic vision, and the politics that define it. With an architect for a father, a textile manufacturer for a mother, and a tailor for a grandfather, it's fair to say that thoughtful craftsmanship runs in Jibril's blood. As a teenager, he often helped out in his mother's workshop, assisting her in making the hand-loomed west Nigerian cloth, aso-oke. When the family's home in Lagos was destroyed, they relocated to Dubai -- a city where Jibril felt more starkly the effects of disparities in both race and class. Jibril began screen printing at the age of 16 and quickly recognized it as fiscal opportunity that could help support his family. His self-titled brand Wekafore started as a humble t-shirt business, but quickly developed into something far more meaningful, a way for Jibril to aestheticize his ideological convictions.
Each new collection is rooted distinctly in the designer's African heritage. Silhouettes are a tribute to traditional Nigerian dress and mid-century formalwear, what Jibril calls a "bushwazee version of bourgeoise." The designer looks specifically to post-colonial Nigeria's "golden days" in the 70s, when the country was rattling with aspirations for its freedom and future. He harnesses a romantic nostalgia for the illustrious spirit of the afro-funk, disco, and high-life subcultures of the decade. Retro graphics, fringe, and wide-legged pants creep into contemporary streetwear, exploring the dichotomy between what has been and what will be.
Jibril feels that as a designer, he can advocate for accurate and honest representation of a black identity that hasn't fallen privy to Americanization. Wekafore is, for Jibril, his own kind of African propaganda. The brand's celebration of blackness hinges on the beauty of self-representation. It's an artistic space where Afrofuturism is manifested through designs which center around de-westernized viewpoints. The stars of Wekafore's "Spirit 001" campaign, shot by photographer Olga De La Iglesia, are children of African immigrants in the country of Jibril's current residence, Spain. i-D spoke to Jibril about the poetry of his campaign and the potency of his message.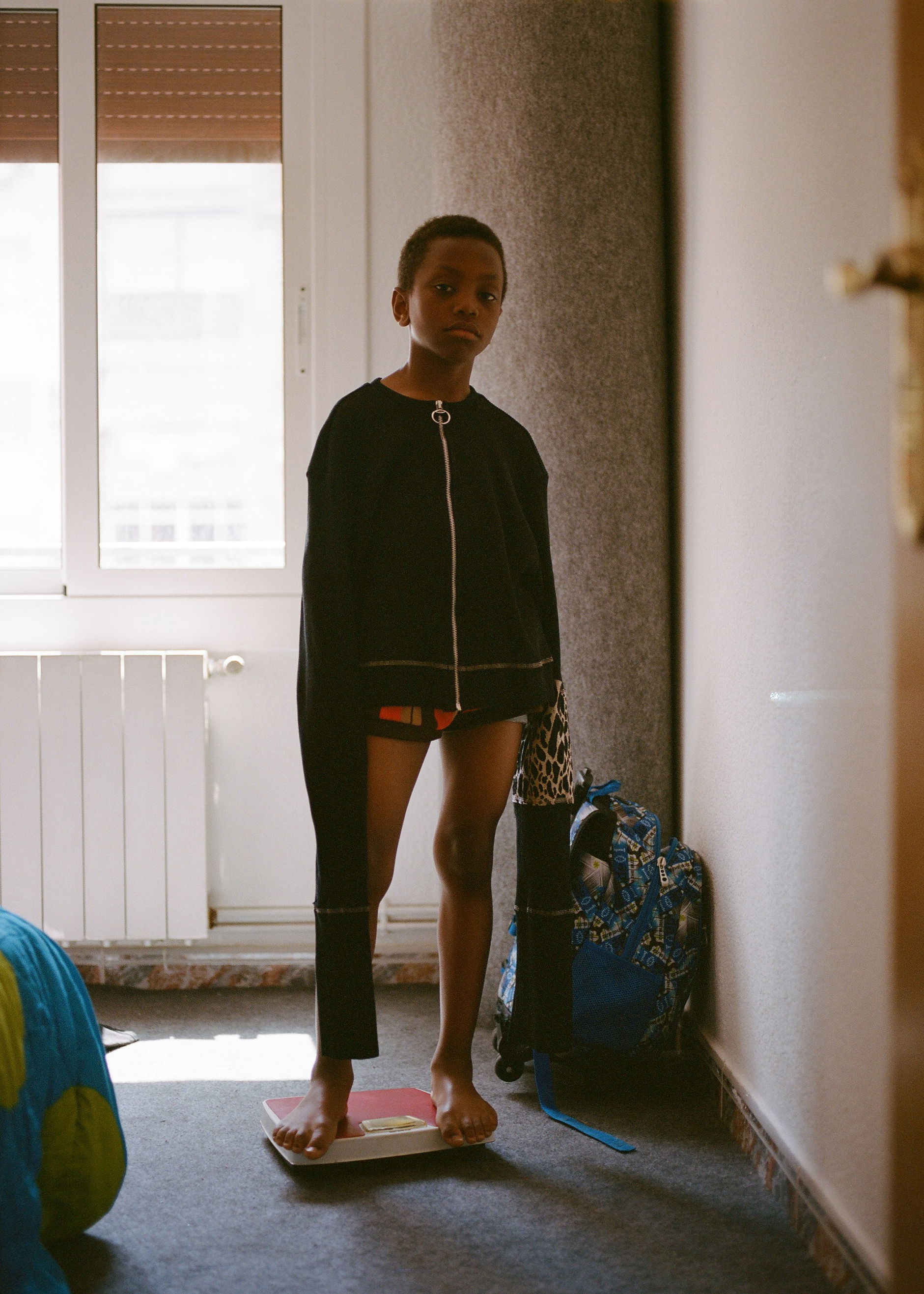 How did you come to cast the kids in your most recent campaign? What significance does their being second generation hold to you?
They help me connect the dots. I'm always amazed by African diversity and how I can meet an African who is totally from another world. These kids have never been to the continent, they are just as Spanish as any other Spanish kid but they have more in them, they're like mutants. Collaborating with them was joy, meeting their parents. For me it's about connecting some dots to strengthen this Afrofuturist thinking.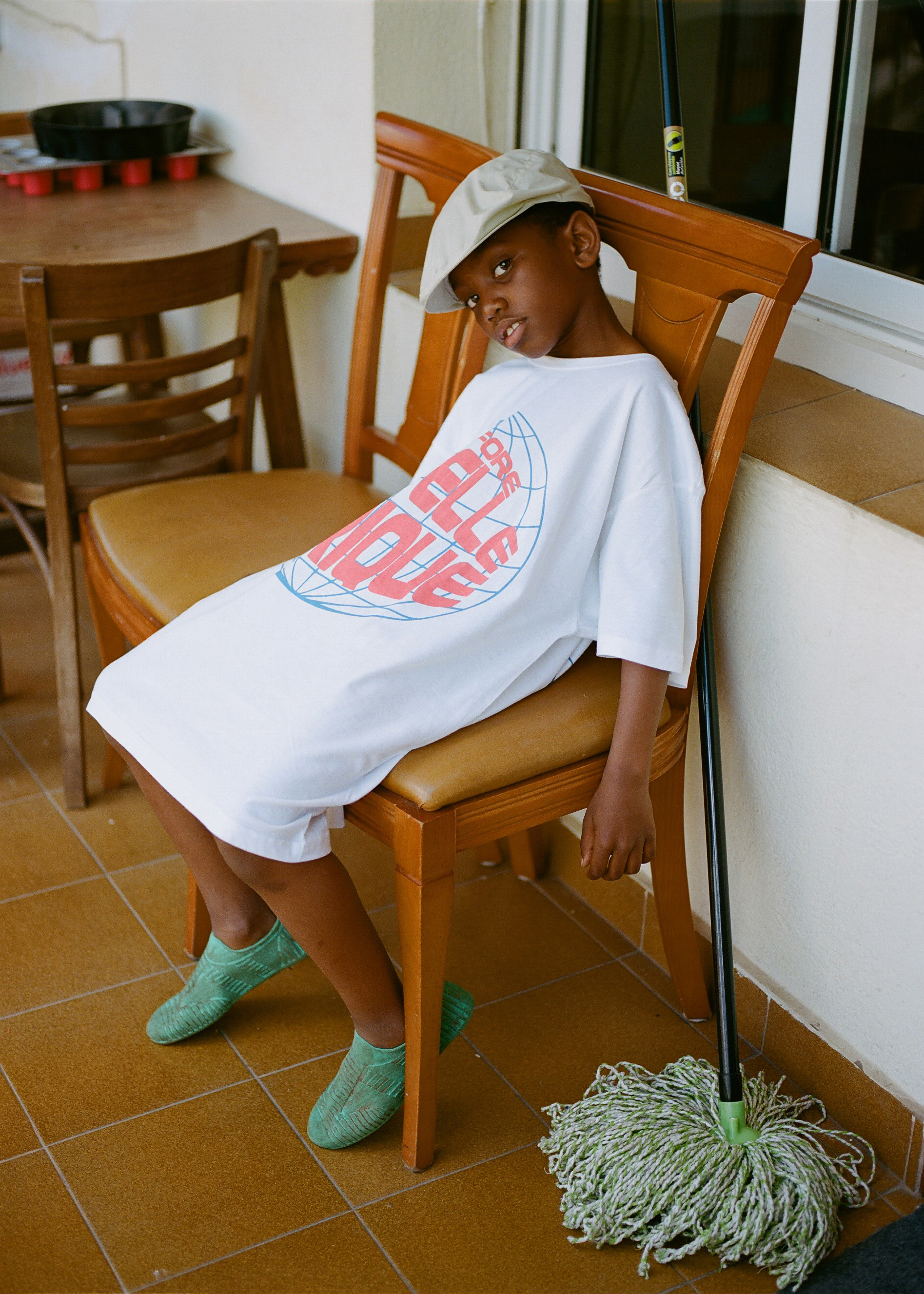 What influence has living in Spain and the UAE brought to your aesthetic, or more broadly, your artistic perspective?
Living and immersing myself in these very different places has blessed me with the ability to see from a lot of perspectives. I am experiencing the type of globalization that was only afforded to Europeans, my life feels like a long-unplanned-involuntary social anthropology project. I went to an Indian school for about two years where all the students were either Bangladeshi or Afghani, my best friends were Ethiopian and Somalian, I had a girlfriend from South Korea. These are all things that white people would say to prove how eclectic they are, but I'm Nigerian and I'm creating a universal African aesthetic. I think the reason people do corny things is because they refuse to look at their work from another perspective.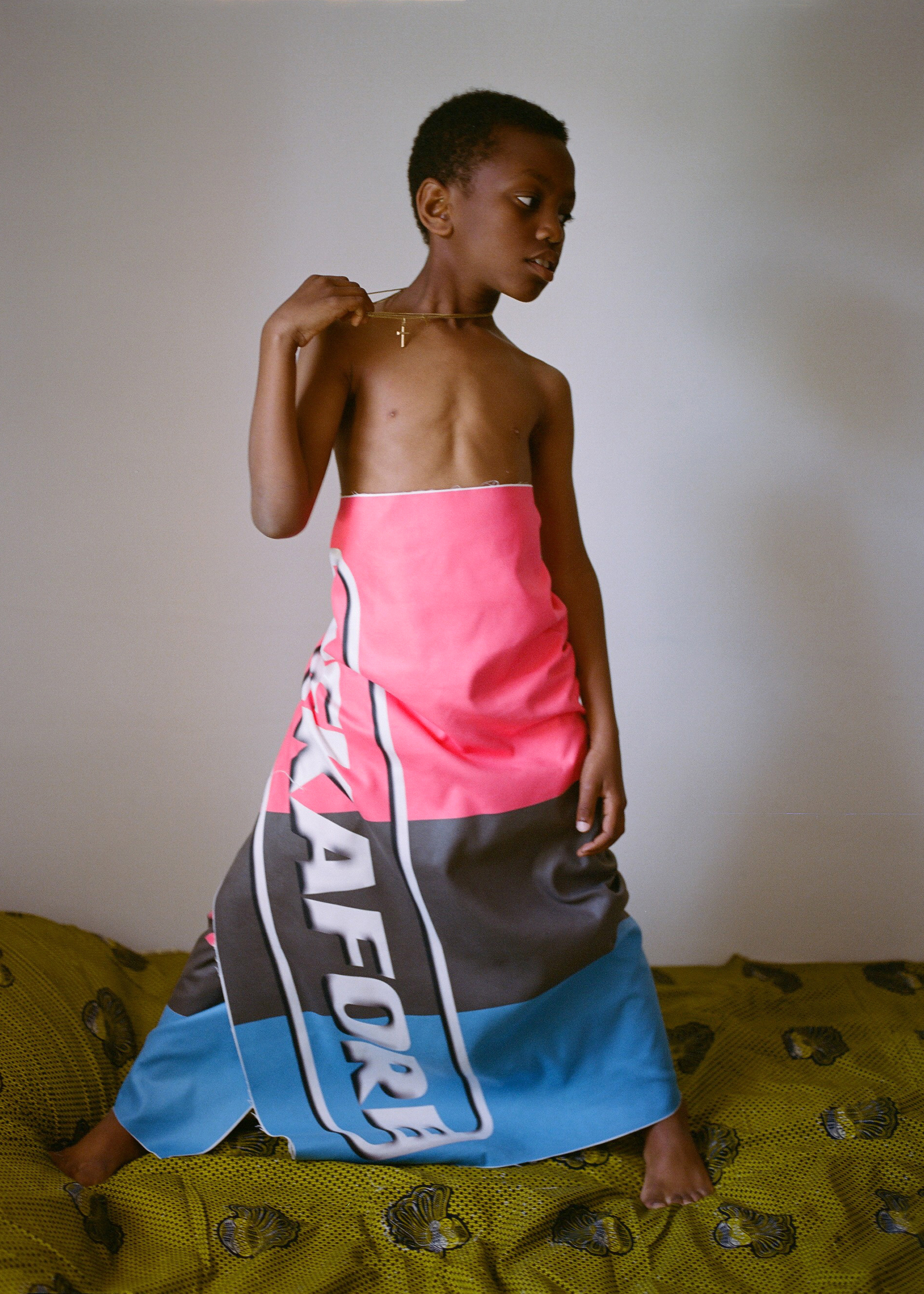 The Spirit 001 collection embodies African religion, before the influence of Christianity and Islam. What role does spirituality play in your life and how do you think that translates into your clothes?
I think everything I do is based on my spirituality, the spirit of my ancestors, my guardian angels. I'm interested in connecting the dots. My grandfather was a poor but noble tailor in his village and he died a noble tailor. Fashion didn't bring him fortune nor fame but he was seen as a man with integrity and honor. That same spirit runs in me, but I have more power and more opportunities. Every single item of clothing I design is an ode to the him, every thread connects me stronger to my roots and my ancestors, so that I too shall die a noble man.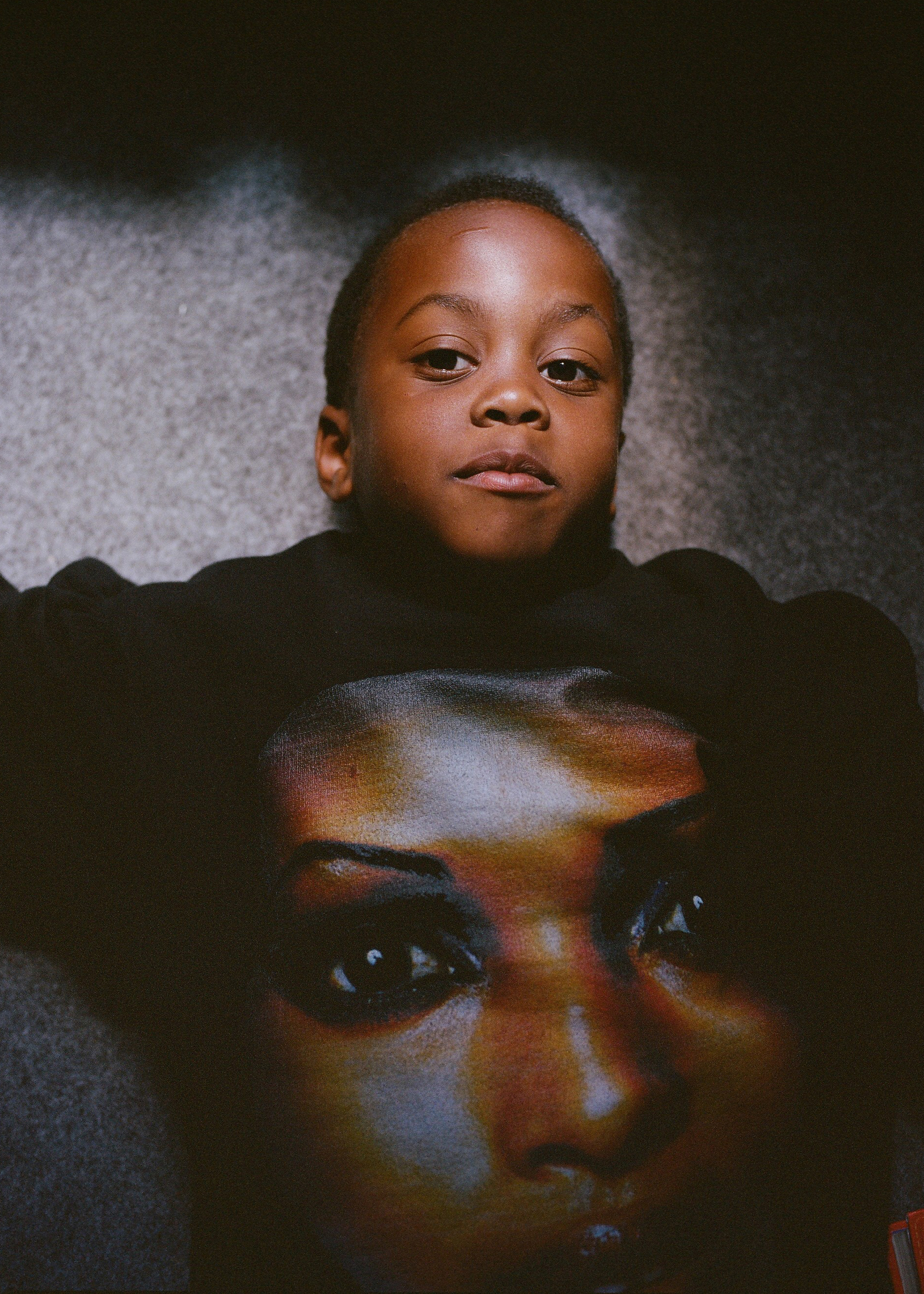 How have you immersed yourself in the Nigerian afro funk, disco, and highlife subcultures that inspire your brand in design and principle?
The internet is incredible. God bless the people who spend hours uploading previously unknown or obscure things on all their weird, badly designed blogs. They are virtual martyrs keeping cultures alive and not letting the existence of our ancestors be erased. My parents never told me about Marijata, or Ebo Taylor, or Kiki Gyan until I asked them and they admitted they used to dance to these songs. Since then, I have created endless playlists and hung images of these legends around me. I think I would have fit perfectly in that era, it's an endless pool of spirit.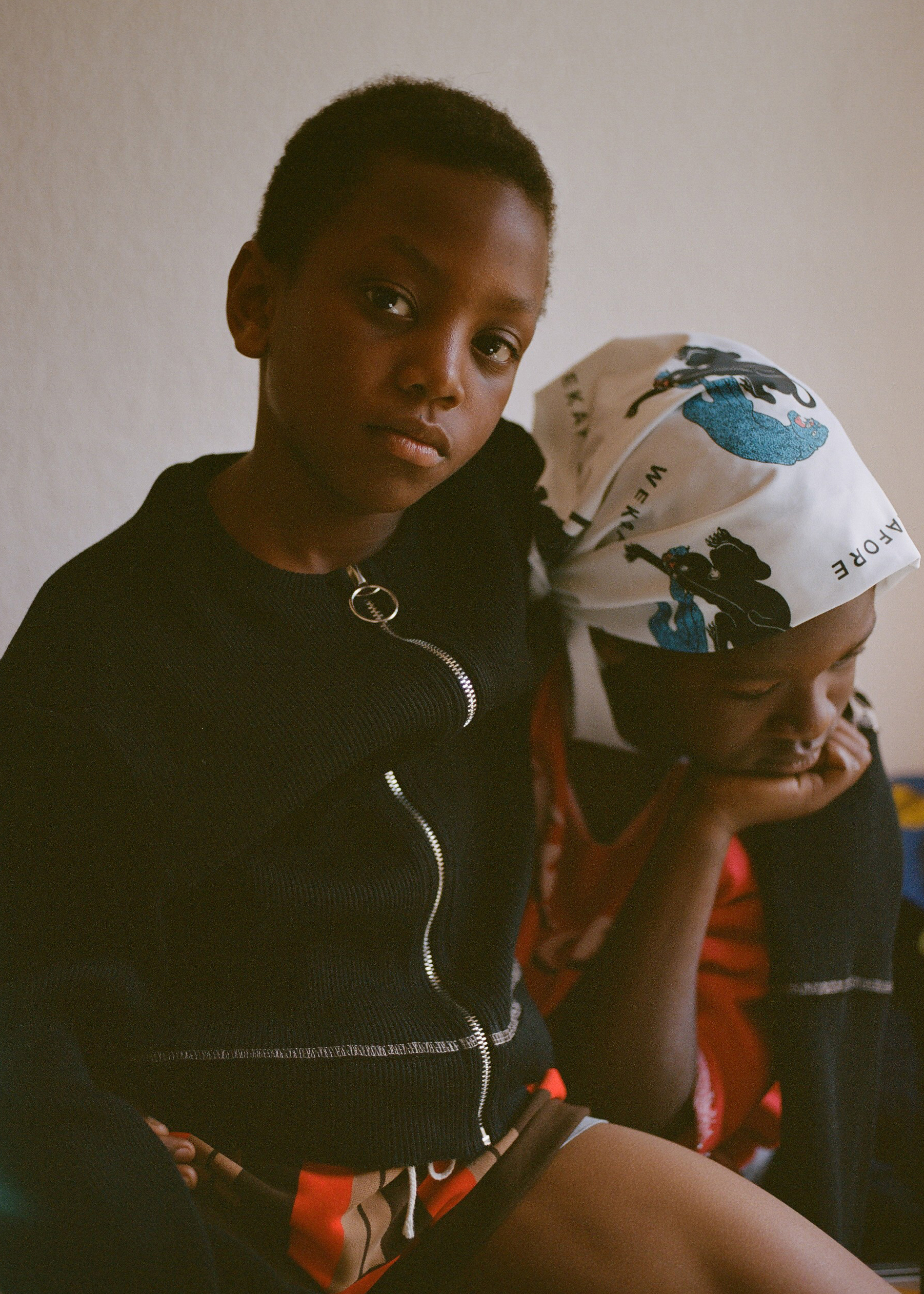 What is the Voodoo Club and its relation to Wekafore?
The Voodoo Club is supposed to be an ironic play on words, its an extension of the Wekafore brand, its a contemporary representation of our community and how we are all magicians deep inside. Taking all the negative preconceptions of African spirituality and turning it into a positive branding opportunity, it's like a creative agency but we are not creatives, we are magicians, it's like a league of extraordinary negros, it's like Afropunk but we are really like this everyday. We throw an African ritual rave every month in Barcelona inviting everyone from anywhere to a positive multicultural interaction, at the next party we are celebrating femininity.
How do you feel the global influence of African-American culture has affected African identity? Do you think global conceptions of blackness lack nuance?
I think hip-hop and Americanness interrupted the organic development of genuine African popular culture, and we are still recovering from all these years spent in a limbo of cluelessness, we are re-connecting to the spirits. It's been really confusing, on one hand it's amazing to see how diverse blackness can be, and on the other hand it's frustrating that it's become the only type of blackness people want to see. I was tired of people somehow connecting me to hip-hop or expecting me to act a certain way because I'm black and looked cool, sometimes I wish I didn't speak English, like 'no sorry bro I only Swahili,' I want to be free. But I guess we had to lose ourselves to find ourselves. I love all that mumble rap though.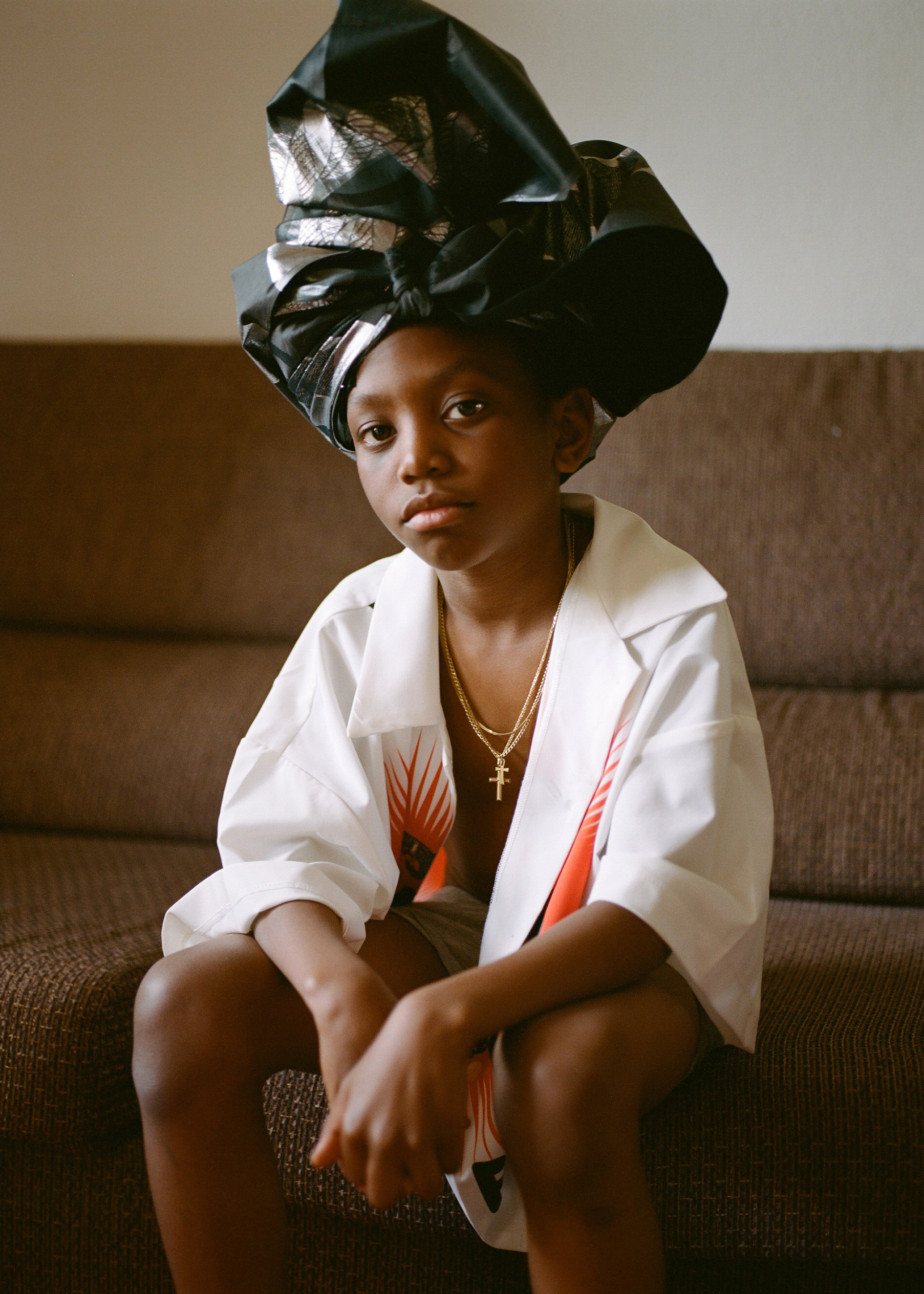 Do you feel that people underestimate fashion's value as a political tool?
100%. The 'Make America Great Again' hat was genius and it should be in a museum. I'm really just saving up money to run for government in Nigeria, I'll make all the corrupt overweight officials wear flare pants and crop tops, lets see you ask for a bribe in that outfit.
You've stated Wekafore is your version of propaganda. What messages are most important for you to promote?
I think the most important propaganda for me is that we are superhuman, we are mutants like the X-Men. Fela is like 007 to me. Why's Idris Elba trying to be James Bond ? We've been stretched out, compressed, oppressed, and repressed, and still we rise. Still we strut.
What's your Afrofuturist vision for Wekafore? For the African fashion industry?
Sometimes I selfishly [want to take] the Wekafore brand in a Yohji Yamamoto/Issey Miyake direction, maybe because I just adore the consistency and noble spirit of their brands. And other times I face the fact that the propaganda needs to be widespread and not only afforded to the eclectic affluent minds, it needs to be dummy-proof. That's my fight every time I'm on my desk sketching out something, looking for a balance between both desires one day at a time. I believe African creatives need to re-define what "fashion" is to us, what is a runway, what is "luxury," what is the market. Fall/Winter doesn't exist here, Coco Chanel doesn't exist here, my grandfather was a tailor and I'm sure he never heard of Christian Dior so why do we look at that for references? [If we don't] stop playing under European formulas of fashion we would never find our own thing.
Tagged: