chanel brings the beach to paris fashion week
Complete with real sand and wide-smiling supermodels.
|
02 October 2018, 11:56am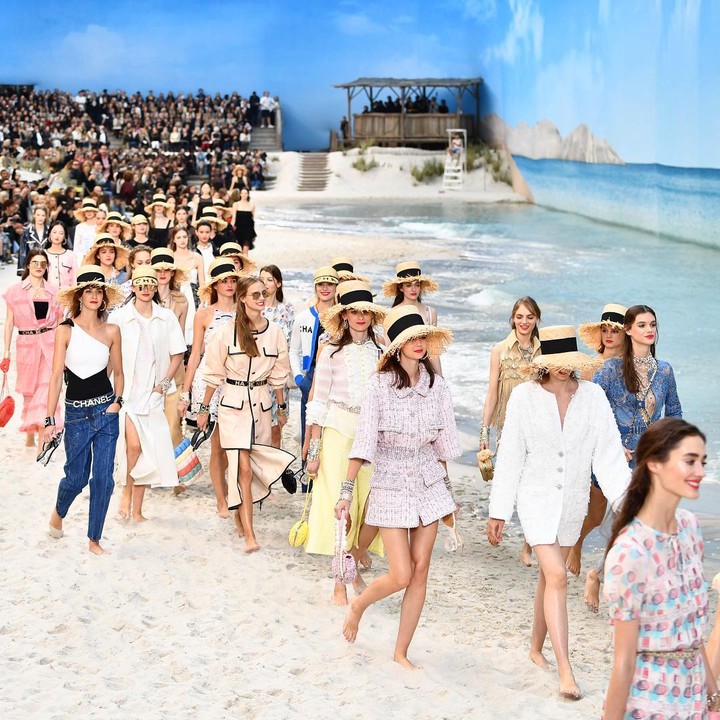 via Instagram
From a rocket launchpad to a street protest, a fairground carousel to a supermarket, a bistro to an airport, Karl Lagerfeld has continually reimagined the Grand Palais over the course of 12-plus years worth of epic experiences at his favored show venue. Following spring/summer 18's recreation of Gorges du Verdon, with its jaw-dropping 50-foot tall, 275-foot wide replica of a rocky cliff face complete with gushing falls, cave crevices, and alpine plantation, the Grand Palais became a sprawling catwalk lined with trees and softened by fallen leaves for fall/winter 18, and here the seasonal retreat was pushed to the beach.

So, for spring/summer 19, the grand space became a beach complete with lapping waves, promenade, blue-sky painted panorama, and two Wes Anderson-esque lifeguards. After weeks of being on the road, traveling from show to presentation to re-see to show to *repeat to fade*, the fashion set -- with holidays on their minds -- welcomed the chic Chanel coastal retreat into nature. Although staged, it was a reminder that there's a great big world beyond fashion, a life outside of shows. Before we could escape for real, Karl created a fun-filled, care-free world in which his 80s and 90s vintage Chanel-inspired collection was worn barefooted and wide-smiled. The finale saw the supers of today the happiest we've seen them this week. Skipping in the sand and paddling their feet (after walking 100s of shows, it must've been heaven), the scene felt authentic. This was the type of holiday we all dream of.
Are you aware of the Helmut Newton and Antonio Lopez-shots of a swimsuit-clad, macho-look Karl on the beach of St. Tropez? (If you aren't, look now and thank us later.) And from the unstructured tweed two-piece suits to the free-flowing tulle dresses, the double visor straw hats with their cut-and-paste logo play to the double lux-bags, this was the ultimate luxury beach resort wardrobe, seaside the Karl Lagerfeld way.
Earlier this week, Thom Browne found inspiration in the beach but their approach couldn't have been more different. In a typically provocative fashion, Browne seemingly tortured his women with his craft as they were masked, tied-up, and challenged to walk in almost-impossibly high heels. Even the couture beauty couldn't help a few of us feeling a little uncomfortable. But at Chanel, the beach was a safe space. A place where you can kick off your sliders and stroll along the shore with your friends.
In a week in which the Kavanaugh hearing has seen many commentators (critics and fans alike) justifiably question fashion's response to the overbearing toxic masculinity that touches so much of our lives, it was positive to see Karl -- on the final day of the spring/summer 19 show season -- encourage his Chanel woman to have fun and to be free. It was infectious too. Long after i-D cover star Adut closed the show and Karl made his bow, showgoers were recreating this summer's viral 'Instagram Husband' photo to ensure they left with their own perfect social media moment. Cute.
This article originally appeared on i-D UK.