the downtown new york fashion scene is a party, and you're invited
If New York fashion week is over, how come it's home to some of the most vital shows on the planet? Mary Manning shoots behind the scenes at the spring/summer 18 shows, while Rory Satran gets to the heart of the community.
|
08 February 2018, 8:00am
No one wants to be part of a "scene". Let alone part of an "avant-garde scene". Those are the kind of icky, reductive terms that make any decent fashion designer want to sequester herself away in a garret designing clothing for mice. Sometimes, though, a real, thriving, exhilarating avant-garde scene springs up, and then we have to figure out how to write about it. We ask awkward questions of the people who are part of a perceived "scene," to try and figure it all out.
All this aside, there is a palpable new energy around New York fashion at the moment. Specifically, the kind of interesting New York fashion we thought had been killed off by e-commerce, endless collabs, celebrity creative directors, sweatshop scandals, and Instagram influencers. The kind of mass-market commercialism that has become synonymous with New York Fashion Week is nowhere to be seen in Vaquera's pop-couture exaggerated proportions, or Eckhaus Latta's deconstructed colorplays. It's a loose, accidental group, with a nucleus in Chinatown and branches extending into Brooklyn and out to LA. These designers — and artists, casting directors, stylists, graphic designers, and musicians — are proving that even in the most cutthroat of cities, fashion can be a mutually supportive industry.
Here's the lightning round: Claire Sully and David Moses of Vaquera interned for Eckhaus Latta, as did Esther Gauntlett and Jenny Cheng of Gauntlett Cheng. (Gauntlett Cheng was originally called "Moses Gauntlett Cheng", but David Moses left to join Vaquera.) Bryn Taubensee and Patric DiCaprio of Vaquera interned for Telfar Clemens, this year's CFDA/Vogue Fashion Fund winner. Beckett Fogg and Piotrek Panszczyk of Area NYC work from a Canal Street loft that's a quick walk to Matthew Adams Dolan's studio, and Eckhaus's NYC headquarters and winter pop-up shop. Avena Gallagher has styled for Eckhaus as well as Vaquera and Telfar. Former HBA intern Walter Pearce along with Rachel Chandler cast for Eckhaus and Telfar with their Midland Agency.
This is an authentic, fascinating, hard-to-pin-down crop of designers that owes much to the fashion-adjacent artist Susan Cianciolo, as well as the designer's designer André Walker, and the 90s/00s downtown agitators of Bernadette Corporation and Imitation of Christ. As these designers know, it's hard to make things your own way in New York. Rents here demand a certain level of commercial savvy. What these current designers are asking is: can a modern American brand be creative and still sell clothes? And how can we lift our friends and collaborators up in the process?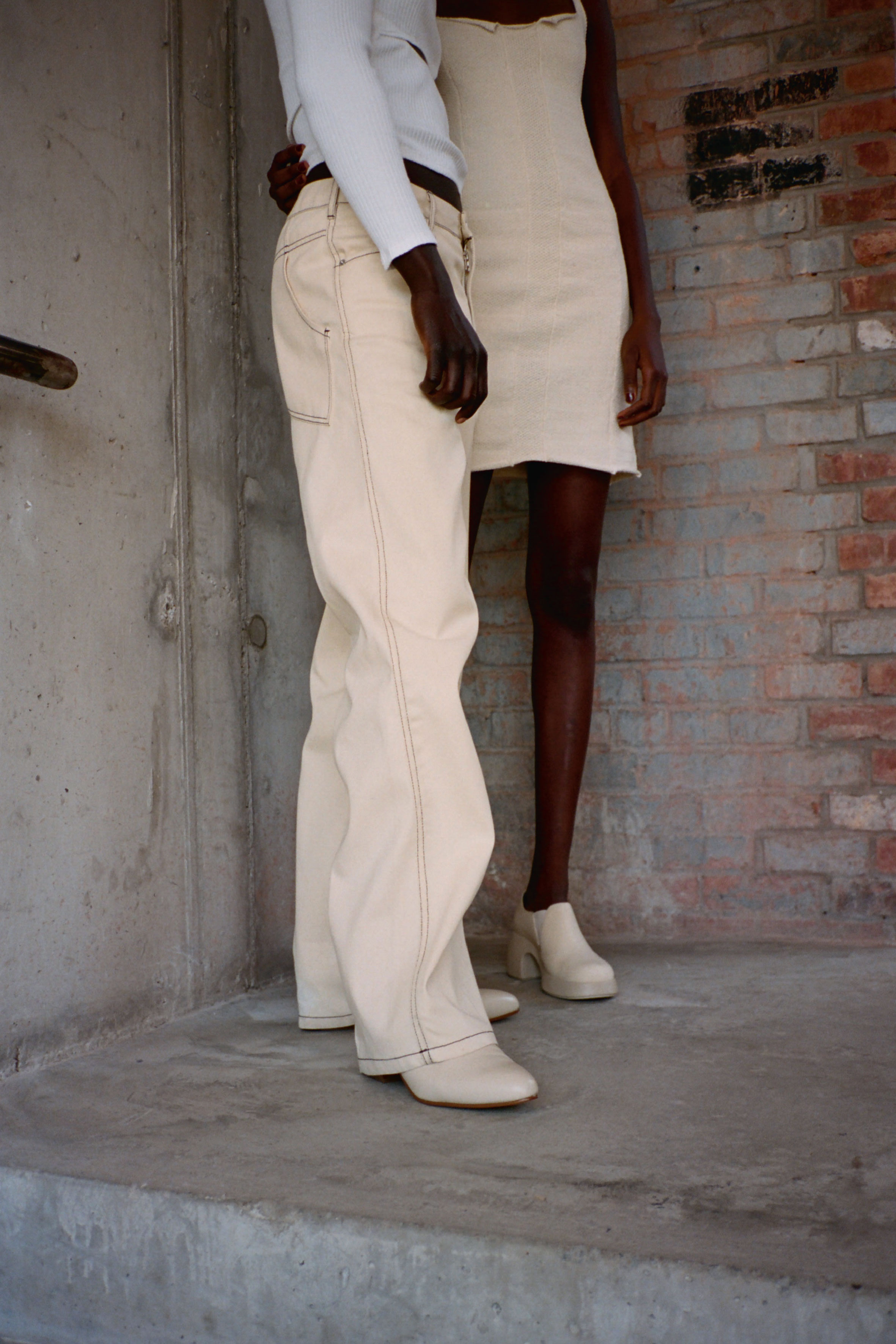 Telfar and Hood by Air — started in 2005 by Telfar Clemens and 2006 by Shayne Oliver respectively — set the mood for this revolution over ten years ago. "Telfar paved the way and opened up something for this younger generation," Avena Gallagher says. Telfar has always been deeply ensconced in the art world, showing his work at galleries and the 2016 Berlin Biennale. "So I think that model is something a lot of the new generation share," Avena continues. "Where either they came from art school and are artists that turned into fashion designers, or they're more like artists than they are garmentos or whatever."
Publicist Gia Kuan left Dover Street Market to focus her attention on doing press for brands including Area, Telfar, and the subversively romantic Lou Dallas. She's excited by the way these new designers' processes have more in common with art than conventional fashion. "A lot of them are within the same social circle and draw integration from things that are outside the fashion industry, which makes it really exciting to work with them too," Gia says.
That interdisciplinary, disruptive streak was equally important for the Hood By Air collective, currently on hiatus (although Shayne designed a strident spring/summer 18 collection for Helmut Lang). DJ, muse, and creative instigator of GHE20G0TH1K, Venus X has inspired HBA and Telfar and worked on everything from administration to building sets to establishing the musical direction. Venus is matter-of-fact about the organic way that she's collaborated with her friends: "I'm very grateful to be at the center of what's been going on in New York, because it wasn't really a choice. You have friends that are trying to get things done, they need your help, you help them, things move along."
When you don't have any money, your friends become your collaborators out of necessity. It's a strategy that is working for young brands like Gauntlett Cheng. Esther Gauntlett says: "The way we started was getting inspiration from people we worked with and seeing what was possible with a pretty limited budget, and being able to go around and create things in a nontraditional way." They were getting inspiration from the processes of brands like Eckhaus Latta, which is a lightning rod for creative collaboration. Zoe Latta says that they started working with their art director Eric Wrenn, who also designs for Shayne Oliver, after finding his work on blogs. "The way that we have worked with our community from the beginning has been incredibly important," she says. "I don't think it was a business move when we did it, other than that we were just being resourceful. Even if we had an infinite budget, those were the people we would want to work with, but we were just really lucky."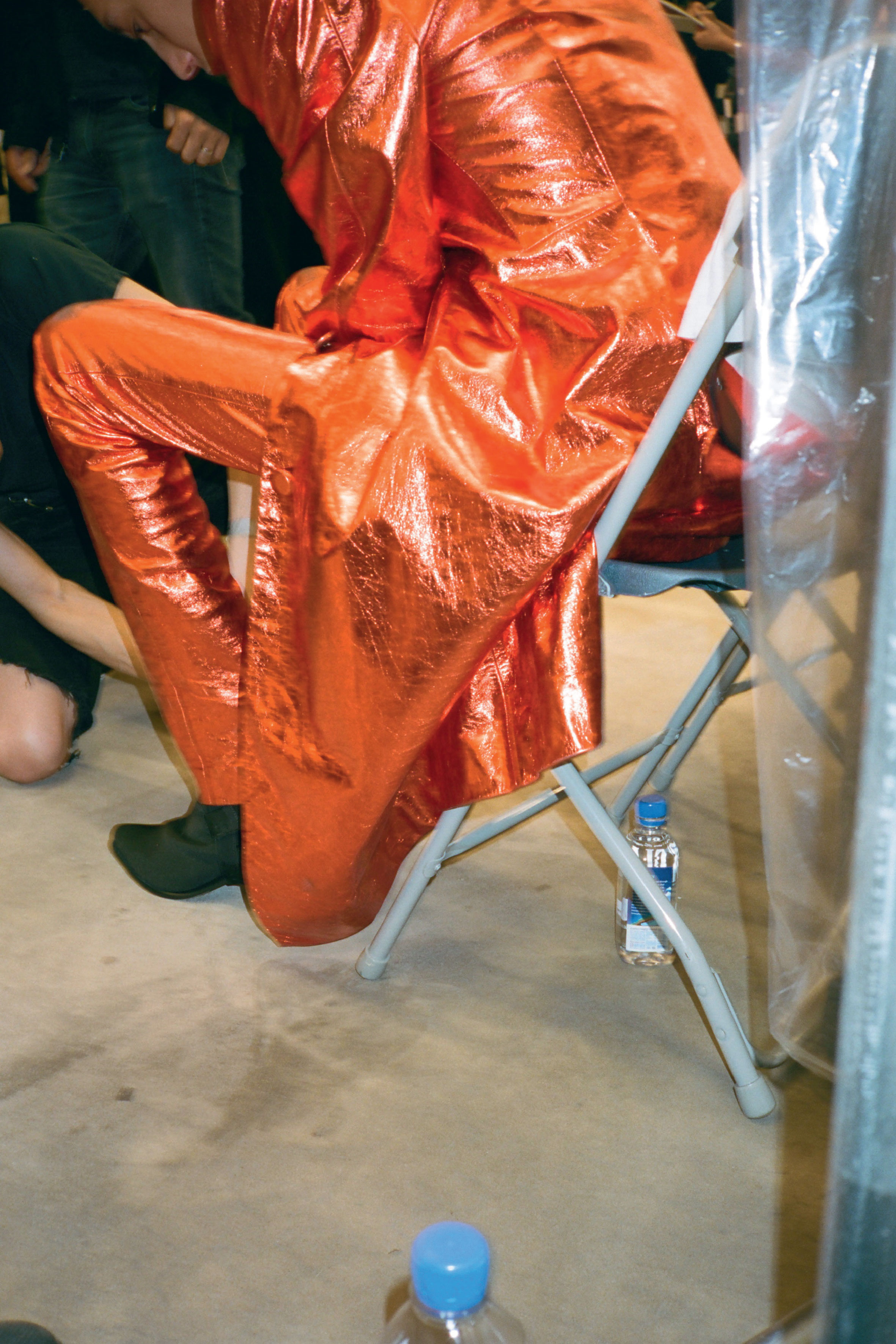 India Menuez, an artist who has modeled for Eckhaus and Vaquera and curated a project with the fascinating art/fashion group Women's History Museum, says, "There's a clear difference, the feeling of working with a friend. And when I agree to do that, obviously they're only paying me in trade. I'm always excited to get these things because I can't always afford to buy the things my friends make, and also it's just a way to support them."
Vaquera's front row for its tour-de-force spring/summer 18 show was a utopian vision of what fashion would look like if everyone were friends. We spotted: India Menuez, Grace Dunham, Shane and Chris from Creatures of the Wind, Mel Ottenberg, Petra Collins, Venus X, and Paloma Elsesser (not to mention a dancefloor's worth of club kids) — as well as everyone's favorite fashion auntie, Whoopi Goldberg. Patric DiCaprio explains how community boosts the brand: "It's about living in New York, where it's difficult, and trying to do something in a mostly commerce-based medium, and do it on a low budget, and be creative. You couldn't do that without other people who have set a precedent for what you do and are supporting what you do now."
What's linking these designers aside from an amorphous sense of community and geography? Each brand looks extremely different, but they all present alternative visions of beauty. It does feel like a reaction to the determinedly wearable "model off-duty" style of early 00s NYC.
Vaquera's body-dwarfing bows and Eckhaus Latta's asymmetrically cut bright velvet pieces would stand out at the post office. It's avant-garde in the most basic way because it's innovative. As Avena Gallagher says, "They are pioneers and they're not adherent to a certain status quo or a certain larger example of how to be fashion designers. I'm sure there's a better catchphrase than 'avant-garde', because there's something about that that sounds kind of nauseating, but when you're talking about people that go about things their own way, then yeah, they're avant-garde, and people that value that originality."
Maybe the most avant-garde thing about this new wave of designers is that they're redefining the term itself. Beckett from Area NYC links this new innovation in design to inclusivity: "I feel like people go towards inclusivity more because it's really about embracing each other's differences. Exclusivity had different values, and now avant-garde has turned into more progressiveness. Being progressive, being curious, and thinking about what's going on in the world, that's the new avant-garde."
India Menuez sees a link between this inclusivity and queerness. Certainly, there's a very natural questioning of gender that is taking place (think photographer Michael Bailey Gates in a baby pink skirt and shearling coat for Eckhaus spring/summer 16, or Telfar's completely unisex garments). "I think a lot of these brands are existing in New York's queer community as well," India says. "There's overlap there with what is defining a community." Coincidentally, India first met Mike Eckhaus when they were both interning at threeASFOUR, another forebearer of New York alternative design.
So, I'm ok, you're ok, and you're all invited to my party. There are no velvet ropes. Everyone's on the guestlist with a plus one. DJ Bebe's soundtrack for Vaquera's spring/summer 18 show was the perfect encapsulation of this idea. It was a genuine musical moment that combined squeaky toy sounds, thumping club beats, horror howls, and the theme music from The OC and Big Little Lies. It was the perfect mix of the accessible and the unexpected, which might be the direction in which these designers are going. We're all sitting in the same room, ready to appreciate a new vision of beauty and the soundtrack to a Reese Witherspoon vehicle.
Connecting with what people actually like rather than what they feel like they should like is an interesting proposition for an artist. Telfar's partnership with White Castle this year was the ultimate hyper-local, ultra-logical anti-fashion stroke of genius. Having grown up frequenting the Queens location near his house, Telfar embarked on an authentic relationship with the fast food company that involved throwing two parties at its restaurants, and redesigning its uniforms.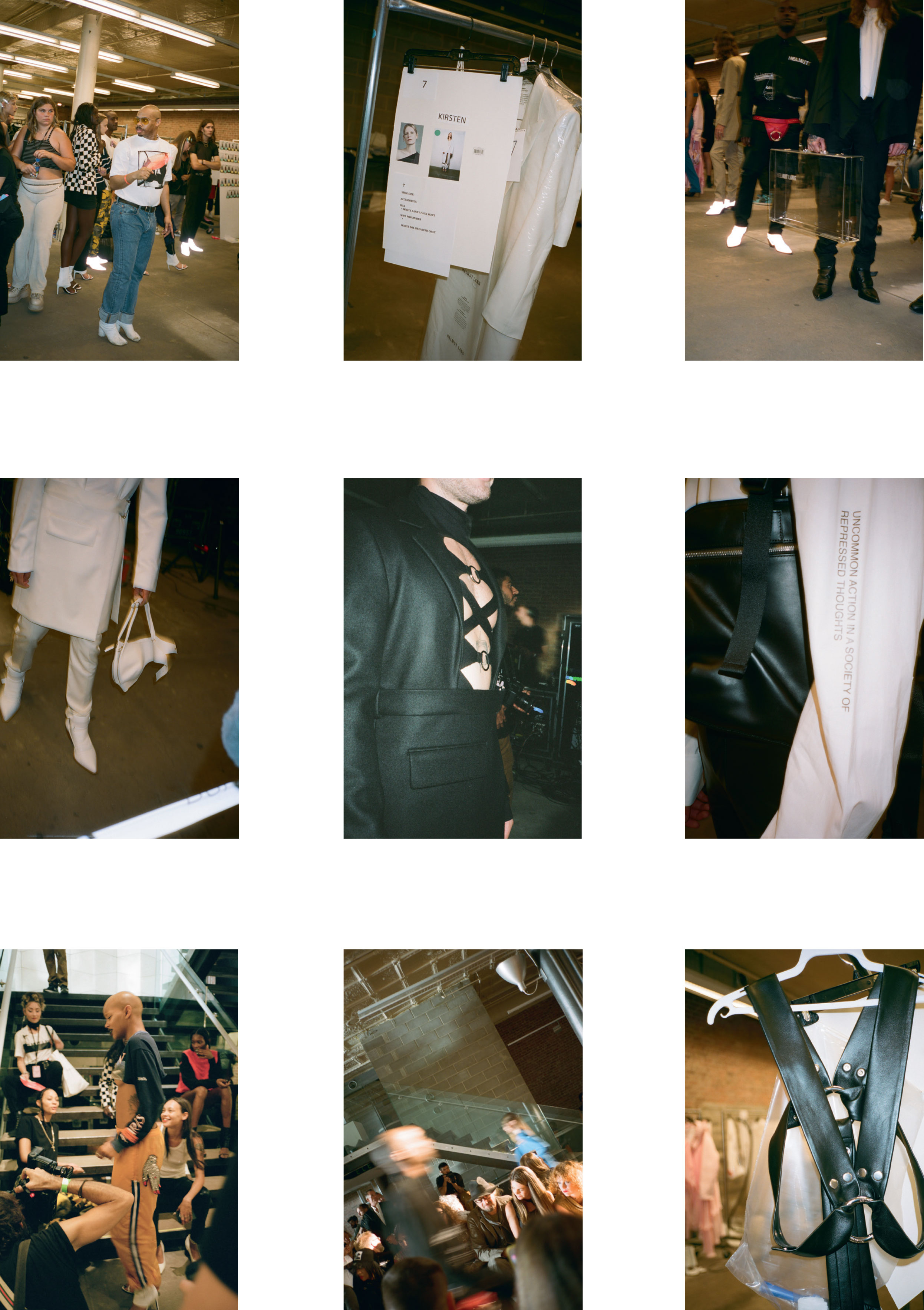 Artist Jayson Keeling took gorgeous, valorizing portraits of White Castle employees wearing the new gear at their homes. The design for the uniform connected to garments Clemens made for the Berlin Biennale. "Doing the same thing for fine art and fast food kind of says it all," Telfar told i-D at the time.
Coming to New York to grapple with art, commerce, and the meaning of pop culture is a tale as old as time, or at least Andy Warhol. As a highschooler, Patric of Vaquera was "obsessed with Andy Warhol and the Factory and the Velvet Underground, like that corny alt-rock, Patti Smith and Robert Mapplethorpe New York."
His partner Bryn goes on to suggest that there's a "renaissance" now because of a collective disappointment with the New York they inherited: "I imagined New York in this 70s, 80s way, and it wasn't that at all, it was this Starbucks New York, and I think it's my duty in a way to make New York what I want it to be. I think that's what this community has in common." Susan Cianciolo has noticed it, too. "I feel more than ever that there's a creative fuel here," she says.
Zoe Latta talks about how proud she is to see her former interns from Vaquera and Gauntlett Cheng out there killing it: "I would hate to be the only person on the New York Fashion Week roster that's considered avant-garde."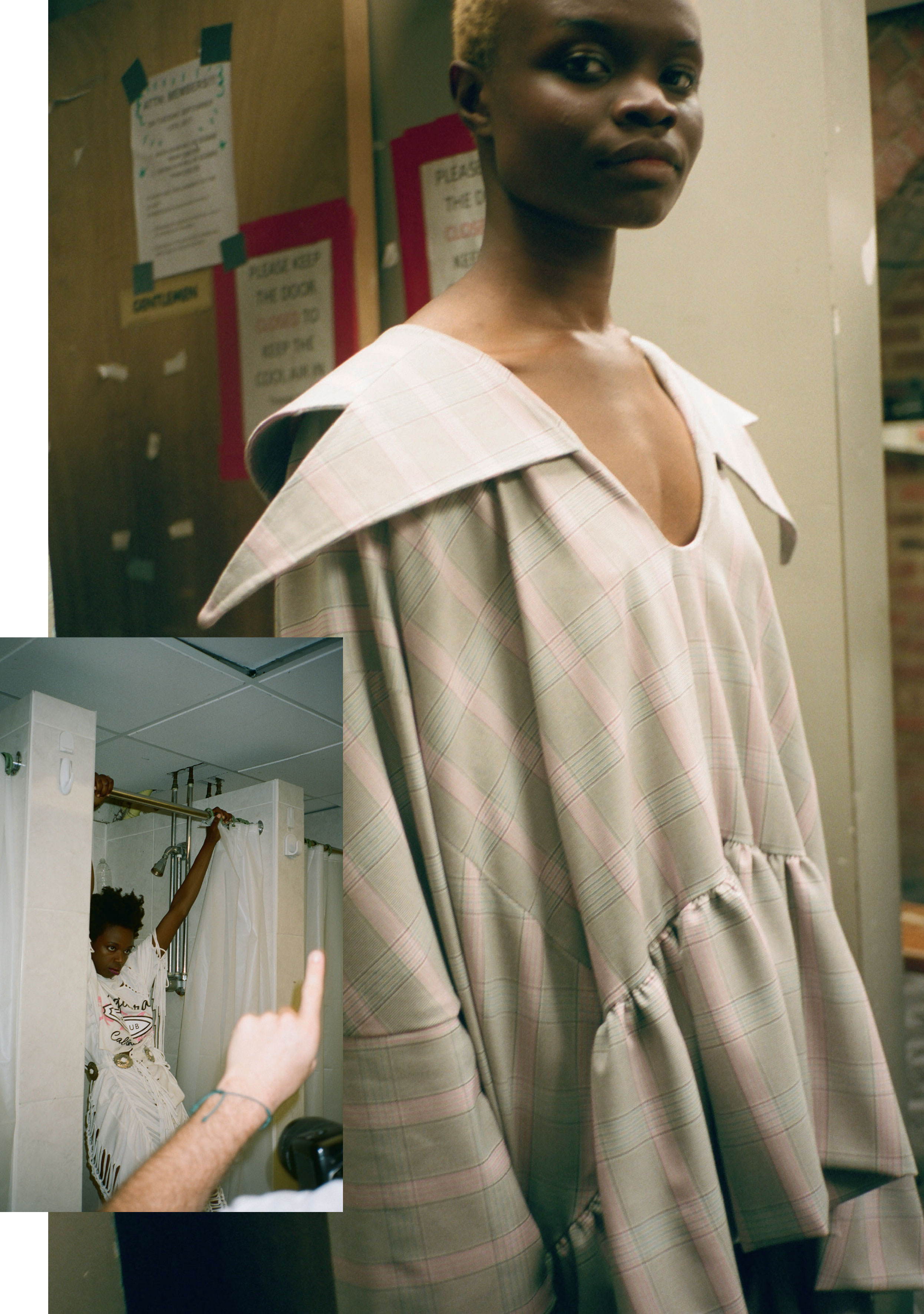 Credits
---
Photography Mary Manning