Photography Mario Sorrenti. Fashion director Alastair McKimm.
this is how you break the establishment
Here's the first cover of The Radical Issue. Get ready to meet the visionaries changing culture from the inside out.
|
06 February 2018, 1:09pm
Photography Mario Sorrenti. Fashion director Alastair McKimm.
The first cover of the spring 18 issue of i-D is here. Shot by Mario Sorrenti and styled by i-D Fashion Director Alastair McKimm, it features the incredible Adut Akech wearing the outrageously colourful and mind-blowingly sculptural spring/summer 18 collection from Comme des Garçons.
Titled The Radical Issue, spring 2018 is guest edited by fashion critic Charlie Porter and celebrates the fascinating faces — old and young, familiar and new, all visionary — who are at the frontlines of changing culture for the better. They are out here dismantling exclusionary structures in art, music, fashion, and film. Getting rid of the old gate keepers, stimulating deep thought about the cultural world we inhabit, and questioning what creativity looks like in 2018.
"The issue started with a general theme of art, but soon expanded to consider ideas of breaking the establishment," Charlie writes. The Radical Issue features a collection of fiercely individual artists across generations, from Joan Jonas and Lubaina Himid, to Paul Maheke and George Henry Longly; and in fashion we delight in the singular and wonderful personalities of Rei Kawakubo, Grace Wales Bonner, and Andre Walker, some of the industry's most most thoughtful rebels.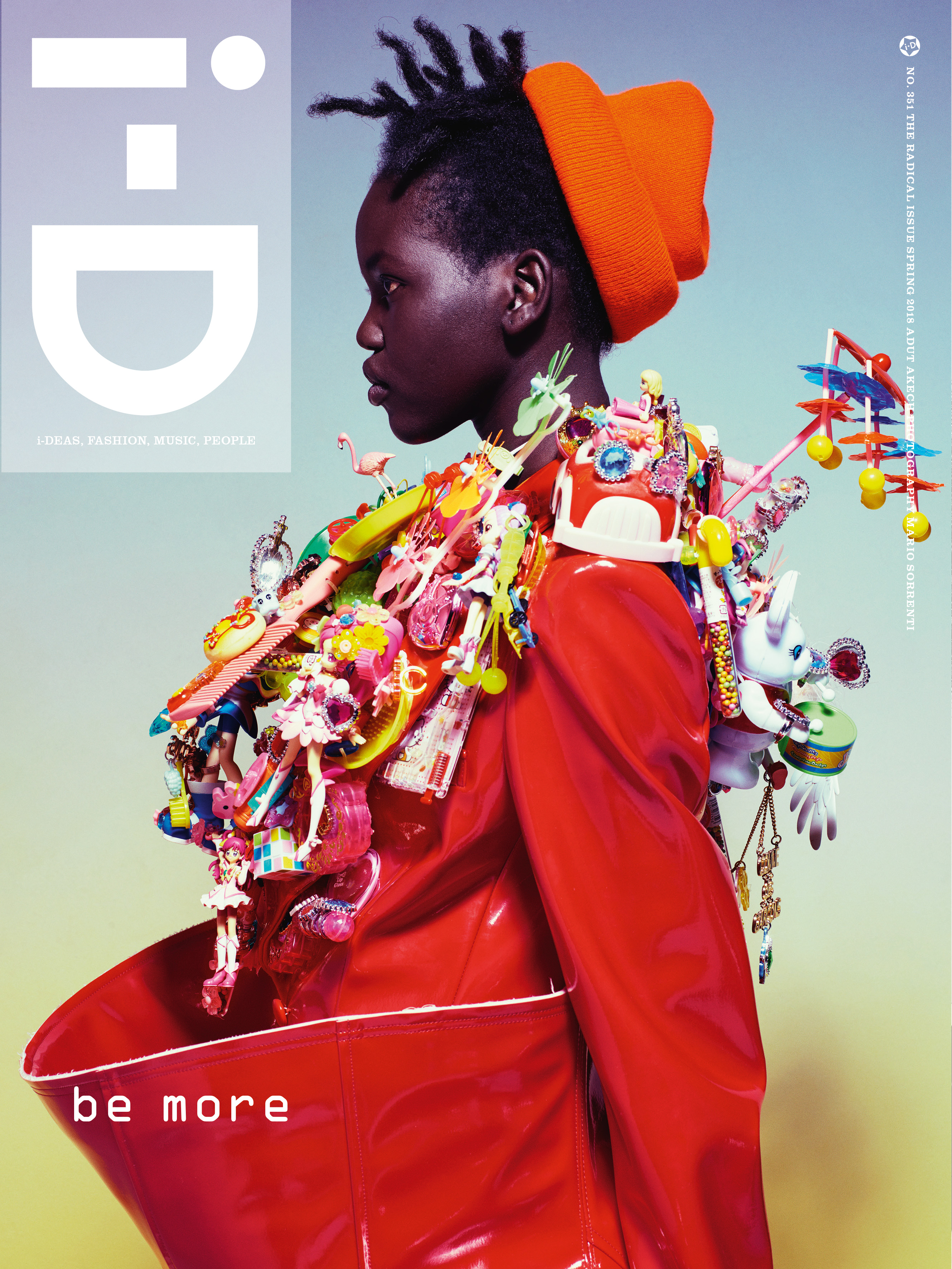 But it doesn't stop there. We hear from the models who are bravely speaking out about the causes that matter to them, as well as musicians who are really making history, doing things their own way, which happens to be a totally new way. And for The Radical Issue we are honored to share the determined vision of youth who, in the wake of unthinkable loss, are using their creativity to tell stories of community, family, and hope.
"When I was 16 years old, I wrote to i-D telling them they'd never guess what was happening in Peterborough," Charlie writes. "It was 1989. A couple of weeks later an editor from the magazine wrote back on a compliment slip asking, 'What is happening in Peterborough?' Of course, nothing was happening in Peterborough. What mattered was the contact with the outside world. I stuck the note on my door. My parents, my sisters could at least see that I existed. This was the role that i-D played in my teenage years. In planning this issue, I've always been thinking: what I would want to show to my 16-year-old self today? I thank everyone on staff at i-D for giving me the opportunity, and helping me to find out."
Click here to see the Comme des Garçons cover story in full, and check back tomorrow for more covers.
Credits
---
Photography Mario Sorrenti
Fashion director Alastair McKimm

Model Adut Akech at The Society
Adut wears all clothing Comme des Garçons. Hats stylist's studio