nombe's debut album is a salute to the women in his life
As i-D premieres a new single from 'They Might've Even Loved Me,' NoMBe talks #MeToo, high school crushes, and his famous godmother Chaka Khan.
|
22 February 2018, 4:06pm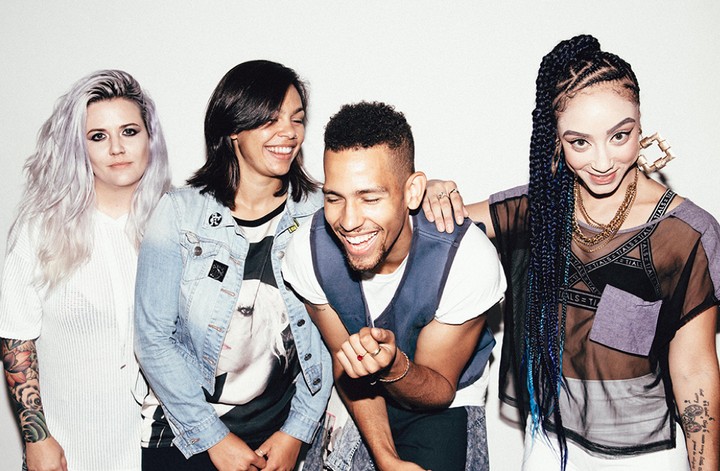 Photography Edward Cooke
He's been called "an icon in the making," "a nuanced production prodigy," and he performs with three of the most talented women in Los Angeles. Pharrell is a fan, and he also happens to be the godson of R&B legend Chaka Khan, aka The Queen of Funk. He's a feminist and an ally to the #metoo movement, and all 18 tracks on his debut album (out March 23) are dedicated to the powerful women who have shaped his life. If you're not already a fan of 26-year-old German musician NoMBe, then now's the time to become one.
Twelve months ago NoMBe (whose real name is Noah McBeth) began the process of releasing his debut album They Might've Even Loved Me – an eclectic mix of sexy soul, slick R&B and Afrocentric rock and roll. But instead of releasing several singles and then doing a traditional album drop, he decided to slowly drip-feed it to us, revealing one song a month for 12 months. Speaking to i-D from his home in Los Angeles, McBeth says, "I wanted a project that was conceptual and told a story, but as an emerging artist it's hard to keep people engaged if you just release three singles. People tend to fall off and the album release can be anticlimactic."
His strategy seems to have paid off. "Wait," the album's first single, has been streamed over one million times on SoundCloud and the fourth track "Can't Catch Me" was so hot Pharrell Williams chose it as the theme song for his HBO docuseries, OUTPOST.
Today i-D is premiering NoMBe's thirteenth single, "Drama", a soulful rock and roll tune that threads together highlife-inspired psych-funk with the sugary sound of Pharrell's "Marilyn Monroe". McBeth co-wrote the song with Big Data's Alan Wilkis. He met Wilkis the day of the recording session and says he immediately felt the creative chemistry between them. "He brought his dog to the session in a little carrying cage," he says with a laugh. "As I got to know him I found out that he is an excellent guitar player and has played for twenty-plus years. So I kind of just let him mess around and then every time I heard him do something interesting I said 'stop, let's record that.'" McBeth produced "Drama" and co-wrote the lyrics after having an argument with his girlfriend. Describing his and Wilkis' writing process, McBeth explains, "We started talking about how it can be difficult as an artist to be out there playing shows. A lot of the time you come home and it's difficult for your significant other to discern between the artist and the person. They come to the show and see [fans] screaming, and you have to take your time to meet fans. It can be tough."
While "Drama" is very much from his perspective as a male artist, its message comes from an earnest place. They Might've Even Loved Me pays homage to all the women in his life, including his mother, girlfriend, an old high school crush, and his famous godmother. "I've always identified as a feminist," he says, when asked about his support for the #metoo movement. "I was raised by my grandmother, and my mother played a huge role in my life. The #metoo movement hits home for a lot of women in my family."
"Generally speaking, the timing of my album was rather coincidental, but it is something I'm very opinionated about and I think it relies a lot on us men holding each other accountable. Last year it got very heated and I think some men are not sure how to behave in certain situations, but I think as time goes by there will be more of an equilibrium and a natural form of equality that I think is necessary for our society."
"Man Up" — one of six unreleased tracks that will be available when the full album drops — is about the role men can play to address the current level of inequality. The topic sounds pretty straightforward, but McBeth says there's a little bit of irony, too. He compares conversations about gender equality to a pendulum swinging back and forth, explaining that while men are often blamed for all the world's problems, they're also being told to suppress their feelings and man up. "It's definitely saying that men have to take responsibility and step up," he says, "but there's also [some] irony, because a lot of times there's this stigma that we're not allowed to show our feelings. You have to be tough as a guy. A provider."
In the song's chorus he sings, "This world was never meant for us, it's for the girls and children first, and then men." McBeth explains, "It has this subtle tone that there's this ship sinking and women and children go first. That's what I was thinking when I was writing it. I was thinking of the Titanic sinking and how I would describe that scenario."
McBeth was born in Germany and spent most of his childhood living in Heidelberg, a college town fifty miles south of Frankfurt. He moved to the US in 2010 after a musical he was working on was to be performed in Las Vegas. "That was basically my ticket to the US," he says. "I told them I just wanted a one-way ticket. I had just graduated from high school and I thought it was probably my only chance to go to the US." He moved first to New York, where he pursued work as a screenwriter and experienced "the traditional starving artist scenario," before relocating to Miami to attend college.
By the time he got to Los Angeles his passion for music had risen to the surface and he was able to use his experience as a launching pad. McBeth grew up playing piano and has a background in composition, and from a young age he was nurtured by his godmother, the R&B legend Chaka Khan, who is a longtime friend of his dad's. "A lot of people don't know this, but she actually lived in Germany for quite some time," he says. "I was always around her and her boyfriend at the time. She would babysit me if my dad was working and they became really close over the years. Pretty early on she told my dad that she would like to play the role of godmother and be there in case anything happened." While none of the songs on his album are specifically about her, McBeth says, "there are songs that I wrote with her and other family members in mind."
He points to "Rocky Horror", a stripped-down acoustic ballad, as being one such song. "That song is about the struggle of women around me," he declares, before proudly admitting that his mother loves it. But McBeth's feminist opus hasn't always been met with open arms. Many of the album's songs are about his girlfriend, and one song in particular caused friction between them. "There were situations — 'Freak Like Me,' for instance — where my girlfriend really didn't want me to put out the song because she thought people would judge her," he says. "I had to explain to her that it's just a story, it's not there for people to point their fingers." His first single, "Wait," took his subject by surprise. "[It] is about a girl I had a crush on in high school and it's funny, because everybody knew except her. Once I released the song it got so big that somehow it got [heard by] some of my classmates from back then. They sent it to her and she was pretty shocked. She asked whether it was true or not and I told her it was, and yeah, she was pretty speechless."
McBeth's now planning to showcase his songs in a live setting. He's recruited Brittany Maccarello (drums), Zuri Appleby (bass) and Heather Baker (guitar) to build a rock and roll show that displays his charisma while highlighting his band's ability to rock out. And while he says it was a deliberate decision to have an all-female band, he wants everyone to know that "they're part of the band because they're the best for the job." It's all part of his effort to balance the equilibrium, because there's just as many great female creators as male ones.