st. vincent's video for fast slow disco is a big gay orgy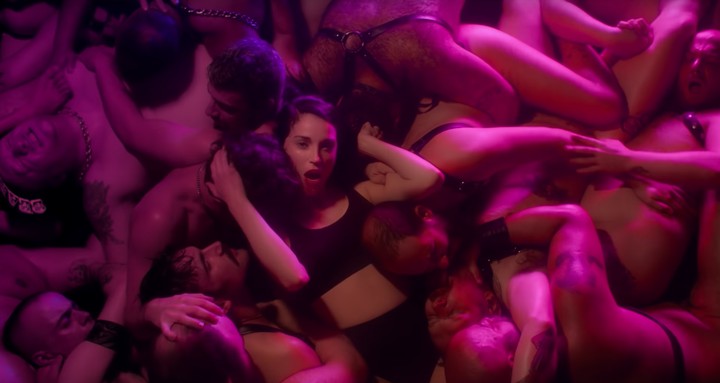 The recently released song Fast Slow Disco is the perfect reworking of St. Vincent's Slow Disco, taken from her 2017 album, MASSEDUCTION. In the super sexy accompanying music video, which has landed in our trembling laps slap bang in the middle of Pride Month, the pace is upped and the lights are lowered.
"I always felt this song could wear many different outfits and live many different lives," St. Vincent aka Annie Clark said on release. "Here she is in disco pants, sweating on a New York dance floor." And indeed that's exactly where we find the artist today, surrounded by moshing male bodies in harnesses, chains and collars. After crowd surfing like a pro, the video cuts to later in the night when the floor is a writhing sexy mess under a warm pink light and Annie is very much a part of it.
"I AM HERE AND I AM QUEER," announced one commenter on YouTube. "QUEEN OF GIVING THE GAYS EXACTLY WHAT THEY WANT," added another. "I'm surprised I don't see dicks in this," mused a third, pointing out that Annie and director Zev Deans did a "great job suggesting intimacy without actually showing it". Indeed.
Into Annie? You'll love our i-D meets: St. Vincent doc:

This article originally appeared on i-D UK.