iranian women allowed to watch football in a stadium after 37 year ban is lifted
Iran may have lost 1-0 to Spain, but they made a small win for gender equality.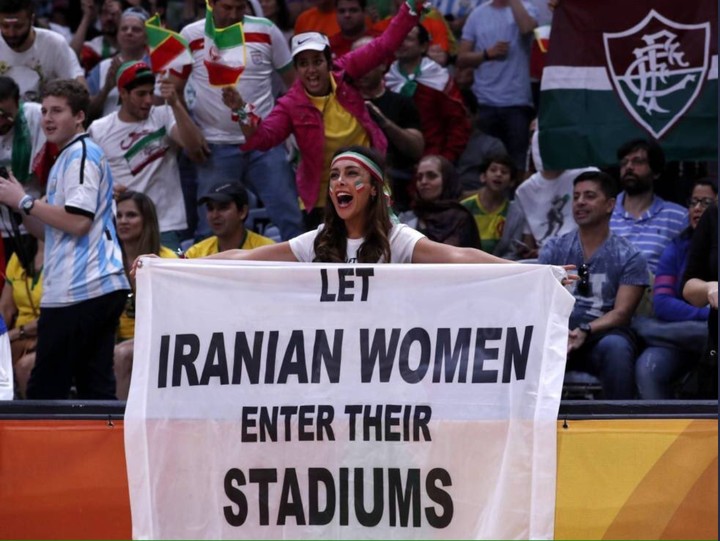 Image via Twitter
While men across the globe are basking in World Cup fever, for female fans in Iran, it's a very different story.
Women have been banned from sports stadiums to watch football or other all-male events since 1981, and could reportedly face arrest, fines or even jail if they defy this.
In only March of this year, 35 women were detained for trying to attend a match. International NGO Human Rights Watch note that this is part due to the theory that it's to stop women being exposed to swearing, which is a) -- excuse me -- fucking patronising, and b) hardly a ironcast argument when you consider the recently introduced ban on women watching volleyball games -- a decidedly much more family-friendly sport, as HRW point out.
HRW argue the move is "emblematic of the repression of women across the country. Women confront serious discrimination on issues such as marriage, divorce and child custody. Women have been sent to jail for publicly speaking out in favour of equal rights for women."
That's why it's monumental news that Iran have let women into a stadium to watch a World Cup football match for the first time in 37 years. According to SBS News, the Tehran Council issued a provisional "one off" permit for women to watch broadcasts of the Iran vs. Spain game at their Azadi and Takhti stadiums. Iran lost 1-0 to Spain, but it's this win that really matters.
Yet, while Iranian women were celebrating what should be a fundamental human right -- you know, gender equality -- one was struggling to hammer the point home at the game itself.
Reuters reports that activist Maryam Qashqaei Shojaei was held for two hours at the stadium in Kazan, Russia where the match was being held, for carrying a banner that read, "Support Iranian Women at Stadiums."
"When I was trying to get in with my banner security told me I can't take it in," she said. "I showed them my approval. They searched me and held me two hours and took the banner."
Maryam had already been granted the necessary approval to show her banner at the match. As a FIFA spokesperson told Reuters, "We can confirm that banners supporting female presence in the stadiums in Iran were approved by FIFA and the LOC through the formal procedure ahead of the 2018 FIFA World Cup and have already been displayed at the match Morocco vs Iran in Saint Petersburg."
Unfortunately, the players themselves are hesitant to get involved: when midfielder Masoud Shojaei was asked about the situation, he responded, "With all due respect for you and your question, we are not just a team. We are a family, and it's our nation which is playing on the pitch. If you want to talk about this issue, this is an internal issue that we prefer to solve problems within our family."
The huge scale and reach of the FIFA World Cup has the potential to raise awareness of such issues. Hopefully it galvanises the government into making more permanent change, rather than just a cursory "one off".