read our björk interview from 1993
25 years ago today, Björk released 'Debut'. Anticipating greatness, we put her on the cover of our May 1993 issue. This is the accompanying interview.
Matthew R Lewis
"Pop music has betrayed us. Everybody in the world needs pop music. But nobody has had the courage to make pop that's relevant to the modern world." This month, The Sugarcubes unique singer goes solo with a stunning album of deeply personal dance music.

"I think my head is about to explode, there is so much to do today!" It's a hectic afternoon in London's Belsize Park, but Björk Gudmundsdóttir is enjoying life. We're sitting in the new flat that she hasn't had much time to decorate, having spent much of her time since moving here in the studio. Interior decoration consists of a few colourful dinosaur drawings by her six-year-old son Sindri that adorn the otherwise bare walls. For Björk, mother and popstar, time is a luxury commodity these days.
After three albums of idiosyncratic pop with Icelandic pop pranksters The Sugarcubes, she has decided to settle permanently in London. The transition is born of necessity. Björk has serious work to do and her hometown of Reykjavik is no longer big enough for her aspirations.
This month sees Björk's debut as an artist in her own right. Her first single as a solo artist, Human Behaviour, is out at the end of May and it's a corker. Turbocharged by 12-inch remixes courtesy of Andy Weatherall and Darren Emerson, Björk has finally come into her own, realising a potential that 1987's indie gem Birthday and the stunning Sugarcubes debut album Life's Too Good first hinted at. The single sounds nothing like The Sugarcubes; the vehicle for her unique vocal talents is no longer guitar driven indie pop, but pure unadulterated dance music.
"You can tell that the artist has gone all the way, done anything to create a perfect song. I had to have a go at least once before I die and see if I could do the same thing."
This stylistic shift need not come as a surprise. Björk contributed vocals to two tracks on 808 State's 1991 album Ex:El, and last autumn's remix album, It's It, was a somewhat dubious (with some inspired exceptions) house-ification of previous Sugarcubes releases. In fact, her outing into dance music has been in the works for at least two years, but was partly delayed by prior commitments to the band and a certain hesitancy on Björk's part. She was living the good life in Iceland but there was something missing. "I loved Reykjavik and my friends there, being a housewife, cooking good food, going out and getting drunk and all that. It was a drastic decision to move to London, to drag my son with me, but I just had to do it. I'd had these songs in me since I was a little kid and I knew that I might submerse this creative impulse forever. But I looked around me and thought about all the things that give me the greatest joy in life. It might be incredibly good wine that's just perfect or the right music where you can tell that the artist has gone all the way, done anything to create a perfect song. I had to have a go at least once before I die and see if I could do the same thing."
Debut, the product of Björk's need to follow her muse wherever it might take her, is indeed a debut album of sorts. Coming from somebody who has already staked her claim to musical greatness with The Sugarcubes, it might at first seem like false modesty to give the album this title. But understand one thing: this is a musician far removed from the Björk you knew before. She wrote the songs and it is her singular vision, realised with the accomplished guidance of former Soul II Soul producer Nellee Hooper, that is revealed here.
The music on Debut is an intoxicating brew of driving house rhythms and fresh beats juxtaposed against offbeat jazz numbers featuring eclectic sax work by The World Saxophone Quartet's Oliver Lake, and (wait for it) jazz harp-istry by LA musician Corky Hale who served as pianist with Billie Holiday and Frank Sinatra.
A prime example of this improbable mixture begins with a stomping house track that was allegedly recorded live at London's Milk Bar club toilets. There's More To Life Than This features Björk dragging her girlfriend off the dancefloor and into the loo where she uses the (relative) peace to describe the beautifully simple things you could do rather than vegetate in Clubland. It's an anthem for disillusioned clubbers if ever there was one. At the end, as they leave the club, the background noise segues imperceptibly from the din of a boisterous club crowd into the laughter of wide-eyed children. The song that follows takes us from London Clubland straight into a Julie London-esque love song replete with jazz harp, birdsong and a blissed-out background vibe. The brilliance lies in how two tracks that should make for an unlikely pair in any context, here sound like the natural rhythm of life.
"When I was growing up, I always had this feeling that I had been dropped in from somewhere else."
Add to this some incredibly textured ambient tracks with a genuine Indian string section thrown in for good measure and you have an intelligent piece of musical alchemy that doesn't fit into any pop genre. And that's just the music.
Björk's singing really doesn't need any fancy qualifiers. God knows that music journalists are, even as you read this, probably scouring their already battered Thesaurus for suitably multisyllabic synonyms for the word 'ethereal'. And while on the subject of journalistic prose, can somebody write an article about Björk without using the word 'elfin'?
"I think it's funny and actually I couldn't be more pleased with the situation," says Björk. "When I was growing up, I always had this feeling that I had been dropped in from somewhere else. That was how I was treated at school in Iceland where the kids used to call me 'China girl' and everybody thought I was unusual because I was Chinese. It gave me room to do my own thing. In school, I was mostly on my own, playing happily in my private world making things, composing little songs. If I can get the space I need to do my own thing by being called an alien, an elf, a China girl, or whatever, then that's great! I think I've only realised in the past few years what a comfortable situation that is."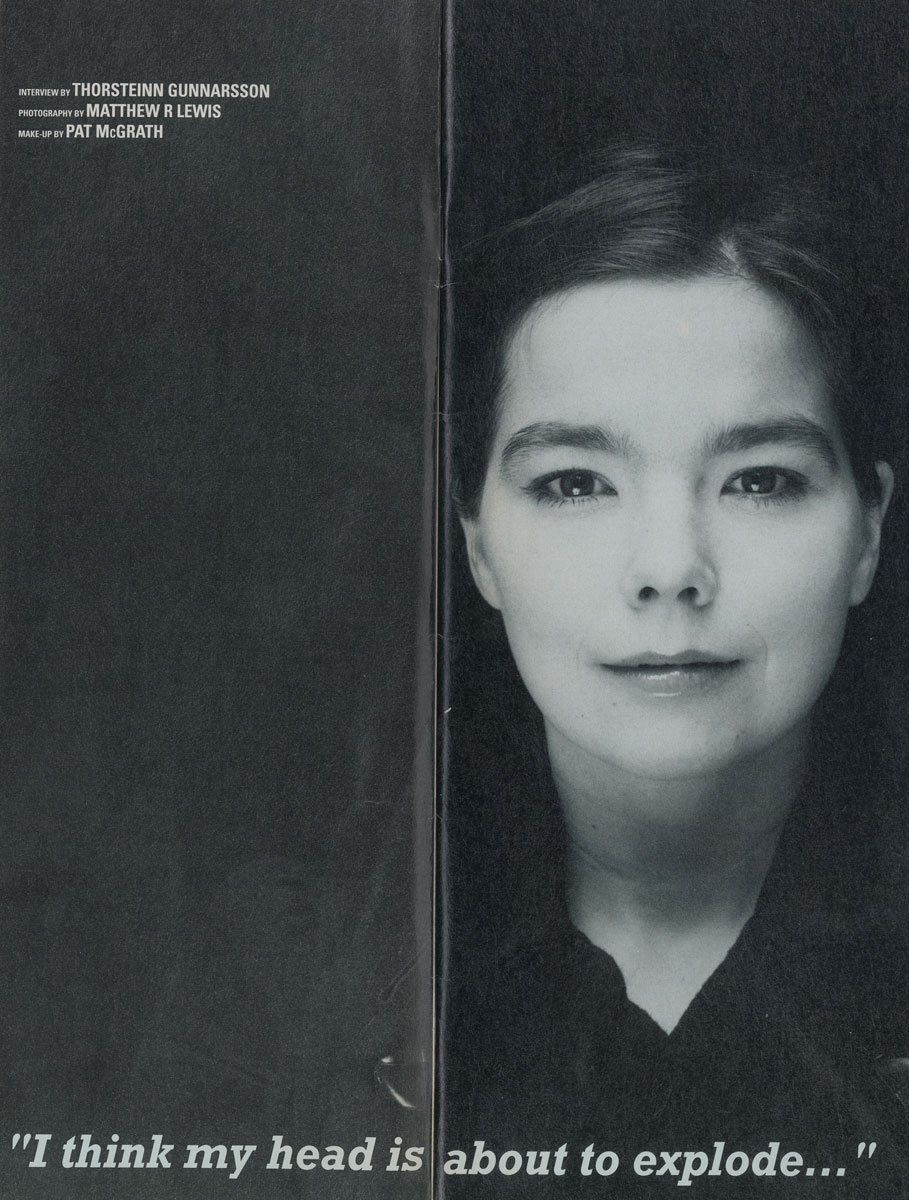 Using dance music as the framework for her songs is a definite departure from the guitar-based pop that Björk has been identified with to date. This belies the fact that she has been a dance fan since the early days of acid house. From 1988 onwards, Björk could usually be found in various London clubs whenever her band schedule permitted. What seems an abrupt change of heart is in fact a long process of musical evolution that has finally reached fruition today. "Dance music is the music that I've mostly been listening to in the past few years," she confirms. "It's the only pop music that is truly modern. To be honest, house is the only music where anything creative is happening today."

Discussing Björk's eclectic taste in music gives way to a deeply-felt criticism of the rock tradition: "I could never stand guitar rock. That's the funny thing. My father was a hippy who just listened to Jimi Hendrix and Eric Clapton and I grew up listening to that music. When I was seven, I was convinced that this music was ancient history, that I would do something new," she says. "I think that as soon as any form becomes traditional, like the guitar, bass and drums, then people start to behave traditionally. It's really difficult to get a band to stay on the edge using the typical bass, guitar and drums set-up because it tends to lapse into a predictable form. My ideal band would be an open-minded group that won't let anything get in the way of creating something new. They could use saxophones, teaspoons, drum machines or anything to communicate a whole concept whether it be a house track, experimental music, pop, or just a nursery rhyme."
In fact, Björk's disillusionment with the state of contemporary music was one of the prime motivations for her Debut. "This record is really about being tired of going into the world's largest record store in the hopes of finding something fabulous, and walking out with, fucking yet another Miles Davis record because there's nothing happening that's challenging."
So you felt that you had to make that music yourself? "Largely, yes. That was my impulse." It turns out Björk is a pop star on a personal crusade. "I think pop music has betrayed us," she states. "Everybody in the world needs pop music, just like they need politics, their pay, and oxygen to breathe. The problem is that too many people dismiss pop as crap because nobody has had the courage to make pop that's relevant to the modern world. Pop music has become so stagnant. This is really a paradox because it should change and evolve everyday. I don't think anybody has made a decent pop album in years."
Could Debut be the one to change that? Björk isn't so sure. "I still have so far to go and though I think this album is alright, I don't think I'll make a really good album until maybe three or four records down the road. There's so much that I still need to learn."
Björk is perhaps her own worst critic but at heart she is also a serious idealist about her music. "I want this album to be pop music that everybody can listen to. I think not sticking to any particular musical style makes the album real. Life isn't always the same. You don't live in the same style from day to day, unexpected things happen that are beyond your control. That's this record. One song is about the mood you're in walking to the corner shop, another is about being drunk and out of it on drugs in a club, and the next one is about feeling romantic and making love."
This is pop philosophy according to Björk, where meaningful music and disposable pop aren't necessarily mutually exclusive. "Pop is music for a particular moment. You should be able to throw it away the next day but it has be real for that one moment so that as you're doing the dishes and hear it on the radio, you can relate to it, go deep into it, and know that it matters and makes a difference for you. It have to be some existential arty piece, it can just be a song that everybody can sing along to. But it has to touch you deeply for that moment."
Björk takes her pop music seriously and so should you. Listen to the single, immerse yourself in the album and see if it doesn't affect you on more levels than the usual uninspired pop fare, even if only for that precious, fleeting moment. "That's how I want people to experience this record," she says. "As pop music for 1993."
Human Behaviour is out on May 31, Debut on June 28, both on One Little Indian.