what happened when we spent six hours in paris with skepta
The Tottenham musician celebrates his second collaboration with Nike by taking some pals to Paris.
Bolade Banjo
It was during spring/summer 2013 Paris Fashion Week that Joseph Junior Adenuga, better known as Skepta, was struck by inspiration for a creative renaissance. He was at a party where Virgil Abloh was playing hits from Drake, Kanye, A$AP Rocky and the like, and Skepta wondered if he could create a song that could be played in that exact same set. A song as clear, as strong, as definitive as everything the future Louis Vuitton Don was spinning, but British. Not dissimilar to the unadulterated grime he had made as a young man back in 2004, but that could translate to today. He sat alone in a corner of the club and recorded several minutes of Virgil's set on his phone.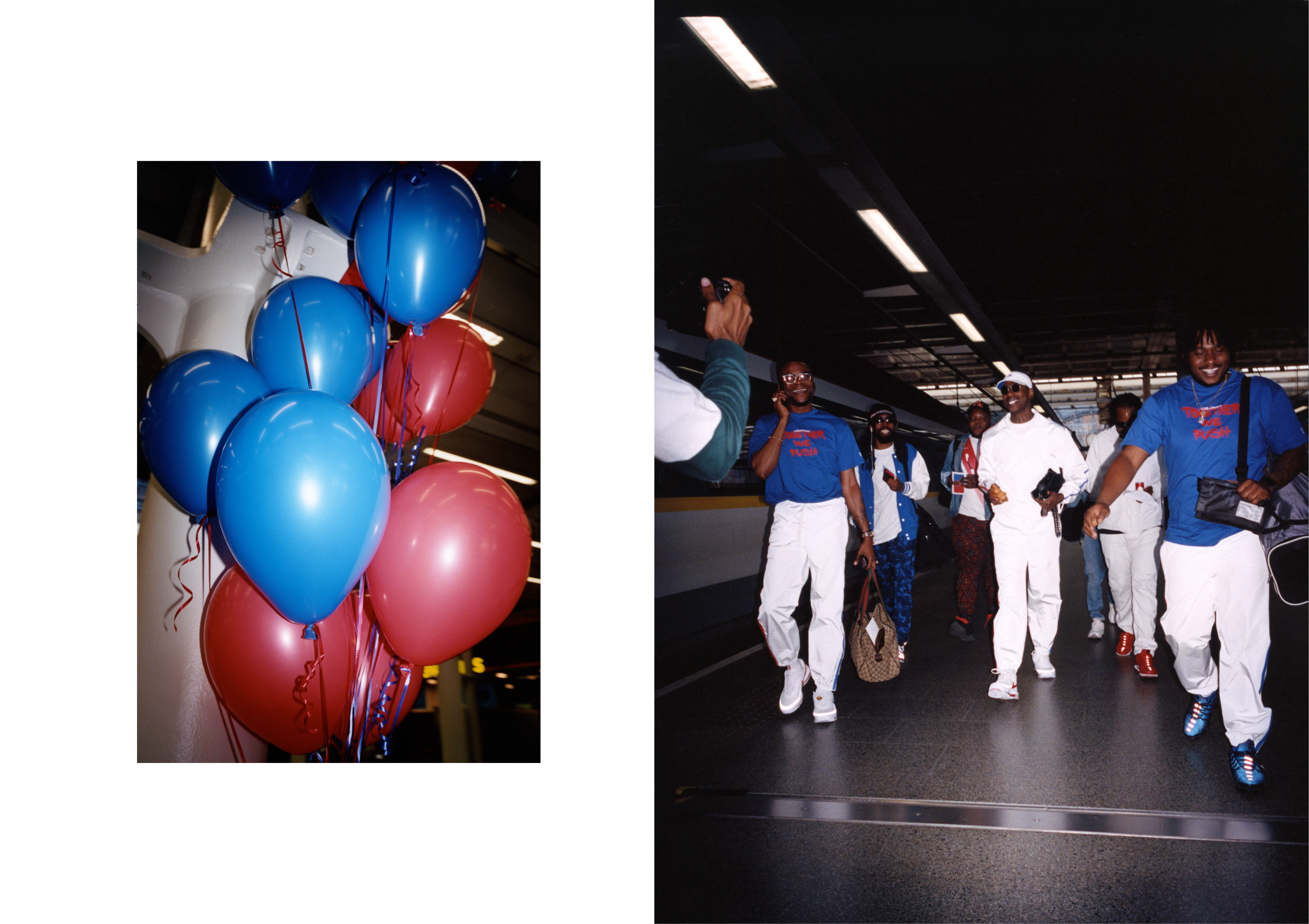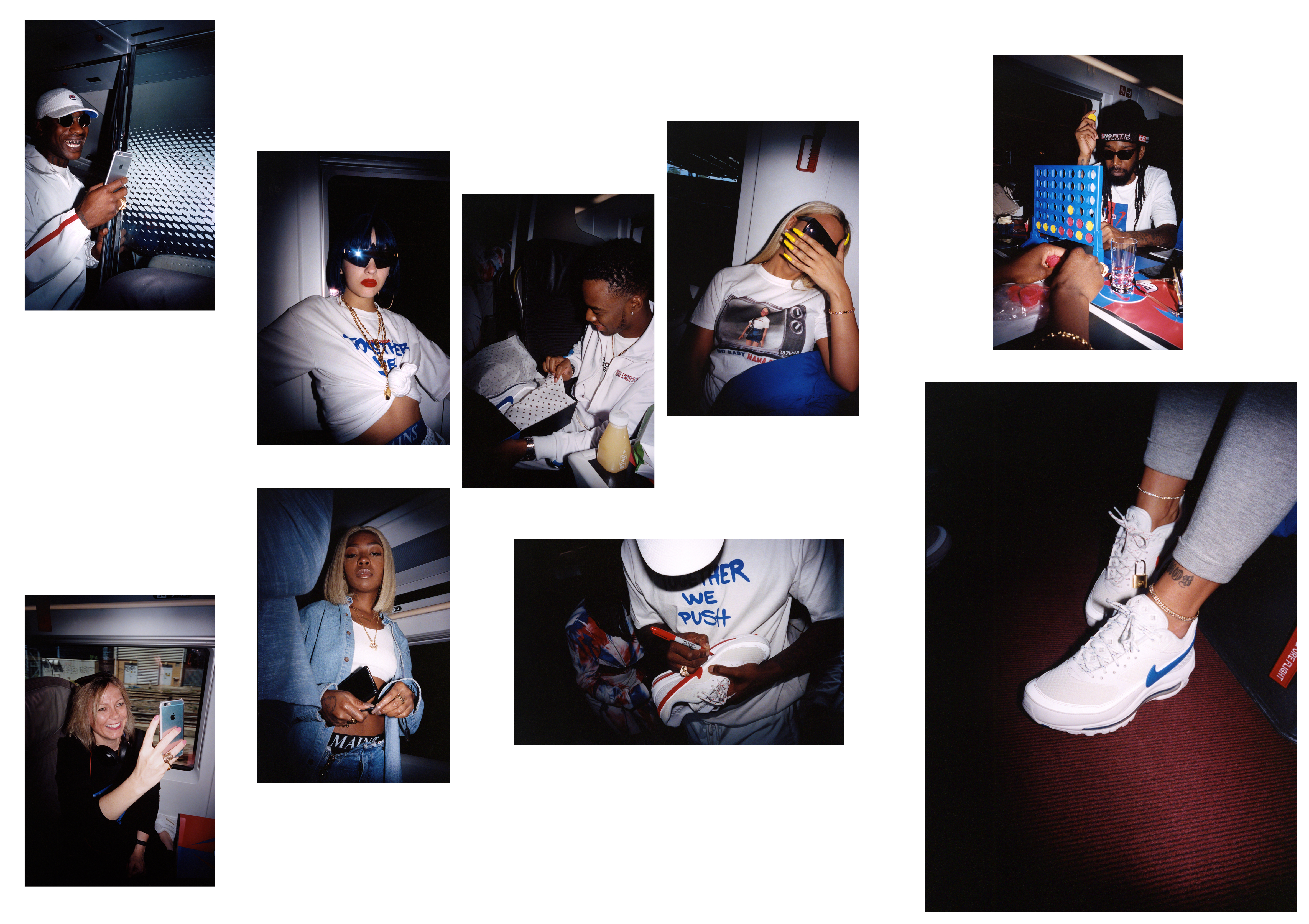 Skepta returned home to London and created That's Not Me on Jammer's old Triton Korg, a keyboard that was particularly prevalent in the early years of grime. The 140BPM song about eschewing excess and being the greatest version of yourself, regardless of bank balance, was an instant hit. Since releasing the JME featuring single, Skep has gone on to win the Mercury Prize and multiple Ivor Novellos, headlined Wireless and performed on the Pyramid Stage at Glastonbury. He's also successfully ventured into the world of fashion, both with his own clothing line, MAINS, and with sportswear giant Nike. His first collaboration with Nike, in 2017, was an Air Max 97 SK inspired by Morocco and the 1999 Nike Air Tuned Max. The entire collection sold out in 24 hours.
For his second sneaker with Nike, Skepta turned to Paris, punk and the Nike Air Max 97/ BW. The result is a striking contrast to the 97 SK — this time he's opted for a whitesneaker, one side detailed in red, the other white. The Nike Air Max 97/BW SK comes with a perfectly matching tracksuit from MAINS. "I designed it white because I wanted a summer shoe and I wanted to make the hybrid of the BW and the 97 together," explains Skep. "I made it so one shoe is red and the other blue because the colours are about love. A lot of each side of love is represented by red and blue, whether we're talking gangs or boys and girls… It's all love."
To celebrate the collaboration, Skepta invited 30 or so friends and family to join him for a day trip to the City Of Lights, to uncover the roots of his inspirations. "It's more than a blessing for me to come to Paris today with my family because I have real friends here. 'I was in Paris, shut down Lark'," he says, referencing Shutdown. "All of it started there."
Meeting at the Eurostar promptly at 10.30am, Team #SK wisely booked an entire carriage of the Eurostar so there was plenty of space to play music -- and games. Skep's manager, Grace Ladoja, who was recently awarded an MBE, had a Nigeria playlist that created the ideal energetic ambience. Meanwhile, Skep invited everyone from Logan Sama, Jammer, Siobhan Bell, self-styled 'Techno Princess' Sita Abellan, Not3s and TTYA's Irene Agbontaen to pass the time by playing Jenga, Connect 4 and "Scrabble, it's my favourite game" (Sadly Skep and i-D lost to Logan).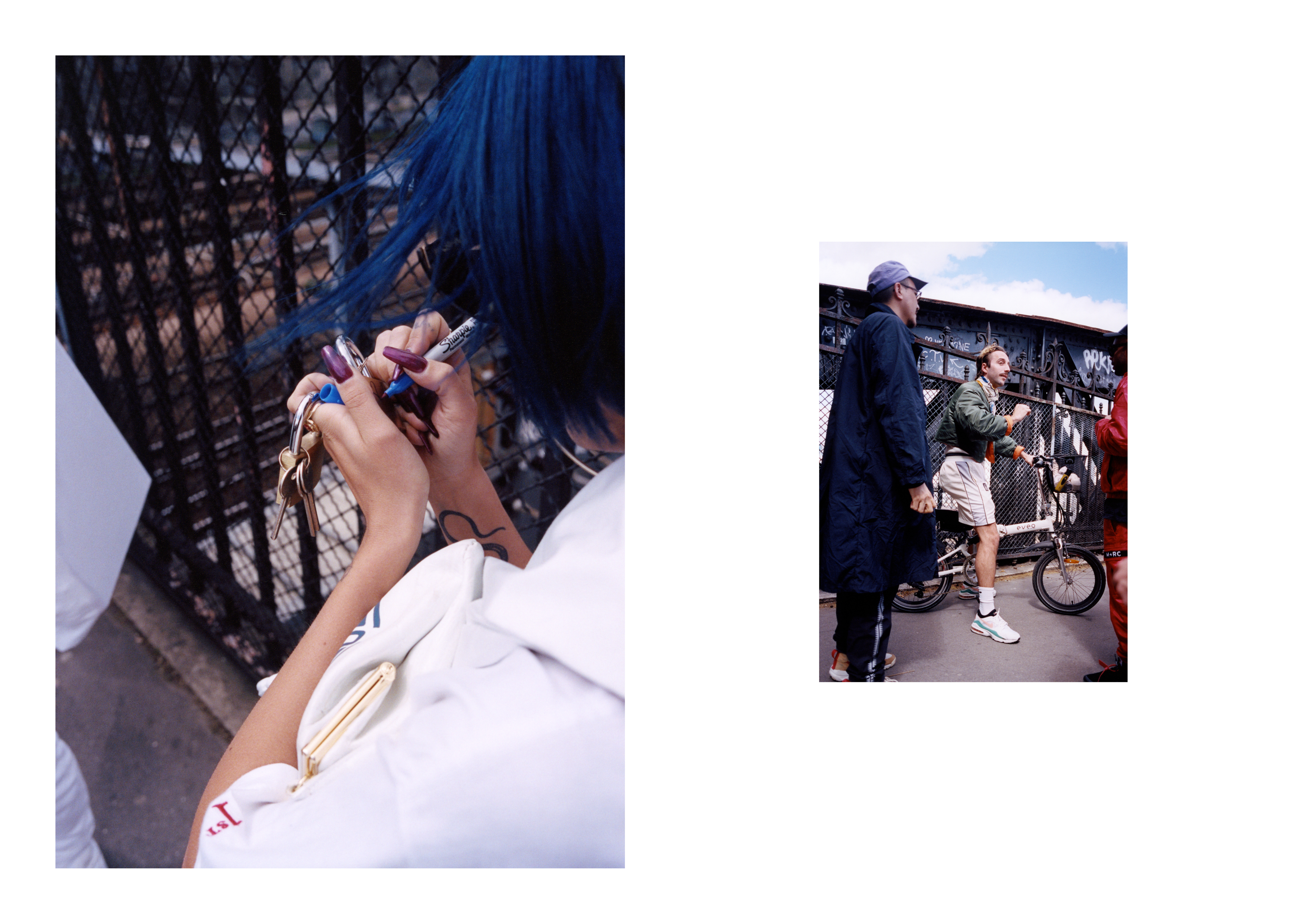 Once arriving in Paris, Skepta had arranged an itinerary of his primary inspirations, taking in parks, bridges, premium ateliers and the Louvre. As well as utilizing France's tricolor, another key design of the Air Max 97 BW SK's is the padlock that comes with each pair.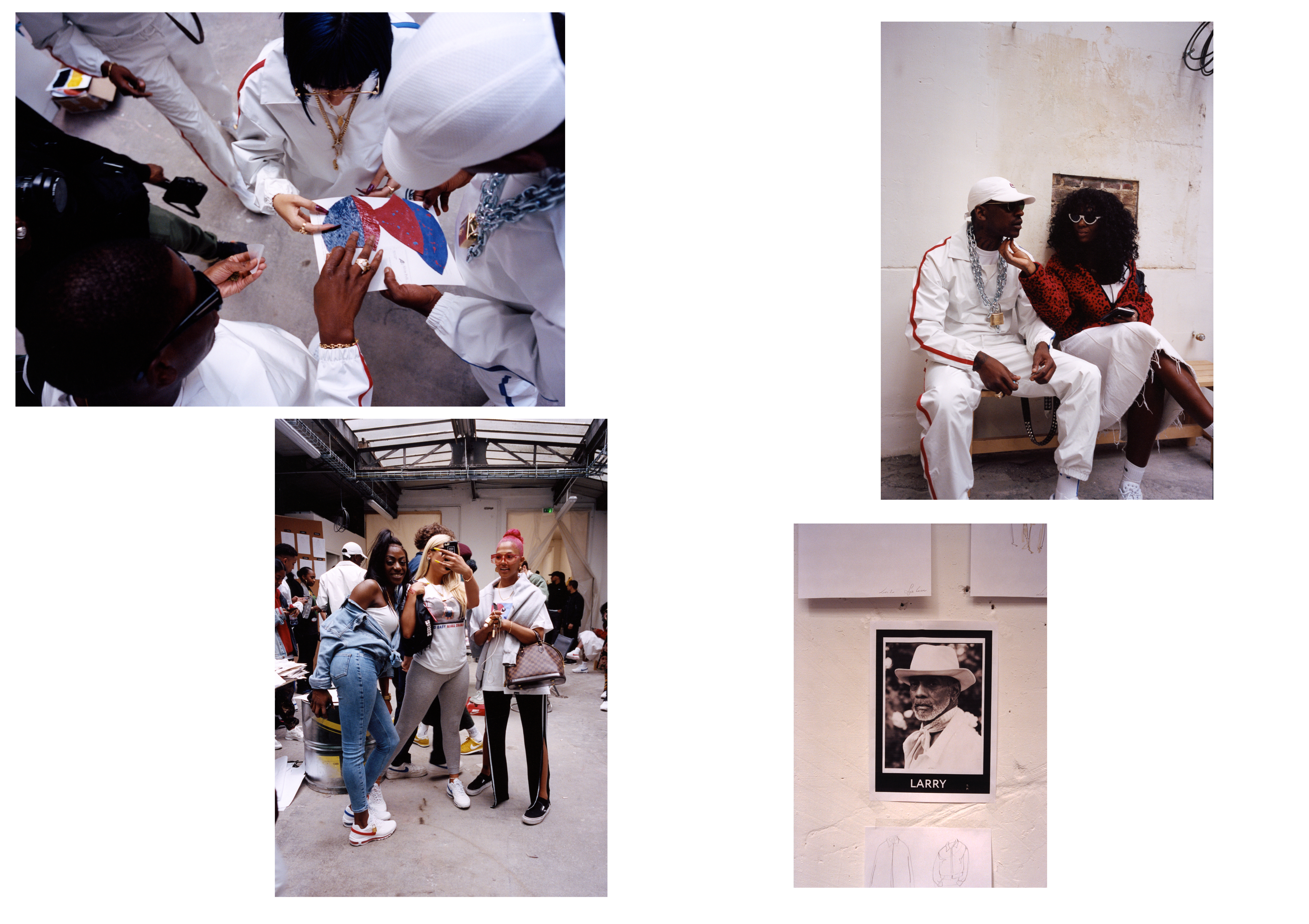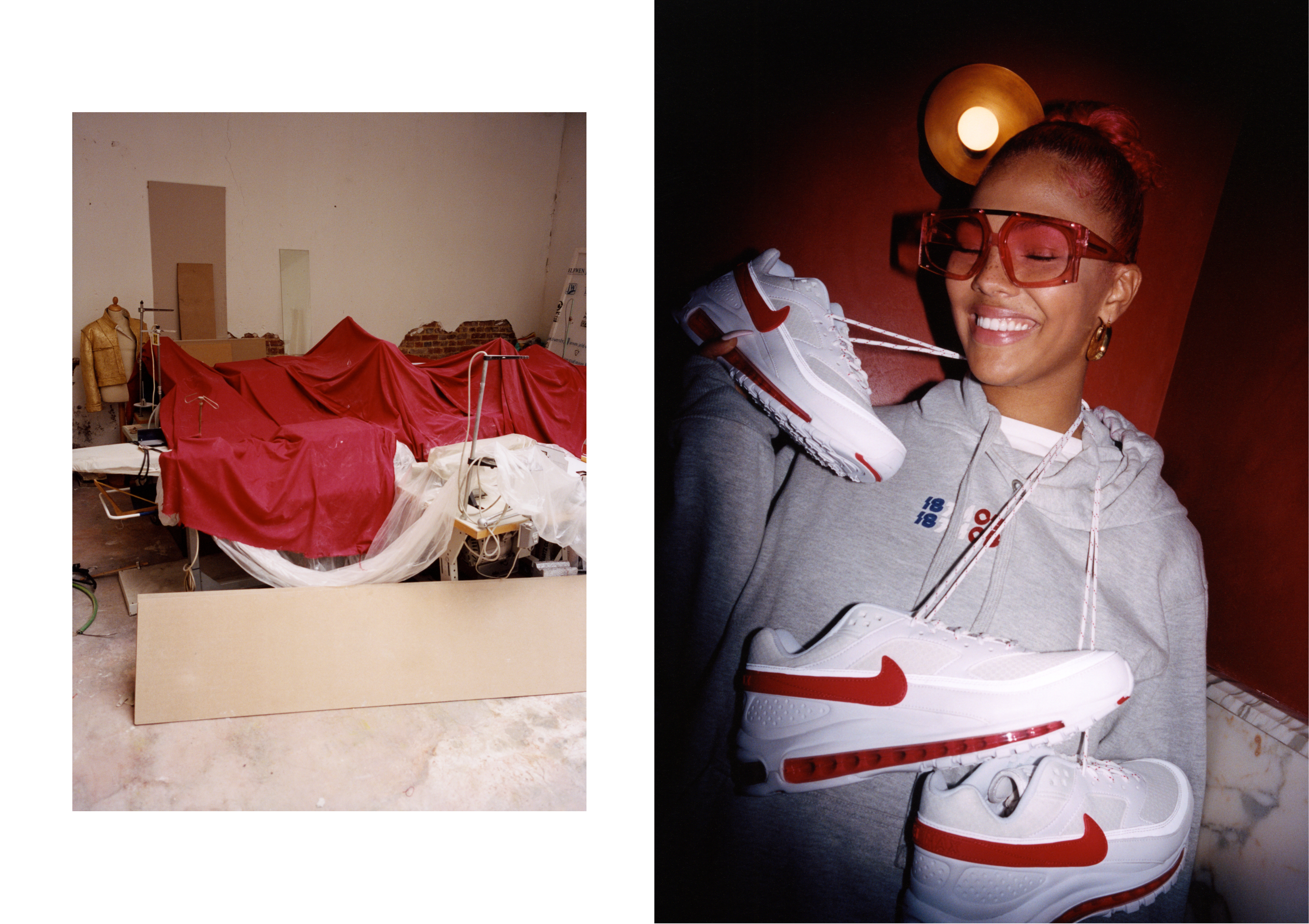 "The padlock was the main source of inspiration, which came from Sid Vicious. I started with the padlock and the padlock took me to love -- that's the reason Sid Vicious had it," Skep explains, the Eiffel Tower quite literally twinkling in the distance. "They [Sid and Nancy] were in love and the padlock signified their love. You know what's really cool? When stories tell themselves. It started with a love lock and then the shoe became the bridge to hang it from -- in Paris they hang padlocks on bridges to symbolize love. I thought, I'll do one red side and one blue side and then I realized when I put the Nike swooshes back to back it made a love heart. Everything just fell together."
As the group wandered around Rue Francois Lapine, Skepta's close friend, and head of BBK Africa, Greatness Dex described what the padlock means to him. "This key refers to life, it represents love, understanding, peace, health. But the main thing is you've got to love yourself before anything happens. This lock here, it's for those that don't believe in themselves. They can read this message I've written on the lock and take it with them."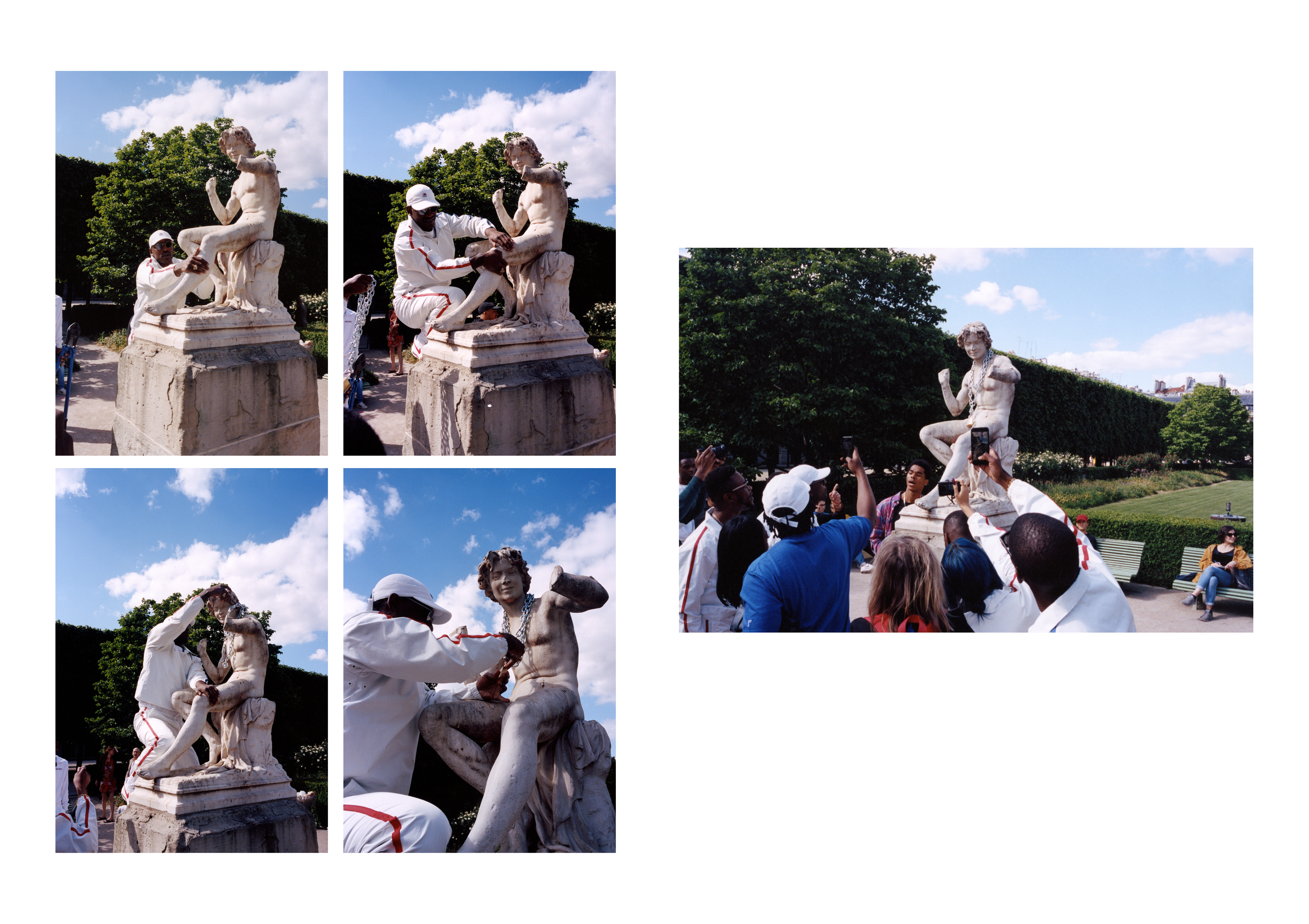 It was a short stroll across a square to the atelier in Pigalle, where Stéphane Ashpool took time to describe the long-lasting friendship between himself, Skepta and Grace Ladoja. "Actually, I've known Grace forever, we met through Pain O ChoKolat," said Stéphane as he showed us around the studio, which was covered in swatches and sketches. "One of my brothers, Charaf [Tajer], met Skepta during a trip to the States four years ago and invited him to [our annual party] Fête De La Musique. It was a very natural connection. What I love about Skepta is that he's a simple guy who spreads love."
Our next stop was the Jardins du Palais Royal, but Skep wasn't interested in the flowers on display. "I'm going to hang my chain on this boy. It's an art piece," he decided, promptly climbing onto the plinth that holds the Charmeur de Serpent, by French sculptor Adolphe Thabard. As the park warden ran over furiously blowing his whistle, it was time to whizz to the Ponts Des Arts bridge, better known as the 'lovers bridge', where people declare their love for each other by chaining padlocks to the bridge. So that's what the entire crew did.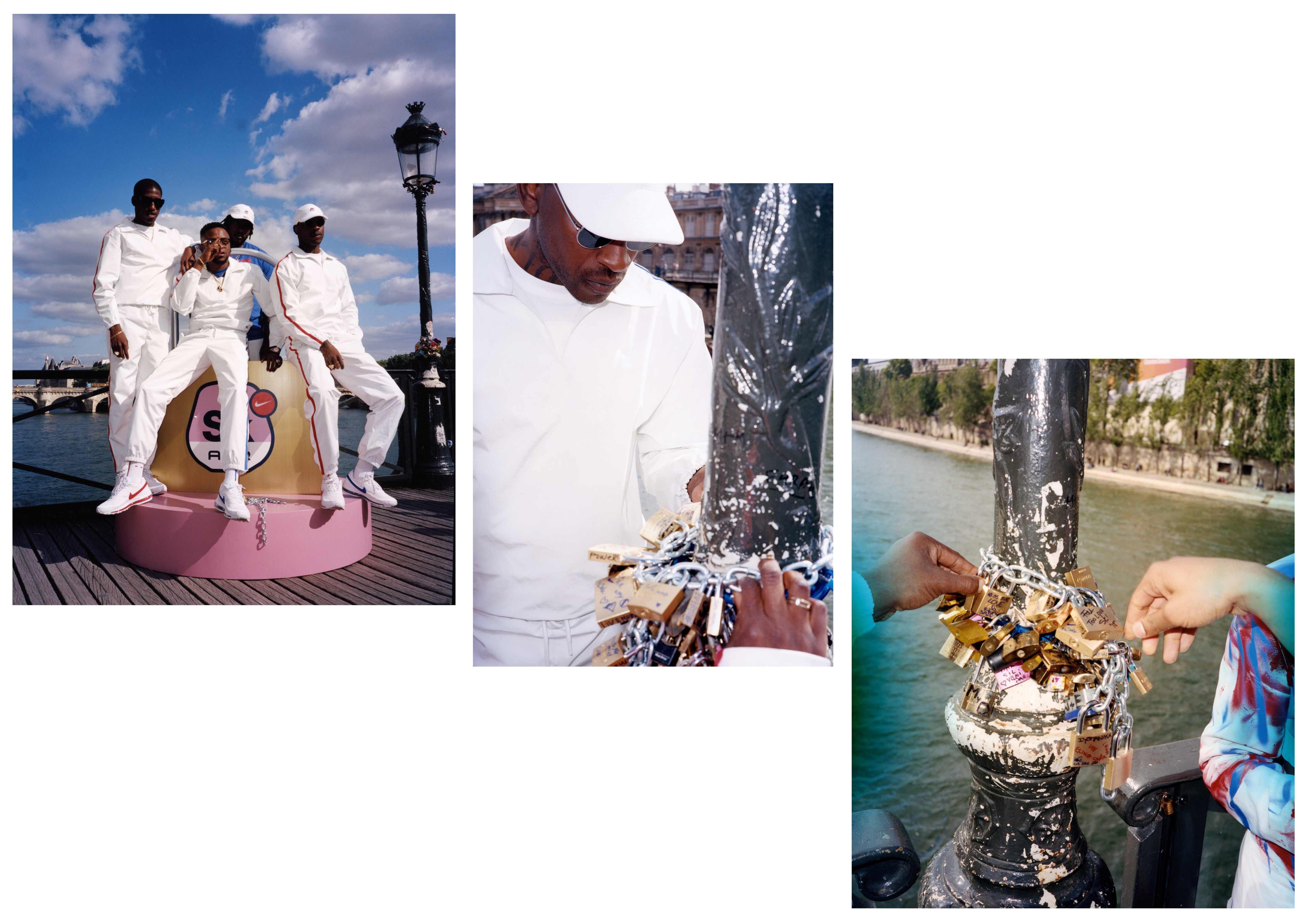 There was time for a quick light bite at the Louvre (the truffle pizza was a hit, though Skep sloped off to McDonald's), before heading back to the Eurostar and then home.

"It's mad because when they drop and I see how people act for them I'll remember that shoes are just like a watch — a Patek Philippe, or a Rolex. It's like getting a new chain. It's part of your drip, your swag, your pattern," says Skep taking in the Parisian streets on the way to Gare Du Nord. "When I see how people are on these creps, it reminds me when I'm designing not to get too deep into the tech of it. I leave that to Nike. I'm more into the magic of design -- it's kinda weird to have two different colored shoes," he notes. Grace agrees: "It reminds me of non-uniform day at school," she says. "I met one of my best friends at Highbury Fields school and we walked [to school] for 60 days to save £1 a day so we could buy our first Air Max. On non-uniform day you would swap a shoe each, to keep it fresh, it was that off-key/ Moschino/ Patrick Cox loafers time, so it reminds me of then."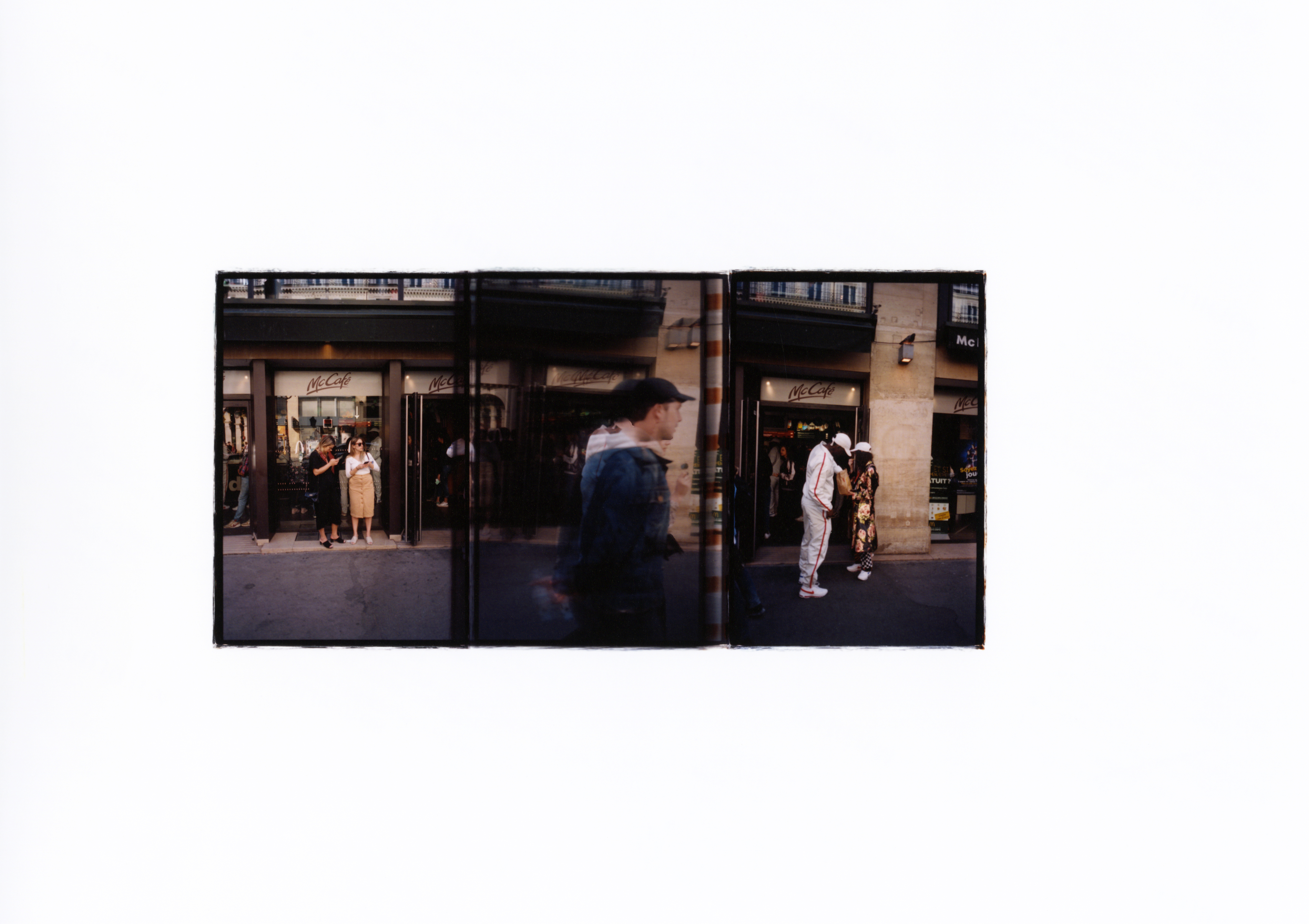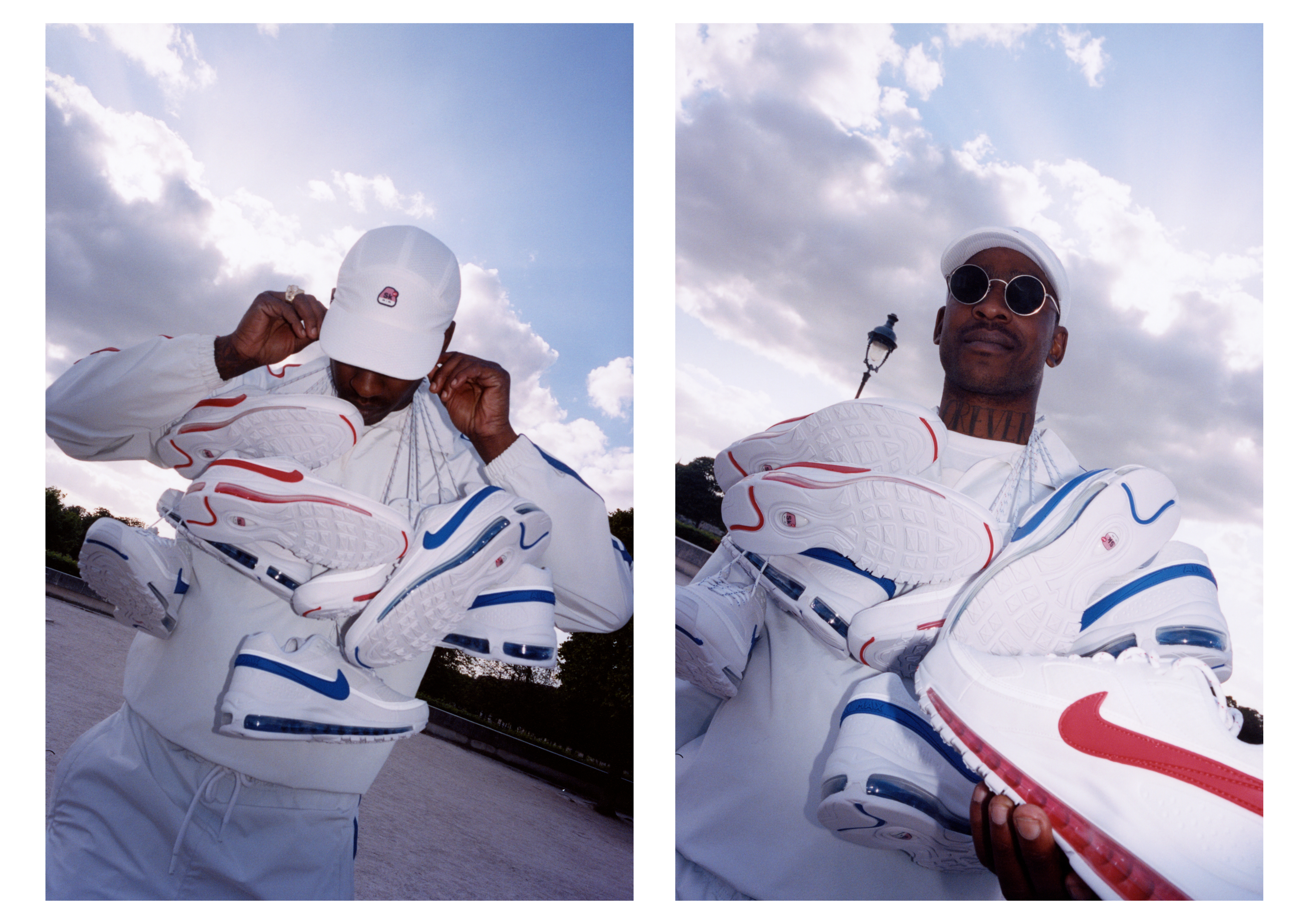 The design of the shoe — and probably the sight of Skepta and 30 pals parading around Paris — certainly drew attention. "Every kid I walk past in these is like 'What!'" Skep adds. "The magic that's in shoes, I'll always bring that to my designs. It's about making the sickest shit and seeing how people in my ends go crazy, it makes me so gassed. I'm happy with them, and with the tracksuit. Big drop. Summer 18 drop."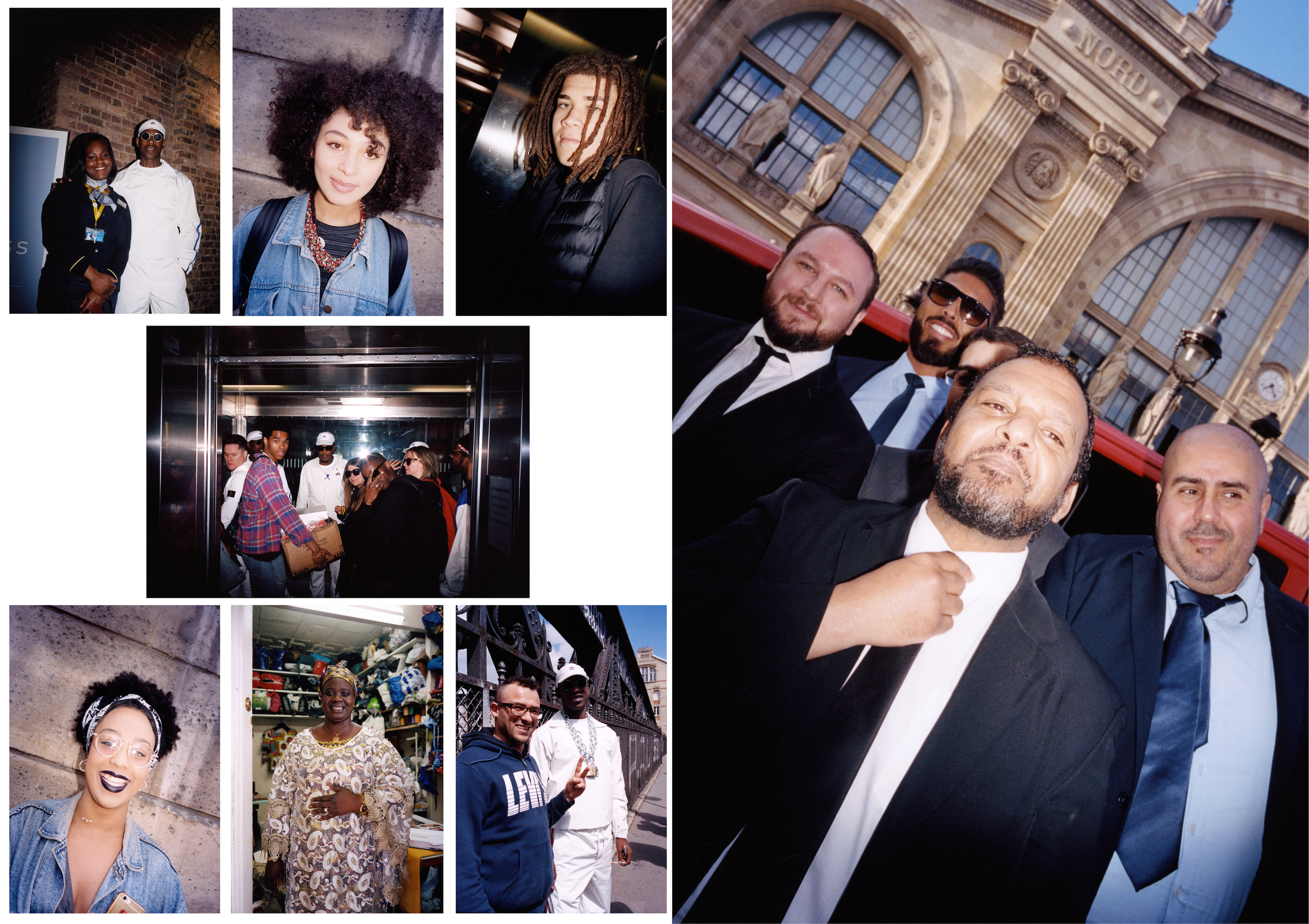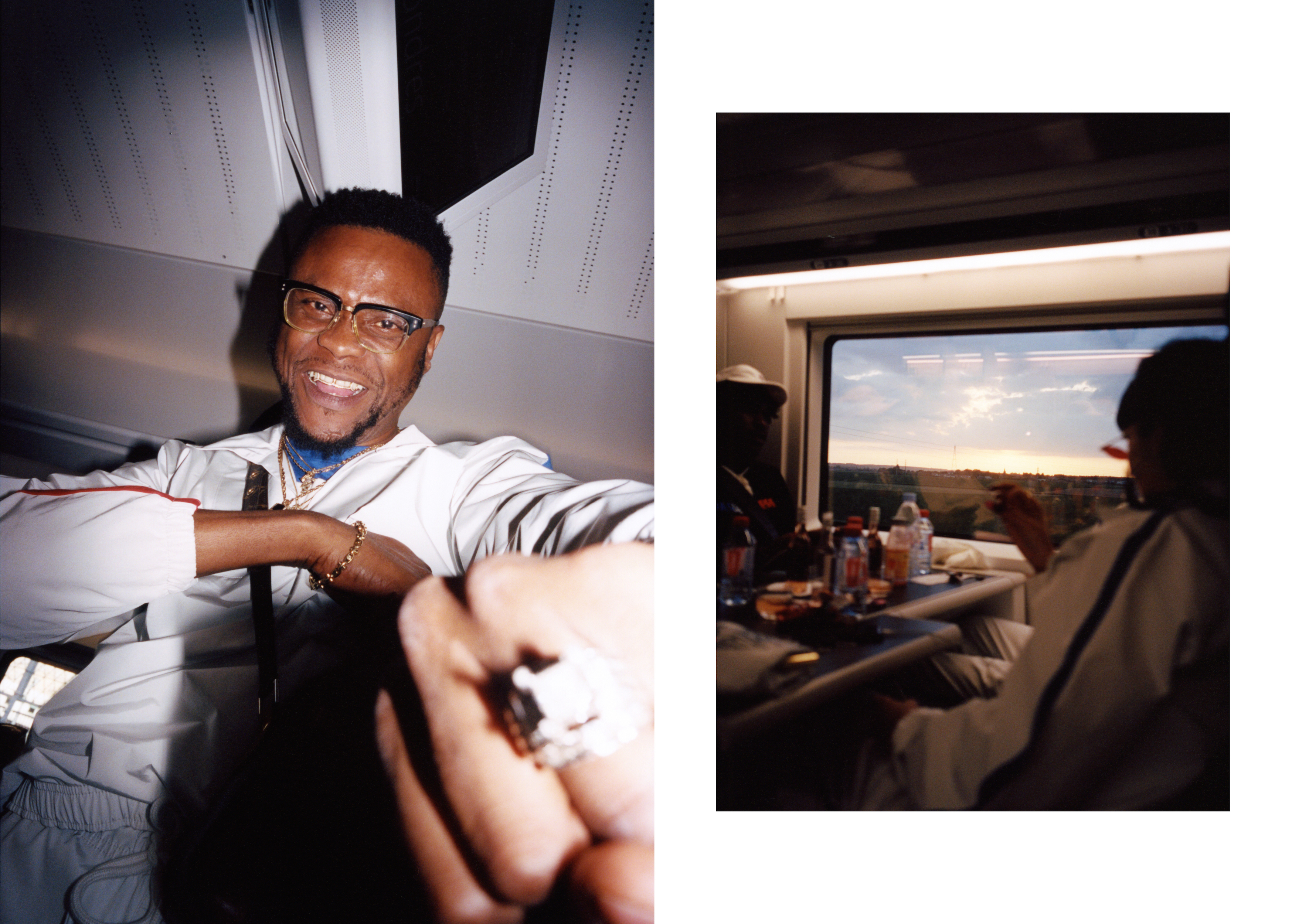 Skepta's Air Max 97 BW SK drops on 19 May. To find out how to get a pair at the launch in Paris, press here.
Photography Bolade Banjo
This article originally appeared on i-D UK.