watch the freddie mercury biopic's sexy and explosive first trailer
Rami Malek perfectly captures the Queen frontman's swagger in 'Bohemian Rhapsody.'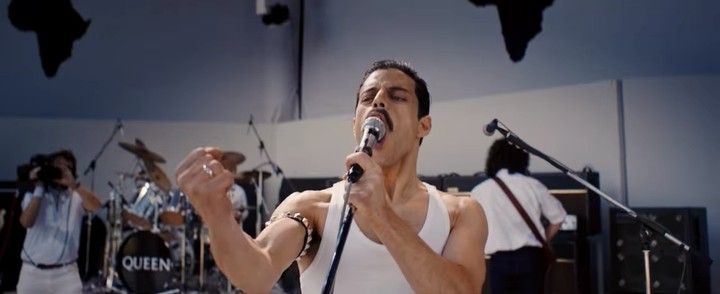 Screenshot via YouTube
It is hard to create a biopic viewers are able to fully immerse themselves in. There have been plenty of flops (see: the Wendy Williams-produced Lifetime flick about Aaliyah's life). But when it's done right, it's amazing: Jamie Foxx as Ray Charles, Angela Bassett as Tina Turner, Jennifer Lopez as Selena. Rami Malek as Queen frontman Freddie Mercury looks like it will be one of these rare, once-every-ten-years cinematic moments. The first trailer for Bohemian Rhapsody was released Tuesday morning and its as enthralling and schizo as its title song.
The trailer puts Queen's extensive catalog front and center, classics like "We Will Rock You" and "Another One Bites the Dust" playing. Mr. Robot star Rami Malek perfectly embodies Freddie's distinctive swagger. He delivers quippy lines in the trailer, responding to a record executive's concern that the band's six-minute track is too long with: "If you think six minutes is too long, I pity your wife."
Getting Bohemian Rhapsody to the screen has been a perilous journey. X-Men director Bryan Singer was originally attached to the project, but was fired after sexual assault allegations came out against him. Eddie the Eagle director Dexter Fletcher stepped in to fill the role.
Bohemian Rhapsody will hit theaters November 2. You can watch the trailer below: