Rottingdean Bazaar. Photography Mitchell Sams
the man show once again tested the boundaries of menswear
We <3 young London designers.
Rottingdean Bazaar. Photography Mitchell Sams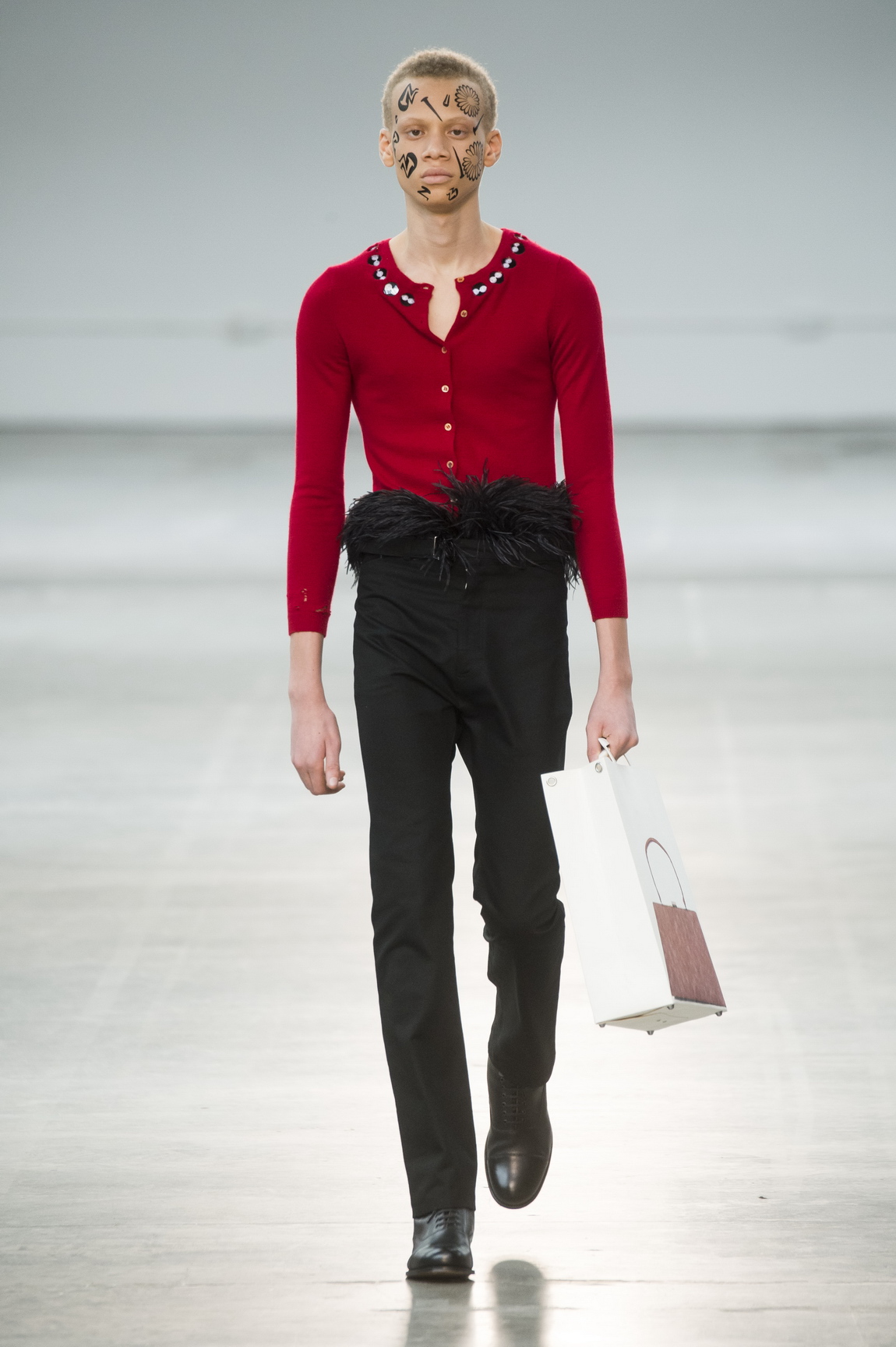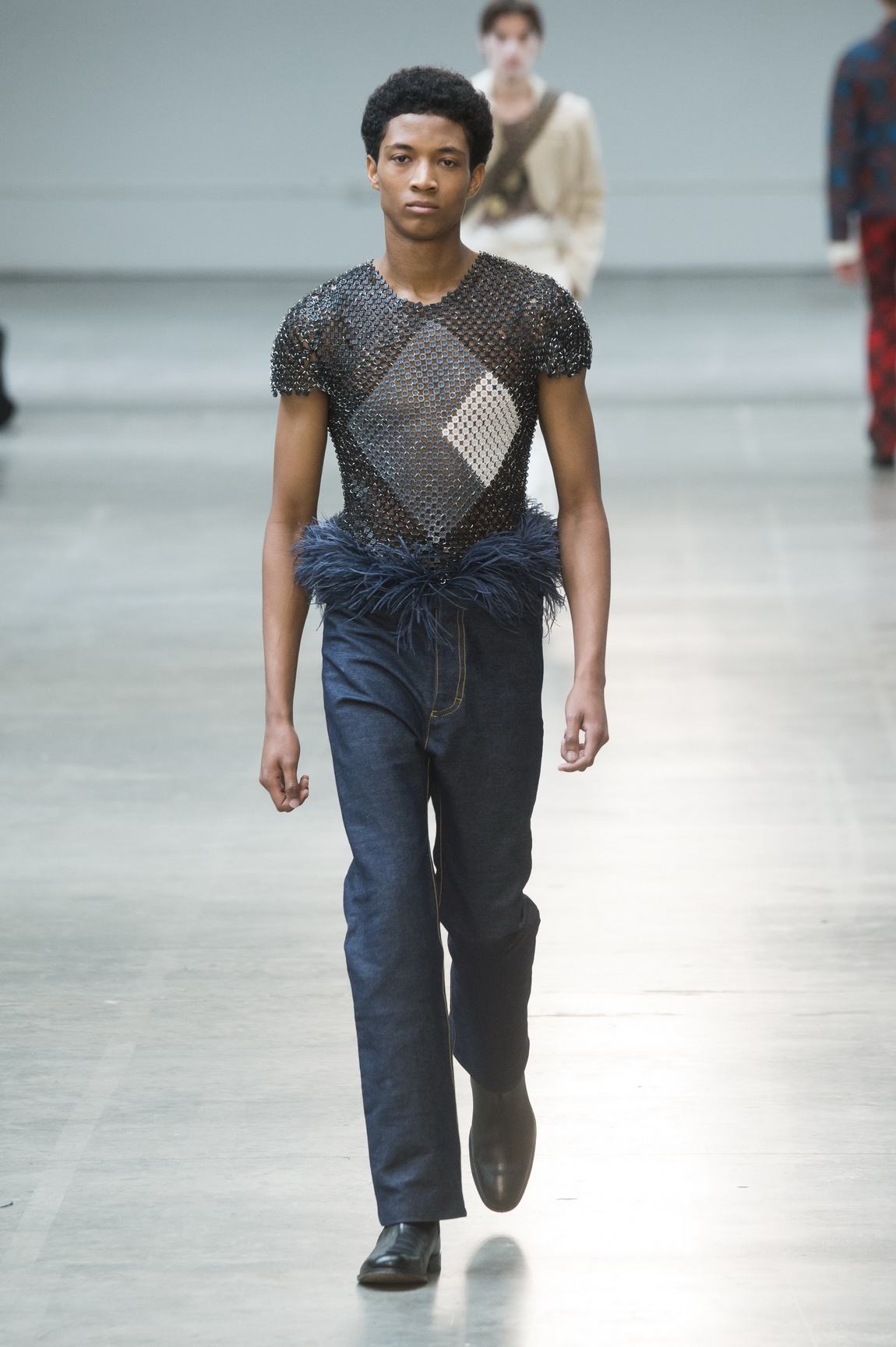 Stefan Cooke
"We're interested those moments when normal things becoming extraordinary," Stefan Cooke explained after presenting his spring/summer 18 show. The London-based CSM MA graduate founded his brand with partner Jake Burt after walking away with the L'Oréal Professionnel Creative Award and the pair were soon plucked to complete Fashion East's menswear triptych alongside Art School and Rottingdean Bazaar. Before the theatre and performance of their contemporaries closed the show in spectacular fashion, Stefan Cooke focused the attention on "extraordinary ordinary" menswear. "We are so fortunate to be part of this group of designers," Jake explained, "each of us shines in a totally different way. For us, the confidence comes from knowing that Art School and Rottingdean Bazaar are going to bring the performance element, so we can relax and focus on what we love, which is just wearable menswear. To be honest, both of us were conscious last season that we couldn't or wouldn't wear much of our debut, so we wanted to be able to this season."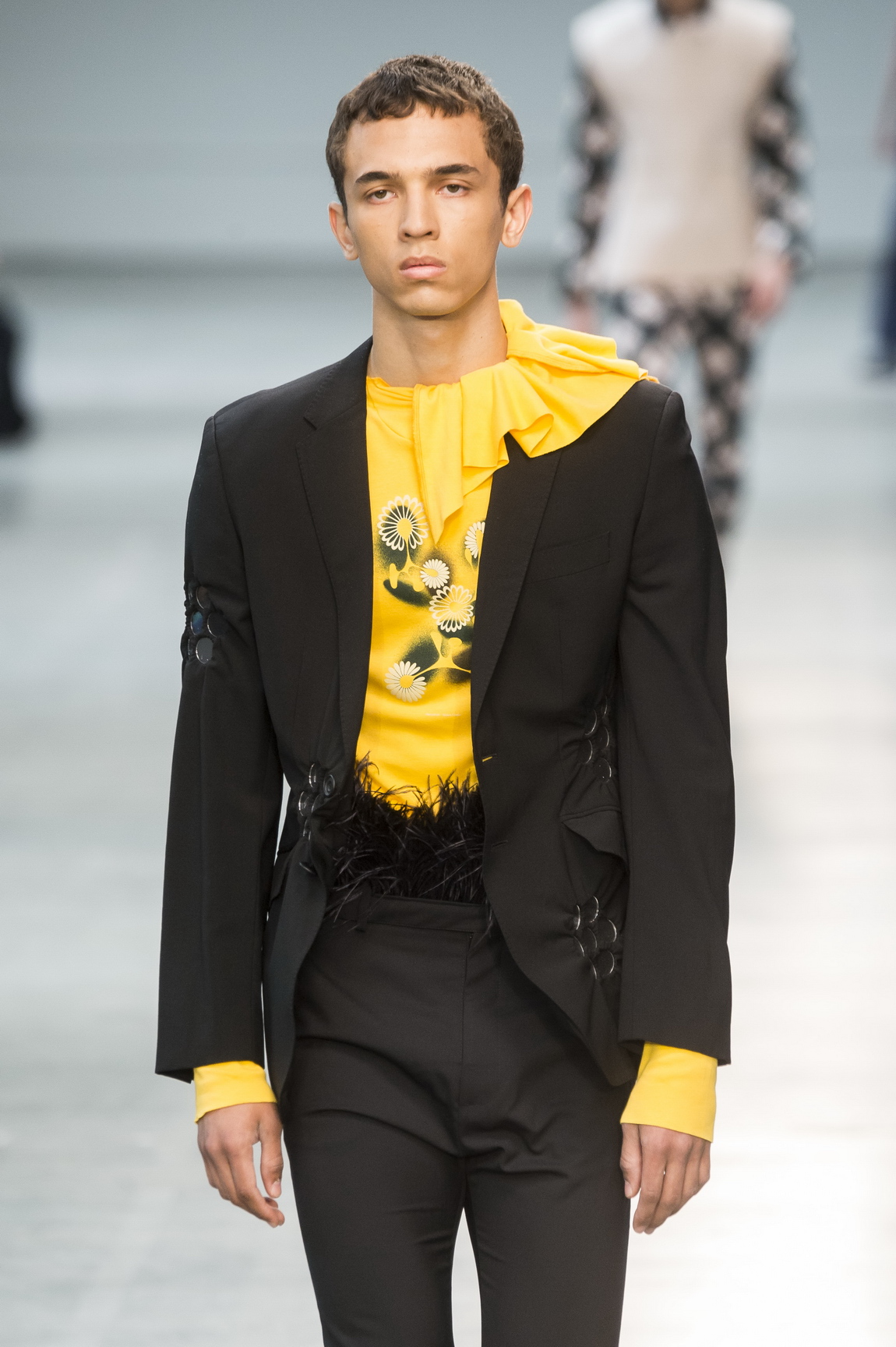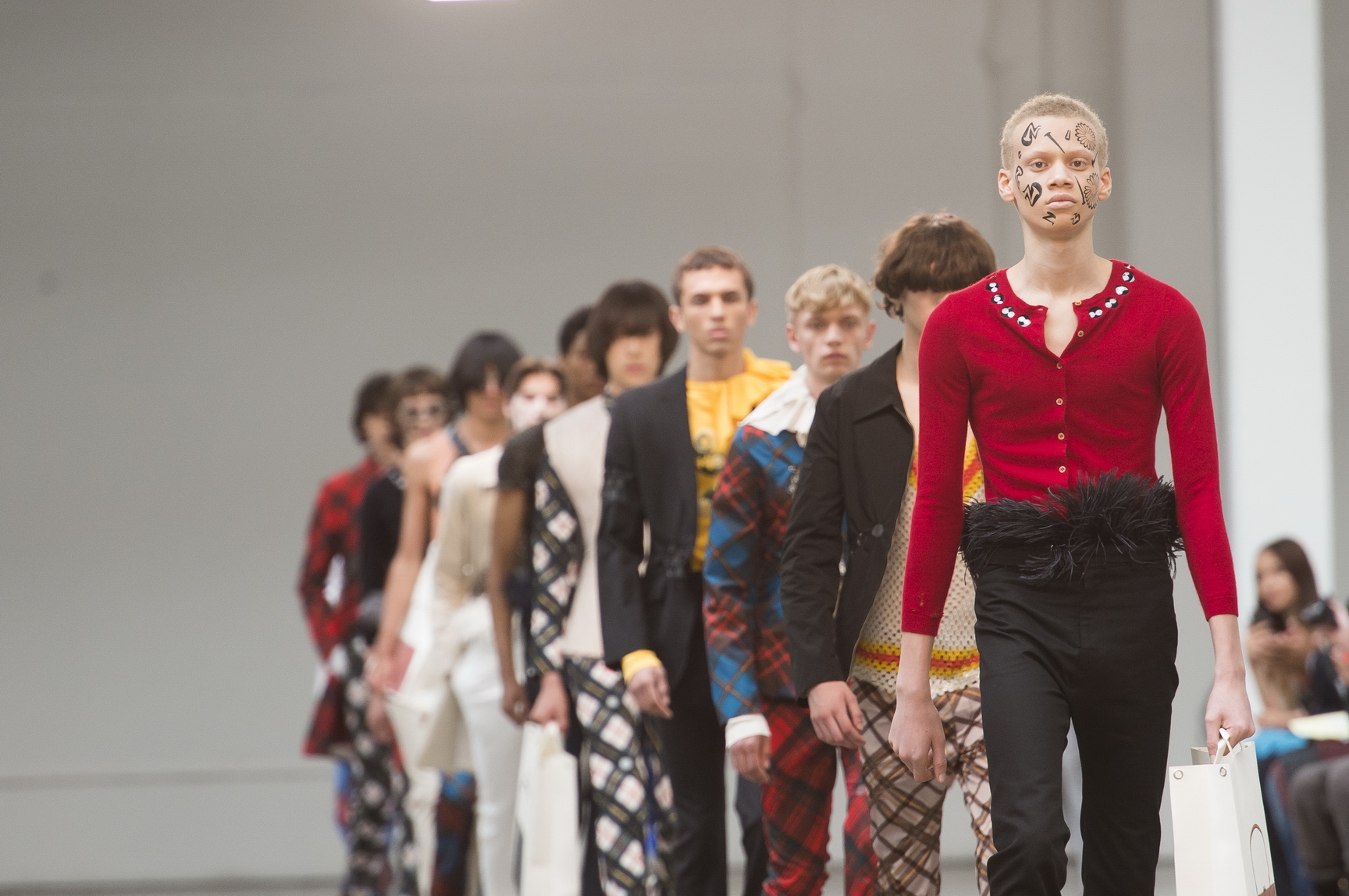 The Luxury of Boredom explores the initial excitement but inevitable ennui of bygone summers. That nostalgic longing for monotonous lazy days filled with mindless creativity. Both Stefan and Jake would raid the dressing up box and create their own excitement. "This season we looked to memories of Stefan's brother and my uncle," Jake explained, "they both seemed so cool when we were kids because they were teenagers. They liked Blur, they had floppy hair. They just had this glamour that wasn't real." From this starting point the design duo built on solid wearability and tailoring, using a selection of second-hand source pieces and reimagining them. Nothing is quite what it seems with Stefan Cooke. What first appears as knitted vests are actually hand-linked in chainmail-like webs of approximately 4000-7000 suit buttons. A collar, tabard, darted shirt front and a corset are all fabricated from machine washable paper printed with blown-up imagery of charity shop-found cable knit jumpers, clinging to the clothes using magnets. Cooke's favourite handbags are photographed and printed onto bags that resemble throwaway paper shoppers but on closer inspection are durable not disposable. With a little craft, even the most mundane can become something truly memorable.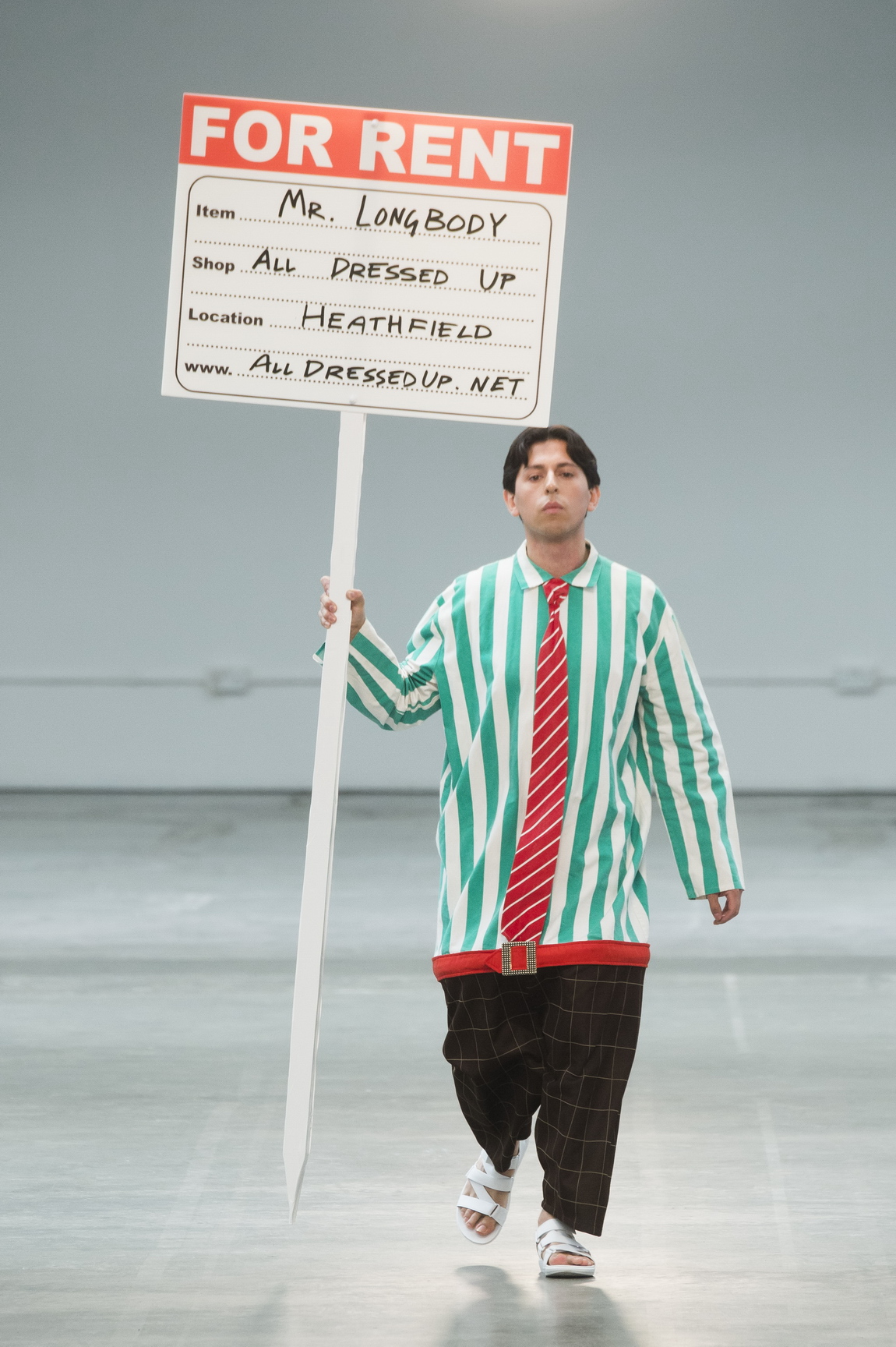 Rottingdean Bazaar
James Buck and Luke Brooks are two of the most riotously inventive young designers working at the moment. Much of what they do seeks to poke and prod at the conceptual fringes of fashion in ways few have the conceptual rigour or curious desire to explore. They want to question what fashions means and what it can do.
Everything Rottingdean Bazaar do, they do with a sense of deadpan and joyful humour that says that fashion should mostly be fun and enjoyable and make you smile a big innocent smile. This season they decided not to actually design anything, but rather hire everything from fancy dress shops across the country. "We looked at about 300 websites to find everything over the last six weeks," they explained after. And so we had a weird parade of fun and fabulous costumes; a carrot, Lily Savage, a worm, the world, a panto dame, a clown.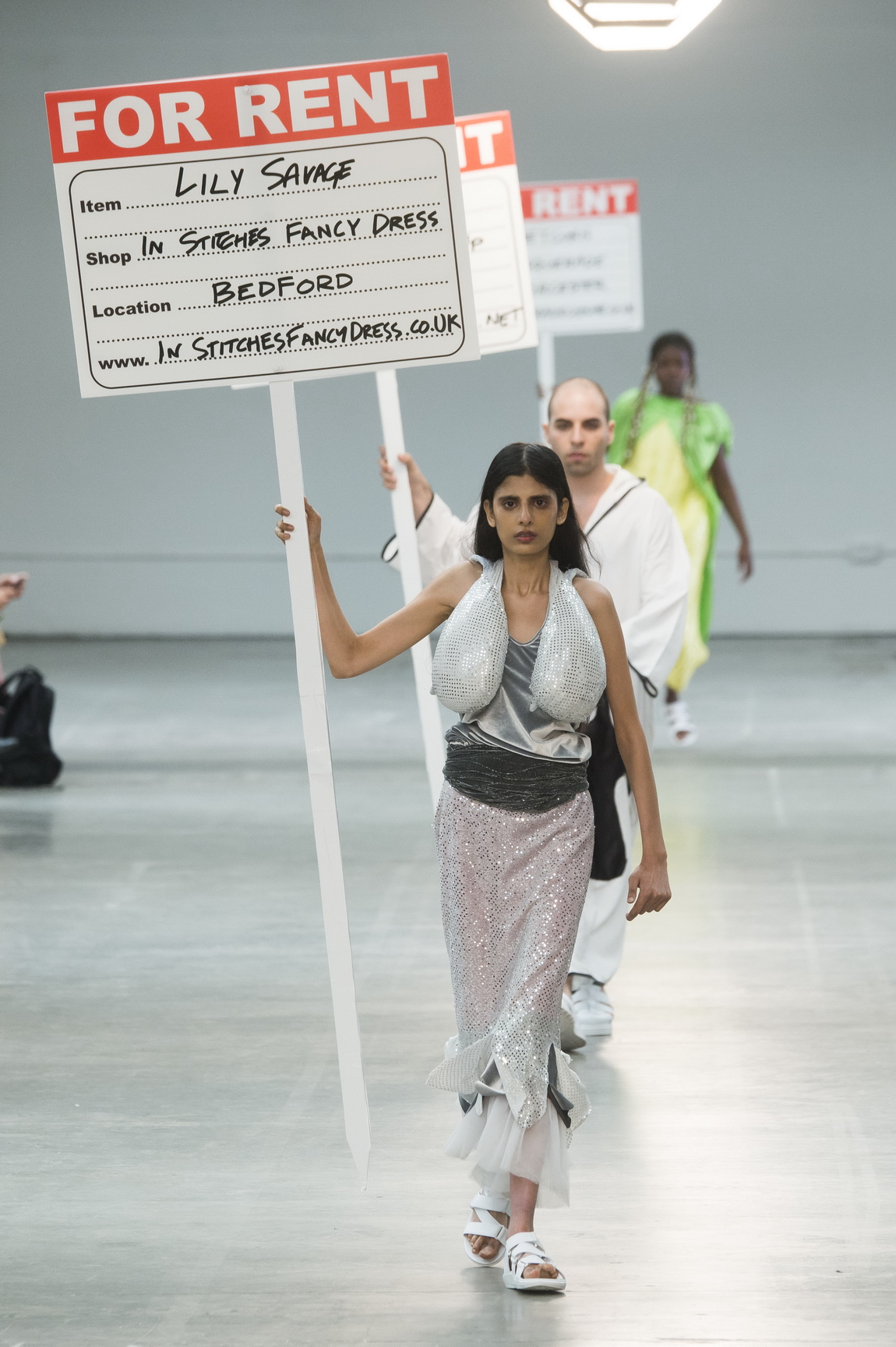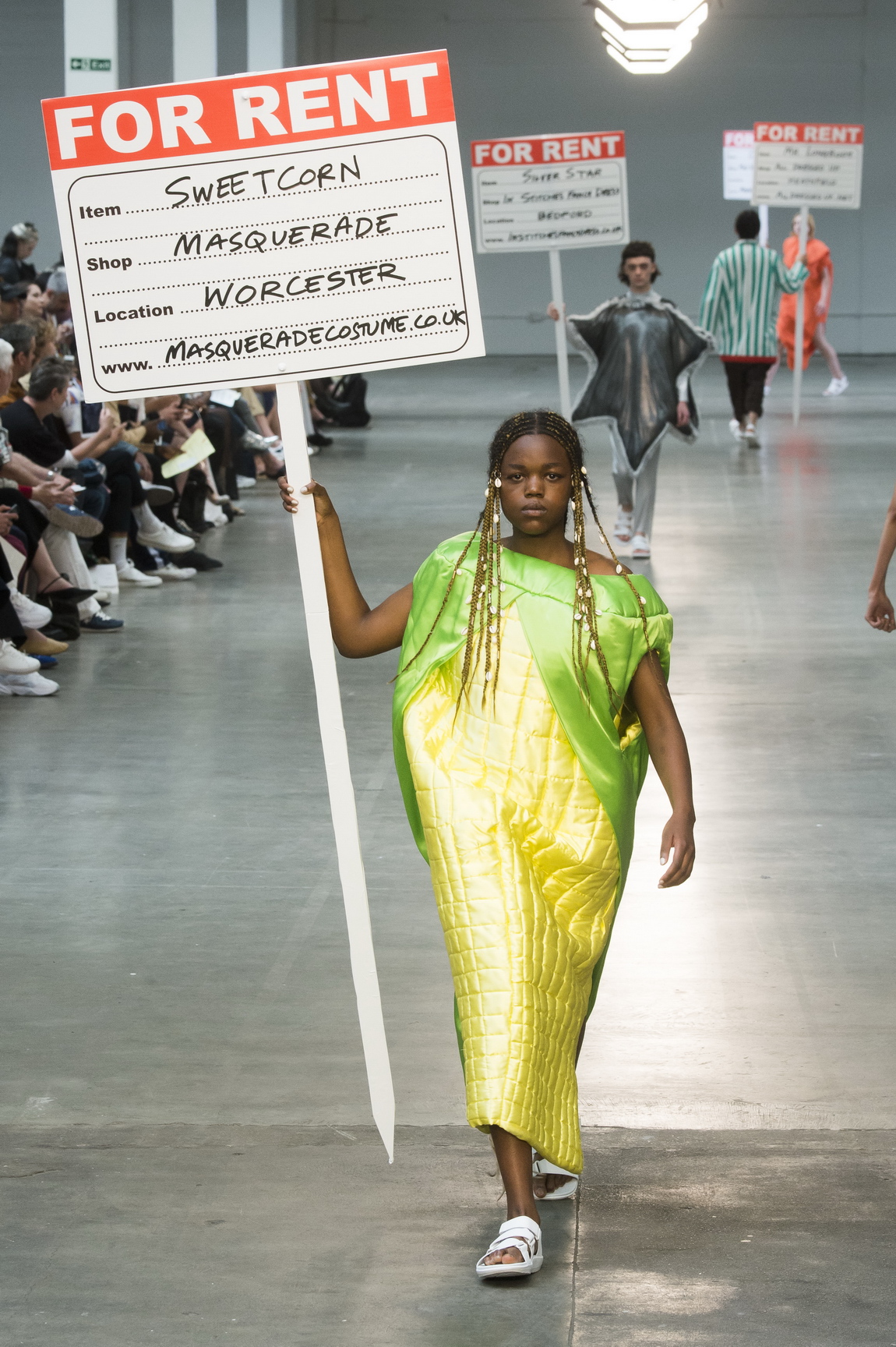 On a surface level it played on ideas about fashion as dress up, character creation, fashion as costume rather as much as self-expression. But it was also about finding new ways to play with the ideas of the catwalk show and inherent commerciality of fashion itself. "We wanted to do something that wasn't for sale," they said, "but equally we didn't want to do something that was about the aesthetics of non-commercial fashion." So instead it was about: how do you shoot this in a magazine? And how, if you want to wear a Rottingdean Bazaar spring/summer 19, you will look you'll have to call up the hire company and hope it's available. It was everything that was great about the duo as they move on from MAN, a celebration of their idiosyncratic approach.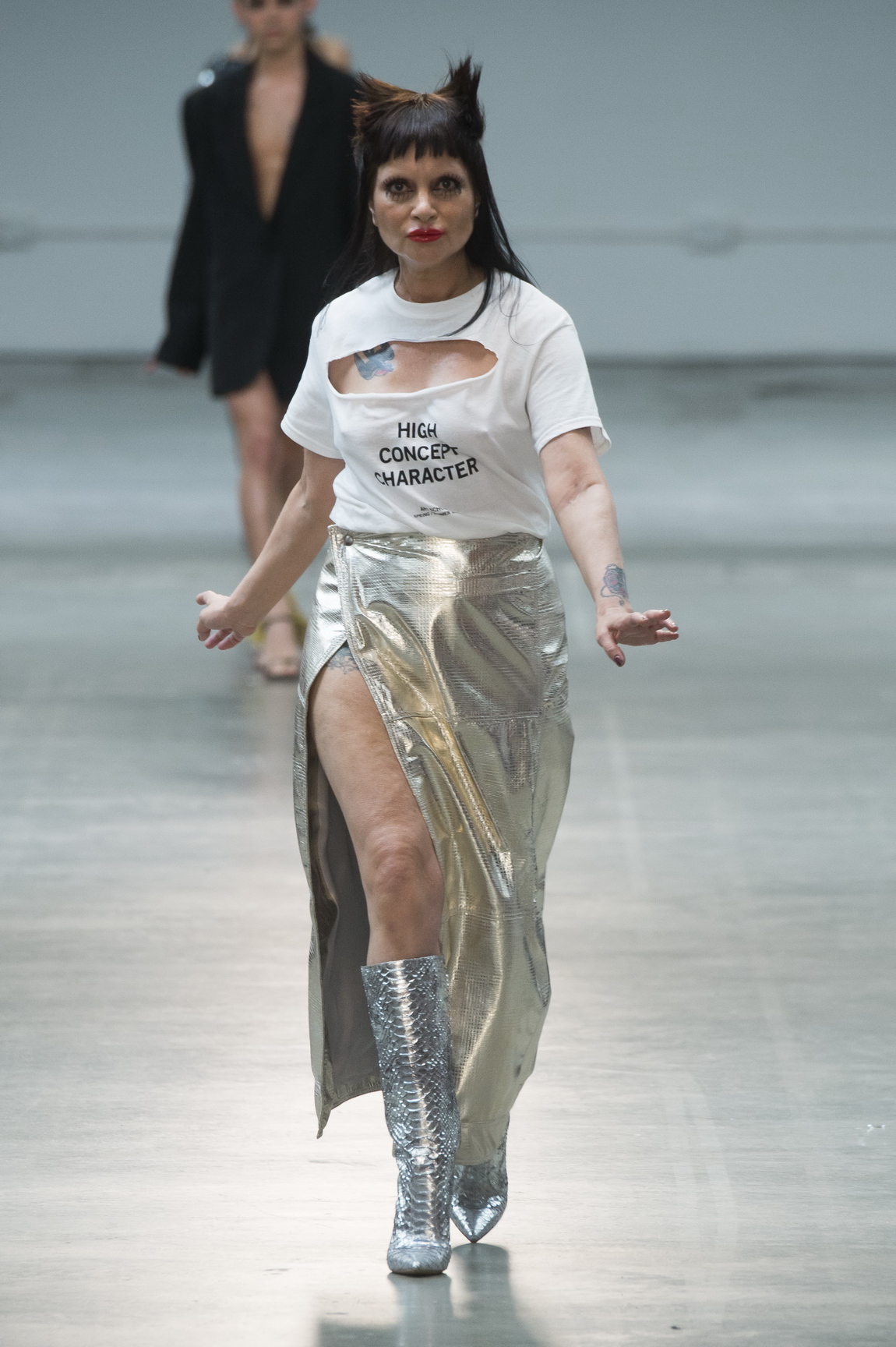 Art School
For Art School's final MAN show, they continued to put the queer body front and centre of their designs, in celebration of their fabulous community. "I really wanted to reawaken minds to what dressing a trans or queer body is about today," said Eden Loweth, half of the creative partnership behind the label. "And I think the cohort of people that represented us today are the truest representation of what we are about," said Eden Loweth, half of the creative partnership behind the label.
Renown choreographer by Holly Blakey was on hand to compose the catwalk, on which Art School's "high concept character" was embodied by the likes of HRH Princess Julia, artist artist Julie Verhoeven and model/ trans activist Munroe Bergdorf. Bias cut sequin dresses glittered in greens and silvers. Softly structured double-breasted suits and jackets played with body proportions. Spliced T-shirt and thigh-high slits on dresses and strappy, feather adorned heels gave a sexy edge.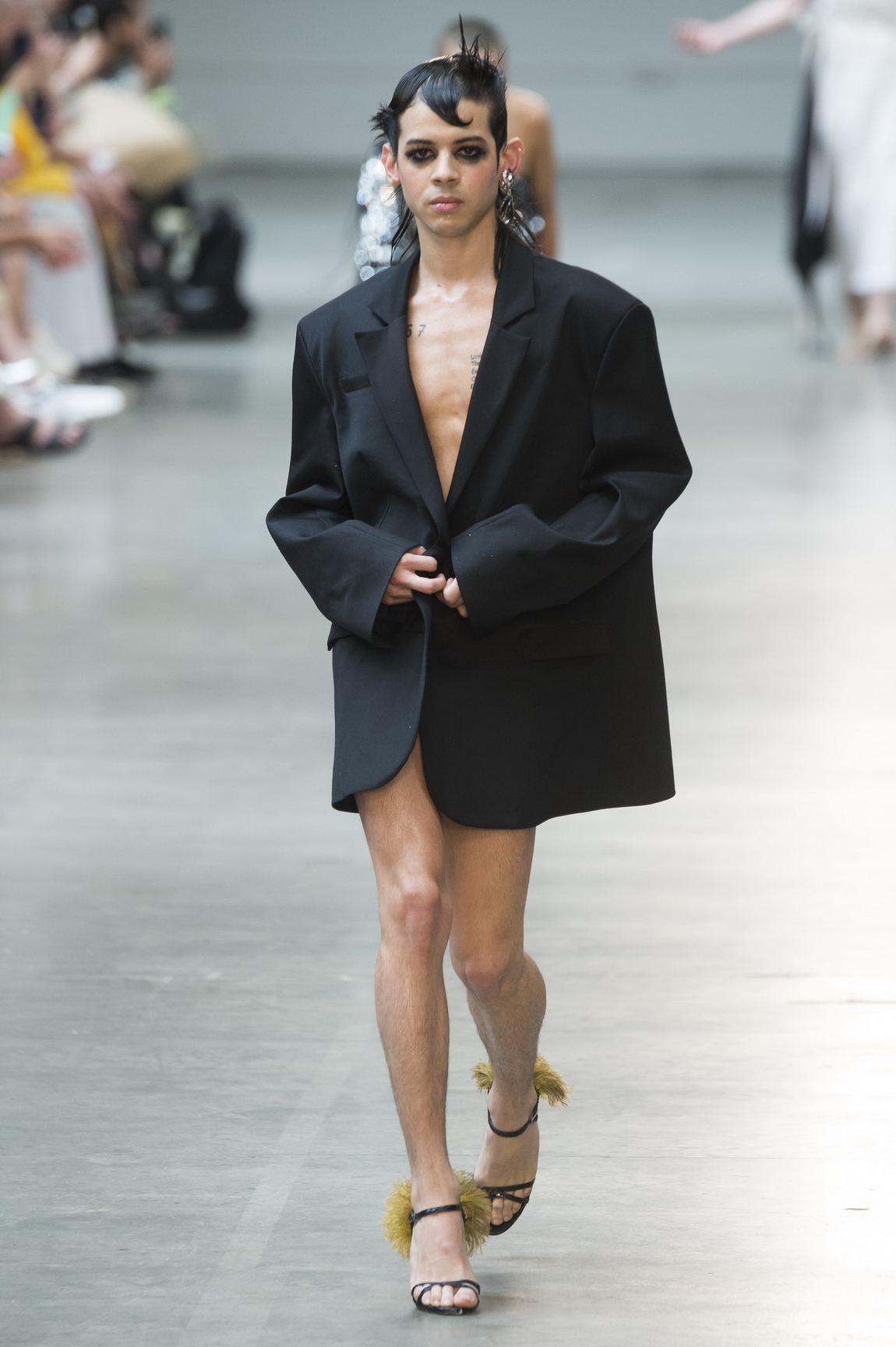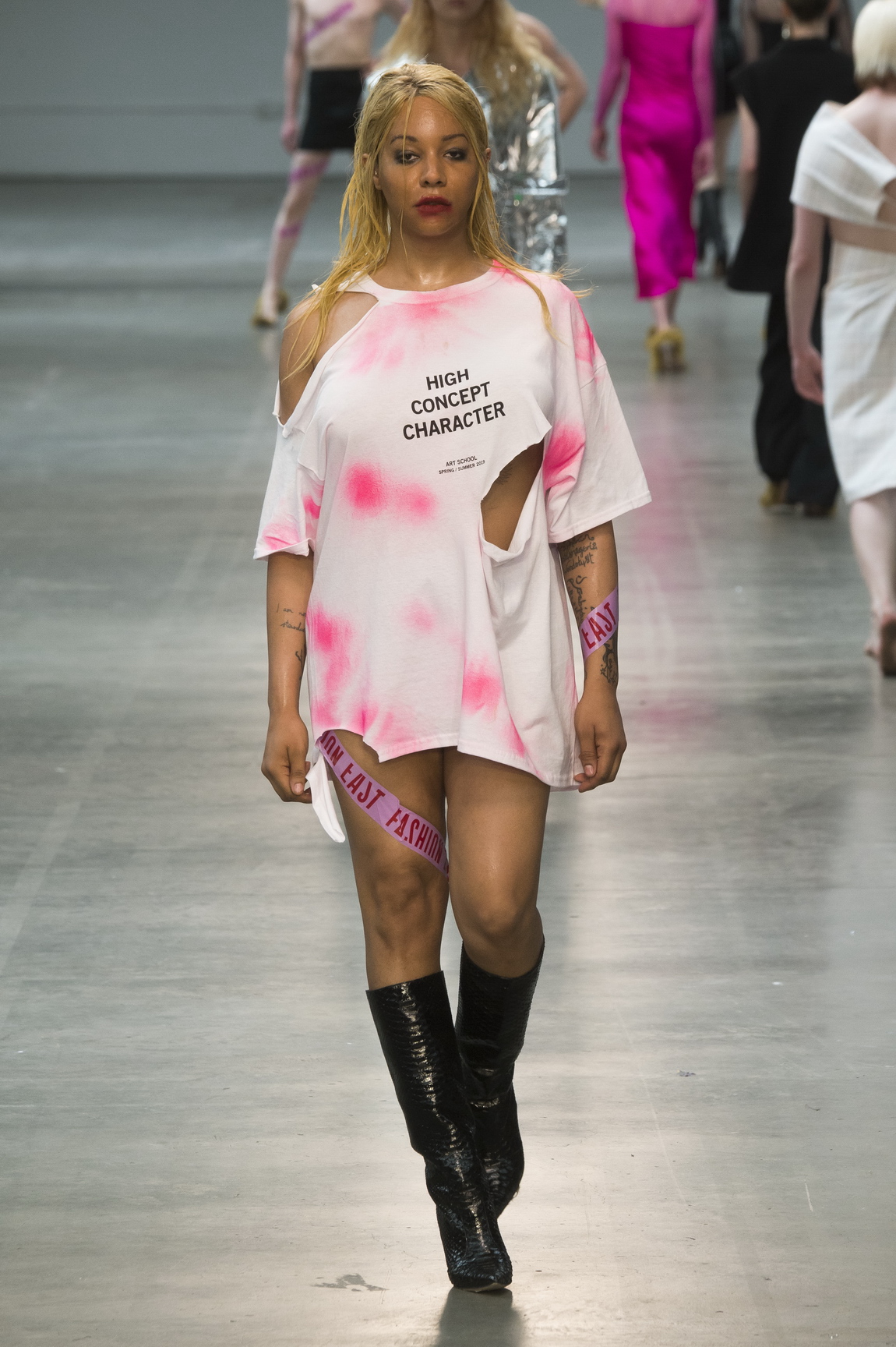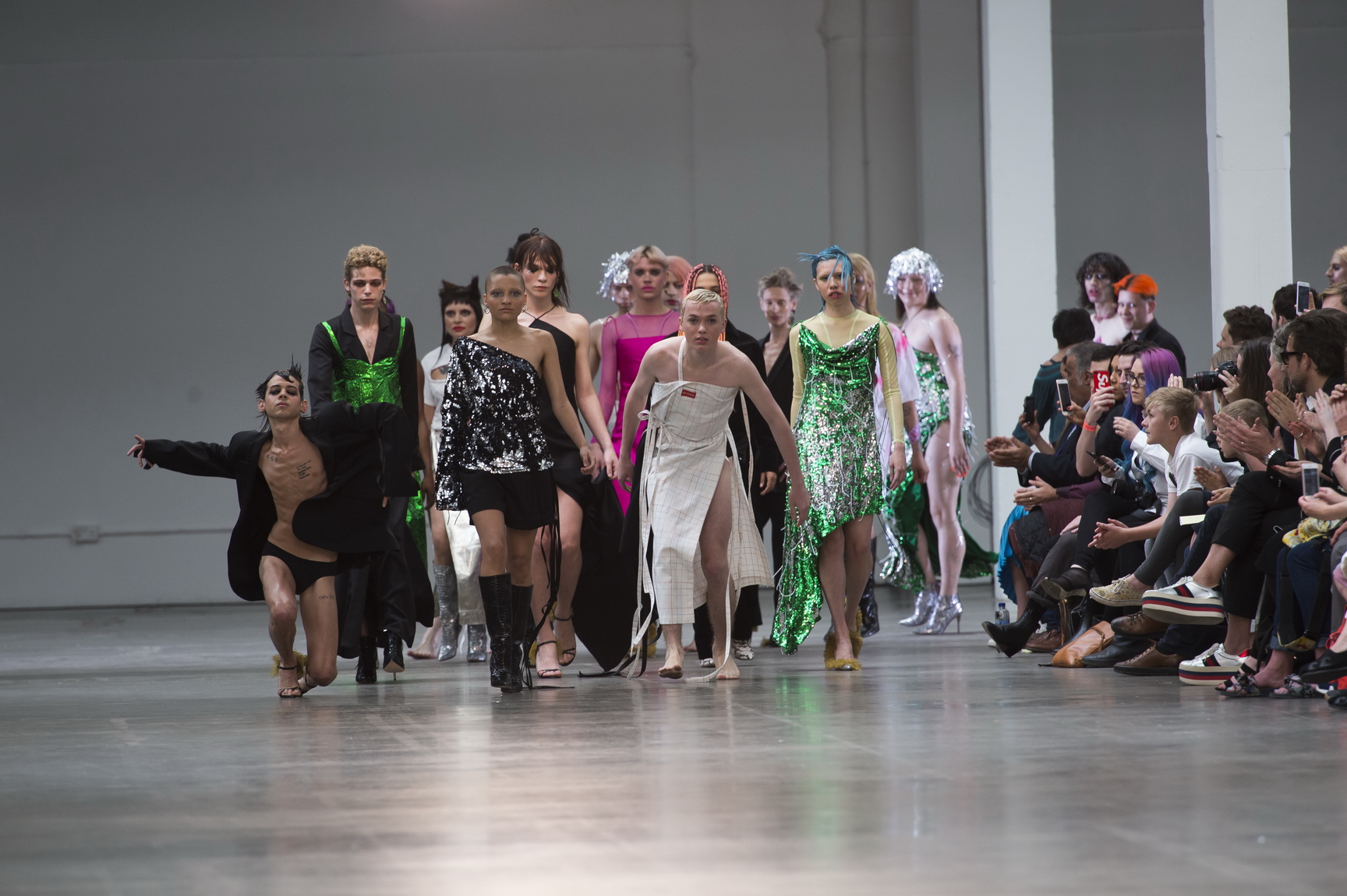 Credits
---
Photography Mitchell Sams
This article originally appeared on i-D UK.