are these the perfect sneakers?
Supreme and Nike are about to drop their new shoe collaboration, and they are lit.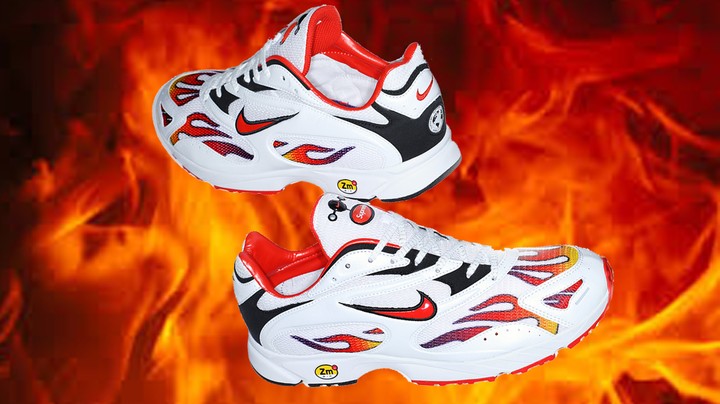 Image via Supreme and/Nike and Pixels
What is the perfect sneaker? The bottom-heavy, tetris-esque colour-blocked Triple S? The Spice Girls' favourite Buffalos? Kanye's fugly Yeezy Boost Waves?
Wrong, wrong and wrong. This is the perfect sneaker. This Nike and Supreme collaboration. It has flames licking the sides. It comes in two colourways: black with blue and green accents or white with red and yellow accents. It's a vintage sneaker shape from the early noughties. It's equal parts modern and nostalgic. It's lit.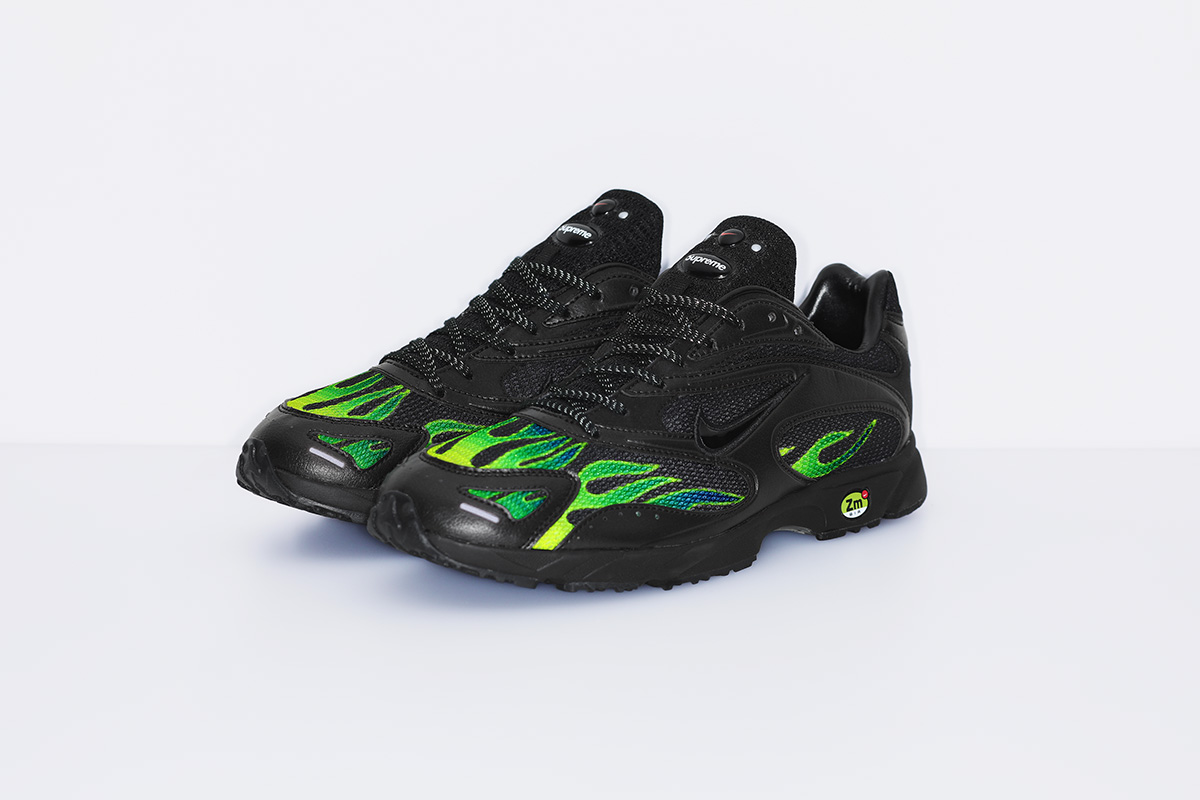 Unfortunately, it's also probably going to sell out in 3 seconds and then cost upward of £4234 on the Supreme blackmarket, so good luck.
But don't worry if you miss out -- we've just caught sight of Virgil Abloh's first sneaker for Louis Vuitton, by way of a Hypebeast preview. "It's tone on tone white, but richer," he describes in a video, with "a touch of gold", and, according to the sketch, has the Louis V logo on the side. It sounds like the sneaker version of the gold and white dress (no, it is not blue and black), in that it's sure to divide prospective buyers.
As we've previously noted, sneakers are the new handbags. Gone are the days of defining yourself by a Birkin bag or Fendi baguette. Sneakers are today's status symbol, the latest "It" item, and luxury brands are hankering to pump out the next most-hyped pair accordingly. As Ryan White wrote for i-D last month, their drawcard is that they appeal to previously hard-to reach demographics for luxury houses: men and millennials.
Yet, while trainers are opening up a new demographic for the luxury market, our predilection for sneakers and streetwear may hinder houses in other areas. An article by Chinese consumer trend website JingDaily argues that with the increasing popularity of athleisure, and more relaxed attitudes around general attire, formal wear and footwear are losing sales. "Last year Euromonitor pointed out that the high-end athleisure market is forecast to overtake China's luxury market by 2020," they write. After all, why shoehorn blistered feet into hardened leather heels when you can cushion them in the mesh version of a marshmallow?
Which leaves a conundrum for hypebeasts and sneakerheads alike (or at least, the ones who only have enough disposable income to invest in one Statement Shoe per season). What's your pick for this year? Low-key luxury or high-end athleisure? Virgil x Louis or Nike x Supreme? Only you can say. After all, ugliness is in the eye of the beholder.
Read more: