mura masa affiliates jadu heart will transport you to the upside down
Sampling Stranger Things, Weird Science and The Dark Crystal -- geek out to this exclusive mix.
|
15 December 2017, 12:26pm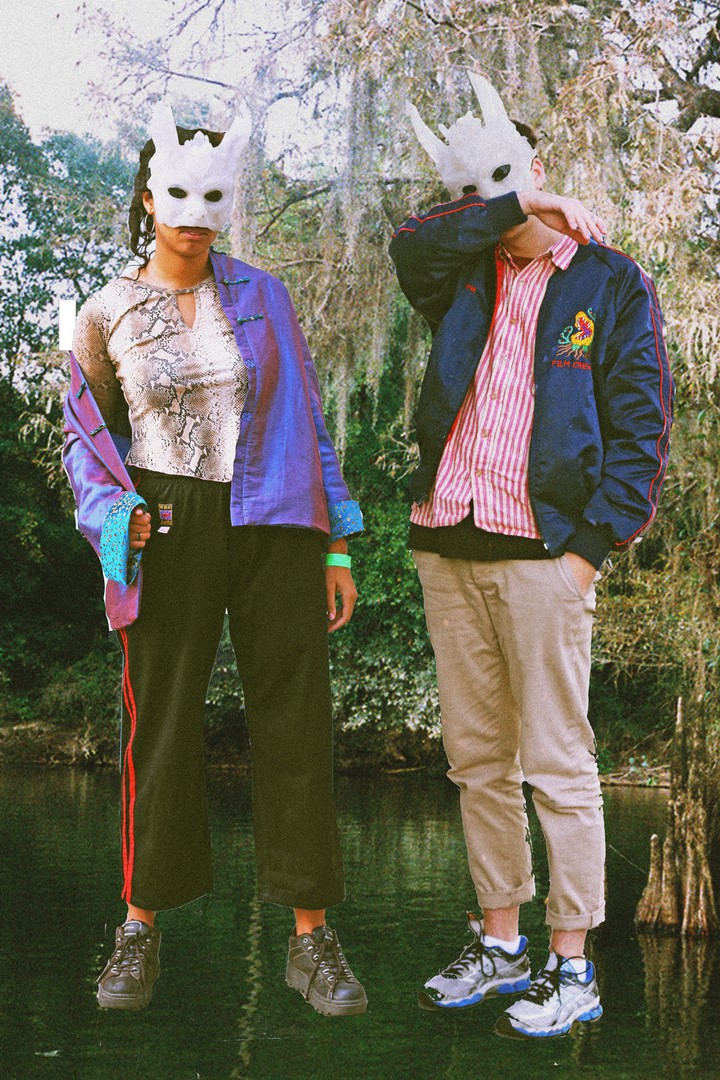 Musicians and masks. What's that all about, hey? If it worked for MF Doom, Daft Punk, Deadmau5, SBTRKT and, well, Marshmello, then I'm sure it'll work nicely for talented young London duo Jadu Heart too. Newly signed to Guernsey-born producer Mura Masa's Anchor Point label on which, aside from his own stuff like the ASAP Rocky-featuring Love$ick, Mura Masa has released music for i-D one to watch Bonzai.
So, Jadu Heart. Who are they? While studying music together at BIMM, Dina and Faro worked on a project to write a song in character. They created their masked Jadu Heart alter-egos, then a comic book that illustrated their backstory, before deciding they were probably on to a good thing. Their ambient debut EP Wanderflower came out back in 2016, followed by Ezra's Garden, and though you might not know it, their music has already racked up a massive 10M streams across Spotify and Apple Music.
To celebrate the release of their new single, the otherworldly trop pop U Never Call Me with label boss Mura Masa, Jadu Heart have made us a very weird but very wonderful mix that they've called 'Through The Warp Hole'. Where else are you going to hear Aphex Twin transition into the score from The Dark Crystal?
"We get inspired by films probably more than music, especially how film music can change an atmosphere and suck you into a different world," they told us via the medium of email. "We feel that all these tunes have a certain magic to them and will hopefully take you on some sort of inter-dimensional journey. We threw in some edits for fun as well." Why not, eh. It is almost Christmas.
Tracklist
The Never Ending story, Fantasia
Teebs, Double Fiths
Floating Points, Ratio
Lilly, Surreal
Jadu Heart, Druns (unreleased)
Stranger Things, 11 Is a monster
Redniho, Shem
Yuki Ame, ALTA (First take)
Weird Science, Making a girl
Abbie Jasmine, Long Live
Abbie Jasmine, Long Live (Jadu edit)
Seekae, Blood Bank
Metronomy, The Look Two Inch Punch Shook Shook Reflix
Aphex Twin, Nanou 2 (Jadu Edit)
The Dark Crystal, Crystal Splitting
Jadu Heart x Mura Masa, U Never Call Me
J H x M M, Unevercallmebutidontmindbecauseimintheclub Vip Edit
Sleepless In seattle, Annie
Lloyd ft Ashanti, Southside (Jadu Edit)
Weep, I Know U Got Work
Paul Williams, Drifting In time
Kevin Parker, Feels Like We only go Backwards (Demo)
Toro Y Moi, Girl Like You
How Do Black Holes Warp Space?
Frank Ocean, Provider (Jadu Edit)
The Child Of Lov, Warrior
E.T, Grownups can't see them
Jadu Heart, Moonrising
Nico, These Days