cozycore, the fashion trend making ugg boots cool
From fleecy mall staples to Gucci pom-pom ponchos, we explore the unpretentious appeal of snuggly clothes.
a$ap rocky at gucci fall/winter 17, photography melodie jeng via getty images.
Last week Jeremy Scott came out to the fashion world. Not about his sexuality (no one in fashion cares about that), but as an Ugg enthusiast.
"I was an undercover Ugg fan," the designer earnestly revealed. "They are so cozy and I love the way they look with pants and shorts." Actually this wasn't terribly transgressive either: fashion has been cozying up to sartorial hygge for seasons now. Rihanna's fluffy Fenty pool slides caused the Puma website to crash when they dropped last year, while Vetements has collaborated with Juicy Couture to make re-imagined airplane-friendly track suits. Alessandro Michele expanded Gucci's kidswear-inspired offerings into pom-pom ponchos and velvet slippers stuffed with thick pink socks. Speaking of socks, the Canadian Prime Minister's novelty pairs are more popular than the American president.
Unlike "athleisure," "cozy" doesn't connote pretension. People don't wear Ugg boots and fuzzy cardigans to do ModelFIT for the 'gram. As a culture, we're embracing populism in everything from political candidates to commercial pop music, because elitism doesn't mesh with this generation's increasingly inclusive ethos. It's fine to wear head-to-toe Moschino, but not to scorn those who still shop at Macy's, or rock the mallrat Uggs they bought in ninth grade. The figure-distorting "lumps and bumps" dress from Comme des Garçons's spring/summer 97 collection feels like the ultimate in using clothing as protection.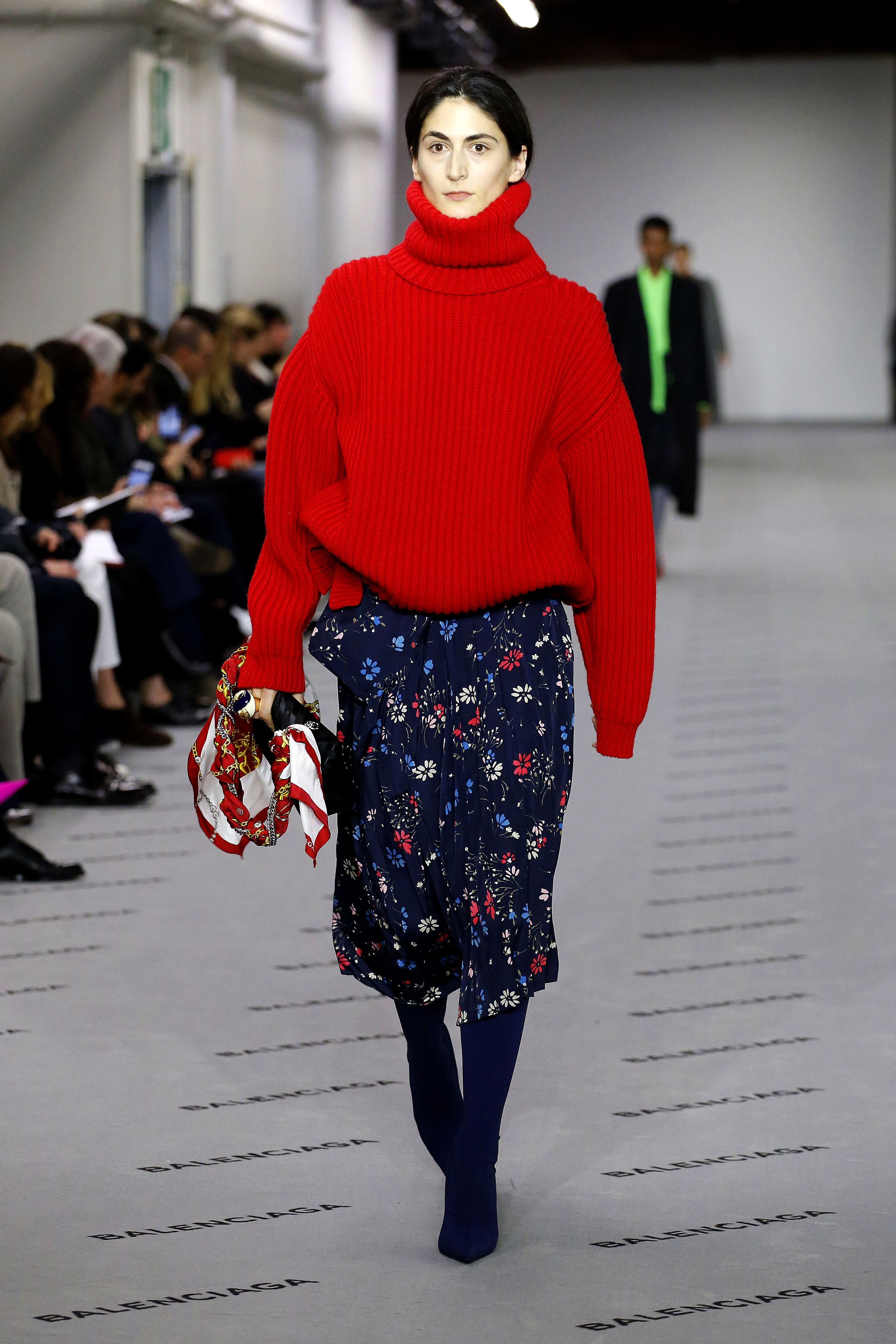 Scott's epiphany struck while he was surfing in Waikiki a couple of years ago. But fashion's unpretentious king of pop culture envisioned the ensuing collaboration with the Australian brand being worn to L.A. farmer's markets and movie complexes in malls. Humble pieces are increasingly found in cosmopolitan settings: saggy arms on laundry day sweaters are worn to West Village omakase bars, while socks and fur slides schlep through Soho offices, and not just because the air conditioning is set to Arctic.
Even chest-thumping ballad queen Céline Dion has decided she sometimes likes to cozy down in an ultra meta Titanic hoodie, much to the internet's delight. In an article titled, "How Céline Dion Became Cool," Carl Wilson writes about the 90s icon's ostensibly random resurgence: "She's no longer someone people feel the music industry is foisting on them, but a comforting presence who's always been there. And nostalgia has a way of smoothing out cultural collision points; as a 1990s superstar, Dion now represents a seemingly more innocent era, before terror wars or Trumpism." Forget deep cuts and indulge in the populist appeal of "That's the Way It Is" or "It's All Coming Back to Me." If fist-bump ballads aren't your thing, there's also the fuzzed out slacker surf rock of Mac Demarco, or the A$AP Mob's irresistible Cozy Tapes. All good ways to balance out a sonic diet heavy on dire political podcasts.
"'Cozy' is more of a feeling than anything," the A$AP Mob's Ferg recently explained to Billboard of his penchant for high-end, relaxed clothing. "You can be in a suit, meeting with billionaires, but if you're confident, you feel cozy. You're in a room full of sharks and you're swimming very well." Ferg credits A$AP Yams with coining the term "cozy," saying the late rapper would hit events in Fendi slippers. "He was Cozy Yoda." The A$AP DJ spin-off Cozy Boys was started in tribute to Yams's love of luxurious pajama dressing. The duo's Instagram page champions cozy icons including The Dude buying milk in a bathrobe and the generic couple in the 80s sweater suit ad.
Rappers have a long relationship with excess and luxury, but it's only recently that high fashion has begun to engage with the hip-hop community rather than simply capitalizing on its cool factor. Think Calvin Klein courting Young Thug and Balmain's fall/winter 16 campaign literally being a Kanye West music video. Kanye has been particularly vocal about the difficulty of gaining access to European fashion houses, and about his desire to democratize fashion by live-streaming shows to movie theaters and designing high school uniforms. The cozy ethos means rappers can be designers and kids from Chi-Town can feel the trickle-down.
Poet and artist Lora Mathis probably didn't have Ugg boots or Gucci teddy bears in mind when they argued for "radical softness as a weapon". The hyper-feminine aesthetic is now being used by pop artists who wear plushy pink sweaters against magenta backdrops as acts of political and societal defiance. One of the best examples of radical softness was the enormous pink marshmallow jacket worn by Solange in her video for "Cranes in the Sky," a musing on anxiety and depression. As we noted, there is strength to be found in fragility, femininity, and emotion.
The Danish word hygge, a 2016 word of the year contender alongside "alt-right" and "post-truth," entered the American vernacular around the same time that "self-care" became a buzzword among millennials. Danes would probably balk our commodification of homespun comfort. But Denmark has universal healthcare. Copenhagen-based happiness expert Meik Wiking, who wrote The Little Book of Hygge, can afford to tell hygge fans to avoid the news. "You don't need democracy when you have hygge," Melissa Darcey recently wrote in a humor piece for McSweeney's addressing the critique that hygge is escapist. "Are white nationalists running our government? Probably. I don't have time for that shit because I'm enjoying a slice of warm rhubarb cobbler."
But being cozy doesn't have to mean hiding inside. The most important accessory of the year so far is probably the knitted pink pussy hat that millions of women took to the streets in to protest the new president.
In June, following a horrific terror attack at her concert at Manchester Arena, Ariana Grande headlined an emotional benefit concert that raised $13M for victims and their families and drew a TV audience of millions. The ponytailed pop star took the stage in a pair of shapeless jeans and a baggy "One Love" sweater that swamped her tiny frame. Some people speculated that this was because she was wearing a bulletproof vest. Whether or not that's true, the fact it could be makes her performance even more heroic.