As the iconic house re-launches today with a collection designed by Shayne Oliver, we take a look back at the most influential designer of the 1990s.
|
11 September 2017, 4:11pm
An earlier version of this article conflated the designer Helmut Lang with the brand that still has his name. Helmut left his brand in 2004, and had no involvement with the relaunch or any subsequent iterations.
A is for Austrian autodidact: Helmut Lang was born in 1956. His parents split when he was just five months old, and he moved from Vienna to the Austrian Alps, where he lived with his grandparents. Lang's father remarried when Helmut was 10, so he returned to the city (in a New Yorker interview, the designer called the following eight years "the most unhappy period of my life"). On the day he turned 18, he moved out. In 1977, at just 21, he established a successful made-to-measure studio in Vienna despite having no formal design training. Things started to accelerate after his work was included in a 1986 exhibition called L'Apocalypse Joyeuse at Paris's Centre Pompidou. The same year, the Helmut Lang brand was born in the City of Lights.
B is for Bill Murray: Sofia Coppola gave the cult actor a Helmut Lang makeover for her surprise smash film Lost in Translation in 2003. When awards show season rolled around, Murray asked Lang if he could design a pair of Oscars-appropriate cashmere sailor pants (as one does). According to Tim Blanks, this seafaring request came at a moment when Lang stumbled upon an old book of fisherman's knots. "Presto! The inspiration was set for Lang's spring 2005 collection," wrote Blanks. The nautical jaunt included seersucker suits, white rope belts, and vests that looked like netting.
C is for Calendar: When fashion folk discuss Lang's enormous influence, they aren't only referring to his design sensibilities. In July 1998, shortly after relocating from New York to Paris, Lang announced that he was ready to show his new collection. At the time, New York designers debuted their spring shows in November, well after the European weeks. Lang, according to WWD, argued that was "just too far back for our house." The day after Lang's announcement, a similarly frustrated Calvin Klein said he'd follow suit. (Across the pond, the late Pierre Bergé accused the Austrian ex-pat of inciting anarchy.) Almost 20 years later, New York is still showing first — and it's all thanks to Lang.
D is for David Casavant: By now you've likely heard of this New York-based stylist, who began collecting pieces by Lang and his Belgian disciple, Raf Simons, when he was just 14. Now 26, Casavant operates an archive out of his two-bedroom apartment. It's an incredibly valuable resource for stylists, designers, and celebrities. (Kanye and Rihanna are dedicated clients, and the Bad Gal has a fondness for Lang's iconic denim.) "You can definitely see Helmut's influence today in everything really," Casavant told Quartz recently. "He changed the idea of what luxury is. He looked at everything, from military to how people were already dressing on streets to utility wear and uniforms."
E is for Ethan James Green: Back in March, Isabella Burley was named Helmut Lang's new "Editor in Residence." The London-based editor's first moves doubled down on Lang's NYC heritage. She tapped Hood by Air's Shayne Oliver to design the re-launched label's first collection, and photographer Ethan James Green to shoot its campaign. Helmut Lang Seen by Shane Oliver — as that offering is known — has yet to be revealed. Seen by Green, however, arrived in late July. The campaign features a laundry list of established and emerging talent from across the cultural spectrum. I Love Dick author Chris Kraus, iconic filmmaker Larry Clark, performance artist Kembra Pfahler, Little Miss Flint Mari Copeny, members of teen metal band Unlocking the Truth, former adult film star turned Cry-Baby scene-stealer Traci Lords (more on her later), and supermodel Alek Wek — who walked in many of Lang's shows — are just some of the iconoclasts Green photographed. F is for Fire: In 2010, five years after Lang's exit, a fire in his SoHo studio space destroyed the majority of his archive. Lang donated many surviving pieces to 18 leading museums around the world, including the Austrian Museum of Applied Arts, which has a special archive dedicated to the designer. But, far more interestingly: Lang shredded 6,000 of the incinerated garments and used the materials to create new sculptures. "25 years of work, pigment, and resin," as Lang described the artworks. A series of these tubular structures formed his 2011 solo exhibition Make it Hard, installed at East Hampton gallery The Fireplace Project. The show was said to resemble a forest of solemn birch trees.
G is for Gender-unified: Fashion's recent debates over the see-now-buy-now system resulted in some shakeups to the industry's established system. In February, Burberry announced it would combine its four mens and womenswear shows into two biannual, gender-unified catwalks. Similar announcements soon followed from Gucci, Vetements, and Public School. Gender-mixed shows are old news for Lang, though. He's credited with being one of the first designers to show mens and womenswear on the same runway.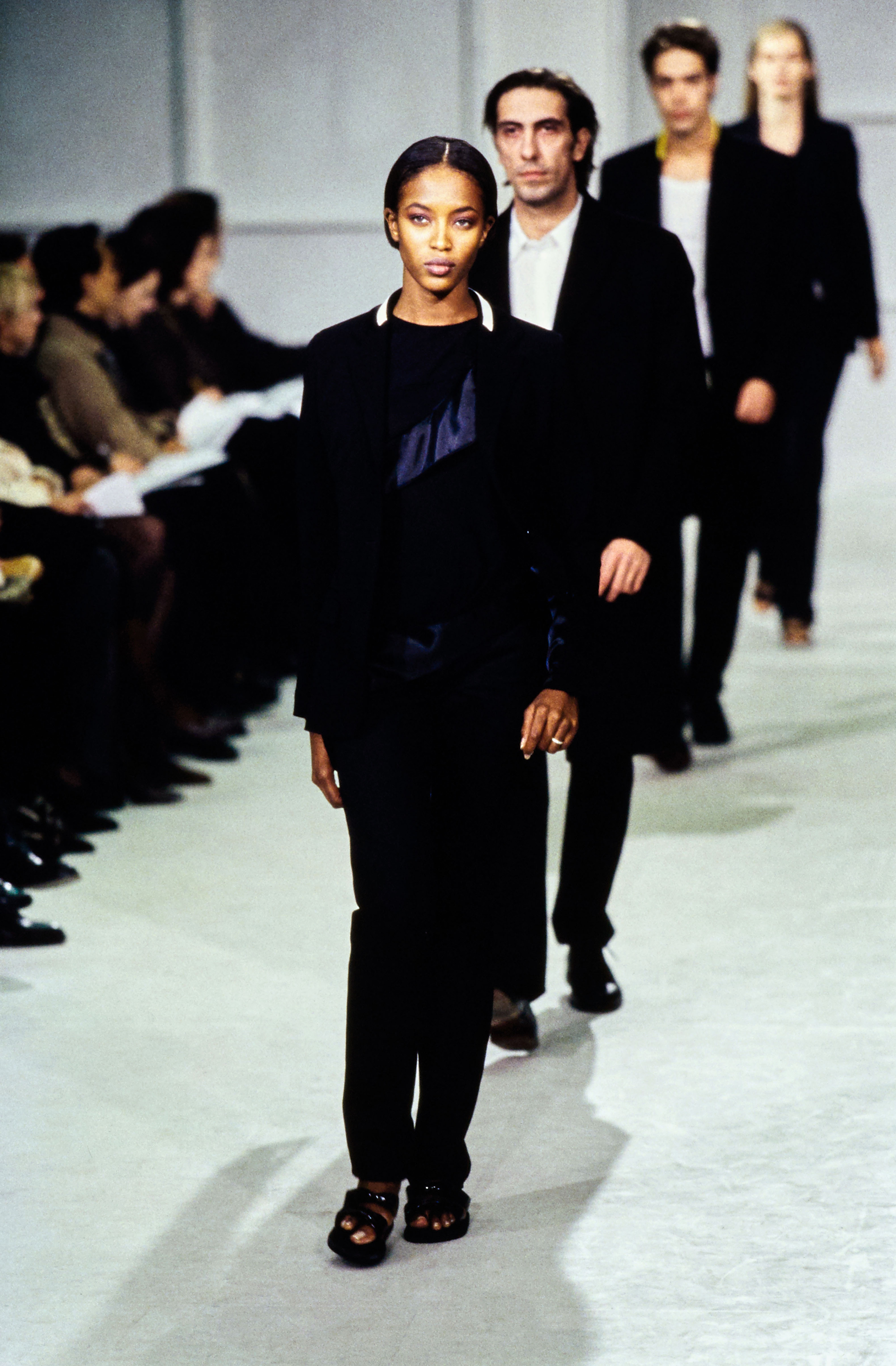 H is for Holzer: These days, designers collaborating with artists on collection pieces, advertising, and store design is pretty common (Raf Simons and Sterling Ruby come to mind). When iconic conceptual artist Jenny Holzer and Lang first joined forces in the mid 90s — not so much. Holzer and Lang came together at the suggestion of late critic Ingrid Sischy. They created an installation, I Smell You on My Clothes, for the 1996 Florence Biennale. This partnership ignited a long collaborative relationship. Two years later, when Lang relocated to New York, Holzer installed one of her LED light pieces inside his SoHo flagship. Inspired by I Smell You on My Clothes, Lang launched his own line of fragrances in the early 2000s, and Holzer created its iconic anti-advertising campaign.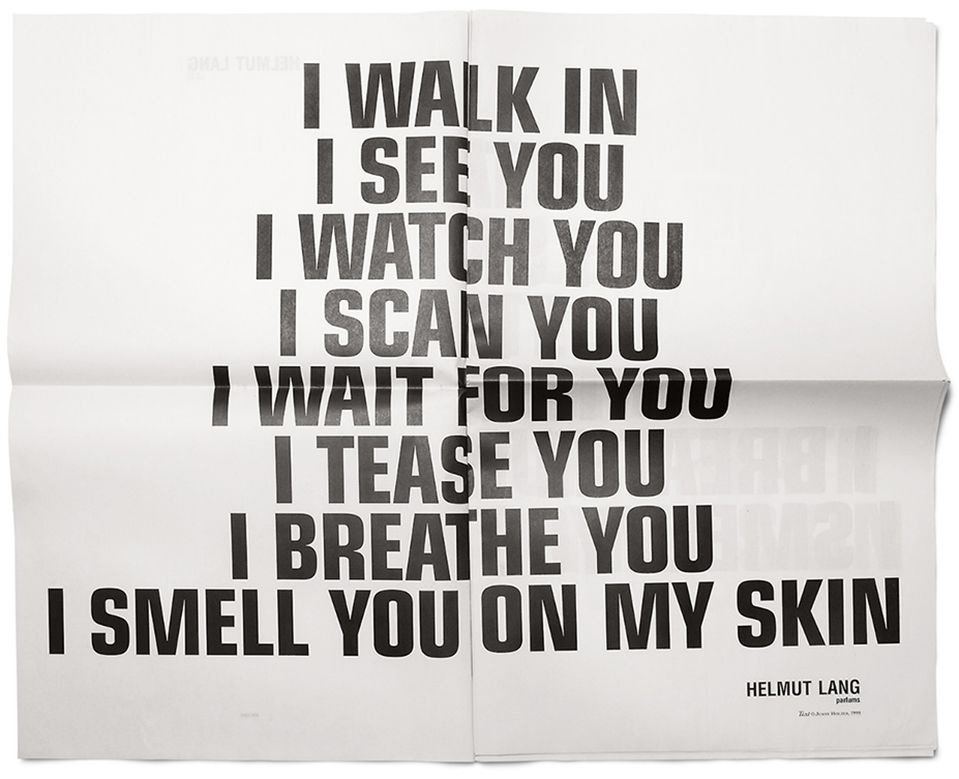 I is for Influential: There's an expression: your favorite rapper's favorite rapper. Helmut Lang is your favorite designer's favorite designer. Different strands of his DNA have shaped collections by Alexander Wang, Vetements, Yeezy, Balmain, Hood by Air, Craig Green, and Telfar Clemens among countless others. For some, it's Lang's incorporation of technical fabrics and parachute-inspired straps. For others, it's the way he reimagined our everyday uniforms. "Without Helmut Lang there would be no Céline, no Raf," German designer Bernhard Willhelm told i-D. "I've heard from people working at different fashion houses that there is always a Helmut Lang piece hanging and it's right there to be copied."
J is for "Juergen, where the fuck are you?": So opens an epic email interview between the designer and photographer for System magazine. Teller photographed several of Lang's campaigns, and memorably shot backstage during his fall/winter and spring/summer shows in 1994. The interview, conducted last winter, touches on Teller's new series of plate portraits, his apparent egg intolerance ("How stupid of me I thought . Eggs are so nice ."), and the state of both of their asses. Well worth the read.
K is for Kirsten, Kristen, and Kate: Lang's early shows in Paris typically took place at the Espace Commines. As Sarah Mower remembers, his regular cast of models became familiar faces in the minimal space. He chose the girls for their personalities as much as their looks. Kate Moss, Kristen McMenamy, and Kirsten Owen were all runway regulars, as were Cecilia Chancellor, Jeny Howorth, Stella Tennant, and sometimes, the OG supers (Naomi, Christy, Linda). Lang's close friend photographer Elfie Semotan, also frequently walked in the shows. On her first outing, her young son "asked me, quite worried, if I knew that I was by far the oldest of all the girls walking the runway," Semotan said. "I was 51, and I knew!" "His was the only show that mixed up the generations," Tennant added. "It felt like a tribe, and I felt I belonged in it."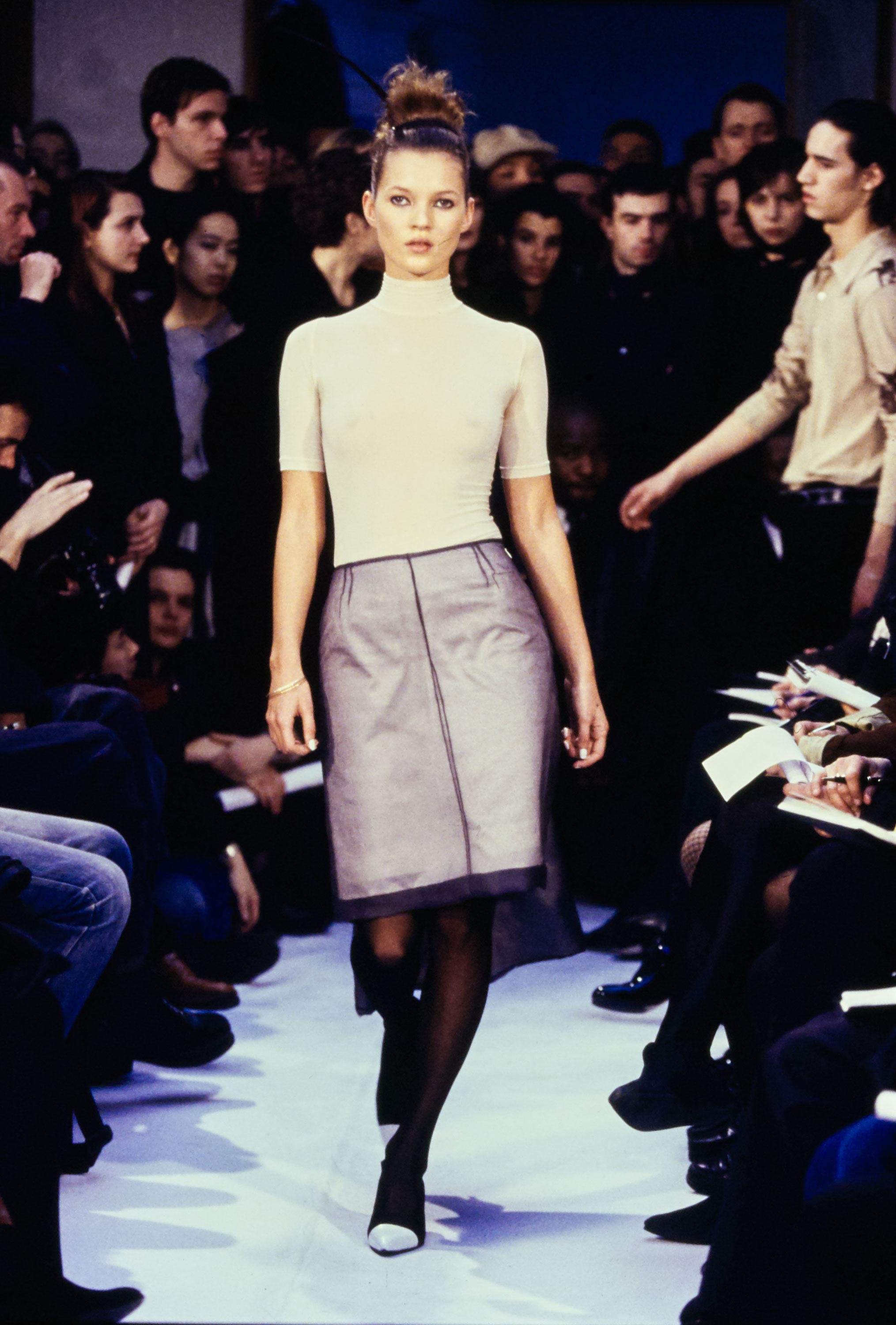 L is for Live Stream: In April 1998, just three days before Lang was scheduled to debut his fall/winter collection, the designer decided to broadcast live, via the internet. He was the first designer to ever do so. "I sensed at the time that the Internet would grow into something much bigger than imaginable, so I thought it was the right moment to challenge the norm and present the collection online," he told Vogue. "It was a shock to the system, but a beginning of the new normal."
M is for Minimalism: Lang is credited for being the chief architect of 90s minimalism, an aesthetic diametrically opposed to the opulence that defined the 80s. (Think Dynasty's shoulderpads, Christian Lacroix's puffed-up dresses, or Armani's Italian glamour.) Lang reimagined everyday basics through an elegant, architectural lens. And his stripped-down sexiness was, according to Sarah Mower, generation-defining. "Before Helmut, fashion had nothing for this anti-fashion youth-pack to put on. They didn't even want it." But by the 90s, those punks and ravers were rising as a new creative class. "Helmut Lang suited them. He gave them layered white cotton tanks, androgynous flat-fronted boy-pants, ideally plain tailored jackets, Crombie coats like their dads wore, only immaculately redone."
N is for New York: Lang moved to New York from Paris in 1997, and established his HQ at 80 Greene Street in SoHo the following year. According to The New Yorker, Lang lived in his grandparents' attic in the Austrian Alps, and as a result, only lives at the top of buildings (in the 2000s, that meant a penthouse duplex near Cooper Union). These days, Lang still lives in New York, but not the city. He's got a studio and a house out in East Hampton, both restored 18th-century barns (one a gift from heiress Adelaide de Menil).
O is for Oliver: It's thought that Editor-in-Residence Isabella Burley will invite new designers to work on special Helmut Lang projects throughout her tenure. Her first choice, Shayne Oliver, is a smart one, W's Alix Browne reasons: "Like Lang, he gathered a community around his brand, making a new generation feel they were a part of something from which they had been deliberately excluded."
P is for Prada: In 1999, Lang entered into a partnership with Prada Group. It was a bit of a head-scratcher for some in the industry, considering the houses' different philosophies (Lang made his name by elevating the everyday to luxury object. Prada sought to make avant-garde ideas more palatable). Prada ran the business, while Lang exercised creative control on design and advertising. The designer said he did it because he wanted a partner and Patrizio Bertelli "seemed like the right mind for me." Yet, like Jil Sander before him, Lang's partnership with Prada wasn't a match made in heaven. Many accused the group of mismanaging the company (for example curbing its denim line, which accounted for the majority of its business), and not investing the time to develop things properly. Lang sold his remaining shares to Prada in late 2004, and exited the label in the new year.
Q is for Quotidian: "Lang did for t-shirts and jeans what Ralph Lauren did for club ties and tweed jackets — he made them fashion garments," argued former Harper's Bazaar EIC Kate Betts. The designer himself says his obsession with casual American clothing stems from his unhappy childhood, when his stepmother would make him wear Viennese suits and hats that had belonged to her own father. "The other kids at school were dressing like hippies, but I was not allowed to wear jeans. My chance to find my style as a teenager, which is a very formative time, was taken away from me. I'm not completely sure, but maybe this is why I became a fashion designer. Because I was denied my own identity," he told The New Yorker.
R is for Re-edition: Under Burley, the newly revamped Helmut Lang will reissue iconic pieces from the brand's archives for the first time. The initial collection of 15 pieces includes painter jeans (1998), a silver Astro Moto jacket (1999), a ribbed sweater (1997), and horsehair earrings (2004). Burley told W that subsequent reissues will follow every four months, and will be thematically unified. "Volume 2 is youthful and summery, Volume 3 might be bondage. Volume 4 might be metallic," she said.
S is for Sculpture: Lang's life after fashion is dedicated entirely to his art-making practice. "I work with found objects and readily available materials to create sculptures in various forms. I explore physical forms that evoke the human body and condition, while essentially remaining abstract," he told i-D earlier this year. "Sometimes you start with an idea and see where you get. Most of the time I do start with the material and see where that material leads me." Angela Westwater — the owner of gallery Sperone Westwater, which represents Lang — said the artist once told her he knew a sculpture was finished when it was "strong enough to fight back."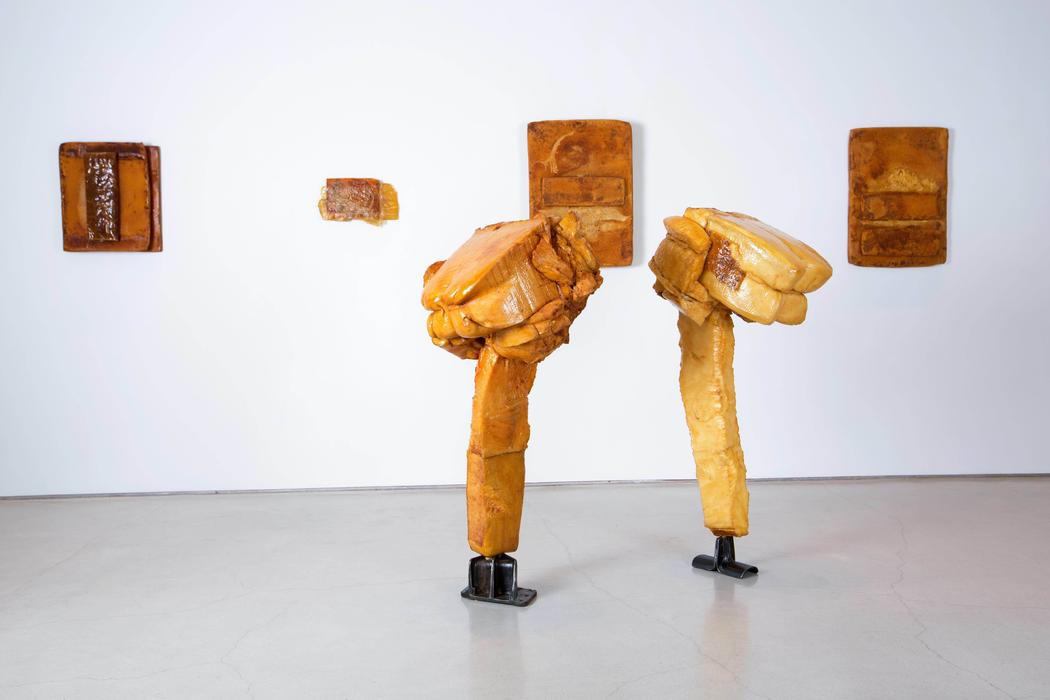 T is for Traci Lords: The former adult film star (who made a star turn as Wanda Woodward in John Waters's Cry-Baby) starred in Ethan James Green's new Helmut Lang campaign. But it wasn't her first time teaming up with the brand. Lang made Lords custom pieces for a special sex-themed issue of Details in 1995. One of these looks was a t-shirt featuring her name, but misspelled, crossed out, and corrected. "I thought it was so epic, we remade it especially for the campaign (complete with misspelling)," Burley told W. "Needless to say, on set, Traci stole the show."
U is for Unconventional: Lang continually made unconventional choices when it came to disseminating the brand's messages. He was the first designer to advertise atop New York taxi cabs, and did so between 1998 to 2004. During this time, he also placed campaigns in National Geographic. One of those cab ads — for Lang's arrival at Barney's — is on view at the Austrian Museum of Applied Arts. It features a reappropriated Robert Mapplethorpe portrait, taken in 1979 of a man with an eyepatch (Mapplethorpe's pictures of Lang's pal Louise Bourgeois and his own self-portraits appeared in the designer's ads, too). Today, appropriative ads are common practice. Ask Jonathan Anderson or Patrik Ervell.
V is for Vuitton: For Louis Vuitton's 100th anniversary in 1996, Lang and six other designers were invited to create their own take on the house's iconic monogram. Isaac Mizrahi did a transparent plastic shopping bag, Lang did a mini DJ trunk. "Music is a great inspiration for my work," Lang told The New York Times, "and club culture is the place in the last five years." The paper mentions a sort of lols list of VIP clientele who were gifted the exclusive cases: Chrissie Hynde, Frankie Knuckles, Courtney Love, Johnny Depp, and John Travolta (imagine them all throwing a club night). Grandmaster Flash did the campaign.
W is for Wards: British super-stylist Melanie Ward served as Lang's collaborator for 13 years. A key figure in London's 90s fashion pack (which also included Kate Moss, Corinne Day, and David Sims), "her definitive turn-of-this-century minimalism has made her one of the rare specialists who can mix sexiness with militant conceptualism," mused Calvin Klein in Interview. "It was almost impossible to watch [Lang's] collections roll down the runway without seeing her sharp, body-conscious manner in the blueprints." Melanie was joined by her father and brother (photographer Anthony Ward) for Lang's spring/summer 02 campaign.
X is for XXX: Lang often infused elements of bondage or fetish-wear in even his most office-appropriate styles — disguising straps within suits, or incorporating flashes of latex. His cult fragrance (the one he originally developed for the Florence Biennial collab with Holzer) was described as, "the smell of the morning after a passionate but difficult night." Lang's marketing director, Jonny Lichtenstein, put it more plainly: "the way a man smells right after he has had sex."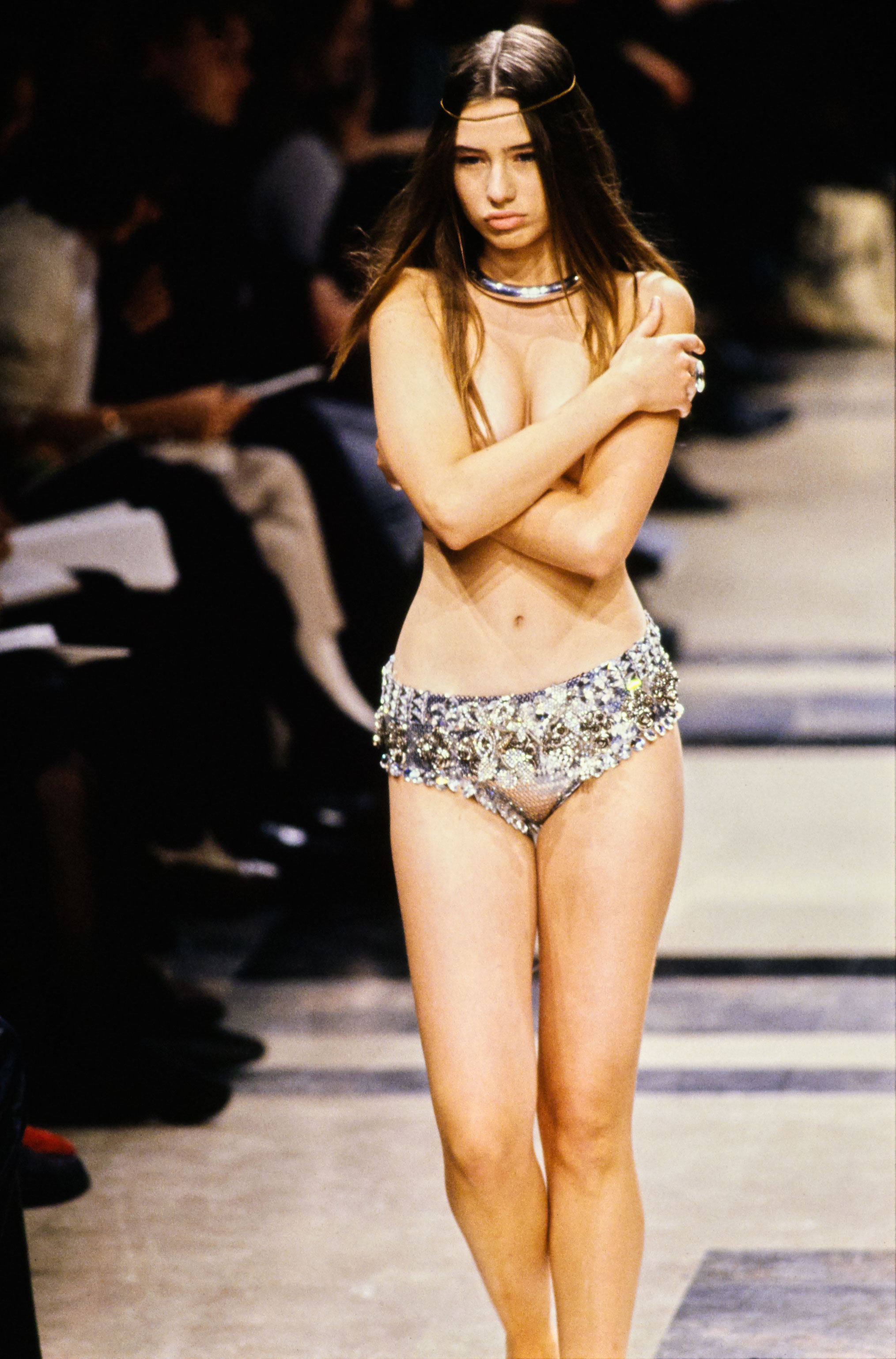 Y is for "You have to come": "You are our glamour boy. You have to come." So said Polly Mellen (the legendary stylist and creative director) at the 2000 American Fashion Awards, as she scanned the room for the star of the show. Lang was nominated for all three of the night's major awards — a first for any designer, and a kind of hat tip to his Stateside presence. As The New Yorker reported, Lang skipped the ceremony to work on his new collection at his SoHo headquarters downtown — a decision that was not received well. Fern Mallis was reportedly "flabbergasted." Anna Wintour called the choice "discourteous" and "a mistake." "American people don't have the fear of being exposed," Lang later said of his absence. "In Europe, they still respect the privacy of the artist. Here, when you have success, it's like you belong to the public."
Z is for Zip it!: Another controversial moment: Lang's Selective Memory Series of 2007. An 80-page supplement to Purple Magazine's seventh issue, the series collected postage stamp-sized digital scans of personal notes fans and friends had written to Lang over the years. Mostly thanks for gifts and show invites, the notes came courtesy of Marc Jacobs, Ellen DeGeneres, Nicole Kidman, Bruce Weber, Madonna, Sofia Coppola, Nan Goldin, and more. A cute tribute — except Lang didn't inform the authors of his plan to publish their notes, and some were a bit embarrassed. "Never mind the awards, I looked smashing, didn't I?" Roman Polanski wrote.