watch issa rae pitch the all-black '90210' you never knew you needed
"Not since 'Moesha' have we followed the lives of black teens."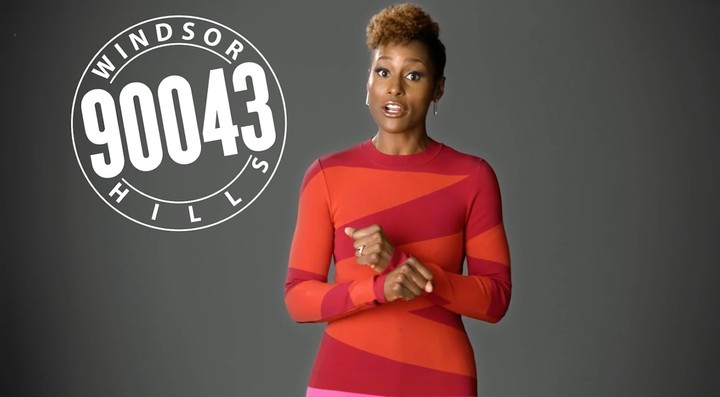 There is a serious dearth of shows focusing on the lives of black teens. Out of The CW's 16 teen-targeted dramas for the 2017-2018 season, only one (the upcoming Black Lighting) features a black lead. In response to this disparity, Issa Rae has a pitch for Hollywood: a black version of 90210.
The idea came to light when The New Yorker asked the creators of Broad City, Insecure, Crazy Ex-Girlfriend, and Hood Adjacent to pitch ideas for fantasy TV shows. Issa argues that there has not been a show about a group of black teens since Moesha — the late-90s Brandy-starring sitcom that had one of the best theme songs of all time.
Here's the plot for Issa's 90210: An affluent black teen named Richie grows tired of the "access and excess" of wealth. There is also a supporting female character who is "always about that THOT life."

Cast: All the teens will be played by adults because, as Issa points out, "when is the last time you've seen a teen play a teen?"
Title: Issa suggests Ladera Heights 90041, Windsor Hills 90043, or Potomac Maryland 20854.

Tagline: "This Gossip Girl is black, bitch."
Issa seems to be on a mission to reinterpret classic (but overwhelmingly white) shows through a black lens. The comedian recently starred in Jay-Z's "Moonlight" video as Rachel Green of Friends, recreating portions of the "The One Where No One's Ready" with other black stars. Now, if only Issa could find a way to make Seinfeld more relevant to black people…
Another pitch we're totally here for is Abbi Jacobson and Ilana Glazer's Ruff Ruff, a reality show about dogs. The premise: a group of dogs who are frenemies attempt to run a coffee shop together. "There's going to be a lot of humping," the girls promise. We hope Hollywood is listening.