from slime to placenta, these are eight weird and wonderful japanese beauty trends
Kiwi eye pads to Kawaii contact lenses, snail slime face masks to face lift corsets: Mancunian make-up maverick Lucy Bridge examines Japanese beauty trends.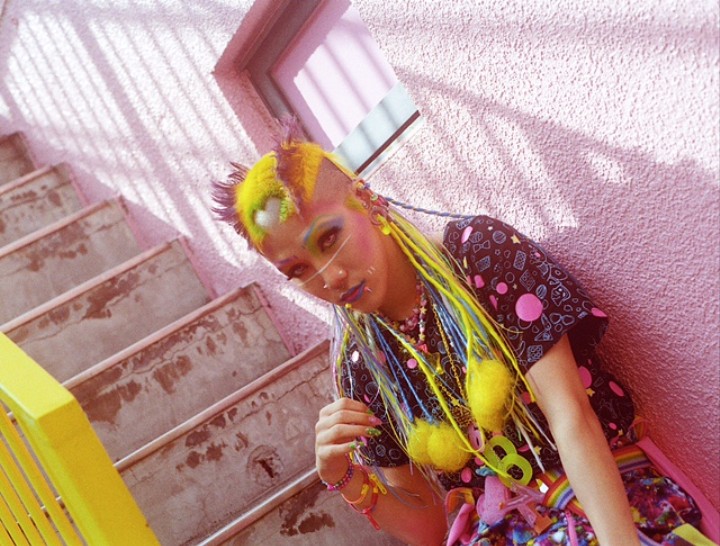 Zdjęcie: Jayga Ryan
"A couple of weeks ago, I was brought over to Japan for a make-up job with a rapper -- I won't mention any names -- but as soon as I touched down in Tokyo the job got cancelled. It was a huge bummer, but I'd never been to Japan before and I'd always wanted to go, so I decided to make the best out of a bad situation and stay on.
After many years working in the industry, I'd heard great things about the beauty scene over in Asia. So of course I went there with an expectation of what I could get my hands on, but I definitely wasn't prepared for what they had to offer.
People in Japan are obsessed with beauty. No matter what part of Tokyo you're in, there's always a beauty store or pharmacy close by, with aisles upon aisles of experimental products, tools and treatments. I was overwhelmed at just how vast the selection was and found myself getting lost in shops for hours trying to translate each product and the benefits it does for one's face. I fell hard and fast.
The beauty scene in Tokyo is much more advanced than ours (apparently Asia is five years ahead of us when it comes to beauty science and research) and this definitely showed within their stores. Take for instance, their snail slime face masks that contain real snail secretion to help aid your skin's texture with its natural nutrients, hyaluronic acids and copper peptides. It's great for anti-ageing, apparently.
In today's selfie-obsessed society, it comes as no shock that some people will stop at nothing to change their facial features, but I was shocked to see how many instruments and devices that are on offer to the public in their local Tokyo beauty stores and pharmacies. They don't seem scared to mould themselves into something new. I'm not sure what the repercussions of all these products and gadgets will have on the face in later life but no one seems to care.

To end my Japanese adventure, I went to visit Harajuku. It's known all over the world for its swarms of fashion-conscious teenagers on patrol in the area. I fell in love with this guy Kan, who works in 6% Dokidoki, and his extra colourful make-up. As you may know, anything that's colourful, bold and creative has my name written all over it and I just love how much the youths of Japan feel they can express themselves day to day. More is more over there!"

But enough rambling, here's my definitive guide to the hottest, weirdest, coolest trends in Tokyo right now: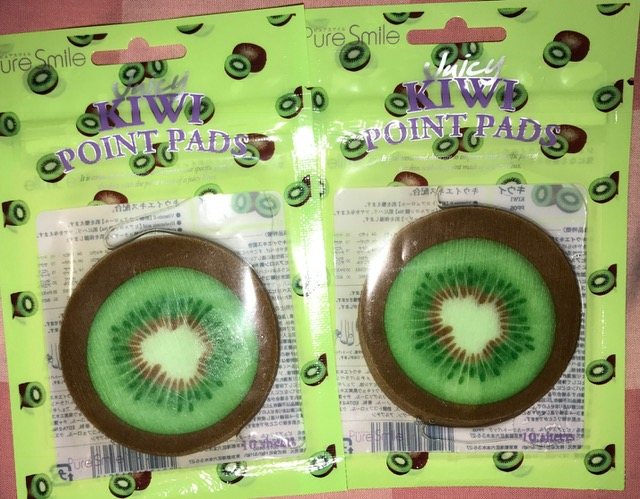 1. Cute Kiwi Eye Pads
For no other reason than them being a super cute addition to anyone's make-up bag. One of your five a day!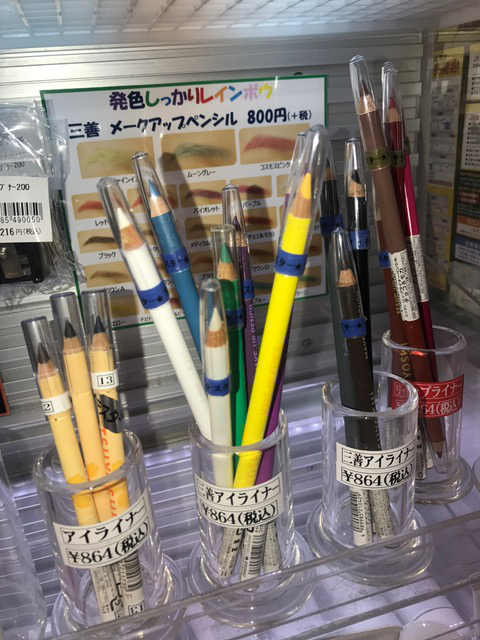 2. Coloured Eyebrow Pencils
We are obsessed with the black scouse brow in the UK, in Japan they don't discriminate. Colour is colour, even for the brows.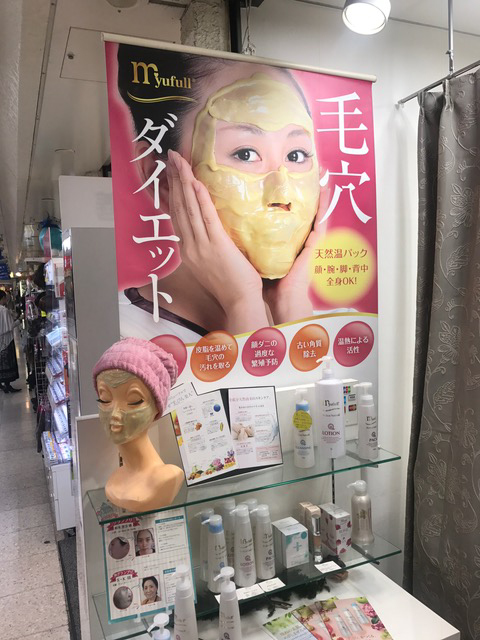 3. Face Mask Frenzy
Face masks are a huge market in Japan. Snail slime, character designs, snake venom, green tea, rose quartz, Hello Kitty… They come in any form.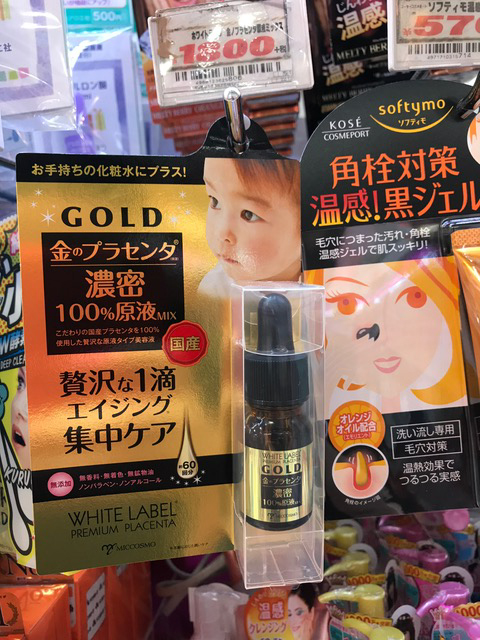 4. Baby Placenta Products
Ever wanted to try a serum made from baby placenta? It helps with skin elasticity and firmness and yes it does contain real baby placenta. It's safe to say I didn't buy this one to bring home but I was very intrigued just at the extent of the ingredients that are deemed normal in Japan, and it was also very affordable at just under £12!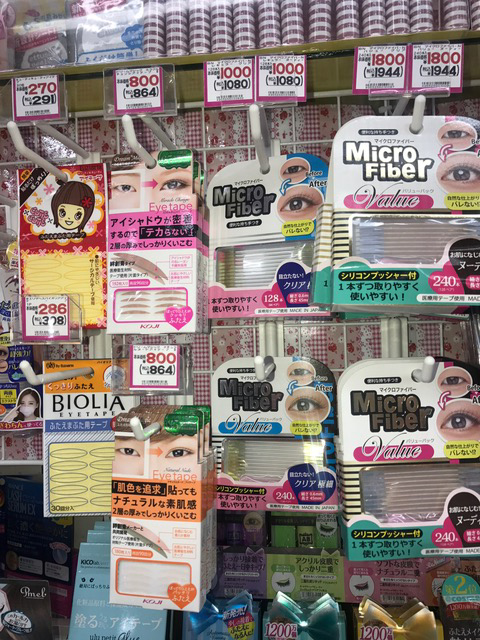 5. Double Eyelid Tapes
These give girls a more "Western" eyelid, using sticky tapes to allow a single eyelid eye become double. They last for 24-hours, are sweat resistant, and make-up can be applied over the top. It's a much cheaper and easier way to create the desired effect on the eyes rather than going through painful and expensive surgery.
6. Magic Putti Nose & Nose Instruments
The world's best nose job alternative. These instruments reshape the nose and make it smaller by remoulding the cartilage. They can also make the bridge of the nose thinner and more pointed and can give a lifted appearance and get rid of any bumps and lumps.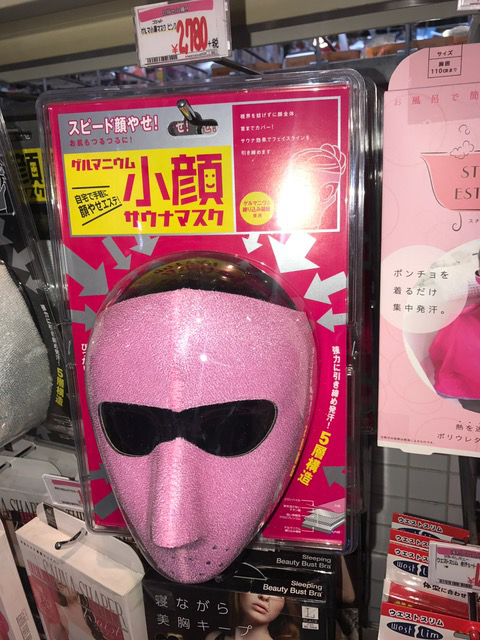 7. The Face Sculptor Gimp Mask
When it comes to their quest for eternal youth, women will put their faith in any product, even these glittery gimp masks. The campaign shots are something to be desired and it definitely doesn't look like something you should be buying from a beauty store, more like a sex shop.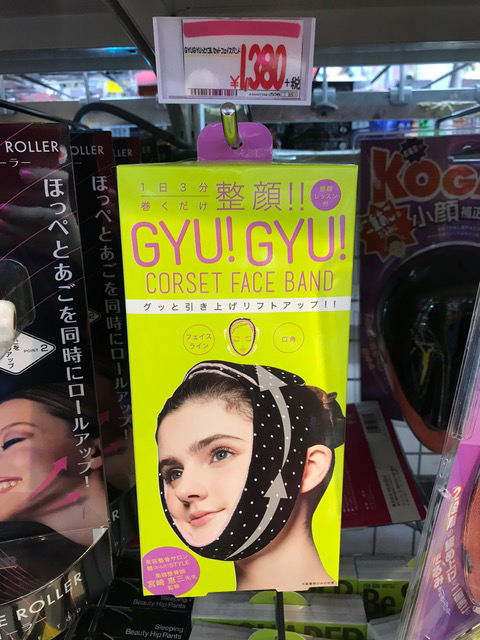 8. The Face Corset and Face Roller: The Non-surgical Face Lift
This is a slimming face belt which reshapes the face through pressure therapy that tightens skin to prevent sagging. It firms the skin by reshaping uneven fats, muscle and any other soft tissues and promises to give a face lift if worn over a prolonged time without the need for surgery.