Photography Grace Pickering
michael uzowuru is the mysterious frank ocean producer who doesn't do press
The 25-year-old prodigy from the 'burbs gives a rare interview.
Photography Grace Pickering
Michael Uzowuru won't move to Los Angeles, not yet at least. "I'm not going to do things just because that's what everyone else thinks I need to do for my career," the 25-year-old music producer tells me over the phone from his home in Rancho Cucamonga, California. He lives with his mother, two 7-year-old twin brothers, and his best friend, his 14-year-old brother. The Frank Ocean collaborator is in such a good place professionally that he can live an hour outside L.A.
It's just as important to Uzowuru to drop everything and head to the studio with Frank at 1am as it is for him to bring his brothers to school every morning at 8am. Further, he explains, it's his responsibility to make sure the twins understand compassion and grow up to be emotionally mature men. As an independent-minded anomaly in the music world, Michael is clearly playing by his own rules.
The Nigerian-American virtuoso first became buzzy in music circles when he began producing for members of Odd Future, who he grew up with, including Earl Sweatshirt, Hodgy, Domo Genesis, and Pyramid Vitra, in addition to Matt Martians, Vince Staples, and Vic Mensa. And he reached prodigy status when he appeared on both of Ocean's albums released last year, co-producing "Rushes To" from Endless, and having production and writing credits on the masterful "Nights" from Blonde.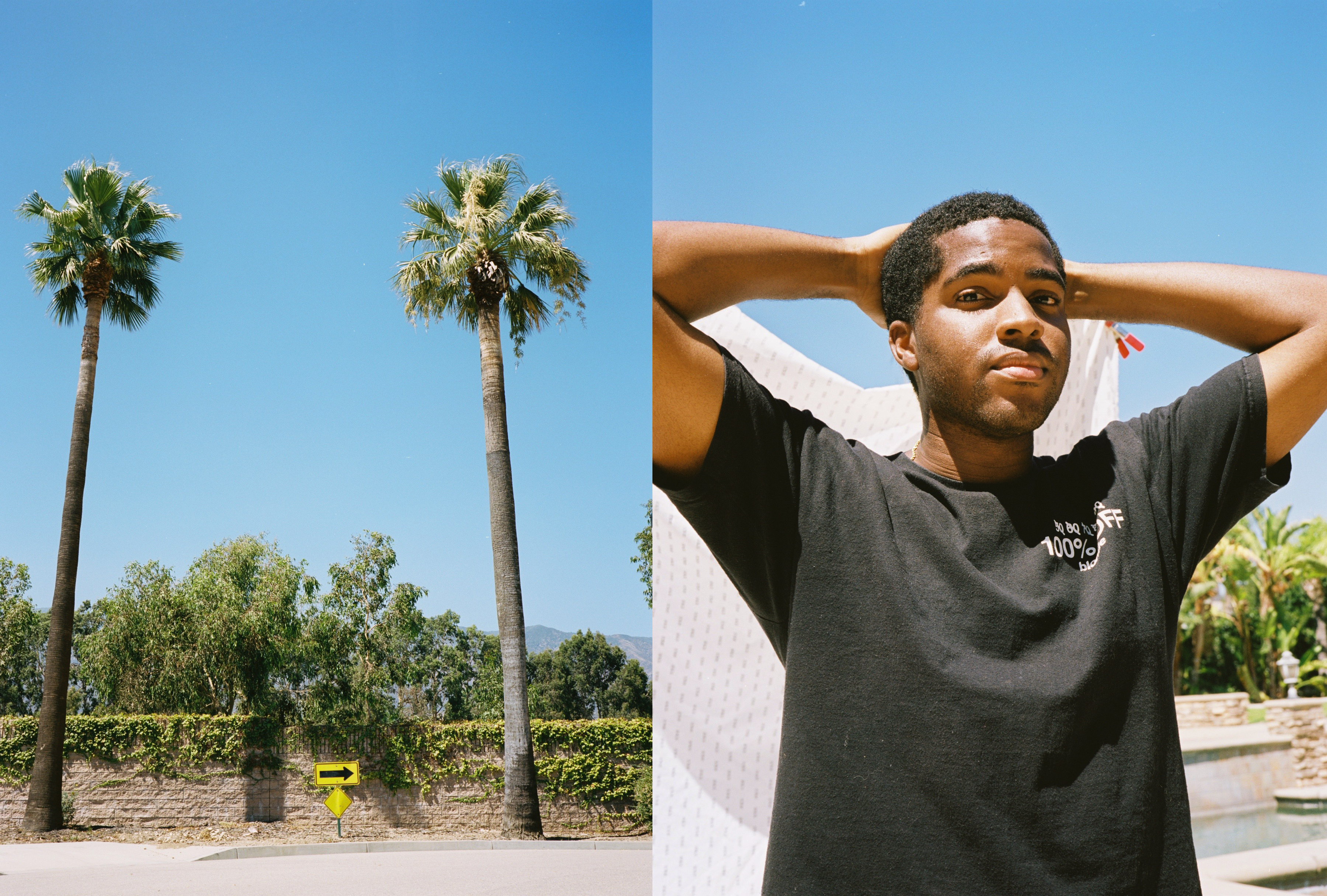 Most recently Uzowuru's unreleased song with Jorja Smith premiered during the first episode of the second season of Issa Rae's Insecure. He has co-production credits on the remix to Little Dragon's "High" featuring featuring Denzel Curry & Twelve'len and the BlondedRADIO release "Chanel" from Frank Ocean. Michael also worked on A$AP Rocky's latest, "Raf" featuring Quavo, Playboi Carti, Lil Uzi Vert and Ocean. In what was clearly a busy year, he also executive produced Kevin Abstract's second studio album American Boyfriend.
That said, he doesn't do press. Despite credits on Endless, Blonde, and these BlondedRADIO-released loosies, he hasn't done an interview since 2015. "I'm not going to start doing press so I have to continually depend on doing press to maintain my career," he says. Upon agreeing to allow me to do a profile on him, he half-jokingly asks if I think we can do it for Better Homes & Gardens. He likes landscaping, which makes sense as he's decidedly partial to the suburbs. He can offer a plant to go with every song on Blonde.
"Pink + White" would be a jacaranda tree because, as he puts it, "both have a functional beauty. Both also feel nostalgic yet present and of the now." He's also really into cars (taking the long way home when he finds a song he really likes), his Siberian husky Blue, and the Golden State Warriors. He's a big fan of Steph Curry and coach Steve Kerr.
There's a parallel between Uzowuru the producer and Kerr the coach. Kerr has been coach of the Warriors for three seasons. In that time his record is 252-53 and before that he'd only been coach of his son's 6th grade team following his own NBA career. This season, however, following complications from back surgery, Kerr was not even involved in the day-to-day during most of the playoffs yet the team is still saw huge success. Sports Illustrated asked, how can a coach be both essential and unnecessary? It's his process, values, and methods that have allowed for the team he built to see success without him.
"I learn from my little brothers, a lot from my girlfriend, Frank. I had a mentor [producer Om'mas Keith]. Everybody teaches you something," he replies. But when I ask who is as devoted to him as he is to his protegés, he says, "I don't think I've ever had anyone as invested in my success as I am in others' successes." This is what motivates him to be there for these young people. He's playing the role of someone he wished he'd had.
He does, however, learn a lot from Frank Ocean. Uzowuru says, "You go to the studio with other artists and you have to make them better. You go to the studio with Frank and no one wants Frank to be better than Frank does."
Similarly, Uzowuru is committed to self-improvement: "I want to be good, but I also want to be better, which sounds like they're the same thing, but in a lot of ways they aren't." He goes on to explain, "For me, process is much more of my concern than outcome. I can't control the outcome, but I can control the process which helps navigate the outcome." Here he references how basketball is applicable to music: "During a game, you can't be focused on whether the shot's going in or not, you focus on shooting. The time to worry was when you were working on the process of shooting a.k.a. during practice." For someone who makes a living off of his creativity and appealing to people's emotions, he's logical and deliberate in his own process.
Uzowuru predictably plays his cards close about what he's been working on at the moment. He just came back from London where he was working with Rex Orange County who was featured on multiple tracks on Tyler, the Creator's latest album, Flower Boy. We can only hope that this fall brings more relaxing car rides back to the burbs from L.A., the official drop of that new Jorja record, and an exciting Warriors season for Michael, and maybe a few unexpected BlondedRADIO releases for us.