nihl is making classic american menswear more queer
For spring/summer 19, Parsons grad Neil Grotzinger offered bunched and bedazzled takes on stereotypically masculine silhouettes.
Photography Lena Shkoda
Masculinity is as polarized as everything else these days, with ideas of submission and dominance, well... dominating headlines in recent months. The national newspaper of record has ushered in "The Age of the Twink," even your Aunt Muriel knows "topping" and "bottoming" don't refer to constructing a tiered sponge cake, and speaking of cake, there's an etymology lesson and a disruptively effeminate zine about that. Parsons grad Neil Grotzinger was thinking about these male tropes for his spring/summer 19 collection. Granted, he's been doing so since he first started giving prototypically masculine wrestling singlets Swarovski-studded upgrades. For his first solo runway show at NYFW Men's, titled "Subservient Authorities," Grotzinger dug further into the idea of male identity and gender roles.
"It's interesting to think about how we define those things — who we assume takes one on over the other," he told i-D backstage as muscular bodies shimmied out of beaded sheer muscle tees and Carhartt Brown chaps. "There's a lot of grey area as well. One that we see as one can easily become the other. I always like finding that grey area, where it intersects to a point where you can't figure out whether it's meant to be beautiful or whether it's meant to be authoritarian."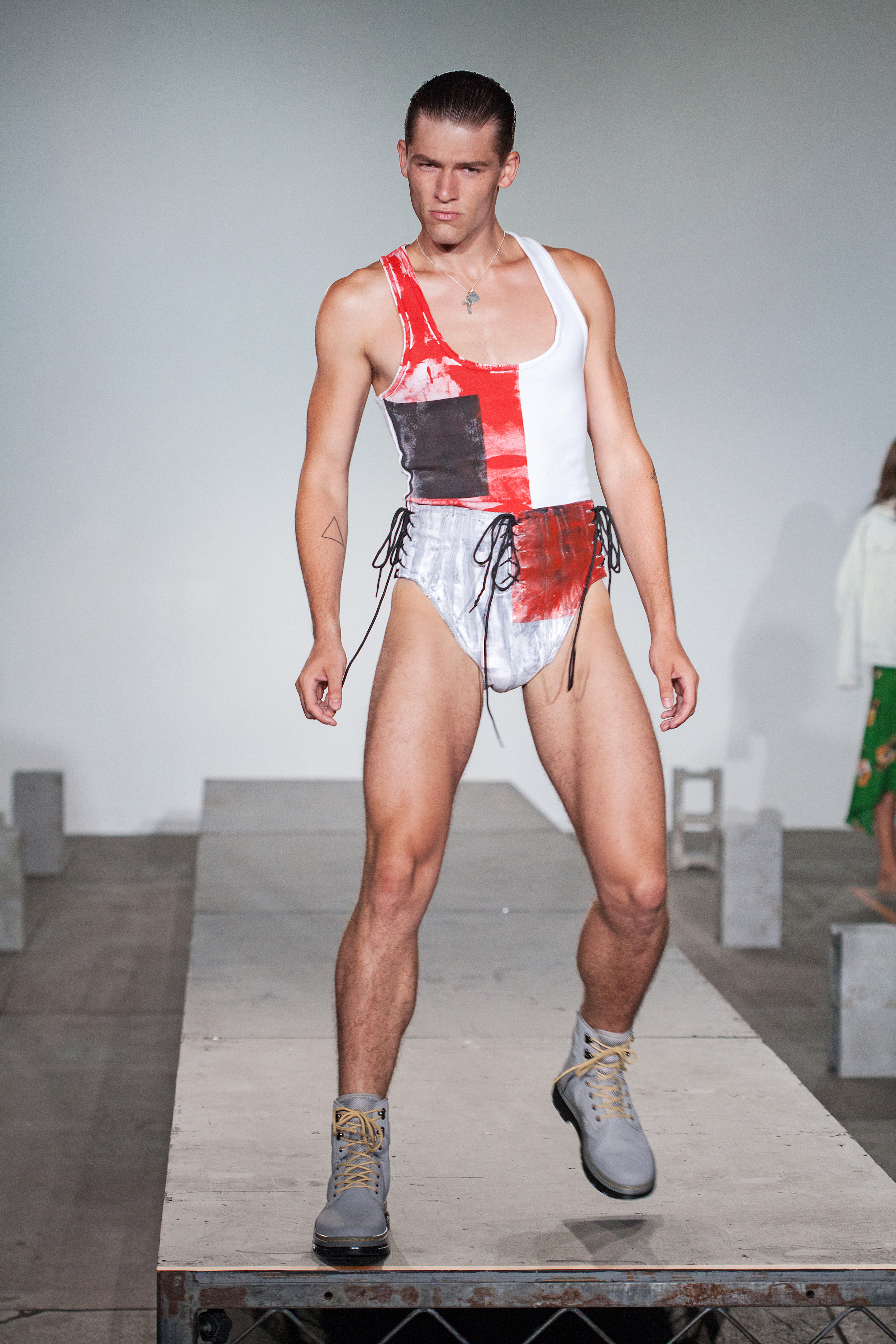 This collection specifically revolved around authority, he stressed, both what we declare as authority and who we declare it to. Some of Grotzinger's cast of characters were more clearly defined "tops" than others — including a perfectly chiseled lad found on Instagram in the midst of a post-Pride comedown. "We found this guy and were like, 'He's perfect, he's been partying on Fire Island all weekend, we've got to get him for the show,'" Grotzinger laughed. "A lot of it was mixing in real queer characters." Mr. Fire Island, in a pair of assless underpants, appeared alongside a clean-shaven club kid, in a low-cut shirt made entirely from chain mail and rave pants constructed from a real tarp complete with grommets. The same material was used for a color-blocked anorak, worn over leggings and a nipple-baring wrestling leotard.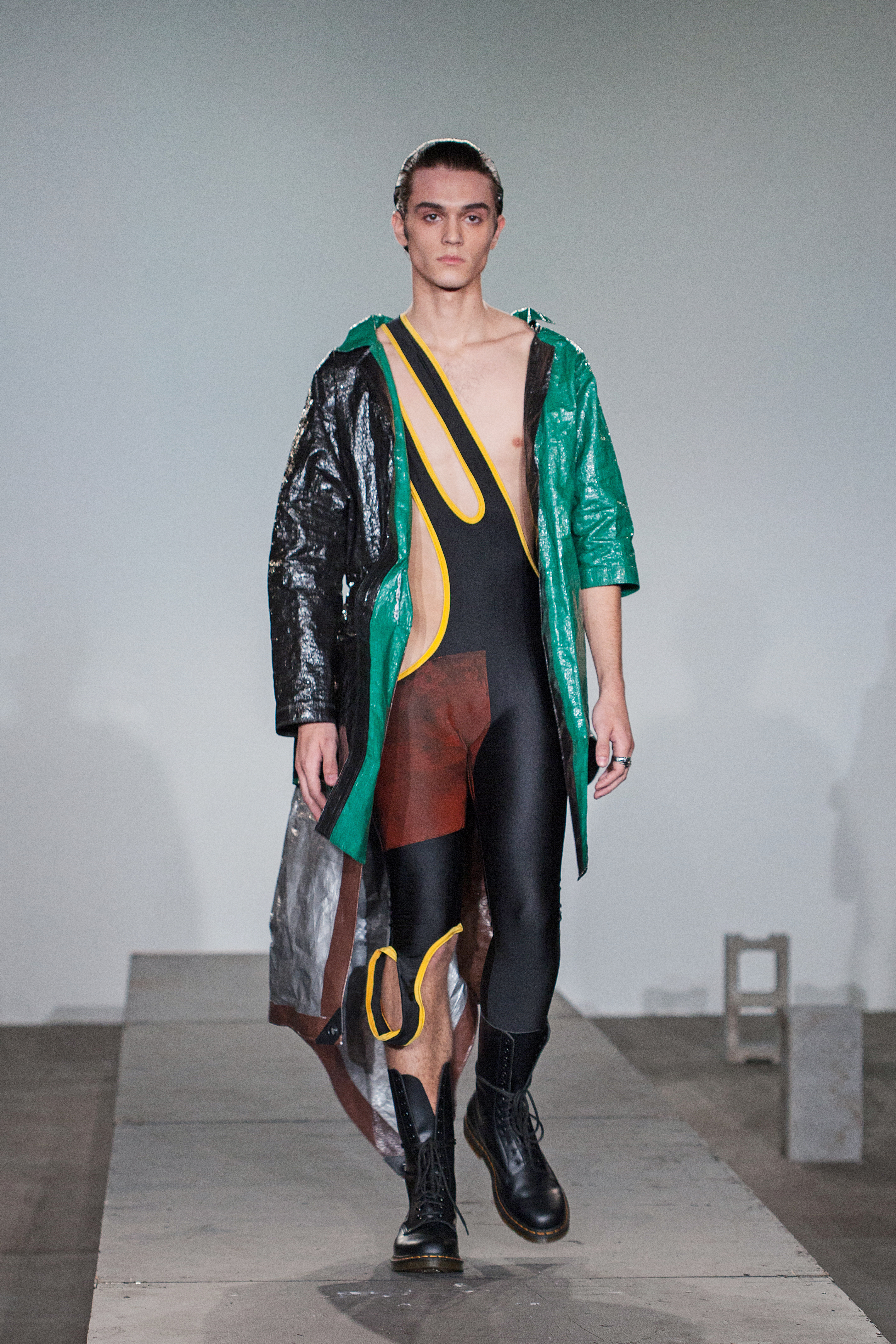 Other times, materials were used to paint masculine tropes as overly restrictive. A pair of overly football pants, typically made of stretch jersey, were instead fashioned out of crunchy taffeta silk that awkwardly, purposefully bunched during the model's runway walk. "It just hugs you in an almost uncomfortably tight way," Grotzinger explained. A tailored lilac pinstriped shirt, otherwise airy, was firmly cinched with an industrial conveyor-style belt reading "MAXIMUM LOAD LIMIT 760."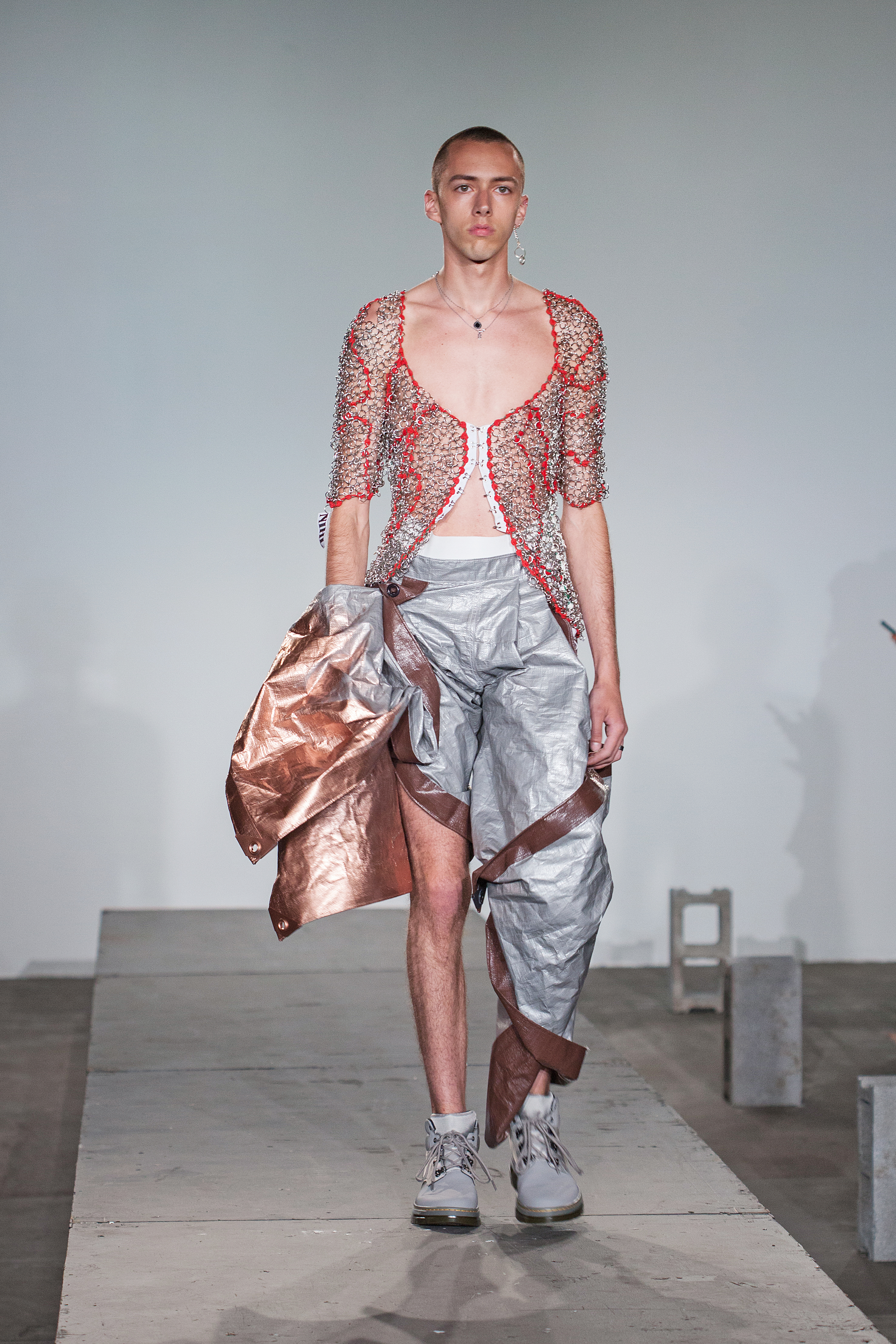 This deeper dive into queer culture was a natural progression for Grotzinger, who grew up in Colorado Springs surrounded by the all-American characters on his runway, . "Seeing the reaction to the earlier work and the earlier collections made me feel like people really care about [the queer element]," he said, adding that NYC's diverse queertopias provided him with endless inspiration. "There's a lot of queer irony that's also worked into this collection, with the jock straps, the characters. It's continuing to build my language around it, and [incorporate] their own perspectives when they see the clothing and wear the clothing."