cancellations, freebies and flops: have pop concerts reached their peak?
Nicki Minaj has cancelled the US leg of her tour, and both Beyoncé and Taylor Swift were plagued with empty seats. What's going on with pop tours?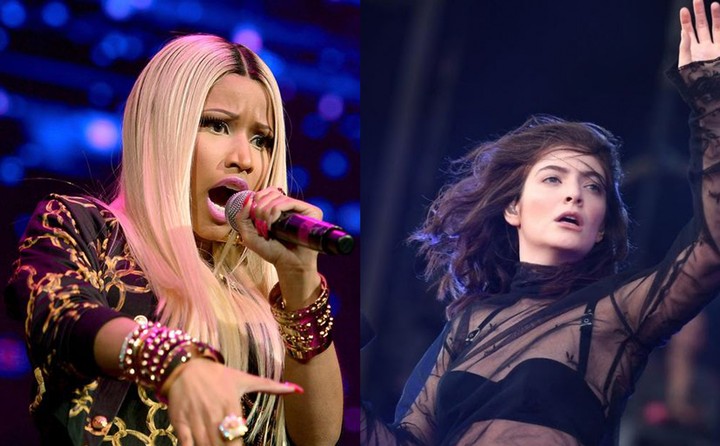 YouTube stills
Anyone following Nicki Minaj's recent antics (of which there are numerous) will know that, following the release of her slightly underwhelming fourth album Queen, she soon announced that the US leg of her tour was cancelled. In a statement oh behalf of the rapper, concert promoters Live Nation explained that Nicki had "decided to re-evaluate elements of production" on the NickiHndrxx Tour with Future. "Due to scheduling conflicts Future will not be on the North American run. Nicki Minaj will be announcing new North American dates to kick off in May 2019," they said.
This announcement was another blow to an album campaign that the New York Times had dubbed chaotic. Having delayed Queen by two months, Nicki first hit out at Spotify, then Kylie Jenner and Travis Scott's six-month-old daughter as to why Queen didn't debut at Number 1 on the Billboard 200 album chart. She also spoke out about the shady techniques that are utilized in the music industry, like ticket or merch bundles with albums, in a bid to shift records. Though understandably frustrating, it's something that she herself has also attempted.
With such a messy and confusing roll-out, accusations that the tour had been cancelled because of poor ticket sales began to circulate, with Page Six claiming that "industry sources" had told them that ticket sales "were not just in the toilet, they were totally down the drain".
Later, on social media, Nicki hit back at the rumors, citing the delay on getting Queen finished on time as the reason why the tour, which was due to start on 21 September in Baltimore, had to be "postponed". "I can't rehearse 4 WEEKS for a tour I originally planned on rehearsing 3 months for," she wrote. "I give my fans QUALITY. I write & co-produce my own music. Therefore, I can't rehearse while I'm WRITING & RECORDING my album. My true fans understand & know that I will deliver an extraordinary US TOUR which begins in MAY just like I delivered an extraordinary album entitled #Queen."
"Nicki isn't alone when it comes to the reported disparity between an artist's profile and alleged poor ticket sales. This year, both Taylor Swift's tour and Beyoncé and Jay-Z's tour have been subject to accusations of empty seats and of tickets being given away for free."
Despite Nicki's protestations, and even a report by Billboard claiming that poor ticket sales were unlikely the reason for the cancelation, although they had been "soft for the tour", no dates have yet been officially announced for the reschedule shows.
Nevertheless, Nicki isn't alone when it comes to the reported disparity between an artist's public and press profile and alleged poor ticket sales. This year, both Taylor Swift's Reputation tour and Beyoncé and Jay-Z's On the Run II tour have been subject to accusations of empty seats and of tickets literally being given away for free. For her American tour, Lorde was also reportedly playing to arenas that were only a third full, and in 2016 Janet Jackson was forced to cancel her European tour dates. With so many big names struggling to get bums on seats, it begs the question, has the pop stadium show peaked?
There are transparent reasons for the trend toward low ticket sales. Firstly, concert tickets are just so damn expensive. When even the worst seats cost nearly a week's rent, it's understandable that, with so many shows on offer, the gig-going public will have to become more financially savvy about the shows that they attend. Still, bankable names like Taylor Swift, Katy Perry and Beyoncé should have no problem shifting tickets to big budget pop productions. Instead, there's something more nuanced occurring.
In the case of Taylor Swift, many of the empty seats could be due to preventative actions that helped stop tickets from cropping up at inflated prices on secondary ticket markets. According to Ticketmaster, only 3% of Taylor's Reputation tour tickets ended up on tout sites. According to the BBC, for some shows this figure can often be 50%. What's more, according to Pollstar, Taylor made more than $103 million from just 10 dates of the US leg of her tour, which is still ongoing.
The case for Beyoncé and Jay Z's tour is slightly more complicated. The pair, despite releasing their joint album Everything Is Love after the tour started, didn't have new material to help promote the tour when it was announced. Likewise, both acts had toured within the last two years. Regardless, with some guests paying upward of £500 for VIP tickets, any losses due to empty seats in the sticks could easily be offset.
Writing for the BBC, Mark Savage suggested that perhaps both Taylor and Beyoncé's hesitation to give interviews could be to blame for slow ticket sales. However, this theory doesn't account for artist's whose tours are struggling despite near ubiquity. Nicki, for example, has a show on Beats 1 and has done numerous glossy magazine interviews. For his Man of the Woods world tour, some UK dates of which had to be cancelled or postponed for undisclosed reasons, Justin Timberlake performed at the BRIT awards, did the Super Bowl and appeared on numerous TV shows. Likewise, Katy Perry had to postpone her Witness world tour despite a heavy promotional campaign, with reports that the singer was facing poor ticket sales too.
Concerning Lorde's empty arenas, the reasoning could be a fracture between the artist's image and the type of show they're performing. Clearly, certain artists perform better in stadiums, arenas or theaters and an album like Melodrama, which was introspective, short, concise and artistically sharp, maybe didn't quite align with perceived images of the big budget arena show. As The Guardian noted, Lorde's desired artistic liberation doesn't necessarily suit the formulaic constrictions of an arena show.
It's also not necessarily fair to brush all popstars with the same tainted ticket sale narrative. For her Piece of Me world tour, a cash-in if there ever was one, Britney Spears managed to sell out nearly all of her UK shows, even though concertgoers are well aware of her lip-syncing. Britney also didn't have an album to promote and, like Beyoncé and Taylor Swift, is notoriously interview-shy. In fact, a report by The Irish Sun stated that demand for tickets to her Dublin show was 500% greater than Justin Timberlake's.
Britney, however, has spent the last four years in Las Vegas and hasn't toured Europe since 2011. Given such an absence, it's understandable that fans starved of contact would want to see the pop princess. And perhaps with this model, Britney has it right. With live shows now standing as the main source of income for popstars, the pressure to tour is real. But if an artist tours every year, or even every other year, the necessity and significance for fans to see their favorite acts diminishes. This, coupled with exorbitant ticket prices could well mean that concertgoers are just choosing to sit this one out.
In Nicki's case, you could argue that the messy roll out of Queen, her choice to invite controversial rapper 6ix9ine (who has been charged with sexual misconduct involving a minor) on tour with her) and a backlash to her social media antics could have been enough to put people off buying tickets to her shows. That said, this problem doesn't feel as simple as that. Instead, as the mechanics of the music industry have changed exponentially over the last ten years, it could well be the live show's turn for a reckoning.
This article originally appeared on i-D UK.