Megan Thee Stallion: "I'm not a fake person. I'm not a character"
Introducing the first cover for The Get Up Stand Up Issue! Welcome in a hot girl winter with Megan Thee Stallion, interviewed by Jeremy O. Harris.
|
18 November 2019, 1:00pm
Megan Thee Stallion's story originally appeared in i-D's The Get Up Stand Up Issue, no. 358, Winter 2019. Order your copy here.
"Autumn is cancelled!" the world declared when Megan Thee Stallion (named so "because I'm tall and fine") released the video for "Hot Girl Summer" back in September. Featuring Nicki Minaj and Ty Dolla $ign, the Texan rapper's hit single blew the fuck up and, thanks to her legions of 'hotties', soon became a meme, with the visual — her and her new pals throwing the ultimate pool party — racking up a cool 40 million views in the process. At just 24, Megan is confidently leading a new generation of female rappers into the traditionally very masculine world of hip-hop, switching up the narrative to one of positivity and inclusivity as she goes.
It was at the tail end of 2017 that the artist born Megan Pete first stormed onto our radars with her "Stalli Freestyle", going on to cement her place in the public consciousness with a Top 10 charting Tina Snow mixtape in 2018. She released her debut full length Fever this year, and has just joined forces with Jay-Z's Roc Nation where she'll play out her exciting next chapter.

With a history of rallying the hotties for mass beach cleanups by Santa Monica Pier, hosting an all-gender Cognac Queen Hollywood beauty pageant with a college scholarship as a prize and generally using her platform to raise up her fellow women, Megan is honestly an example to us all.

To interview her for this issue of i-D we could think of no one better than playwright, actor, and fellow Southern Belle, Jeremy O. Harris.
Read Megan Thee Stallion's interview below.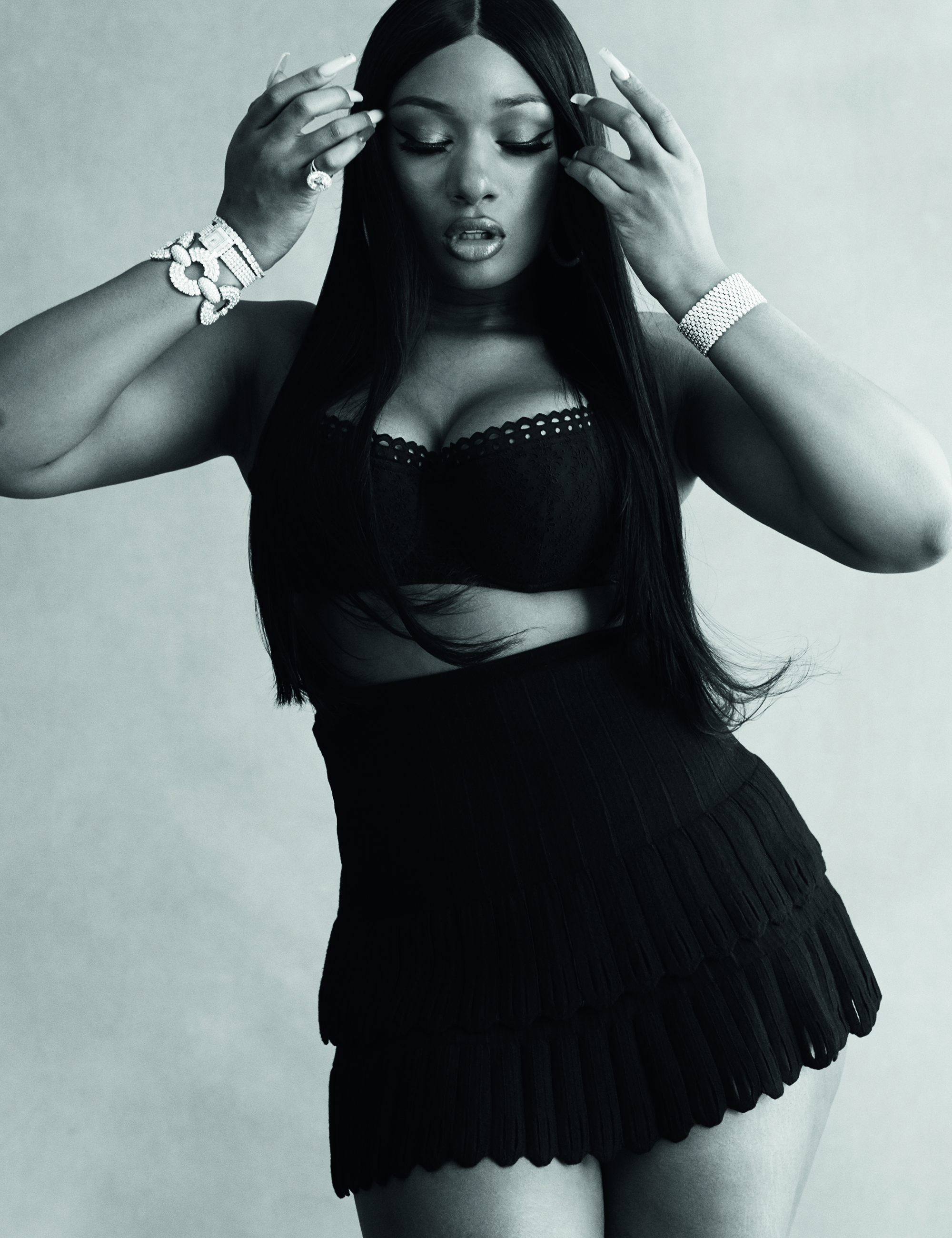 Jeremy: Hey Megan, what's up?
Megan: Hey! I'm just leaving the airport. I'm on the way to get ready for my show tonight.

Oh, dope. I've never seen you live. I missed you at the Diamond Ball. I was there and I was overwhelmed because it was that kind of thing. I was freaking out.
We're going to do it again so it's going to be okay.

Okay. Good, good. I can't wait. Before the interview I was going through some of Pimp C's lyrics — because you talk about him so much — and I realised my favourite line on your track Realer is kind of a Pimp C line. When you say, "Knock that shit out that bitch like an enema," that feels so similar to something Pimp C would say...
Pimp C talked about that shit in every other song. He's so nasty and I love it.

When you were growing up, how did you, as a young girl, relate to someone like Pimp C?
As a little kid you don't really understand it. You just think it sounds cool. How confident he sounded really got me. It wasn't until I was 15 that I really understood what I was listening to.

I think in the South — I'm from Virginia — we have this readiness to be raw in our humour and language. We have a different relationship with our body.
I definitely feel like people in the South are a little more raw. Our whole swag, the way we talk… When I go to the East Coast, people automatically know I'm not from there.

When I think about my relationship to language it's so much more honest about the position my body is in and what my sexual desires are. All those things are way more to the front of my discourse than they are for a lot of people on the East Coast. What were some of those things that might shock people that came out of your mouth when you were a little kid?
Honestly, I'm not going to lie. I was a good kid. I was observing more than I was talking. I really didn't start being vocal until maybe the fifth grade. I would spend a lot of time with my mom and my grandma. Kids used to pick on me because I was quiet, I was an easy target. But I wasn't quiet because I was scared. I was quiet because I didn't want to fucking talk to them. One day I went home and I told my mom, 'I think they're picking on me.' I wanted to get my mom's permission to go back to school and go the fuck off on everybody. She gave me the green light and I went to school and I cussed that little bitch out. Ever since then, I was just talking my shit.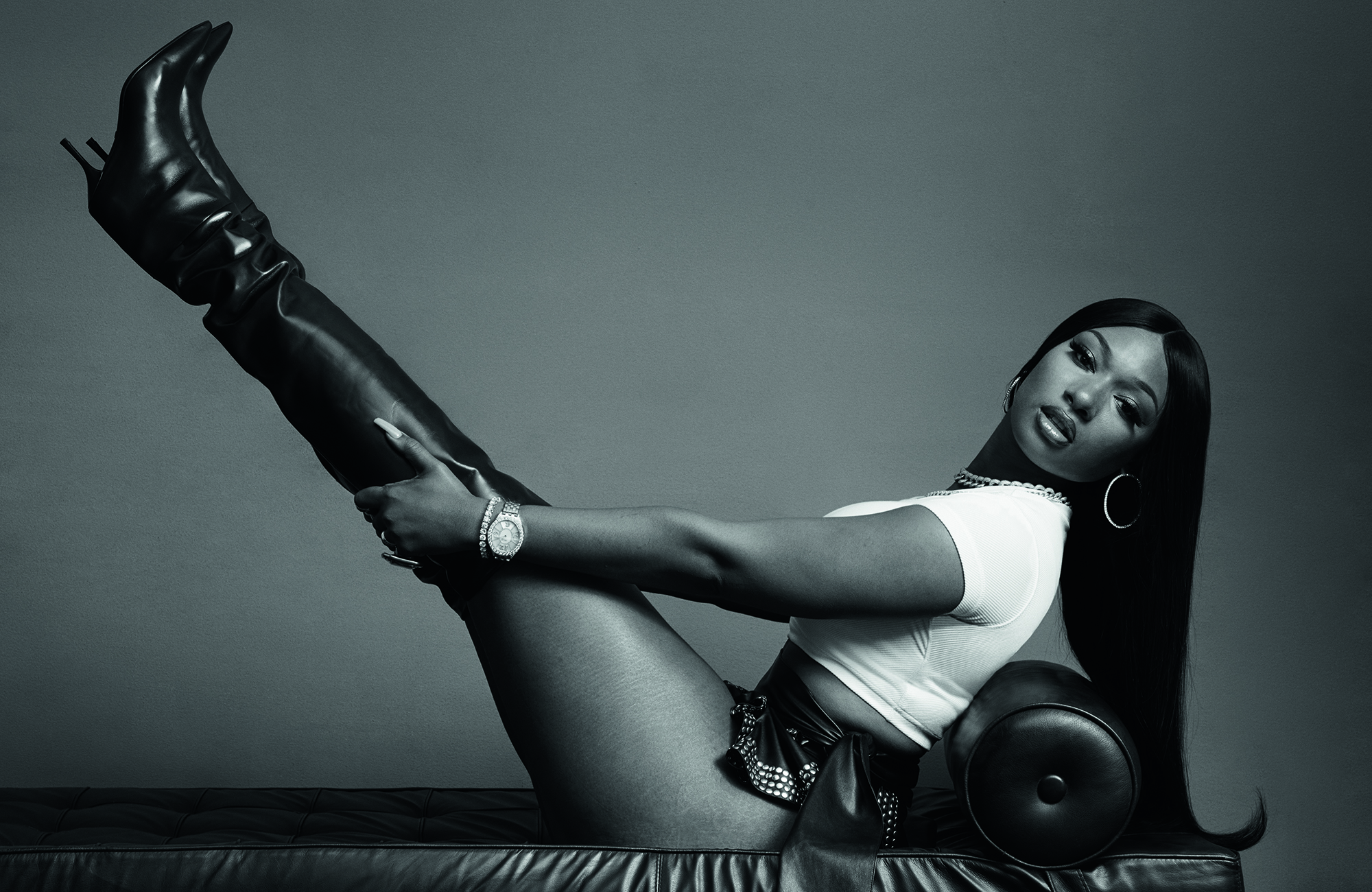 How are you maintaining the relationships with the artists that you came up with at this moment when so much of the world is taking you so far away from them? Is it on social media that you guys are staying connected? Or do you guys still hang out and have coffee and smoke a blunt or something?
I didn't tell anybody that I wanted to rap when I was in high school. But when I got to college I was like, nobody knows me. I'm going to just tell them I'm a rapper and they're just going to have to go with that. So my best friend, who's now my assistant, we would just be on YouTube together all the time, going through beats. That's how I made my first mixtape, Rich Ratchet. Then I started going to the studio and working with DJ Chose, he still sends me beats. I don't have a project out there that doesn't have a DJ Chose beat on it. I'm not the type of person that just needs you for a season. If I want you in my life, you're going to stay in my life.

That's amazing. It's how it should be. My best friend from graduate school, who was the only person who said that they believed in my play, he's my roommate and he's still working on the play now its on Broadway. What's also crazy is that now I'm this room where I'm getting to meet my idols — and you are too. You've now worked with Nicki. You've worked with Gucci. You've worked with Juicy. Who are you hoping could be someone that you could add into that circle now?
Everybody knows that I love, love, love, love Beyoncé. Both of us are from Houston. I really feel like that's something I want to do. I always looked at Beyoncé as the example. Oh my God, I don't even know what I would do if I meet Beyoncé.
Wait, you haven't met Beyoncé yet?
I haven't!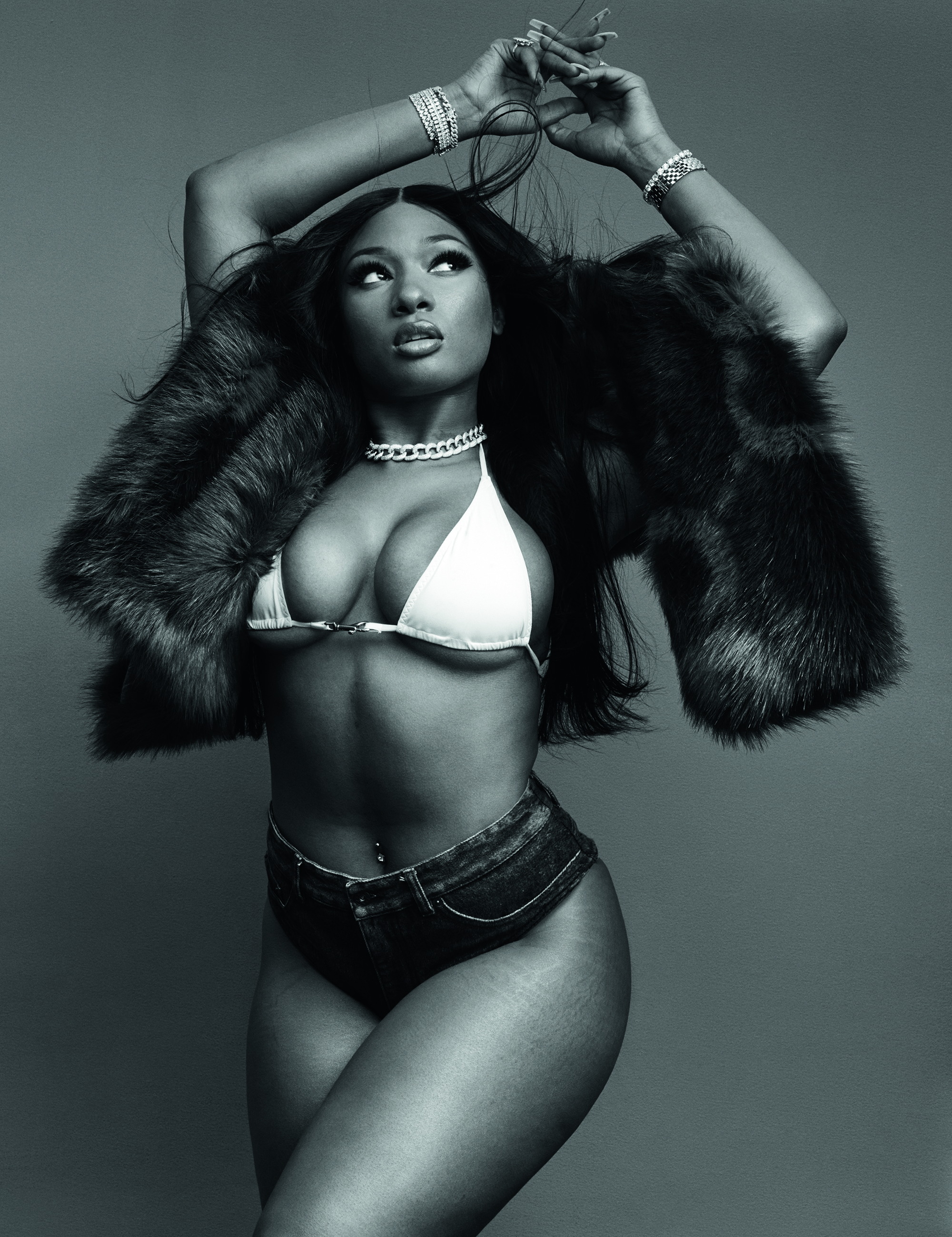 They were sitting next to me the other night at the Chateau, eating chicken. So if you're looking for them. That's where you need to go.
I just signed to Roc Nation. I've met Jay-Z now, he's really cool. I'm getting managed by them and it's just awesome. It feels like family.
There are a lot of people who want to position female rappers in a way where there can only be one, a supernova that destroys everyone else around them, until some other girl comes and destroys them. What's been really exciting is seeing the way in which you've been so loudly vocal about other female rappers. Was that an active position on your part or just natural?
It's natural. I'm not a fake person. I'm not a character. What I say is how I feel. I just don't give a fuck about competition. It's not that serious. You know how many men make music without biting each other's heads off? Why do we have to do that? There's room for everybody. I really couldn't care less what the next girl's doing. If she's shining, that's good. It's not taking away from my light.

You watch a video of you at the start of your career and it's not that different from the rapper you are now. But what was your journey to find your style? How did you come up with this Rococo, hot girl, rodeo rider that you present as now?
I'm from Texas and I've always been a big fan of booty shorts and crop tops. I've never got any clothes on. It's literally how I dress and nobody can make me change if I don't want to.

I love your Frenchie, by the way.
He's with me right now! He comes to everything. He's called 4oe. I used to bring him in strip clubs, to shows. But too many people run up on him at one time and I don't want him to have a little panic attack, so now I just make him wait in the car. He gets so pissed off! He'll leave a big pile of poop in the middle of the Sprinter.
Oh my God. Speaking of the panic, how have you not had a panic attack with all the people that run up on stage with you? I saw a video of this man a couple weeks ago. He jumped on stage and he started twerking on you, right?
It's happened on multiple occasions. The other night in New York, I invited some hotties on stage and this guy, he's trying to grind on me from underneath. My security just kind of hurried up and snatched him and I was like, 'No, no!' It's fun.
You looked like a superhero when you swatted your security away and just got on top of him and showed him that he couldn't dom you. You were going to dom him.
I'm just naturally a bad bitch, you know?
I'm so interested in how that sort of confidence came to be. I think that for a lot of young girls and a lot of black people in general, figuring out a way to take up space and say, 'I am the baddest bitch in the game and you aren't going to tell me I'm not...' It's difficult.
I always thought I was the shit because my family always told me that I was, so can't nobody tell me no different. If you wake up every goddamn day and your mama is telling you, 'Oh my God, you're so beautiful. You're so amazing.' That's what you're going to believe. So if somebody comes to me different, like, "What the fuck are you talking about? My mama told me I was beautiful, so what are you saying?"
The challenge I gave myself this year is to write about love. I know how to process the things that are in the back of my head, the deepest, darkest parts of my sexuality. But the things that are harder for me to process publicly are what it means to love someone, right? What would it mean to be happy? What's something that's hard for you to write about that you're excited to delve into?
I feel exactly where you're coming from. I've always been a strong person, but I've never been a person who's just sat down and wanted to get into my feelings. Lately I've been trying to see how it would sound if I did. I definitely want to let people get more into my head.
Something that I'm dealing with right now is that I haven't stopped working since finishing grad school. I'm totally stressed and trying to make sure I don't let anyone down because I'm on a platform that a lot of people are looking at. But you seem so indestructible to me right now. Do you feel the stress?
I don't mind working all the time because I know that that's just going to make me stronger. I don't mind going through all these experiences because I feel like I'm in training right now. So, like, if I bump my head, it's okay. If I do something wrong, it's okay. I'm learning. I'm not really tripping.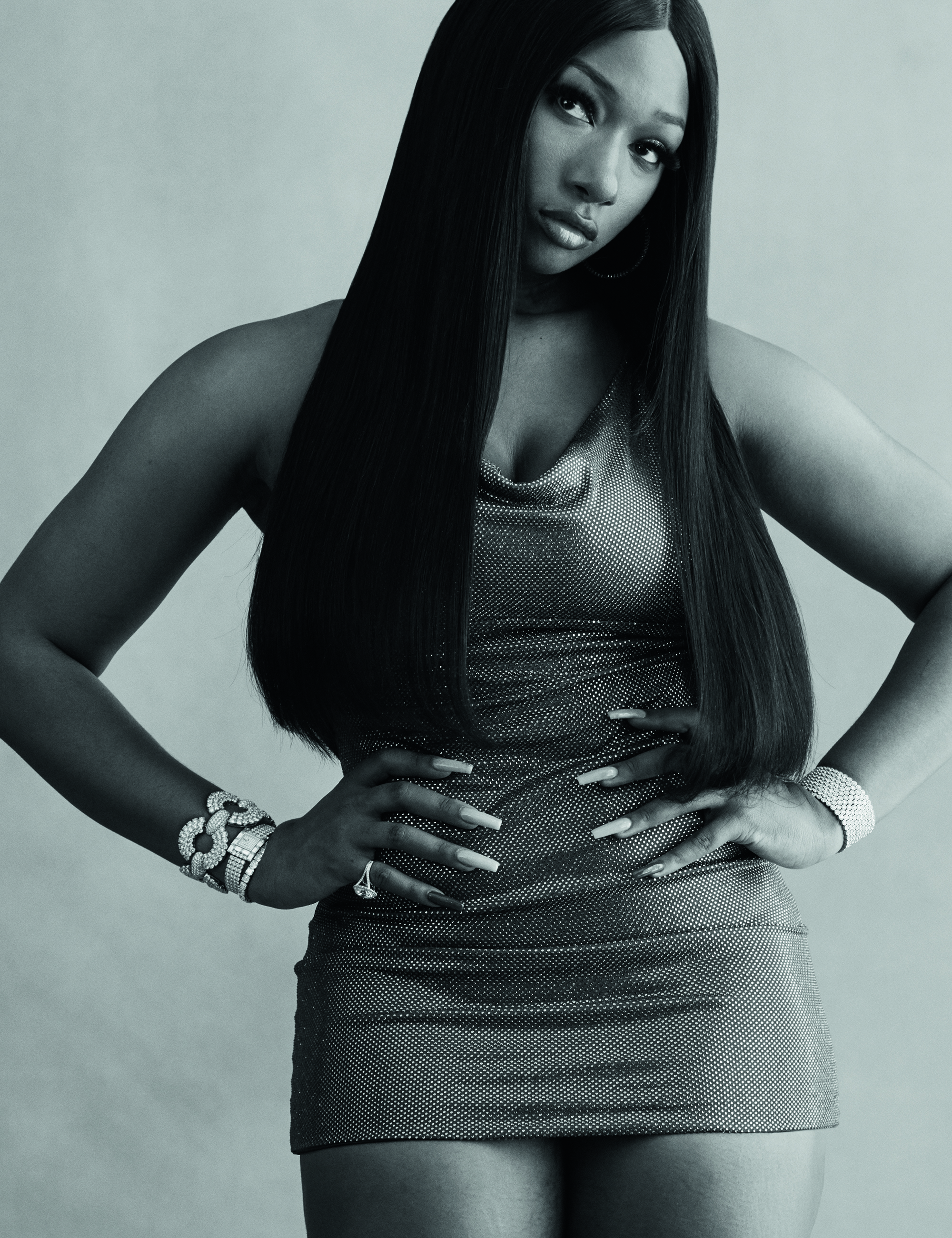 Last year, when I was doing two plays and going to grad school and people were telling me, you can't finish a thesis and do all this other shit. I was like, 'Watch me'.
Right. Why not?
So finally, what's something you want to pass on to the boys or girls who are listening to this?
Don't ever think that there's not somebody out there that you can relate to. It doesn't matter if it's your blood or a friend or just a complete stranger. There will always be somebody out there that has been through the same thing that you've been through – you've really just got to stay strong and you got to find that person. Somebody is always willing to help you, so if you ever feel like you're by yourself, you got to tough it out for a little while. You got to be yourself. But you always going to run into somebody that's going to give you that love that you've been looking for.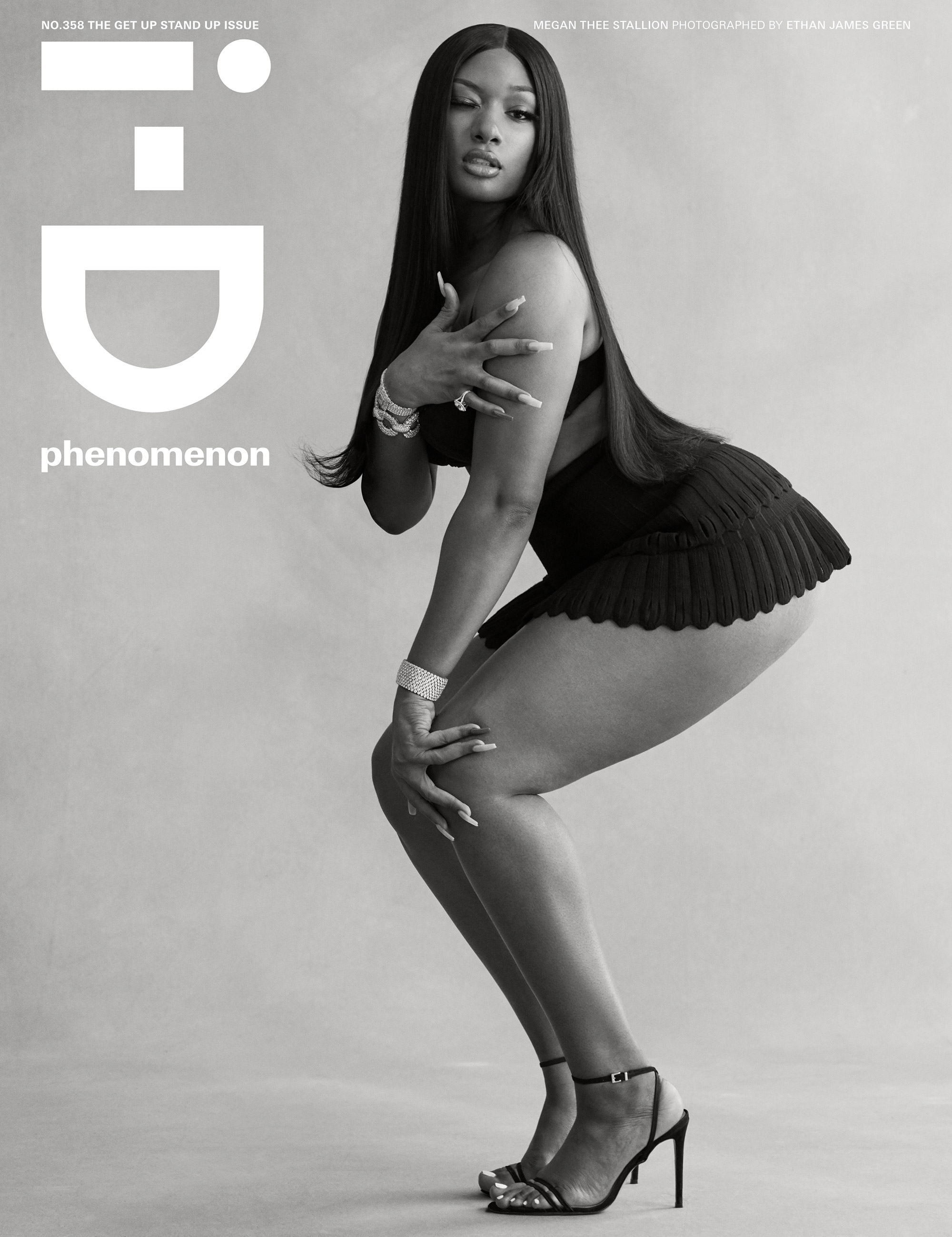 ---
Credits
Photography Ethan James Green
Fashion Director Carlos Nazario

Hair Jawara at Art Partner.
Make-up Kanako Takase at Streeters using Addiction.
Nail technician Dawn Sterling at Statement Artists using Young Nails.
Set design Julia Wagner at CLM.
Photography assistance James Sakalian, Katie Tucker and Daniel Johnson.
Digital technician Nick Rapaz.
Styling assistance Raymond Gee, Erica Boisaubin and Imaan Sayed.
Tailor Thao Huynh.
Hair assistance Tiara Keith and Shamicka Williams.
Set design assistance Dylan Bailey and Cruz Mendez.
Production Jessica Hafford at MAP Ltd.
Interview Jeremy O. Harris
Introduction Frankie Dunn