Billie Eilish: "I'm never going to get old. I shall stay young forever."
To celebrate the launch of her intimate documentary with Beats by Dre, we had an exclusive chat with Billie Eilish.
|
26 November 2019, 3:00pm
When we look back on 2019, we'll remember it as the year that Billie Eilish delivered an electric green booster shot of energy to the music world. With her record-breaking successful debut album When We All Fall Asleep, Where Do We Go?, sold out world tours and bold headline-grabbing fashion choices, the 17-year-old has single-handedly revolutionised the idea of how a popstar should look, sound and feel. Suddenly it's okay for one of the biggest artists on earth to feel depressed, make dark music inspired by cult horror films and wear massively oversized clothes. The message to her legions of fans is this: your feelings are valid, your body is your own, it's cool to be your weirdo self.
It won't come as a surprise then, when we tell you that Billie – who just won Best New Artist at the AMAs and was named Billboard's Woman of the Year – is the face of the latest Beats Solo Pro campaign. You'll be equally pleased to hear that the campaign comes with a deliciously intimate short documentary that takes us inside Billie's cosy Highland Park family home and a little deeper into the creative journey behind her beautiful new single, "everything i ever wanted".
In the film, Billie and her brother Finneas listen back to a year-old demo of the confessional on which you can hear the singer figuring out the melody to an atmospheric soundscape of raindrops on her window. The song was called 'nightmare' back then, and though it has evolved a whole lot since, the raw emotionality of the track remains. "We decided to make it about our relationship and how we help each other and, like, deal with things together," she explains. "It just completely like paved the way for the rest of the song." Together, the siblings build the track up from scratch before FaceTiming their go-to mix engineer Rob Kinelski to request some last minute vocal echoes.
Back home, Billie practises her old ukulele, hangs with her dog Pepper and plays the song back to her mom. "It's so pretty," she says with tears in her eyes. "I hope this song gets played a lot." Don't worry, Momma Baird, it already did. Over 62 million times on Spotify alone. Half of that was the i-D office.
Well overdue a catch up, we grabbed Billie for a quick chat about the film, yes, but also about gay icon The Babadook, explicit dreams, her essential travelling album and why Instagram is going to die.
Hi Billie! What's "everything i wanted" all about then?
For that song, I feel very strongly that I want the meaning to be only for me, and have everyone else decide for themselves what it's about.
Which movie do you think When We All Fall Asleep, Where Do We Go? would be the best soundtrack for?
I wrote it inspired by The Babadook, but I don't think The Babadook could get any better.
How do you feel about people always commenting on your fashion sense?
That was the goal.
What did you and Naomi talk about at the LACMA party?
I just told her how beautiful she is.
What would you do if Instagram died tomorrow?
It's going to if this no likes thing stays.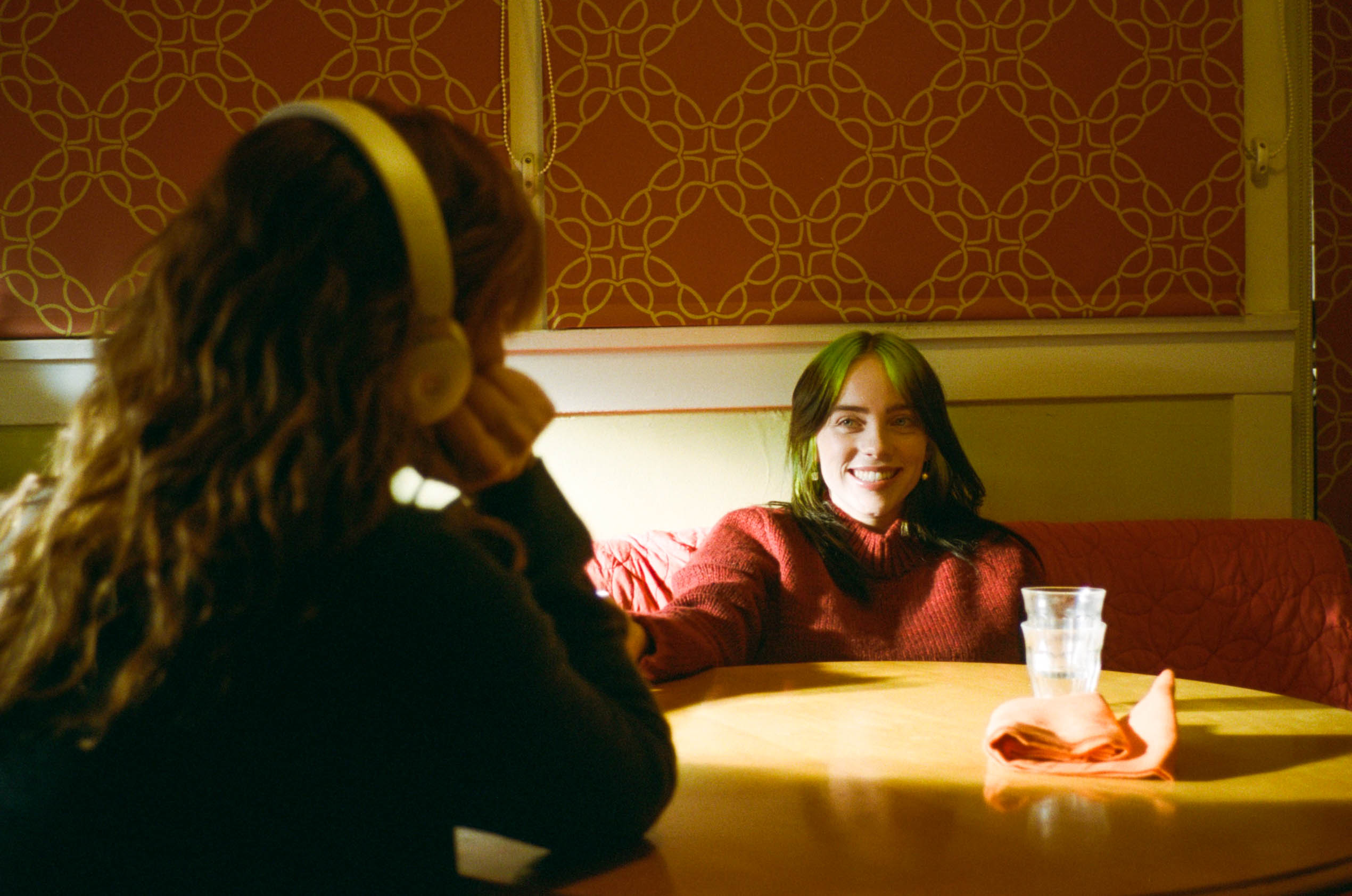 You're travelling. Your headphones are on. Which album is typically playing on repeat?
Lissom by Lissom.
Do you ever wear headphones with nothing playing, so that people don't talk to you?
No, but I have pretended to be on the phone for that reason.
What do you have planned for your 18th birthday?

My own private thing.
Picture yourself as an old person. What're you like?
I'm never going to get old. I shall stay young forever.
You're making your world tour as eco-friendly as possible. How do you think the music industry should change in order to become more green?
Use less plastic, I think that's one huge part. But there's so many things that we can do.
Which fictional duo do you reckon you and Finneas are most like?
Finn and Jake from Adventure Time.
Finally, what's the last dream you remember having?
I would tell you but it's kind of explicit.