thoughts on louis vuitton's tiny little bracelet bags
The microbag's reign is far from over.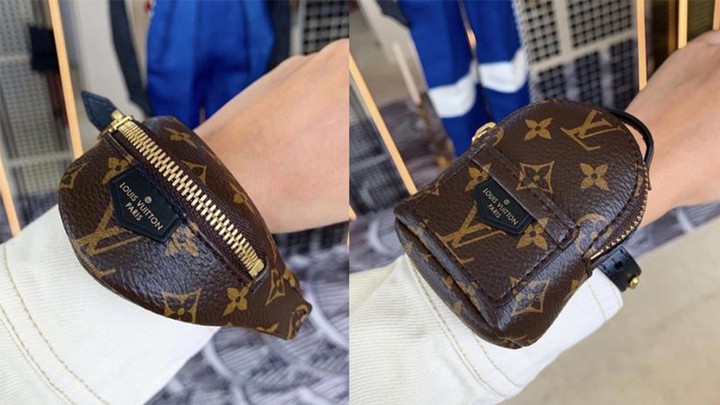 Who doesn't love a good handbag? Honestly, there are few things that elevate an outfit as faithfully as an it-bag in the crook of an arm. May I cite the many ladies of West London as evidence, who, despite their patently dull looks, still look fire due to the Hermès Birkins and Chanel 2.55 Jumbos they tote. But while previously bigger may have meant better, recent years have seen the arrival of a curious trend for tiny bags.
"Another piece on micro-bags?," you sigh. "Let. It. Die!!!" And honestly reader, we would, but they just keep on coming! The latest to jump on the mini-bandwagon, following in the footsteps of brands like Jacquemus and Telfar, is Louis Vuitton, who have announced the addition of two lilliputian bracelet bags for SS20: a Monogram bumbag, and a Palm Springs backpack.
Tied to the wearer's wrist, they basically serve as high-fashion versions of those garish wrist wallets some people wear when they go swimming -- not that you'd be silly enough to dive into the pool actually wearing these inordinately expensive canvas bracelets. Which is exactly what they are, at a reported $750.
So what would possess you to splash so much on a bag that probably can't even hold its own value in high-denomination bills, you ask? Many things! First off, it's a well-known fact that certain bags are a safer place to hold your money than gold. Though if you have $750 at hand and the first thing you can think to spend it on is a wrist-bag, you're probably not the type to carefully think through how shrewd your investments are. That said, as it's literally strapped to your body, the chances of you misplacing your precious investment, unlike that guy who left a priceless 300-year old violin on the train to Orpington, are minimal.
But, the potential for a boost to your portfolio aside, what else does this trend mean? What does it say? Maybe, in a post-Marie Kondo world, we've come to realise that the few things that truly spark joy can be crammed into a vessel that barely holds a credit card. Or that, perhaps, the burdens of everyday life are just so cumbersome that the exquisite lightness of being can only be achieved by casting everything to the wind, save for our tiny expensive bags and the clothes on our backs.
Or maybe there's something deeper. Reader, did you ever play with model trains as a child? Or a doll's house? Wasn't there something so emancipatory in realising that you finally had control over something, finally had something under your thumb? Maybe, then, when the world increasingly feels like it's beyond anyone's power, there's something quietly comforting in owning a tiny precious object, one that reminds you that the reins lie safe in, or rather around, your hands. Or maybe it's just funny to look a bit like a giant on Insta, idk.
This article originally appeared on i-D UK.