Dior collaborate with Air Jordan in an homage to Americana in Miami
Kim Jones talks to i-D about bringing American streetwear to the world of Parisian haute couture in his collaborations with Air Jordan and Shawn Stussy.
|
04 December 2019, 10:56am
First things first, two words: 'Air Dior'. In honour of his first show in America, held in Miami, Kim Jones enlisted Nike for a very unique and highly unprecedented collaboration. The high-top Air Jordan 1 sneakers beloved by a generation has been reinvented in Dior's signature pearl-grey leather, with a monogram swoosh and customised branding. It's entirely made in Italy — to Dior's exacting standards — and only 8,500 will go on sale (a nod to the 1985, the year it was created), with 4,700 of a low-top version (1947, the year of Dior's New Look, obviously). It's the first-ever collaboration between Jordan Brand and a Parisian haute couture house. Major.
There were plenty of nods to the house's founder: his first holiday to the United States as a gallerist, the flowers he adored (turned into retro-gentlemanly corsages by Stephen Jones), the licensing deals he established in America and Cuba, and his own collaboration with American companies.
Kim thought hard about how that could translate to right now. And just like he has done before — most notably collaborating with Supreme while he was at Louis Vuitton — he brought iconic streetwear to the table. "It was about what would he do now," Kim explained during a preview. "Nike is one of the biggest companies in America, so it's nice to work with them. There's an authenticity behind it. That's very key."
Of course, the sneakers are only a small part of the story. He also brought streetwear legend Shawn Stussy out of retirement to set the tone for the show. Tutti frutti colour combos, bold hand-drawn graphics, tropical flowers, poolside déshabillé and the Kim Jones blend of luxury and street; dressed-up elegance and thrown-on casual.
"I didn't want it to be Miami Vice, which everyone would assume," he explained. "I wanted it to be that very chic, Rat Pack vibe meets the psychedelic 60s of America — all swirling prints and bright colours, with the Dior stamp." What's important to remember is the level of immense technique that has gone into some of these pieces, such as shirts with more than 2,600 hand-stitched beads, or the marbled Japanese ikats developed especially for some pieces.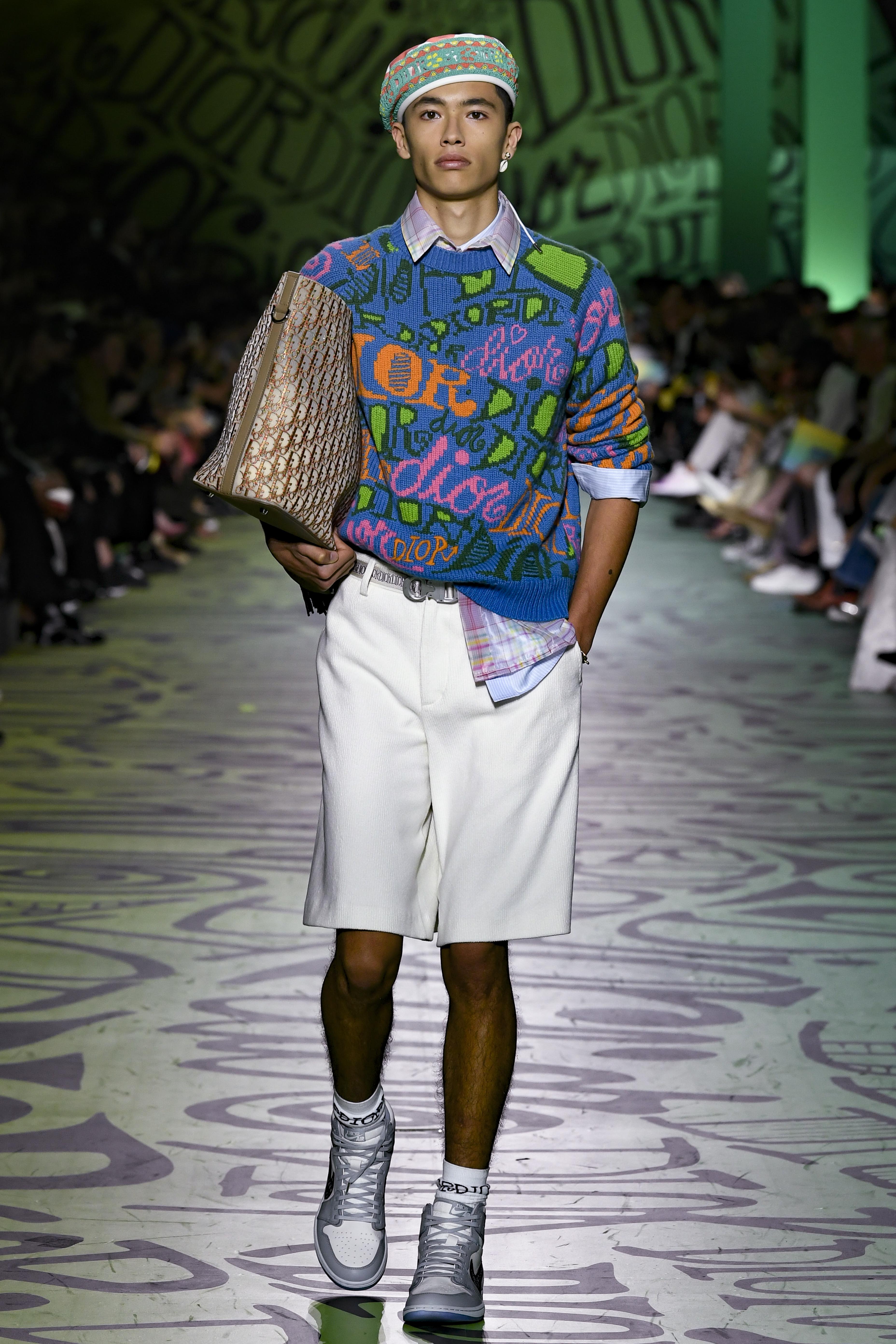 Fully aware that the show would be the day before Art Basel, he opted for an unconventional artist to collaborate with on purpose — and it helped that former surfer Shaun established one of the most prolific streetwear labels before retiring from Stüssy in 1996. "I wanted to work with someone who I consider to be an artist," Kim explained. "His line work is amazing and he understands how we're not just doing clothing — there's lots of other product."
If the collection looks more graphic, more immediately recognisable than previous collections, that's because Kim wanted to create something that will forever be distinctive. "I've worked in luxury for almost ten years now and what I've learnt is that the things that are seasonal, people bring them out a year or two later and it has a cult status," he explained. "That's what I like to achieve."
We can all agree he needn't worry. Mission accomplished. Cult status effective immediately. Kim Jones just dropped the mic and the rest is history.