How Labour is winning the merch war this election
With the likes of Liam Hodges and Slowthai releasing pro-Labour hoodies, sweatshirts and tees, wearing your political heart on your sleeve has never looked cooler.
|
29 November 2019, 12:25pm
Courtesy of Labour X Fashion
Read the rest of i-D's 2019 election content here.
The mobilisation of young people around this year's election has been unlike anything else in living memory, dwarfing even the response to the snap election in 2017. People are out canvassing en masse, posting on social media about little else and registering to vote in record numbers. There's a palpable feeling that this could be our generation's last chance to effect positive change in decades and as a result it's all hands on deck, with people contributing in whatever way they can.
One aspect of this has been an explosion in Labour merchandise. Unlike similar merch in the past, usually slogan-heavy and with a whiff of Camden market about them, this new breed is stylish and fashion-conscious. You've got internationally renowned, high-end designers like Liam Hodges and even British rapper Slowthai releasing pro-Labour garms, with just as much exciting stuff coming from a grassroots level. These are clothes you'd actually want to wear for the aesthetic, rather than a sense of obligation. Bootleg Tory merch, on the other hand, is thin on the ground, although you could, if you wanted, head to the pub emblazoned with a borderline racist joke about Diane Abbott. By and large the Conservative party are aesthetically (as well as morally) repulsive.
Hodges, one of the UK's foremost streetwear designers, and Tottenham Textiles have launched Labour X Fashion a range of hoodies and beanies promoting Labour, the proceeds of which will be donated to the election campaign. Going beyond the party's rose symbol, the hoodies display a selection of specific manifesto pledges scrawled on the back. "How do people convey political messages?" Liam asks. "They write something on a toilet wall. That's what it is -- it's the writing on the wall in a bog."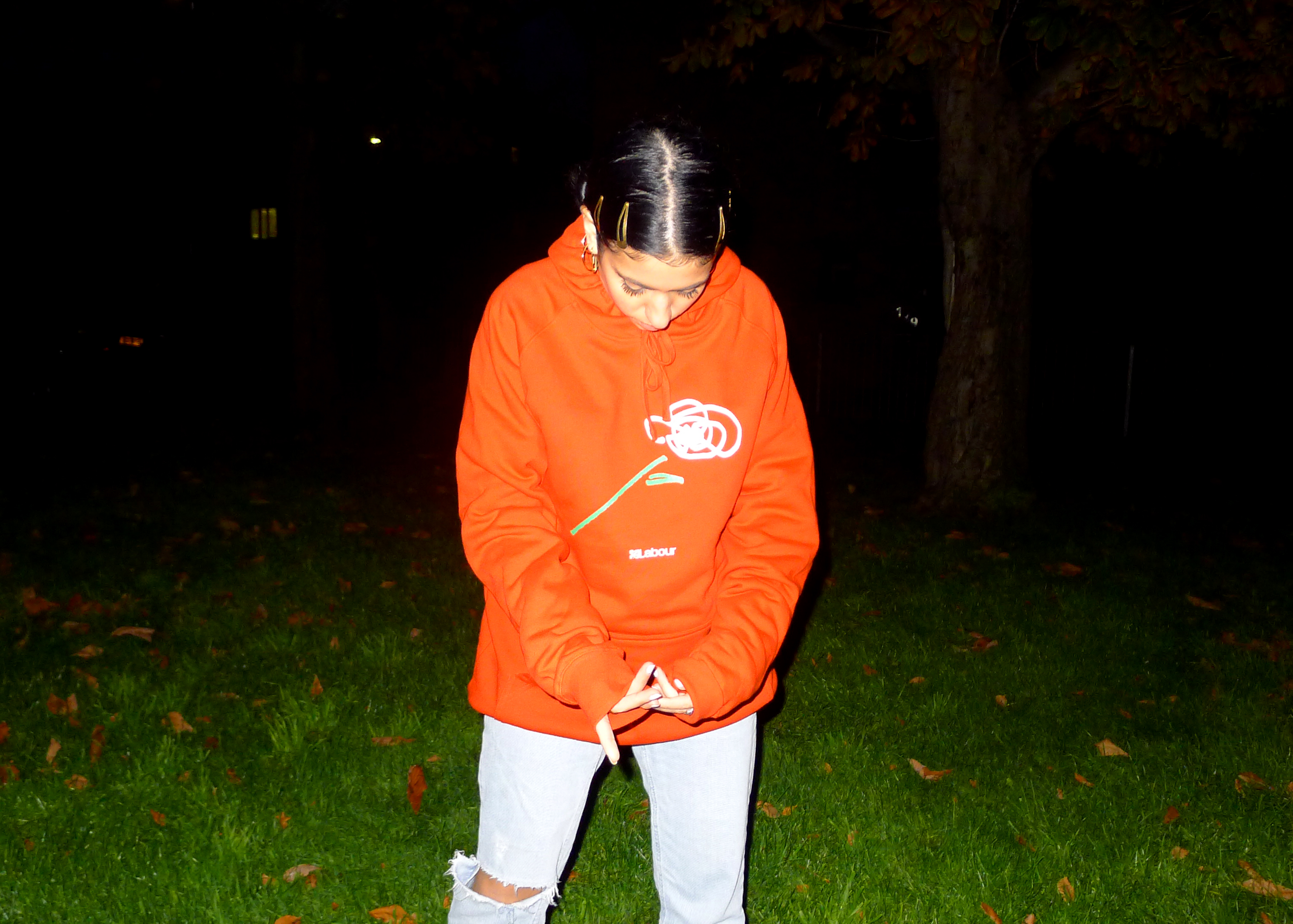 Last Friday, I accompanied Liam on a whistle-stop tour around London in a white van, distributing the range to a group of young creatives for them to model. All of the people on this tour supported Labour for all the obvious reasons, while suggesting specific benefits a Labour government could offer the creative industries. These include improved arts and youth centre funding, and the fact that Labour plan to ban to tackle late payments -- something which should make any freelancer punch the air with joy. Another thing which came up time and time again was the greater diversity which abolishing tuition fees, and generally widening access to education, would bring to the creative industries.
"If you do a lot of teaching," says Liam, who also lectures at the University of Westminster, "then you can see the effect that the increase in tuition fees has had on the people who are going to university. Stopping people from a certain demographic from going into the creative industries means that you've only got one point of view being projected and that's damaging for society. We need a good mixture of voices. A lack of diversity 100% affects the quality of the work. You don't just learn from your tutors, you learn from the people around you -- and if everything has the same perspective then you're not challenging yourself or pushing yourself."
While Liam is undoubtedly a big name, not everyone making Labour merch is a regular at London Fashion Week. Jack, 23, first started making bootleg Labour merch as a way of raising money for his trade union and has been surprised at the extent to which it's taken off -- he now sells his wears off Instagram account @labourgarms. For him, it's all about creating a buzz around Labour. "Politics is so often a joyless, pessimistic or toxic thing that it's good to produce a sense of excitement, " he says. "I wanted to build a sense of identity and community among the people that wear it and, hopefully, help mobilise particularly young Labour supporters. It's been great to see the sweaters taking off on social media, making canvassing look like a cool thing to do." Jack's clothes have the virtue of featuring important messages like "Boris Johnson is a landlord -- would you vote for your landlord?" while also looking like something you'd buy in Goodhood for £100.
When I visited the People's History Museum in Manchester recently, I was struck by how many iconic poster designs there were in the 1970s and 80s in comparison to recent elections. Although there are plenty of people producing excellent graphic design in support of Labour, it seems that fashion is leading the way as the visual embodiment of this election.
Stan Cross, a writer based in London who has been creating Labour merch, suggests that this could be down to costs and accessibility. "There are incredibly tight electoral commission regulations around spending," he says, "and where you can put up posters in a public space is far more policed these days. Also, your average private citizen might not have the capital to produce so their own posters on a wide scale, so perhaps that's why we're seeing fewer posters than before."
Although political merch may appear to have supplanted other forms of communication, it's always existed in some form. "The Labour rosettes are pre-existing examples of people making themselves walking billboards for their party affiliations, but they've died out a bit now,'" Stan says. "As for what's changed? The internet has obviously lowered the barrier of entry for mass-producing and distributing bootleg stuff while allowing for [intellectual property]-flouting stuff to exist that parties themselves couldn't go anywhere near." (That said, as far as intellectual-property goes, the internet still isn't quite a free for all -- Stan was prevented from producing a [very nice] Patagonia-riffing sweatshirt for copyright reasons.) All of the proceeds from his merch has gone to foodbank charity The Trussell Trust, which he describes as "a charity that shouldn't have to exist if we lived in any sort of decent society, but one that does incredible work to compensate for the fact we don't."
If there's one thing fashion can do it's create a sense of cultural momentum -- and that's what this merch has helped to achieve. Whatever the polls are saying, you'd be hard pressed to argue that supporting Labour isn't cool right now. There are doubtless a lot of famous creatives voting Conservative, but their endorsements are thin on the ground. In fact, it's hard to imagine such a move not being seriously career-damaging. Although all of this might suggest a shallow engagement with politics, the fact that being left-wing has become fashionable is a good way of getting people interested -- you can then take it from there. Besides, the votes of people who support Labour because they think it's cool are counted exactly the same as the votes of people who've read the complete works of Marx or, crucially, the votes of Tories.
Rather than changing people's politics, what these creative contributions do is raise morale and much-needed funds while also creating a sense of solidarity. Garms won't win the election alone -- no matter how wavy -- but it's great to see people of our generation using whatever skills they have and mobilising in whatever way they can. Let's hope it pays off.