i-D's guide to Art Basel Miami Beach 2019
All the best exhibits, events, and parties, all in one place.
|
02 December 2019, 11:14pm
Each December the international art scene descends upon the sands of Miami Beach for Art Basel. This year will be no different, with over 260 of the country's top galleries and museums showcasing works at the contemporary art fair.
Though Art Basel may be the beating heart of Miami Art Week, the fanfare now extends far beyond the Convention Center and throughout the city itself. Nearly 20 other fairs will take place this week including DesignMiami/ and NADA, one of i-D's faves. Miami Design District will also play host to a number of exhibitions and installations, including one of Yayoi Kusama's famed infinity rooms and Virgil Abloh's latest sculpture. Of course, there will be plenty of parties too. Though Grimes, SOPHIE, and Nina Kraviz's supernatural rave is certainly at the top of our list.
Aside from the fairs themselves, there's a lot to take in and the amount of exciting events happening in Miami this week is quite overwhelming. But we've gone ahead and picked out the best of the best. Follow i-D's hit-list to ensure you make the most of Miami Art Week.
Lagerfeld: The Chanel Shows
Simon Procter's photo book Lagerfeld: The Chanel Shows, which came out last September, highlights the beloved designers most iconic Chanel runway shows over the last ten years. You can relive some of these larger than life moments at the Rosenbaum Contemporary Pop-Up Gallery, where select photos are on display for a limited time.
Through January 3, at Rosenbaum Contemporary Pop-Up Gallery.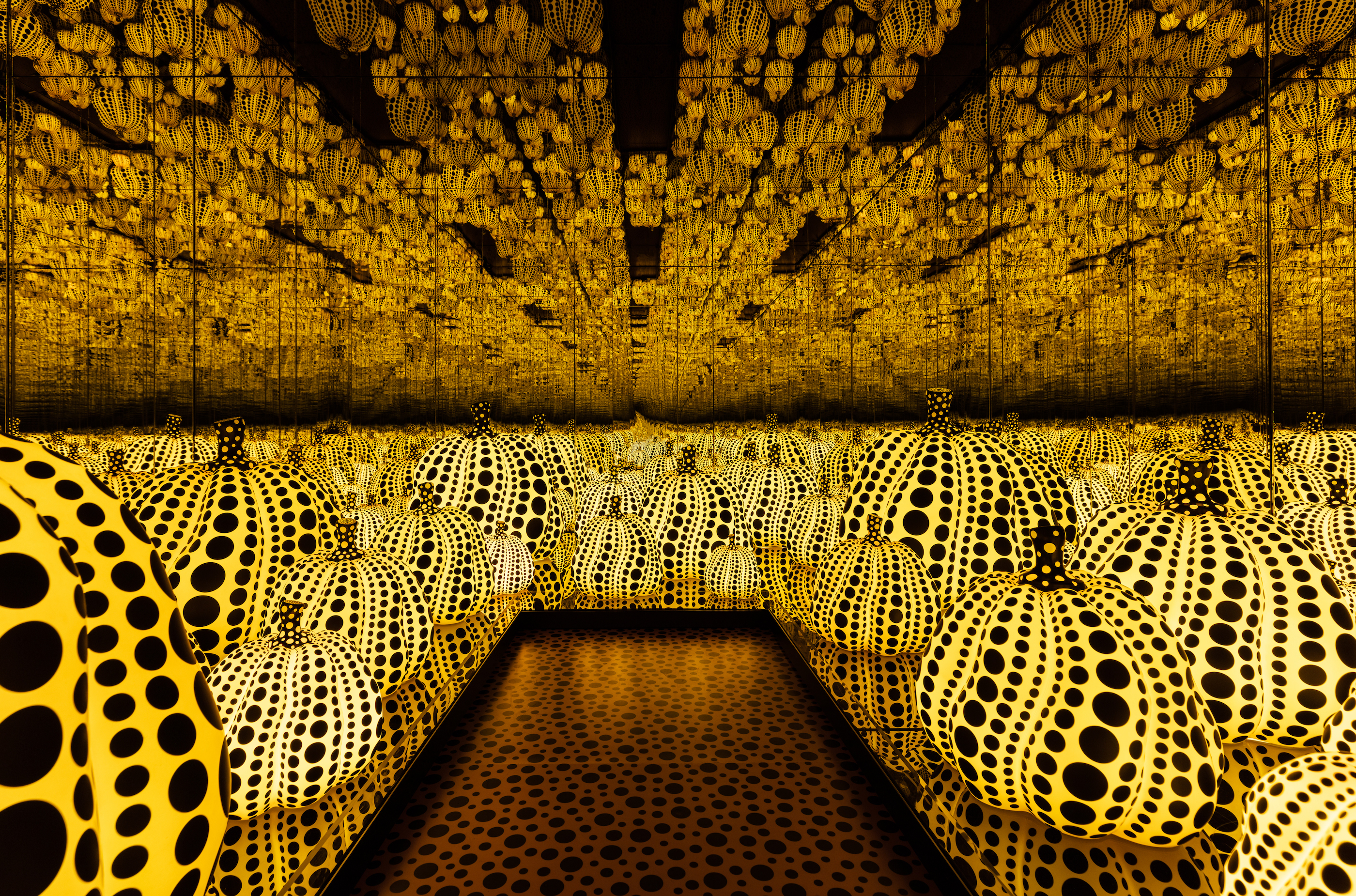 Yayoi Kusama: All The Eternal Love I Have For The Pumpkins
If you haven't had the chance to step inside one of Yayoi Kusama's Infinity Mirror Rooms, in all their twinkling glory, definitely stop by the Institute of Contemporary Art in Miami Design District. This one is filled with the Kusama's signature polka dotted pumpkins. Though the off-site exhibition has been open since October, expect plenty of queues as the highly Instagrammable artist makes her Miami debut.
Through January 31, at 112 NE 41st Street, Suite 106.
Bio-Haque
Though we're not exactly sure what to expect at Grimes, SOPHIE, and Nina Kraviz' Bio-Haque event, we're certainly intrigued. On her Instagram, Grimes describes it as "a place where the well-proven anti-aging properties of raving have been distilled into the most potent experience available on the market today" and where her and her co-hosts will share "the most rejuvenating qualities of music." Sign us up.
On December 5, at 550 NW 24th St.
More Than A Feeling
Since 2017, the culture club turned NYC gallery WHAAM! has been committed to highlighting the city's subculture through creative lenses spanning literature and visual art. Now they're taking the show on the road with a group exhibition called More Than A Feeling, which features the works of 32 multi-disciplinary, new wave artists from across the US, Mexico, and Europe. Definitely don't miss it as the work of these exciting young artists will only be on view for two days at the abandoned Rice Hotel downtown.
From December 6 to 8, at the Rice Hotel.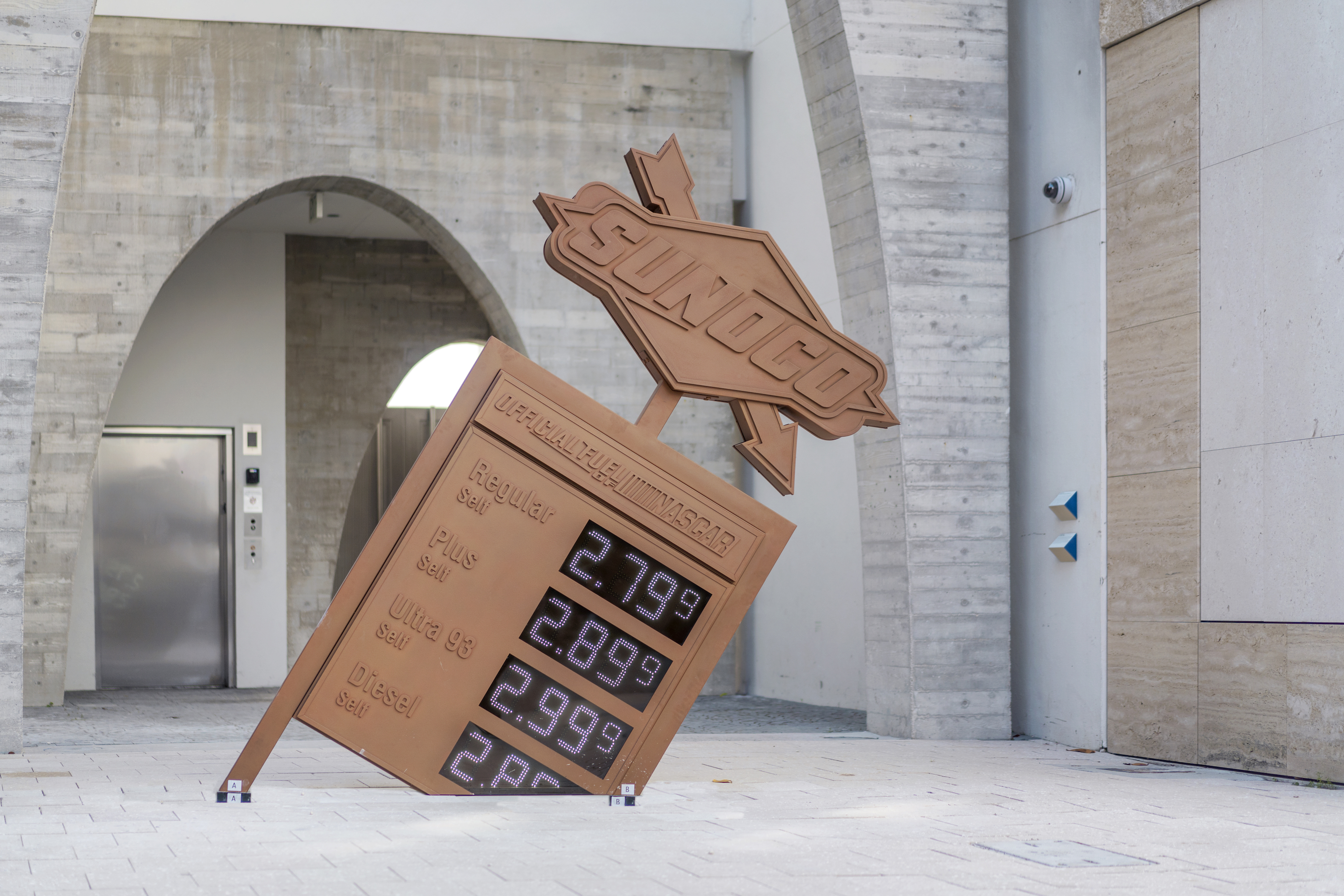 Virgil Abloh's "Dollar A Gallon" III (2019)
The Louis Vuitton creative director and Off-White designer might've announced he'd be taking some time off from fashion in September. But with an upcoming exhibit in Paris and the unveiling of his large-scale "Dollar A Gallon" III (2019) sculpture in Miami Design District, Abloh hasn't slowed down one bit. The sculpture was inspired by work on display at his "PAY PER VIEW" exhibition in Tokyo and continues to draw on the effect of advertising.
At 140 NE 39th Street.
Lot 11 Skatepark
If you've brought your board to Basel (or even if not), swing by the opening of Miami's first concrete skate park Lot 11, founded by Nick Katz. The grand opening is supported by Arizona Iced Tea and will be hosted by a number of professional skaters including Brian Anderson and Alex Olsen, plus Katz's own Andrew skateshop and Awake NY join forces for the after party later that night.
On December 6, at 325 NW 2nd Street.
Sterling Ruby
The first comprehensive museum survey of Sterling Ruby's work has taken over two floors of the Institute of Contemporary Art and with over 100 works, it's also the largest Ruby exhibit to date. ICYMI the Raf Simons collaborator debuted his own Timothée Chalamet-approved clothing line earlier this year, making it the ideal time to familiarize yourself with the artist's transformative and influential work over the last 20 years.
Through February 2, at the Institute of Contemporary Art.
Rhye
Musician Mike Milosh a.k.a. Rhye will bring his sultry, electronic R&B to Miami for a special beachside show later this week. Since the project mysteriously surfaced over seven years ago, Rhye's put out three fantastic albums, each building further upon his soulful, intimate sound. You definitely don't want to miss this.
On December 5, at the North Beach Bandshell.