for del kathryn barton, art is a lifeline
Discussing life, work, and sincerity with one of Australia's most celebrated artists ahead of her exquisite NGV exhibition.
|
23 November 2017, 12:44am
Installation view of Del Kathryn Barton: The Highway is a Disco at the Ian Potter Centre: NGV Australia, 17 November 2017 – 12 March 2018. Photo: Tom Ross
Entering the gallery space, housing the largest survey ever shown of Del Kathryn Barton's work, is quite overwhelming. Pieces of intricate detail fill every wall, from floor to ceiling, in an emotive explosion of colour and texture. Even if you've marvelled at her work before, seeing it all together in this new context is a real joy. Curious, wide-eyed nymphs stretch over canvases in one room, with heavenly photo collages and a series of single-colour, stylised nudes in another, laying the range of her gift bare.
The morning of our interview is an emotional one. Five minutes before Del Kathryn and I meet it's announced on every news network that the Yes voters have dominated the Australian Same Sex Marriage Survey, resulting in happy, relieved tears all round. As an artist who pours her heart and soul into her work, Del Kathryn has long grappled with the physical and psychological impact of her craft, but when she also reveals during our chat that her beloved mother passed away six weeks earlier, it's clear she's been through a lot. A huge sculpture in the centre of the room incorporating a giant sail — "the world's biggest handkerchief to soak up the oceans of tears for all departed mothers" — is a devotional work Del has been working on as a way to channel her grief.
Despite the world-rocking events of the recent weeks, Del Kathryn Barton laughs a lot. She's as warm, generous and sincere as her artwork. Sitting down with the Archibald prize-winning legend, we discuss her work and some of the fundamental experiences that have led to this moment.
Congratulations on the exhibition, it's really incredible. You're born and raised in New South Wales, but Melbourne's NGV is such a great space for this.
I grew up in a rural area and left home as an innocent 17 year old to live in Newtown. That's when I went to art school, which was a very full on experience that I think I only just survived.
Really? Was it full on in terms of the work? The partying? Or both?
I didn't party at all at the time. I was this insanely earnest, hard-working, non-drinking student. I feel like I made up for it about eight years later — I had some wild times in my 20s — but at art school I wanted to get high distinctions in everything.
So even then you had a real sense of what you wanted to do and what you could achieve?
Well I think there were a few things going on. Although it wasn't diagnosed then, I've always suffered very bad anxiety and making, making, making, as a practitioner, has always been my lifeline. I've also always had a desire to be the very best I can be. I've always had a strong work ethic, almost out of balance, but I've learned to accept that.

Did that work ethic begin during art school?
It's bizarre that I still remember this, but we'd have three months holiday over summer and I'd prefer to go into the school's studio and continue working. One time a lecturer came through who basically told me to leave because I was working too hard and it really offended me. My third year in arts school was the closest I've ever come to a complete crisis of faith and as close as I've ever come to abandoning my dream.
Well thank goodness you persisted.
Afterwards I just needed to rest and rebuild. I was still making work every day and after some time I rented a studio in an artist-run space in Sydney and put together a new body of work. One day I packed up this work and drove it in my beat up bomb of a car for a show in Sydney. That same day, our house, which my dad had spent 15 years building, burnt down. Not only did I lose all my work from art school and everything I'd made that year, but my family lost everything — all our family photos, everything. Weirdly though it was the event which helped push me back out into the world and made me well again. It was monumental for the whole family. In a way I feel like that's where it all began for me.
Jesus. And what did you do next?
I had an artist-run exhibition at a gallery called Kudos about five years after I graduated. By chance, Sydney art dealer Ray Hughes stumbled in and saw my work, came back to the opening and bought one of my self portraits – one of the toughest drawings in the show. He invited me to be part of a group show and our professional relationship began there. He helped me understand that drawing could be contemporary and that it really was my greatest strength.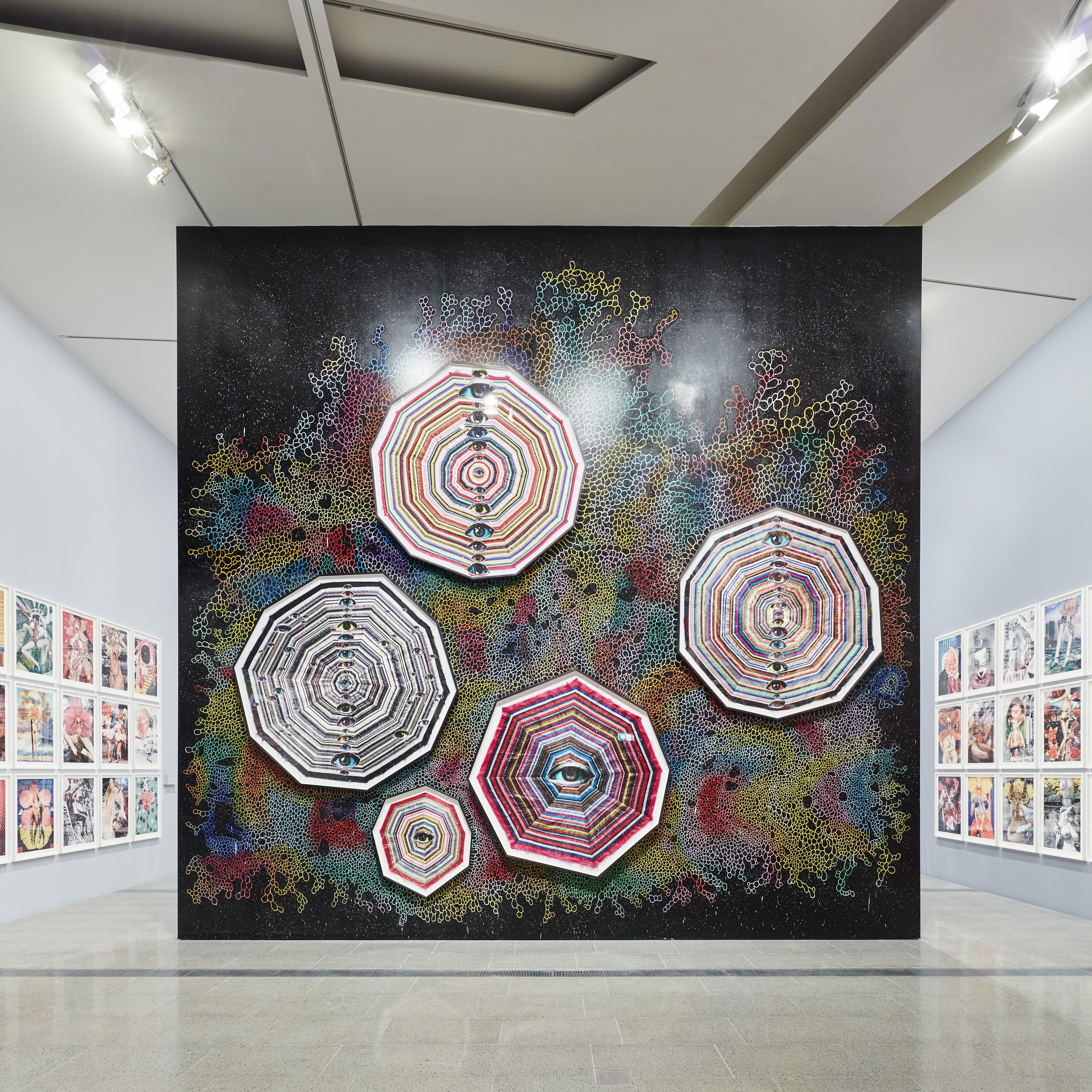 Looking at your work as a whole, the sexuality and sensuality is really apparent. There are bits of bodies everywhere. Is this a focus that has developed over time?
I don't like speaking about my work in political ways, but I think that the fact that people use the word sexuality so much reflects more on how we, as a culture, view nude bodies. The major work I made at school when I was sixteen was a self portrait of me with my legs open: that dichotomy of being simultaneously vulnerable and strong has always existed in my work. As an artist I draw from my direct experience and more than anything, what that's meant to me, is the very curious, very damaged, very fearful and very celebratory experience of inhabiting a woman's body.
That's a fitting way to describe it.
I never want women to feel like the narratives in my work are being imposed on them. These are unpopular words in fine art but my work is utterly sincere. I remember first seeing the work of Louise Bourgeois 25 years ago and it was like a bomb going off in my brain. I just believed the lived-in integrity of it. That was a huge gift to me and something I also hope to capture.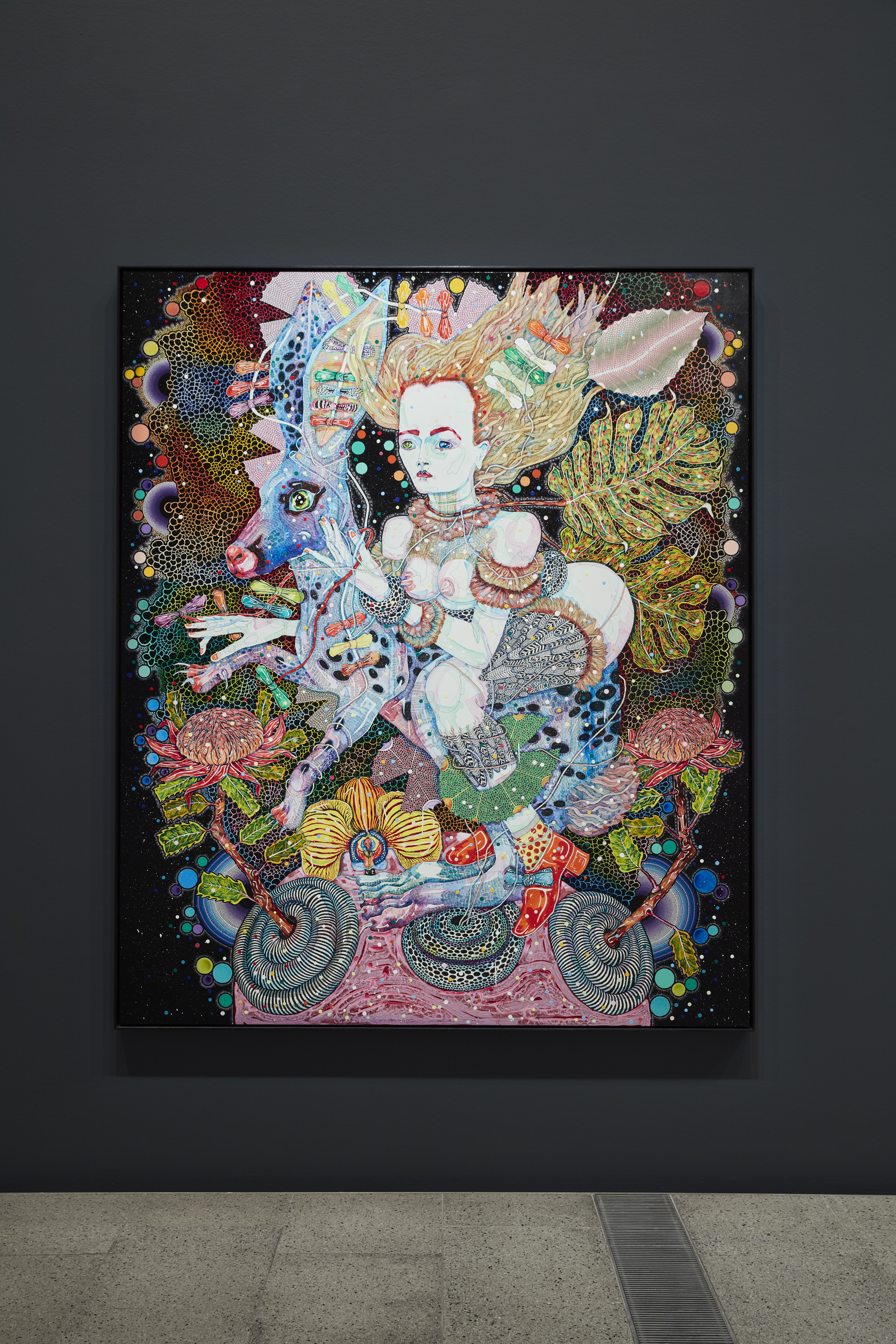 Your short film Red, starring Cate Blanchett, also features in the exhibition. Is film something you'll continue to focus on?
I came off my first movie, which took over three years to make, feeling quite scarred but really addicted to the medium. I made some great relationships as well. Red is based on the proclivities of the Australian Red Back spider and its cannibalistic copulation. It's so poetic. Basically, post copulation, the father, who's tiny, does this summersault, and puts his abdomen over the mother's mouth so she can bind him and eat him. It's so extreme. I wanted it to be fierce — a lot of personal anger went into it too. It's my first consciously feminist work. Once Cate Blanchett agreed to come on it went to another level and everyone we cast was so generous with their performance.
It looks incredible. You've also had a long, collaborative relationship with Romance Was Born.
The first time we worked together was ten years ago and we're about to launch the sixth collaboration, which is exciting. I give them access to my archives and they do their thing. There's just so much respect and trust in our partnership.
People are going to love this show. What's next?
I'm open about being broken and having to be kind to myself over the next little while. Having said that, I do have a couple of huge projects, including two film projects, on the go that have been a bit neglected due to the journey with mum. It'll be exciting and life giving for me.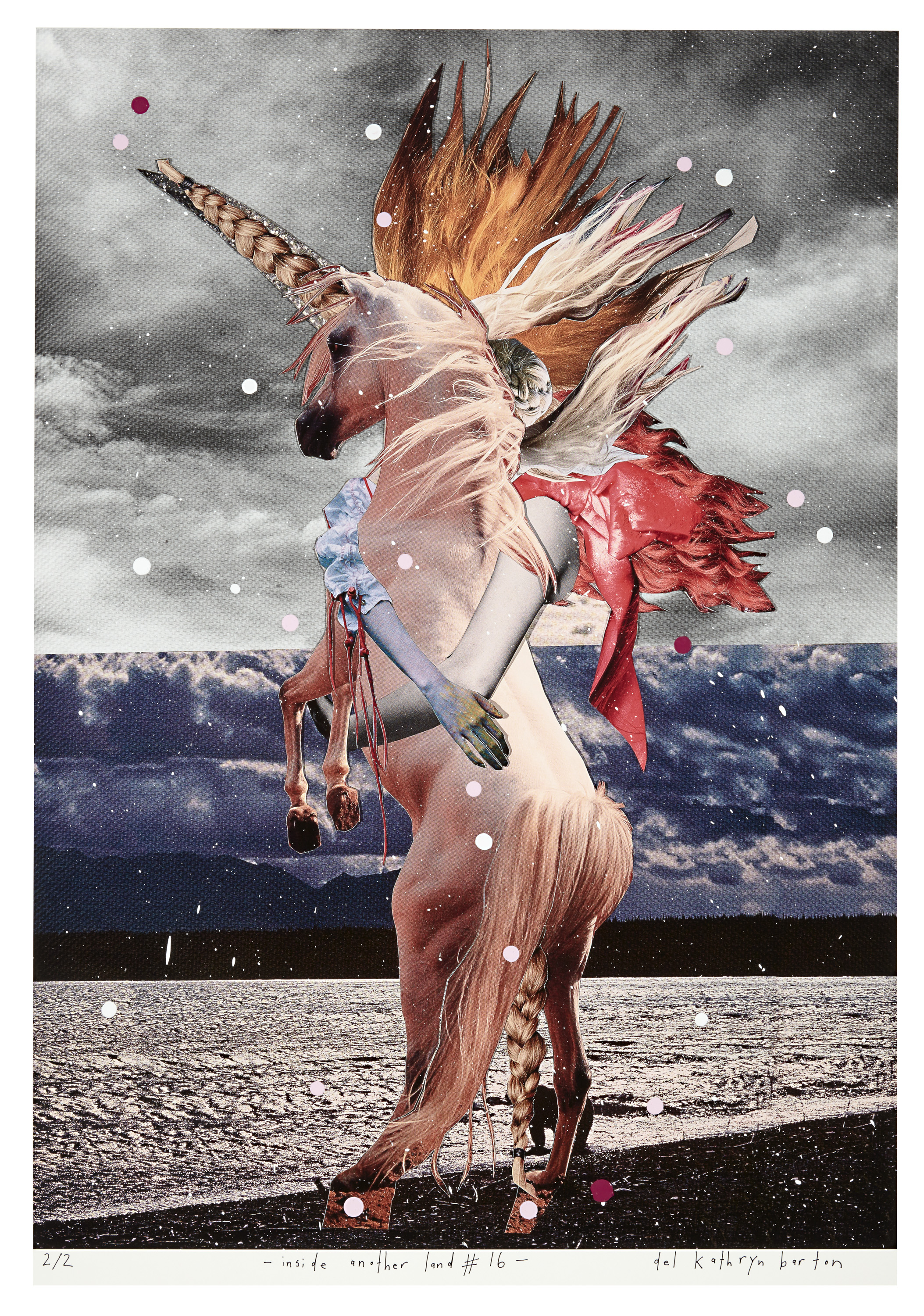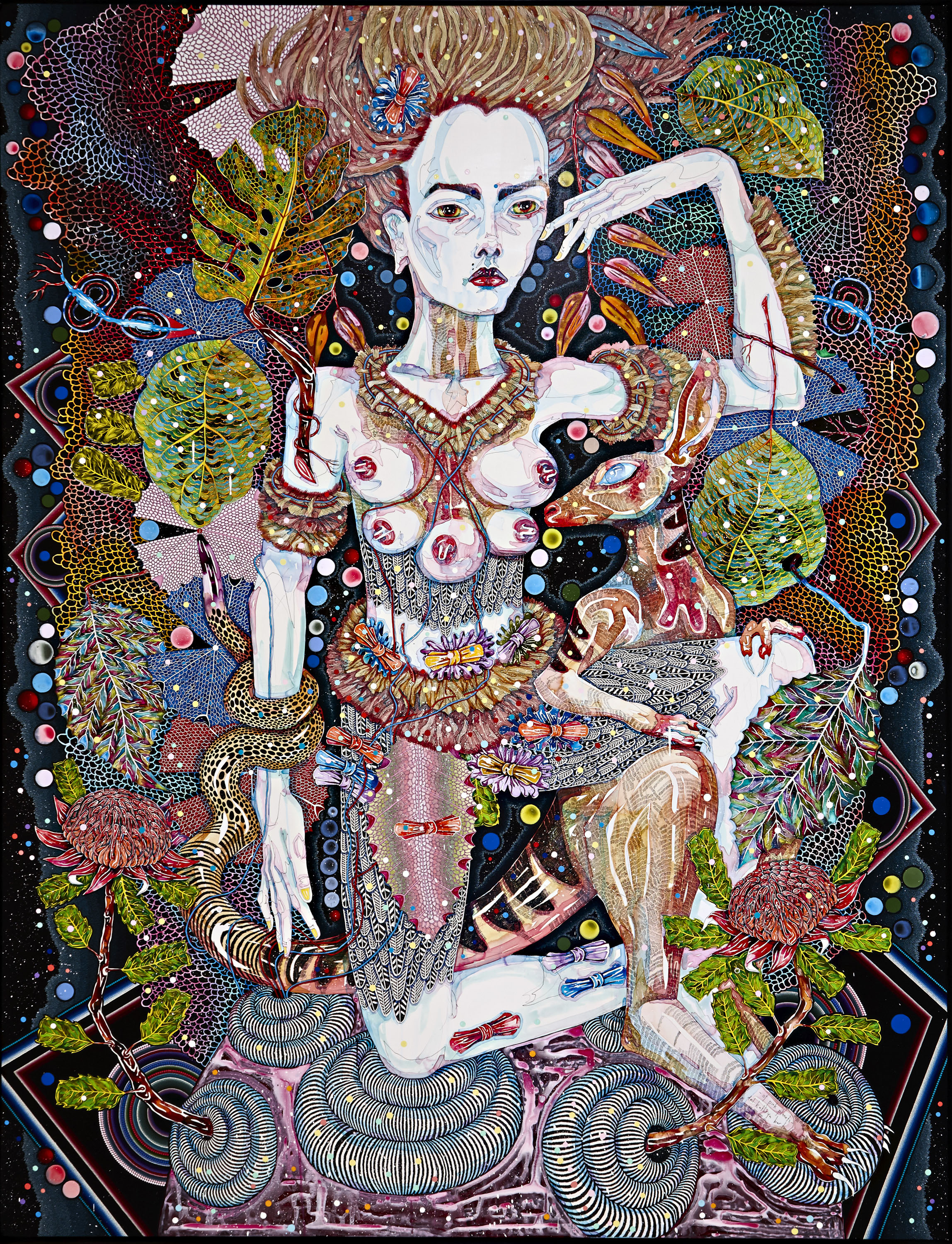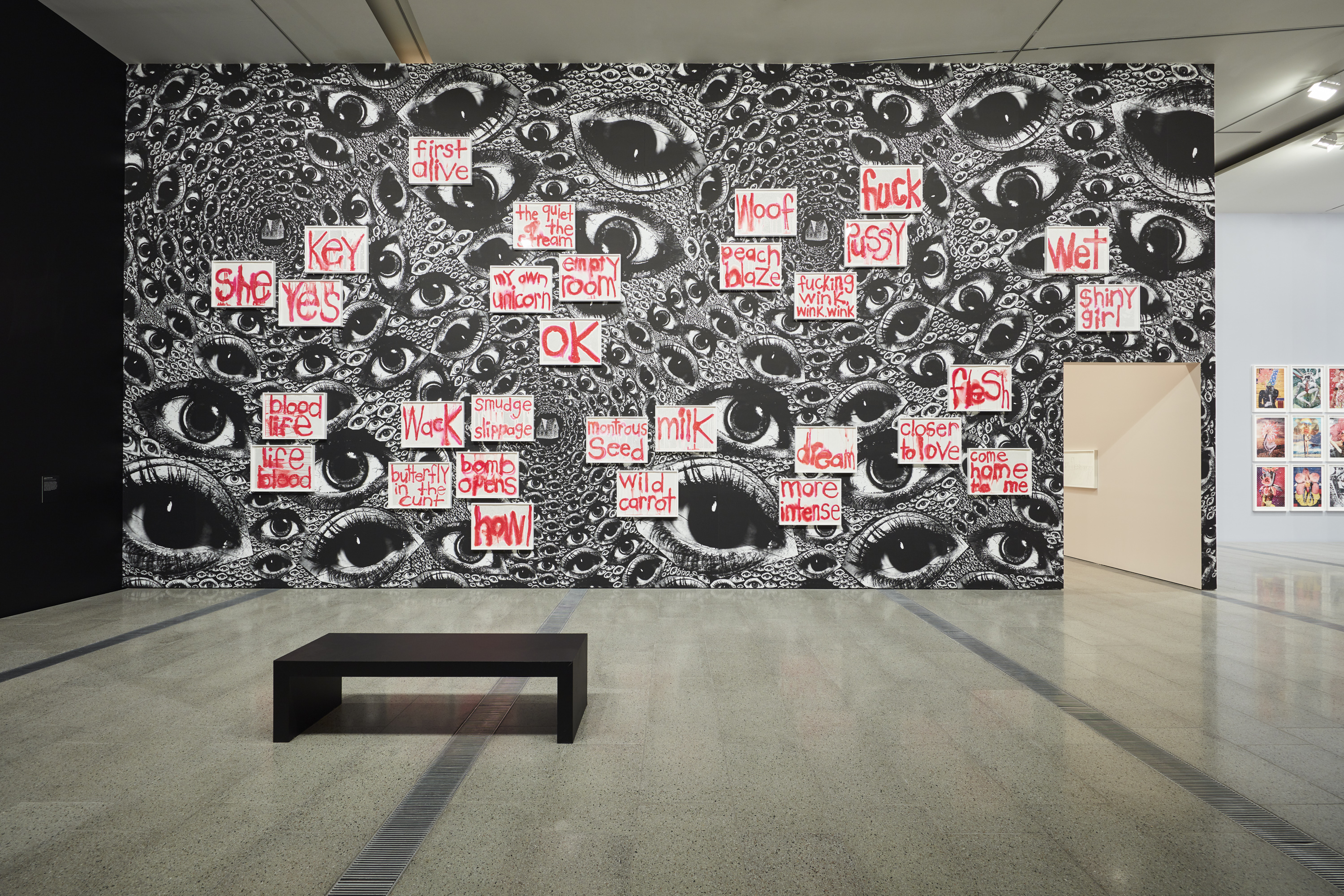 Credits
---
Text Briony Wright
Photography All installation views of Del Kathryn Barton: The Highway is a Disco at the Ian Potter Centre: NGV Australia, 17 November 2017 – 12 March 2018. Photo: Tom Ross