katy perry reps 'game of thrones,' 'stranger things,' and space memes in her new video
Leading an all-star cast to basketball victory, "Swish Swish" is one big game of spot the famous people!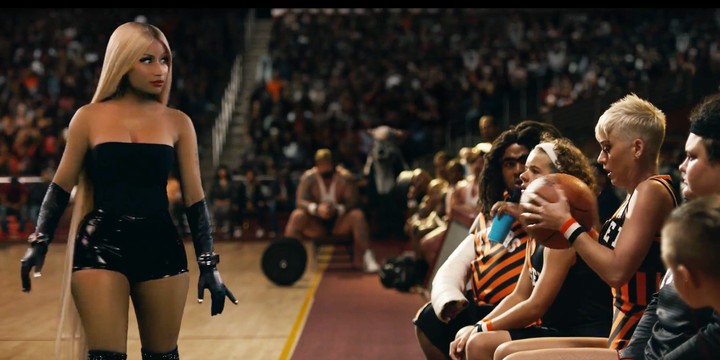 Screenshot via YouTube
This article was originally published by i-D UK.
One balmy evening a few months ago, the (fictional) Bingo's Bail Bond Stadium got a rather high profile guest by the name of Katy Perry. Then it got another, and another, and another and another and another. And it all came together with the addition of some space memes, Kiss Cams, and Game of Thrones references.
Welcome everybody to Katy Perry's latest video, the super strange "Swish Swish."
The six-minute not-so-short short is a metaphor (we think) for life and pop and competitive musicians as Perry plays one big, very unevenly matched ball game between a team of what appears to be the winners of every body-building contest ever, and the shambolic Tigers. The literal All Star team 'Tigers' features an impressive line up of pop culture picks, but is a little thin on actual b-ball talent:
Gaten, aka Tragin Johnson, aka the really cute kid we were all obsessed with from Stranger Things ("height: 5 foot nothing," "most unimproved player of the year")
Jenna Ushkowitz, aka "The Rainmaker" aka the girl from Glee ("height: 5'1" in heels," "stats: 5 antiperspirants per game")
Comedien Christine Sydelko, aka Shaquille O'Meals ("school: nope")
Male model and choreographer Dexter Mayfield, aka Hair Jordan ("stats: 4 time American Idol reject")
Russell Horning aka Backpack Kid, aka Pack Man ("hometown: the internet")
And last but, well, least:

Koby Perry, aka Katy Perry ("hobbies: Miley Cyrus impersonator")
And that's just the team. There's also a slew of fellow celebs getting involved in the action, including: SNL's Molly Shannon, actor and former actual sports star Terry Crews, Game of Thrones' Hafþór Júlíus Björnsson, and the ladies from hit Netflix Show Glow. Nicki Minaj also appears in the form of an actual goddess, giving a halftime show so inspiring she transforms the Tigers from sin-binners to winners.
So, got game? Katy does.