Fotografía cortesía de Miramax vía Nitehawk
'unzipped' shows the pre-instagram fashion world in all its 90s glory
This week, i-D screens the final installment of our 'Fashion and Film' series, presented at Nitehawk Cinema in Brooklyn. Ahead of our Q&A with Isaac Mizrahi, we revisit the film's enduring impact.
Fotografía cortesía de Miramax vía Nitehawk
Ask ten people from the industry to name their favorite fashion feature film. One, a purist, will say Blow Up. Another, a fan of cerulean and strong female leads, will say The Devil Wears Prada. A third might make a case for Bill Cunningham New York. Seven (at least) will say Unzipped — a funny, motivating, intimate documentary about Isaac Mizrahi's life and work.
"Throughout the 1990s, Mizrahi stood out as America's most prolific idea man, turning out one innovation after another, in a splash of Technicolor delight," Teri Agins writes in her book The End of Fashion. Unzipped follows the New York designer as he develops his fall/winter 94 collection. It was directed by Mizrahi's then-boyfriend Douglas Keeve, and shot mostly in hazy black-and-white. According to Harold Koda, the film was the first of its kind. "Until Unzipped was screened, we never really had a behind-the-scenes look at the design process," said the Met's former Costume Institute curator.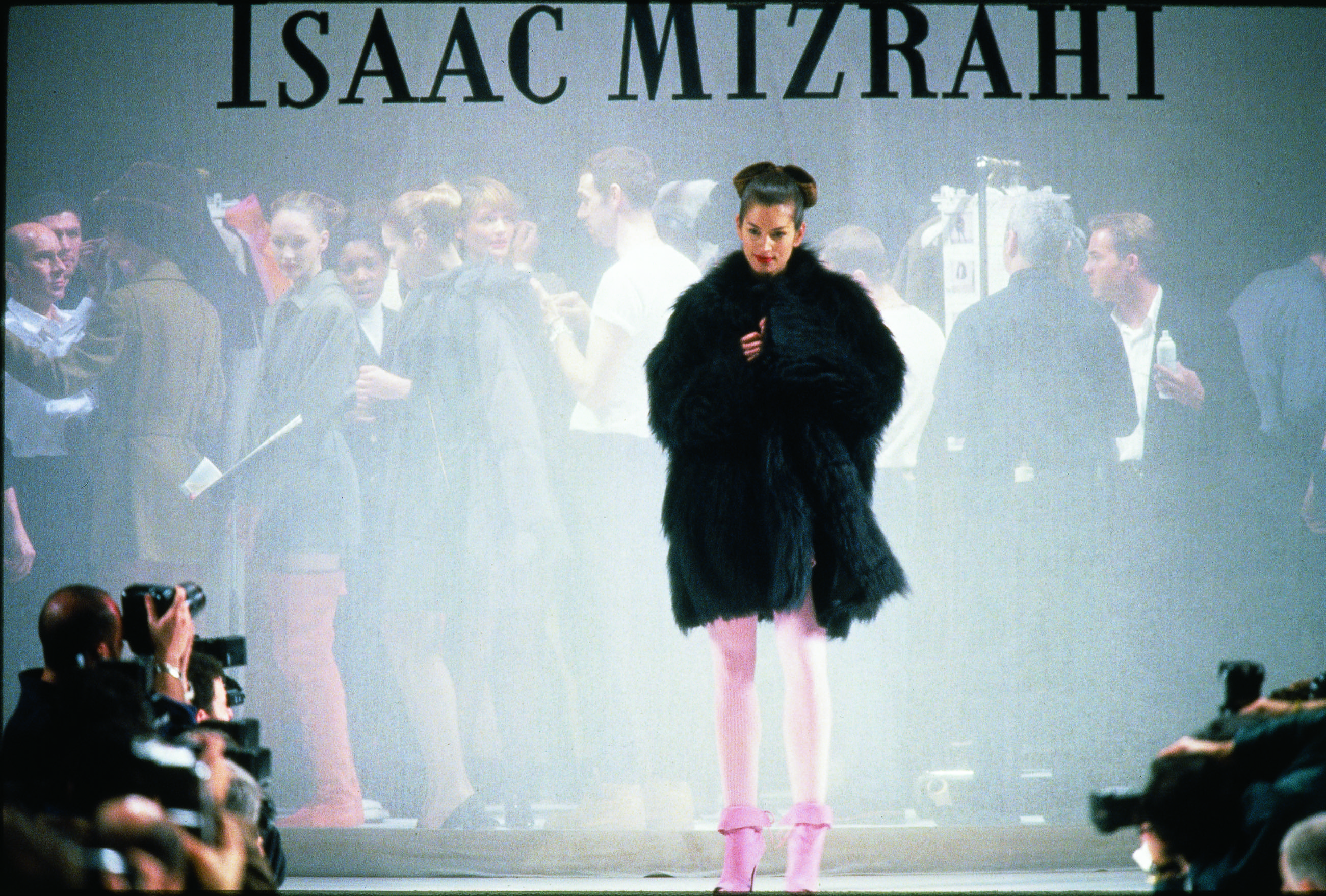 Released in 1995, Unzipped arrived at the height of the supermodel phenomenon. Models had, writer Kohle Yohannan argued, reached "the apotheosis" of their celebrity power, which hugely expanded the fashion industry's cultural and economic scope. While Unzipped featured very many of these supers, it proved that models aren't fashion's only celebrities. The documentary captured Mizrahi's creativity, confidence, sharp design sensibility, and larger-than-life personality. A friend told me that in watching Unzipped, he discovered his first gay role model in Mizrahi.
Beyond its star, Unzipped is a vivid, authentic snapshot of the 90s fashion industry. All of the editors (Polly Mellen, Candy Pratts-Price, Andre Leon Talley, Ingrid Sischy) models (Kate Moss, Linda Evangelista, Naomi Campbell, Cindy Crawford, Shalom Harlow), and icons (Sandra Bernhard, Eartha Kitt) who appear in the film don't just make cameos. They are players who drive the plot and color the story.
Unzipped created a template for a new wave of documentaries — projects that peel back the curtain to reveal the inner workings of fashion's most glamorous institutions, and the star personalities behind-the-scenes. Dior and I, Valentino: The Last Emperor, The September Issue, and Iris owe much to this film . But what is it that really sets Unzipped apart from the wonderful movies it has inspired? Why do we reference it so effusively 22 years later?
In the decades following Unzipped, the fashion industry (and the world around it) has evolved dramatically. What was once a small, insular network of independent companies has become a multibillion-dollar ecosystem controlled by global luxury conglomerates. Major executives with no previous connections to fashion were installed at old family-owned houses, and applied business strategies that shifted the emphasis from creativity to commerce.
At the same time, developments in communication and marketing technologies (hello Instagram, live streaming) made fashion more accessible, and interesting, to a much wider demographic. "The businesses exploded," Dana Thomas, the author of Gods and Kings: The Rise and Fall of Alexander McQueen and John Galliano, told NPR. As a result, the industry's pace has accelerated at a dizzying, dangerous speed. Watching today's fashion documentaries (particularly Dior and I featuring Raf Simons) you can't help but feel these unrelenting pressures weighing on designers.
In many ways, Unzipped is a window into a long-lost world. Girls hit the runway three at a time, posing and twirling the whole way. Editors sketch looks and scribble notes by hand. Even the most famous guests sit rows back from the runway; prime real-estate belongs to photographers. The film begins and ends with Mizrahi picking up a copy of Women's Wear Daily at his corner magazine shop, nervously reading the review of his show the previous evening. (The paper printed its final daily edition in 2015).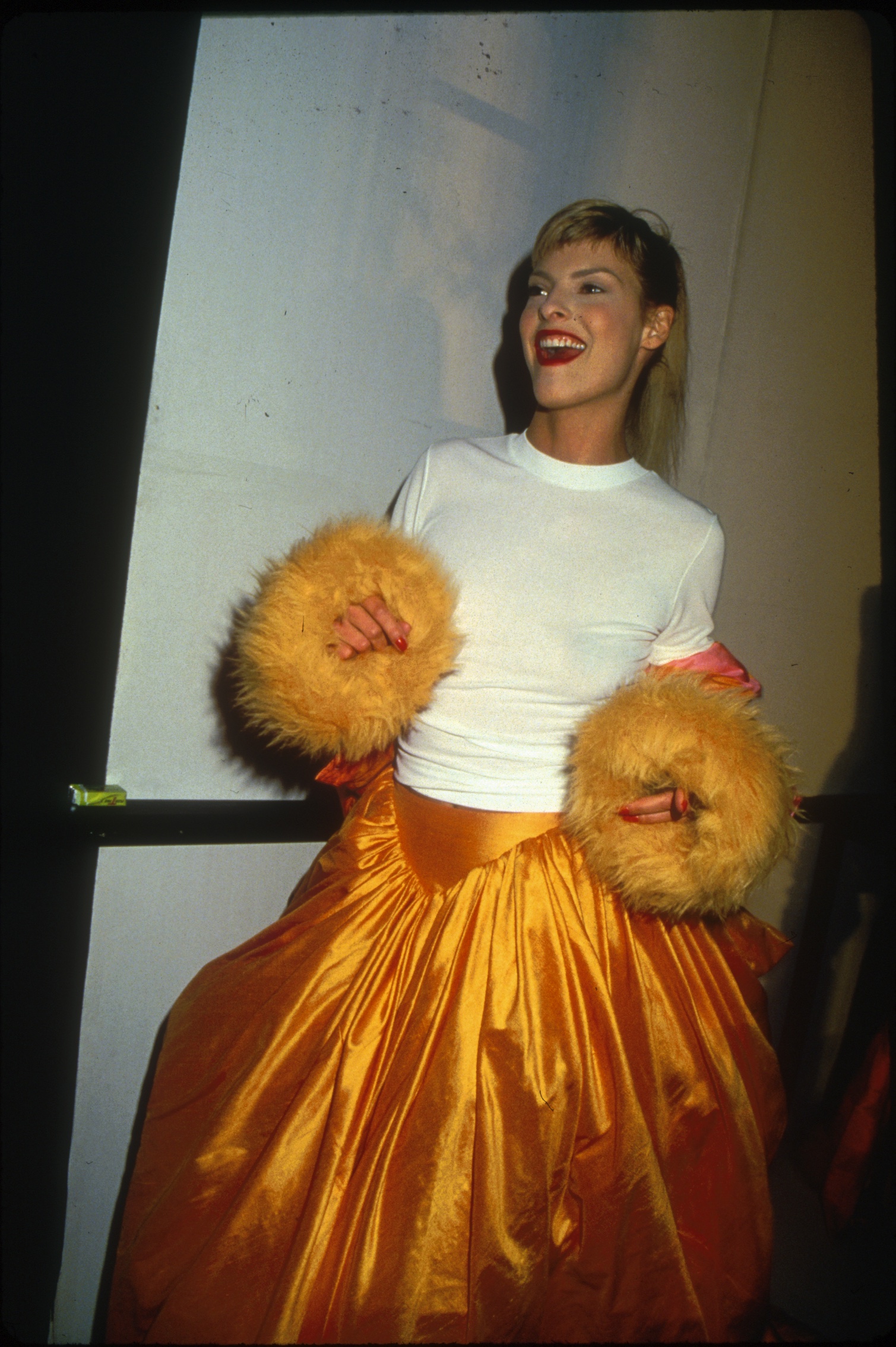 Unzipped is cherished today because it captures a pre-social media, pre-bottom-line-driven moment in fashion when designers were allowed to be flighty geniuses (for better or worse).
We see Mizrahi slaving away in his studio, meeting with editors, and working on fittings. But he also loafs around a contemporary art gallery with Naomi, shoots the shit about baseball with Cindy, gets his tarot cards read with John Galliano, gabs with his mom, strolls around SoHo with Sandra, and rattles off Bette Davis impressions with his team. He waxes poetic about Jackie O. and Mary Tyler Moore. He laughs about scrims and seances. There are deadlines, pressure, and anxiety. But there is also true joy and freedom.
Bernhard put it best when she described her relationship to the film on its 20th anniversary. "Longing for those times, that weren't so long ago, and yet we will never see again," she told Vogue. "The spontaneity, the lack of self-consciousness, the feeling of being in the moment without the need to show it to the rest of the world. I think these are elements that make people much more compelling."
Unzipped screens this Thursday at 7pm at Nitehawk Cinema in Brooklyn, with a special Q&A with Isaac Mizrahi at 7pm. More info here.