Photography: Lee Baxter - left to right, Grace Oni Smith, Anna Phylactic, Cheddar Gorgeous, Lill, Violet Blonde, Liquorice Black
Meet the drag queens protesting trump's uk visit
Ahead of Trump's July visit to the UK, activists are planning a series of unexpected protests on parliament
Photography: Lee Baxter - left to right, Grace Oni Smith, Anna Phylactic, Cheddar Gorgeous, Lill, Violet Blonde, Liquorice Black
It's official: Donald Trump is once again planning to visit the UK. The US President is scheduled to arrive on July the 13th (yes, gather your lucky amulets -- it's a Friday). The trip is not an Official State Visit -- that's planned for later on in the year -- but Trump has, according to reports, requested to meet the Queen this time around. Whether that'll go ahead is yet to be confirmed, but what we can be sure of is that Trump will be met with a shitstorm of protesters.
Several groups are planning to demonstrate against Trump's visit, in their own special ways. Fans of the band Green Day have launched a campaign to get the song American Idiot to number one in the UK charts. Their statement said: "We have a date, he's coming Friday 13th July... so if we ALL buy enough downloads of Green Day's American Idiot between Friday 6th-Thursday 12th it will time PERFECTLY to hit No.1 the very day he arrives on UK soil!"
Elsewhere, a political Drag Protest against Trump's visit is planned for "drag kings, queens, queers and their allies" to march on parliament. "Due to the appalling way the Trump Administration has regarded the rights and welfare of LGBTQI communities of the US, the idea of a Trump visit to the UK is unacceptable," reads the Facebook page. "Let's get visible, stand with our sister's, brothers and others in America, and show that we are a country that celebrates diversity."
Cheddar Gorgeous is one of the drag artists that organised the event. He saw that the visit was planned and asked the rest of his drag troupe, Family Gorgeous, whether they wanted to head from Manchester down to London for the occasion. The idea, says Cheddar over the phone, is to show solidarity with the groups most affected by the Trump administration's policies in America. "If you're a person on the fringes, you are vulnerable. The only way we can become less vulnerable is by staying visible, sticking together and standing up to the bullies."
Violet Blonde, another member of Family Gorgeous, explains why the group take issue with Trump's administration: "He has removed protection for trans students and workers, he has fired all of the members of the Presidential Advisory Council on HIV and AIDS (which is more than an LGBTQ+ issue), tried to re-ban trans people from the military. This President is trying to erase and damage our community and our rights, which we have fought so fiercely for. We will not be erased!"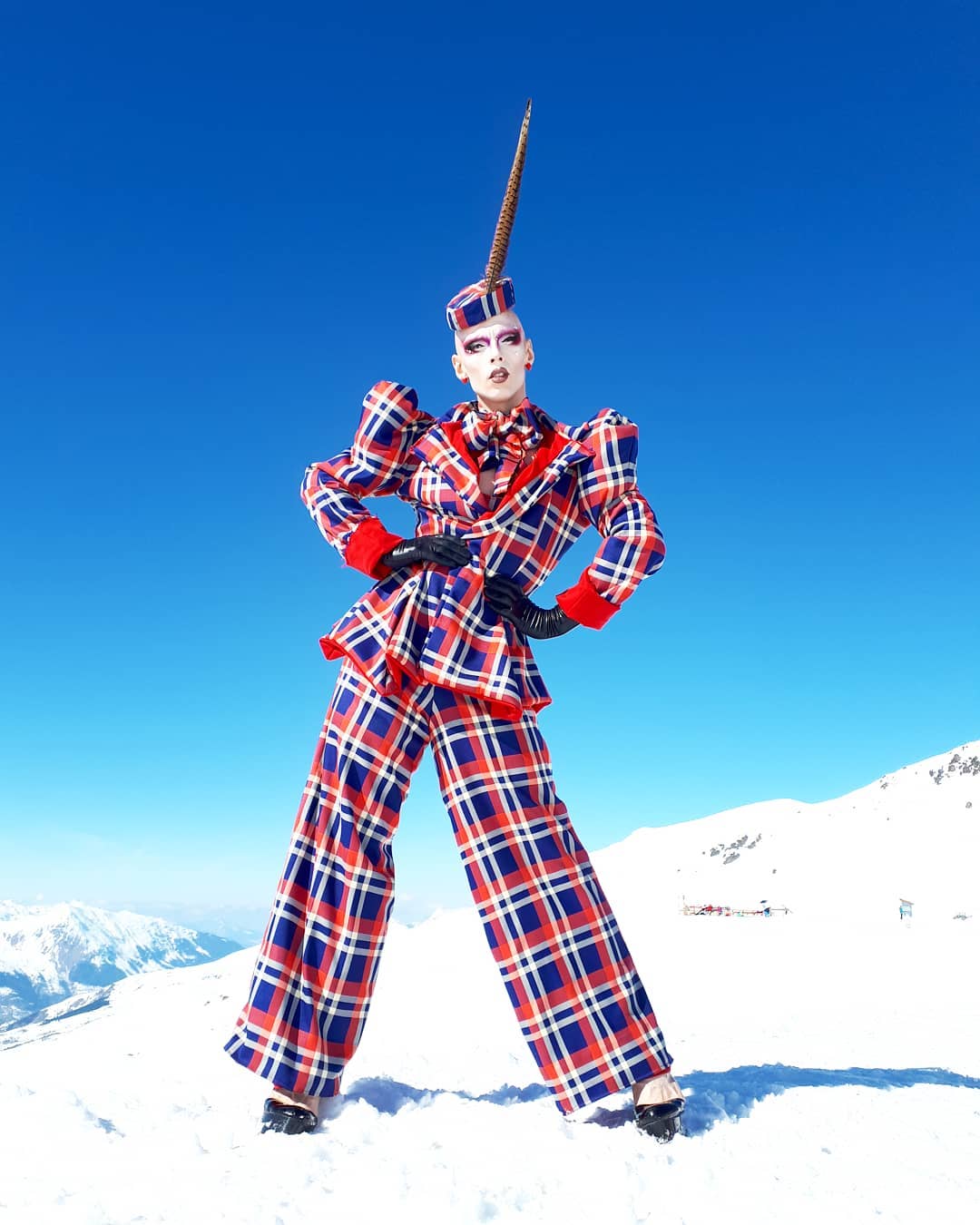 More than 7,000 people are "interested" or attending the drag protest on Facebook. Cheddar says the group they gather will likely join in with other protests that are planned. One of those is the protest organised by British author and Guardian columnist Owen Jones that will take place on the evening of July 13th in London, with sister events happening across the UK. More than 42,000 people are set to attend the main event (with thousands more "interested"), which promises, in the writer's words, to be a "carnival against hatred".
This isn't the first anti-Trump protest organised by Owen Jones, though. Remember that spine-chilling image of Trump and Theresa May holding hands when she visited the U.S, in January 2017? A couple of days later, Jones organised a protest that saw thousands of angry protesters head to Whitehall to show their disapproval. Banners read "Teapots Not Despots #bantrump" and "Missing: Theresa May's Spine", as well as "Refugees Welcome here", since the demo took place just after Trump's travel ban that outlawed people travelling to America from seven majority-Muslim countries.
At that event, Bianca Jagger gave a speech, as did MP Diane Abbott, and the MP Mhairi Black kicked off the chant: "No state visit, no state visit!" Online, more than 1.8 million people signed the petition calling for Trump's visit to be cancelled, and the hashtag #standuptotrump was born. Not long after, the President delayed his first visit, and as he has failed to visit the UK since, speculation mounted that he is afraid of protestors. Trump himself, however, blamed a cancelled trip earlier this year on the relocation of the US Embassy in London.
Cheddar urges LGBTQI people and allies to join their Drag Protest to make a statement that Trump is not welcome in Britain. "This is where you have to think across race and class and age and gender lines," he says. Coming in drag is encouraged, too. "One of the things drag does particularly well, is to be visible. In a particularly spectacular extravagant way. For me, drag kings and queens walking down the street protesting something is a strong political act, so if we get any more people, that's wonderful."
The obvious question that remains is: what will Cheddar wear? "Something colourful but comfortable," he laughs, "something that's going to have that edge of the spirit of rebellion and punk that is at the core of drag. I think a lot of the Trump Administration's rhetoric is built on attacking diversity, but one of the greatest things about drag is what we truly want on display -- a celebration of the fact we're different, and that becomes a metaphor for the many ways people can be."
This article originally appeared on i-D UK.