@blameitonkway talks about his insane fenty commercial
"I don't dance now, I make funny moves."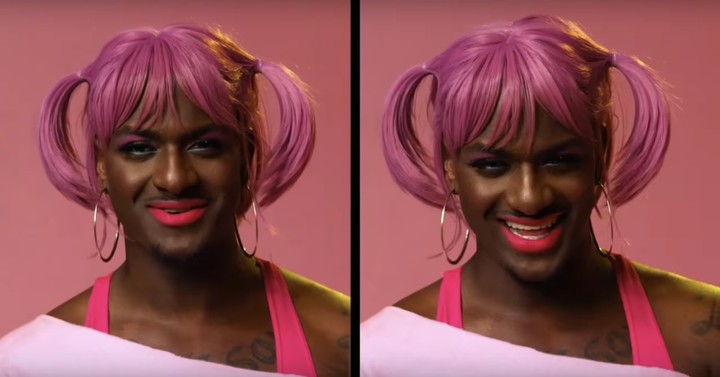 Screenshot via Youtube
Only Fenty Beauty would come up with the frankly genius idea of having Instagram sensation @blameitonkway as the star of their latest commercial. Specifically, it's Kway's comic creation TiTi who stars in the piece, attempting to be glam to disastrous effect as she displays the four different colors. We thought we'd ask Kway how TiTi came to be the new face of Fenty Beauty.
How did your idea for the video come about? We love the various scenarios TiTi finds herself in.
We had a couple of ideas. Originally it was supposed to be a skit where TiTi's involved with another guy, she's running late for a date, and all of a sudden there's a fairy popped up out of nowhere and she does this drastic makeup for me! Then of course we came up with the idea of having different colored wigs, and outfits, and TiTi going in different colored rooms. I thought that was the best idea to go with and we hopped on it.
What was filming like?
The experience was crazy! I had never dealt with such a big production, we literally filmed for 8 hours for four days straight, and we did a different look for each day. Which was kind of epic! The whole experience was a lot of fun. I did a lot of improv on set.
What was your first reaction when the Fenty team reached out to you?
I was so excited when they sent the makeup to my house, so I filmed it and put it on my stories. And Natasha [Kway's manager] reached out and was like "Take that down, Fenty wants everything to be a surprise." I was just so excited to let the world know I was doing something so huge.
Has Rihanna herself had an influence on TiTi?
Well, I kind of get my "Not giving an eff" from Rihanna! She's flamboyant as far as her style and personality go, so I'm inspired by everything Rihanna does.
What does the video say about where your character TiTi is at?
It's crazy because it tells a story too, because TiTi came from a very rough background starting out. Her hair was all over the place, I only wore this signature pink lipstick, no lashes, no makeup, and very raunchy to say the least. For people who've followed my story from the beginning to where TiTi is now, where she's wearing the lashes, she's full on glam and the hair is flawless… her personality is different too. You still get the cattiness, but she's sassy and classy in a way that didn't exist! That's why I thought Fenty fit perfectly into what TiTi is today. Which is glam.
TiTi's truly going up in the world.
I'm just happy I can make people laugh. If I can say this, it's kind of like the Cardi B story. I don't dance now, I make funny moves!