how vans old skool became the most important shoe in the world
From the feet of skaters to the shoe rack of Julia Roberts and fashion weeks around the world, just why has the fashion world gone Old Skool?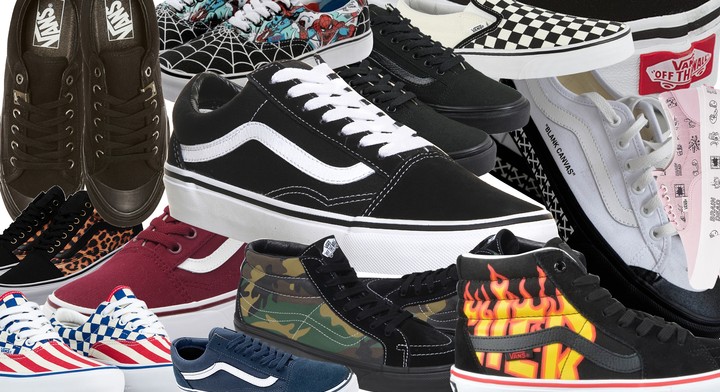 This article was originally published by i-D UK.
How does a $60 sneaker wind up in the wardrobe of both broke skater kids and the paparazzi-friendly fashion elite? In a time where being stylish — even in streetwear circles — seems to be defined by the notion of owning what others can't, the Old Skool's mass appeal feels like a real breath of fresh air, transcending the boundaries of some of fashion's most sacred, standoffish circles.
Part of its widespread popularity lies in how easy it is to get your hands on them. Whether you're a 19-year-old fashion student or the world's most iconic rapper, Vans's iconic silhouette is something you can walk into a shoe store and buy with a standard paycheck. Still, on more than one occasion, it's bypassed basic retail and made its way onto the runway. Off-White's spring/summer 17 presentation was the sneaker's most recent fashion week spot, and it's still everywhere on the feet of the street style cognoscenti.
So where did it all begin? Designed from a doodle sketched by Vans co-founder Paul Van Doren, the Old Skool was the first Vans silhouette to bear the leather insignia along the outer panels of the shoe, the trait that would become its defining factor. When it was first released back in 1977, that swoop of leather was dubbed the "jazz stripe" before becoming the "sidestripe" that die-hard Vans fans now know it as. Paired with its low cut, leather padded heels and slick suede panelling, the style has barely changed in its 40-year history, but if you look back through the vintage Vans ads that are peppered throughout the company's archives, you'll struggle to find a mention of the Old Skool sneaker. That's because, back then, it was simply referred to as Style 36, the quintessential shoe for the rebel skaters of 70s America.
"The Old Skool in particular is a skate-based silhouette that anybody's allowed to don without fear of fashion retribution."
But its original purpose as a skating shoe — like much of the sport's culture — has seeped into the mainstream as of late. With the salience of brands like Thrasher and Supreme being incongruously spotted on almost every member of the Kardashian clan, the skatewear scene has been a financial hotbed over the past half-decade. While there are haughty fans of those brands who fear for the dilution of their culture, Vans has been, and seemingly always will be, a much more democratized fashion brand. The Old Skool in particular is a skate-based silhouette that anybody's allowed to don without fear of fashion retribution.
Unlike the classic Authentic style, which still manages to look a little like a primary school gym shoe on some of us, the Old Skool has a distinctly cooler aura. Simple enough to wear with just about anything, but eye-catching thanks to its sleek combination of leather, suede, and any color the wearer could dream of, it's swiftly become the go-to sneaker for every celebrity trendsetter under the sun.
After coming out of hiding post Blonde, our favourite elusive musician Frank Ocean has been spotted donning the classic black and white colorway, and has worn its high-top sister, the Sk8-Hi, on the red carpet before. Meanwhile, his OFWGKTA pal Tyler the Creator has previously said he considers the Old Skool his "go-to" style, even collaborating with Vans on a stupefyingly popular and now highly coveted line of GOLF WANG sneaks a few years back. That may have changed though, as he made the move to become the face of Converse just this summer.
"From Marc Jacobs to Star Wars, Supreme to Toy Story, the Old Skool silhouette has been revamped to cater to just about every possible sneaker wearer imaginable."
Even Yeezy, famed for his ride-or-die Adidas loyalty, can't resist the cosmic pull of the Old Skool. ("Some days I'm in my Yeezys, some days I'm in my Vans.") Over the past couple of years, he's been spotted wearing a personalized pair. They might have been a little beat up (but in all honesty, how else should they be worn?), but Kanye has gone super intimate with his customization, adding the line "I wish I could talk to my dad" onto the side of one of the soles.
Rappers engaging in skate wear is hardly worth getting worked up about; the two practically go hand-in-hand. But you know the Old Skool hype has hit its peak when Julia Roberts is spotted bringing back her 90s Notting Hill realness. She wore the black-and-white color way again (sans the killer platform sole) earlier in the year.
Over the course of four decades, the Old Skool's clean silhouette has practically begged to be drawn on and restyled by those who wear them. But nowadays, you're just as likely to see a luxury fashion house put its spin on the sneaker as you are to find a beat-up pair of Sharpie-customized ones at the skate park.
From Marc Jacobs to Star Wars, Supreme to Toy Story, the Old Skool silhouette has been revamped to cater to just about every possible sneaker wearer imaginable. The Opening Ceremony collaboration doused the usually basic color schemes in coma-inducing levels of glitter that led to instant sellouts, while a similar buyer reaction came when Supreme's camo version dropped. Next up? Off-White. Virgil Abloh's hot as hell brand are taking a break from its endless Nike collab to create its beautiful, heavily branded version of it, set to drop in 2018.
Read: Deconstructing fashion's love affair with ugly sneakers.
Colors may change, but the silhouette stays. In fact, the only collaborator to switch up the Old Skool's style, and even so only slightly, was ALYX's Matthew Williams. With the exception of one statement metal eyelet and an embossed heel stitch, all Williams did was return to the sneaker's shorter toed version — the kind last seen on the shelves around the Style 36 days.
On the runway, even Dior Homme have paid homage to the striking skate sneaker, including a distinctly similar style in its rave-inspired fall/winter 17 collection that's already been spotted on the brand's stalwart rep — and Old Skool-wearer — A$AP Rocky.
It's homages like Dior Homme's that prove the skating sneaker is well and truly in its own half pipe. The Old Skool may have barely changed its own style over the past 40 years, but Vans's constant willingness to offer it up as a canvas for collaboration make it a simple, democratized symbol of what every brand should be doing in 2017.
Credits
---
Text Douglas Greenwood