Good Looking, 1996, William Wegman. From William Wegman: Being Human, published by Chronicle Books, 2017.
how william wegman's dogs became accustomed to traveling by limo
The photographer discusses his new book, a collection of 300 Polaroids of his beloved pet Weimaraners.
Good Looking, 1996, William Wegman. From William Wegman: Being Human, published by Chronicle Books, 2017.
New York-based artist William Wegman never wanted to become the "dog guy," but he has. His artful images of canine subjects have appeared in an Acne Studios campaign. He's collaborated with Steve Martin, and his dogs. And he became a household name through his work on Sesame Street, along with his beloved dogs.
On Tuesday, he released William Wegman: Being Human (Chronicle Books), a photo book which features 300 Polaroid photos of his 10 Weimaraners (pets which he's owned since 1970). The release coincides with the artist's solo exhibition "Dressed and Undressed" at New York gallery Sperone Westwater, which shows his early dog photos from the 1980s and early 1990s. The show's wide-eyed stars wear everything from Marilyn Monroe-esque blonde wigs to plaid shirts.
The photos are funny, surreal and strikingly human, although Wegman shies away from giving the dogs a cutesy look. "The dogs have been people, landscapes, a lot of things," he said over the phone from his studio in Chelsea. "I hope people see it more than just 'here are pictures of dogs,' but 'here are how different they all are.'"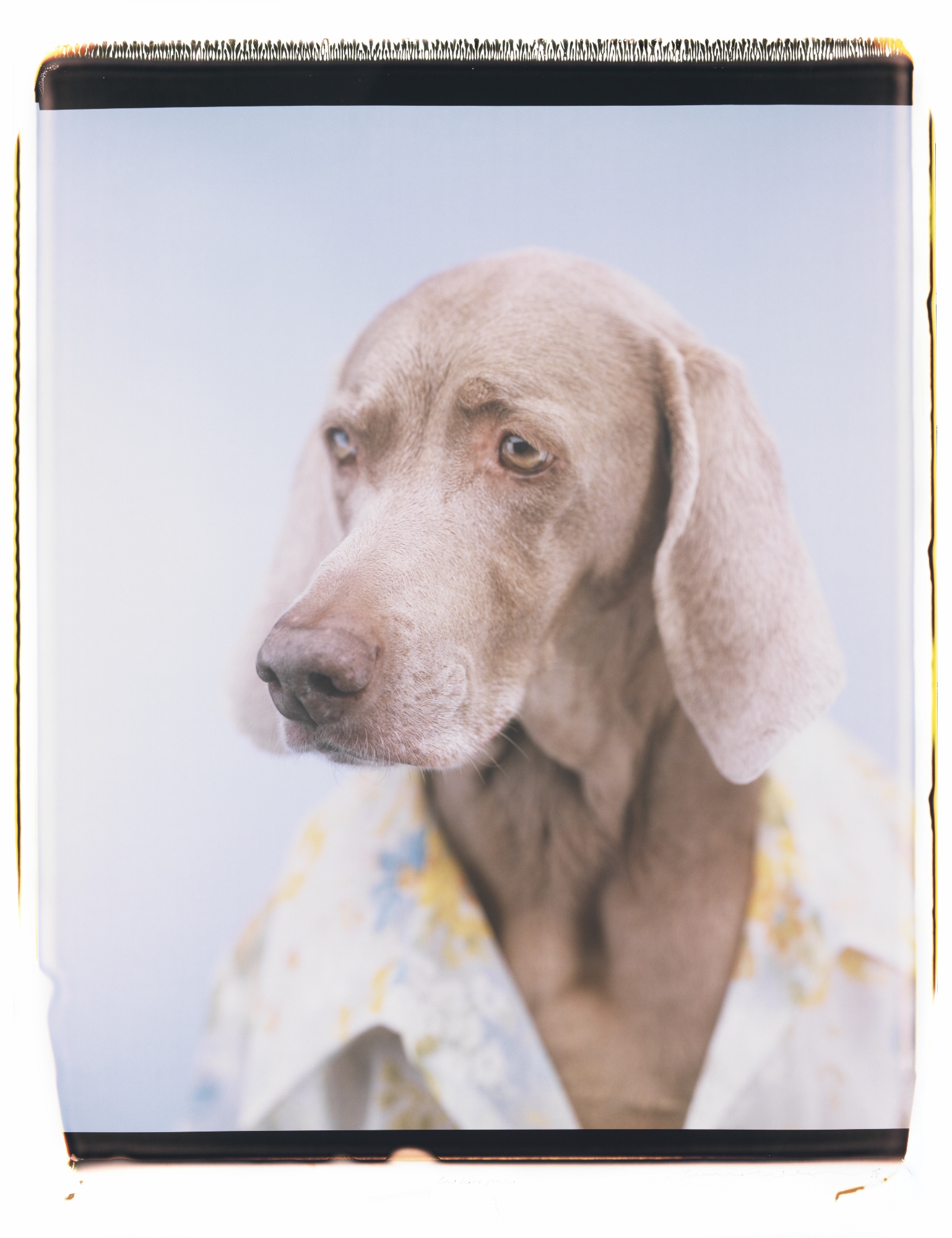 Wegman found his first dog in 1970 through the Yellow Pages in Long Beach and named him Man Ray after the avant-garde artist. Wegman used him as a character for his video art pieces, like in The Spelling Quiz , and in his early photos. "I would photograph still-life subjects, like chairs and glasses of milk, but the photos with Man Ray were the most memorable ones," he said.
When Man Ray died from old age in 1982, Wegman didn't have a dog for a few years. "It was terrible," he remembered. "When he left, there was a void."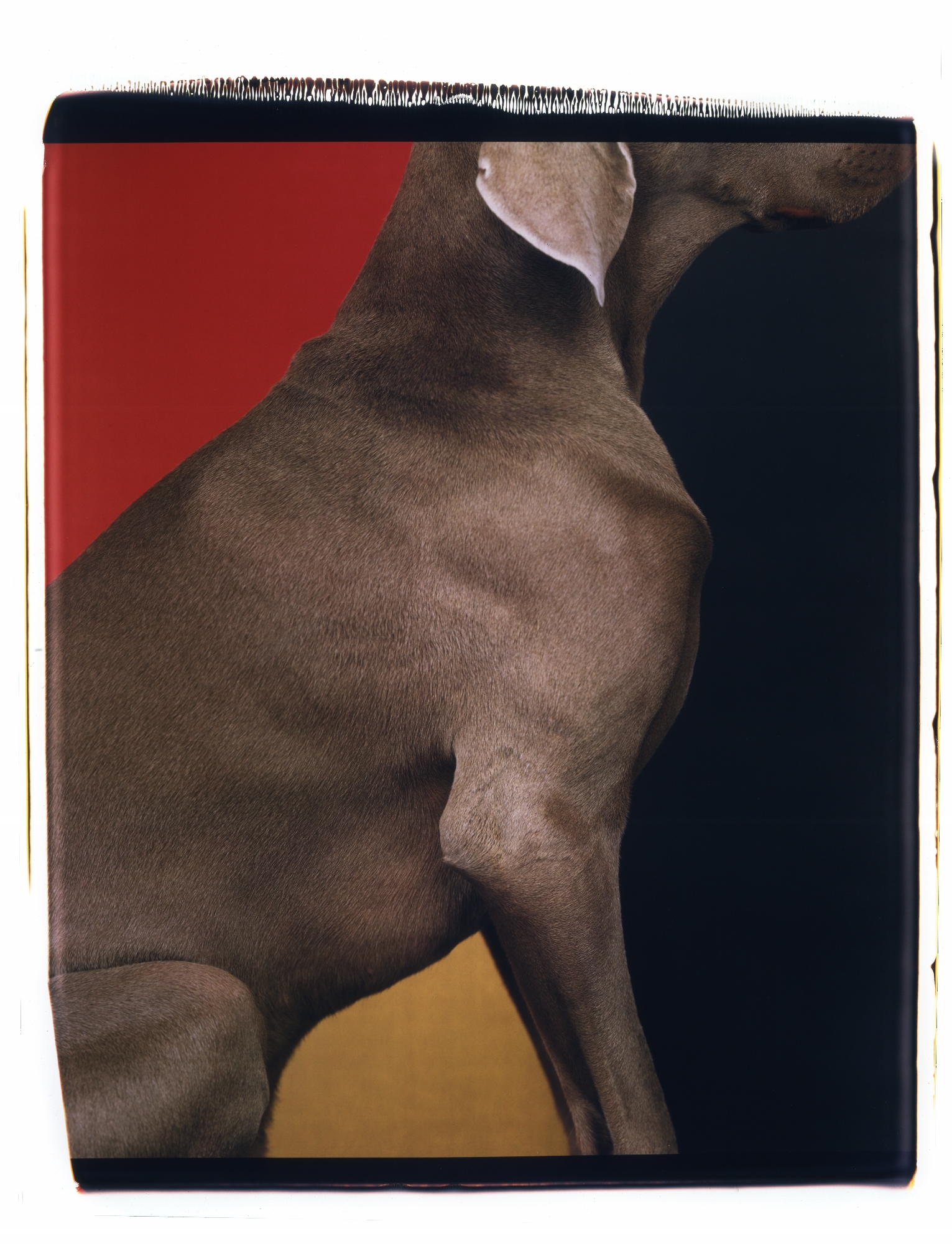 é
In 1984, the artist got a new dog and named her Fay Ray. "It became something closer to me and it was more fulfilling," he said. "Fay really liked posing, so that's when I decided that's what I would be doing with photography."
Wegman never wanted to make "cute" animal photography, especially with clothes. "It's something I've been tortured with since I first did it," he said. "I have come to think it's our instinct, that there is something about dogs being like us. But the fact that they're not us makes it really interesting; they shimmer in that field of becoming."
Fay Ray became a star in 1987 when Wegman was commissioned to make a series of short films for Sesame Street, including the "Farmer McFay" series, in which Fay was assisted with human hands and counted lemons.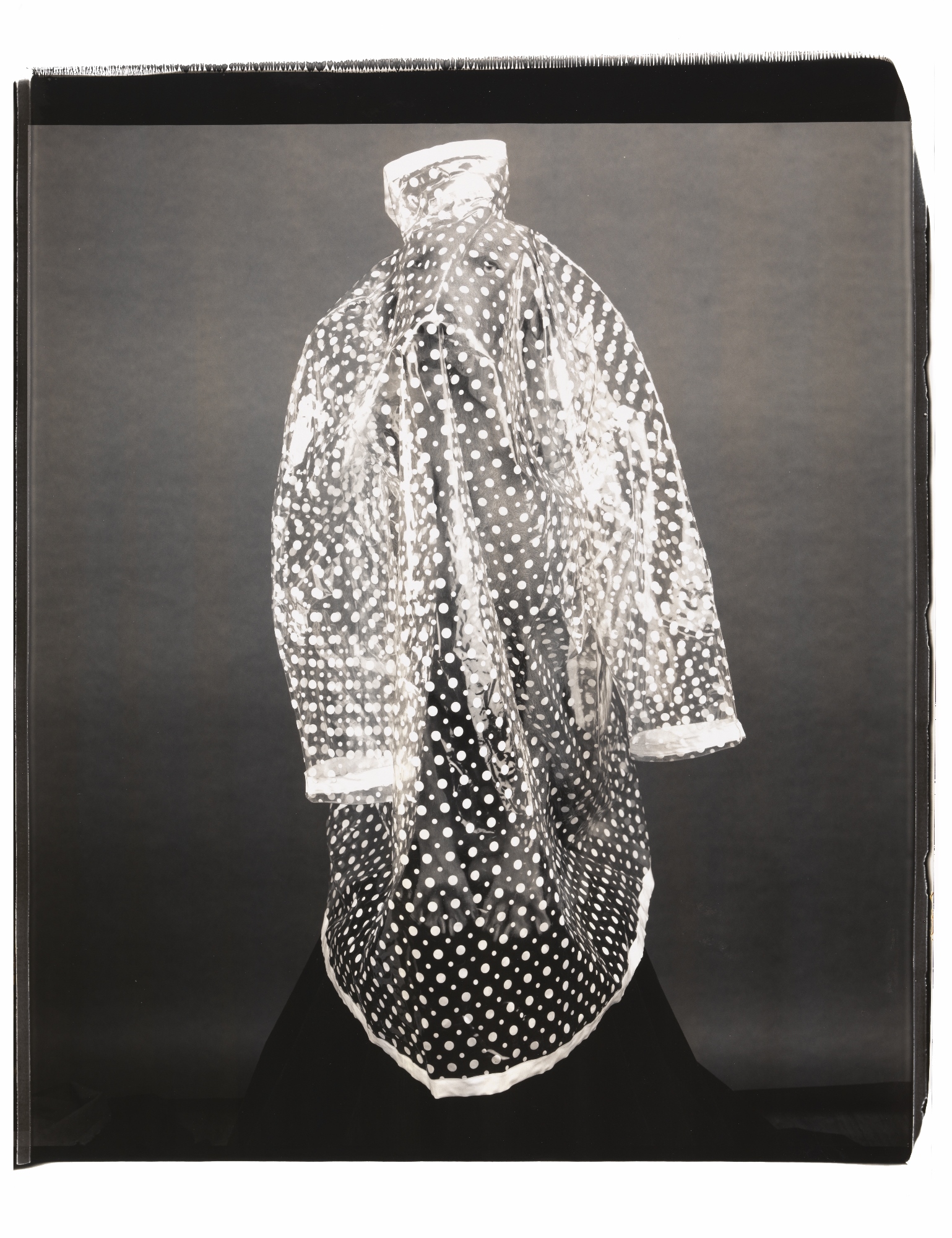 On the cover of Wegman's new book, there is a shot of his dog Candy in a red sweater. "She was my most athletic dog, I didn't dress her except in this sweet shot," he said. "She would make a really unpleasant look to the camera, I don't think she liked the strobe lights, she would duck. So I didn't use her that much."
His dog Bettina was the most willing. "She was relaxed to the point of being narcoleptic," said Wegman. "I could drape her over things like a blanket. She was really pliable and very droll and had a comic presence."
Thousands of these images have been sitting in Wegman's studio for the past several decades. His assistants helped him narrow them down to the final 300. "It took a few years to go through all the photos," he said. "I can see the dogs getting older and older, other dogs appearing, it was a fascinating process."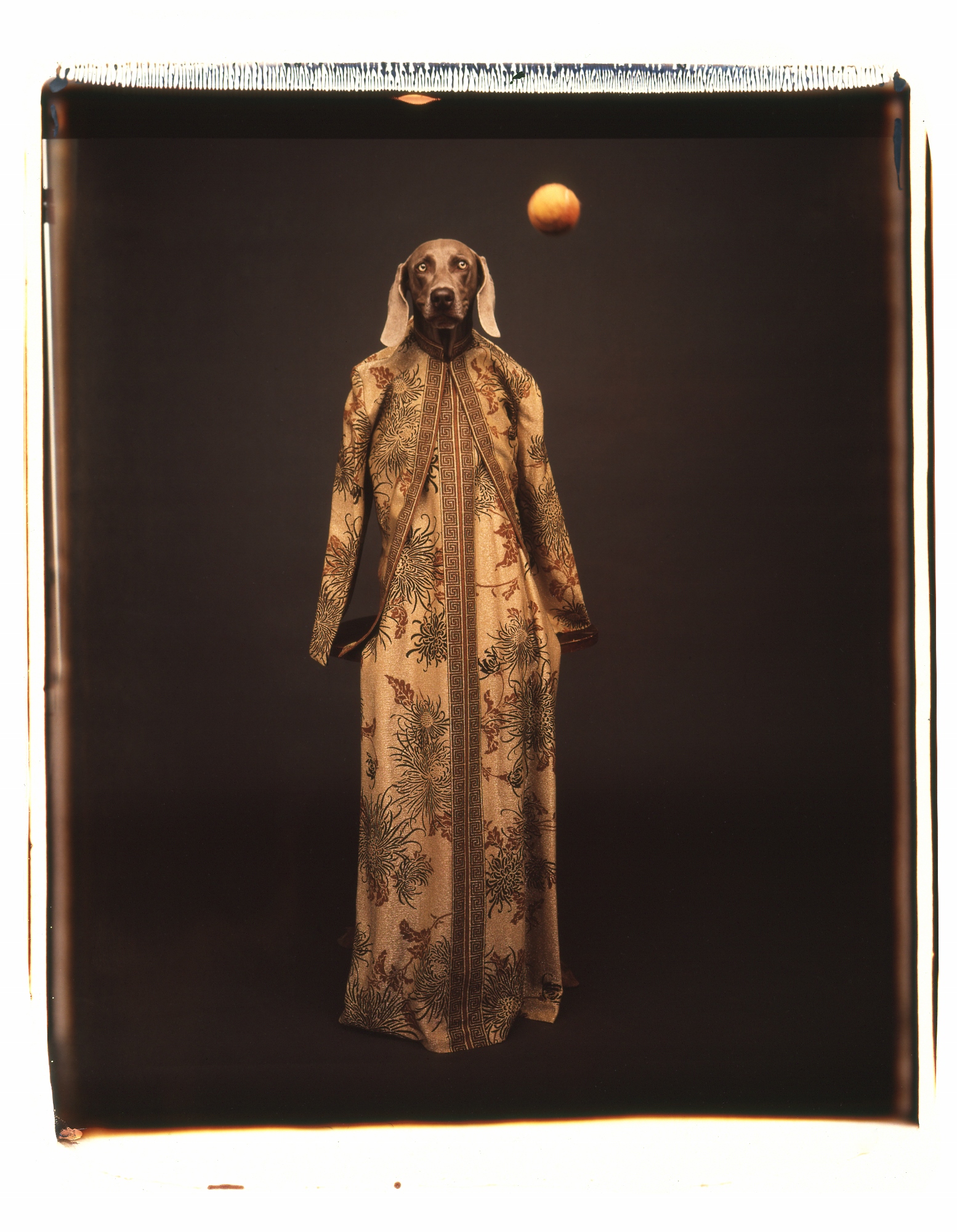 Today, he has two dogs: a female dog named Flo and a male dog named Topper. They each have different personalities in front of the lens. "Flo is very worried and cares a lot about what you think and Topper is magnificent and thinks he is great."
Does it have to do with the gender of the dogs? "I don't think so," Wegman said. "I've shot 10 dogs, half male and half female. Some try harder than others."
Training dogs is one thing but getting them to behave in front of the camera is another. "Photography becomes separate from their arena of the everyday; I don't give them food to sit," said Wegman. "They become trained to that moment [to sit]. It's a calm experience."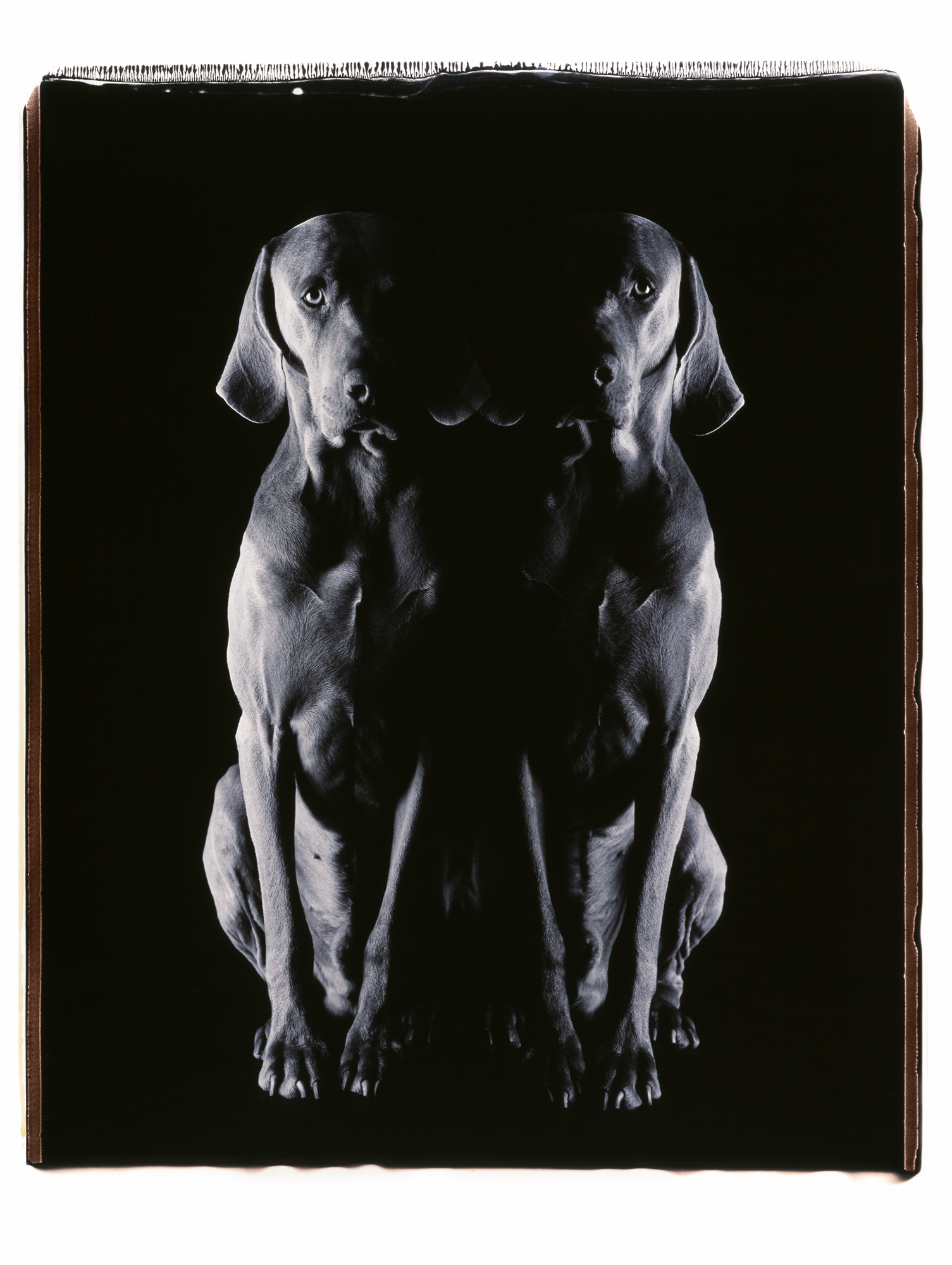 It isn't always easy, so Wegman has a variety of coaxing techniques. He says "walkies" to get their attention, brings a ball into the studio, or teases them by mentioning the name of his children (Atlas and Lola).
"Sometimes it works, but only a few times, because if you don't deliver the person you're calling for, they'll catch on," said Wegman. "I also used the technique of walking away from the dogs, who would squint so they looked a bit evil but if you walk close to them, they look all gooey and sweet."
Funny moments erupt on set, like during the shoot for Wegman's 1995 short film "The Hardly Boys." He was shooting on location in Maine and the plot dictated that one of his dogs, who was dressed as an evil caretaker, had a ping pong ball suddenly hit him on the head, which knocks him over. "My assistant had to fall back with the dog dressed as a caretaker, we did it 12 times," said Wegman. "Every time I think about it, I crack a smile, but when we are working, we don't laugh. We laugh at the pictures after. It's methodical."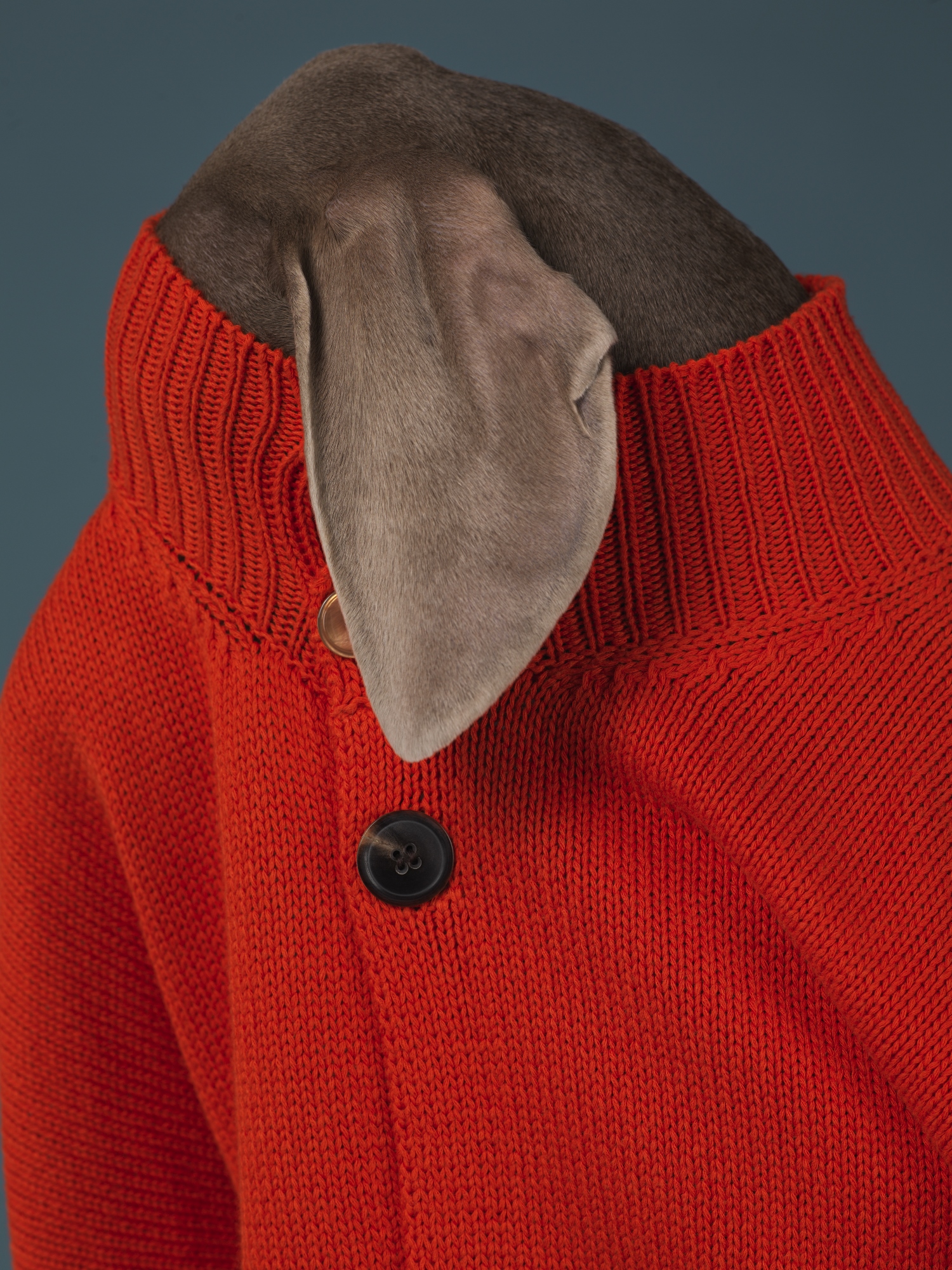 Wegman has had to field allegations of animal cruelty in the past. "More in the mid-1980s. First, there was a feminist attack: 'Why are you dressing your dogs up as women?' That surprised me because I made male characters too," he said. "People who watch my work know I am not harming the dogs. They really like doing it."
As for Wegman, he knows when he has a good photo (which he describes as an "OMG" moment). "A good photo is riveting, it's like ka-bang!" he said. "When it's not working, it deadens you and you're left in a stupor."
Do the dogs know they're stars in their own right? They are the artist's muses, after all, but they've also been on Late Night with David Letterman. "It's funny because when I was doing a lot of press in the 1990s, whenever there was a limo parked outside on the streets of Manhattan, they always thought it was for them," said Wegman. "They would have to go on talk shows or book signings, so they got used to being in limos. Now, I'm not really doing that, so a car is a car."
"William Wegman: Being Human" is out now through Chronicle Books. "Dressed and Undressed" is on display at Sperone Westwater in New York through October 28.