Elle Fanning at Miu Miu's spring/summer 18 show. Photography Pierre Suu/Getty Images.
elle fanning on miu miu's riot grrrl-powered collection
The actress came out with her sister Dakota to support her favorite designer.
Elle Fanning at Miu Miu's spring/summer 18 show. Photography Pierre Suu/Getty Images.
When the 90s-rock-heavy soundtrack at today's Miu Miu show switched to Kathleen Hanna's "Rebel Girl," actress and i-D cover girl Elle Fanning lit up. "I was totally tapping my feet the whole time!" she said after the show. Both Fanning sisters flew in to support Miuccia Prada in Paris for her eclectically dimensional ode to rebellious dressing for spring/summer 18. Dakota wore a blue satin gown and her (very tall) little sister wore a black rhinestone-studded strapless jumpsuit. Elle has very, very, big eyes (the classic sign of a great actress). She's a Miu Miu girl through and through, having starred in its spring 2014 and spring 2017 campaigns, and wearing the brand faithfully. If you've seen her in 20 th Century Women or The Beguiled in the past year, you know how perfectly the actress incarnates Miu Miu's sassy, intelligent, wise-beyond-her-years spirit.
"It was beautiful!" Elle rhapsodized. "Mrs. Prada: she never ceases to amaze and put on such a beautiful show and atmosphere and music."
The collection was a strong lesson in layers, with smart, wacky ideas like guipure lace gowns over collared tops and knee socks. Elle said rightly that the collection had a DIY, thrifted feeling. "I loved the sandals and the easy dresses. It brought me back to thrift store days when I would be young and go get little sequined 50s dresses that were too big for me but I would layer with other things." Having acted steadily since her first film before the age of two, it's hard to imagine Elle kicking around and casually thrifting, but hey.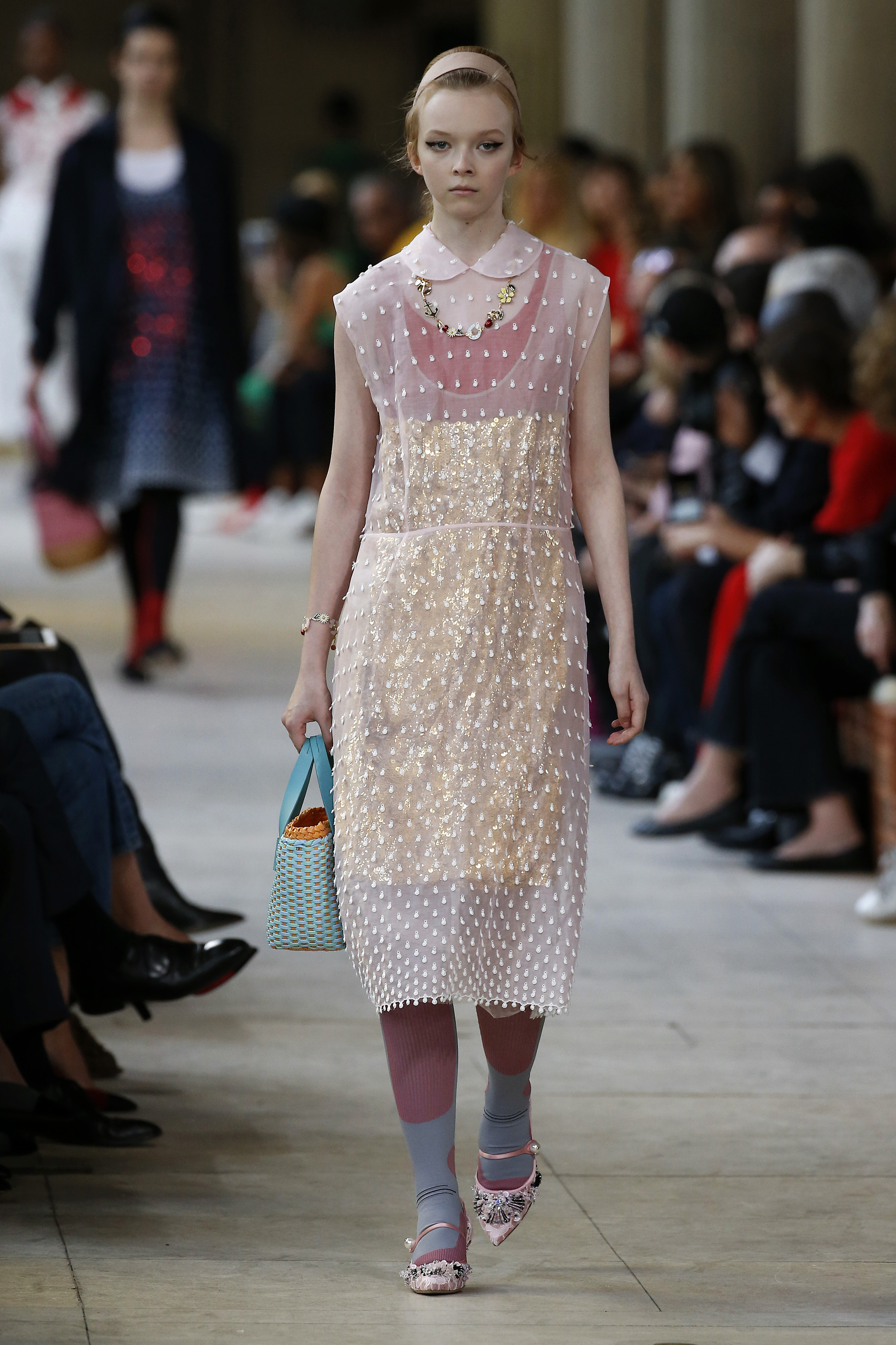 "I love the kind of minimalistic vibe," Elle went on. "The chairs we were sitting on with the styrofoam set a great tone for the pieces that are so simple in a way." Although "minimalist" is not the first word that comes to mind for Miuccia Prada's work, Elle is spot-on that these pieces, dissembled, have a kind of purity to them. A black stretchy headband. A sheer yellow basketball tank. A white lace dress (Elle's favorite piece). These are simple things! It's all about the mix. As Elle observed, "The way she puts things together and the different patterns evokes such emotion."
As she was pulled away to take a picture with Mrs. Prada, Elle kept bubbling over with enthusiasm. "I loved the big jackets too! Miu Miu sometimes will alternate between the cute little fitted coats and the bigger ones. I liked the sunglasses, too." She'll party tonight, and then it's back to New York tomorrow morning, where she's shooting a Woody Allen movie. Quite the whirlwind 24 hours, but Elle said, "I was so happy to come in for this!"