Photography Zora Sicher. Styling Zara Zachrisson. Aaron wears coat and dress Pringle of Scotland. Nose ring (worn throughout) model's own. Shoes Victoria Beckham.
aaron philip is a pioneer for equality in fashion
Making history as the first black, disabled, trans woman to sign to a major modeling agency is all in a day's work for 17-year-old high schooler Aaron Philip.
|
16 November 2018, 8:00am
Photography Zora Sicher. Styling Zara Zachrisson. Aaron wears coat and dress Pringle of Scotland. Nose ring (worn throughout) model's own. Shoes Victoria Beckham.
This article originally appeared in i-D's The Superstar Issue, no. 354, Winter 2018
The spring/summer 19 runways were the most diverse on record. At New York Fashion Week alone, 44.8% of models on the runway were models of color, 49 were plus-sized and 53 identified as trans or non-binary. While the latter two only equate to 2.2% and 2.41% of all models respectively, with every season these numbers are gradually improving. But despite this modest progress, the number of models in wheelchairs remained at 0%. For Aaron Philip — a 17-year-old trans model with cerebral palsy — this needs to change, urgently.
"I was supposed to do New York Fashion Week this season," Aaron says over the phone from New York. "We made provisions for me to have my debut, but there were problems — no runways were ready to accommodate wheelchairs. Apparently they weren't even physically accessible at all." The simple fact no show spaces were accessible to wheelchair users shows how far there is to go, but Aaron's looking to be the change she wants to see in the world. "It's like, ok, I think this is a conversation that needs to be had, because it's wrong. I would love to have a debut on the runway, and I think it would be really impactful for my community to be more visible in high fashion."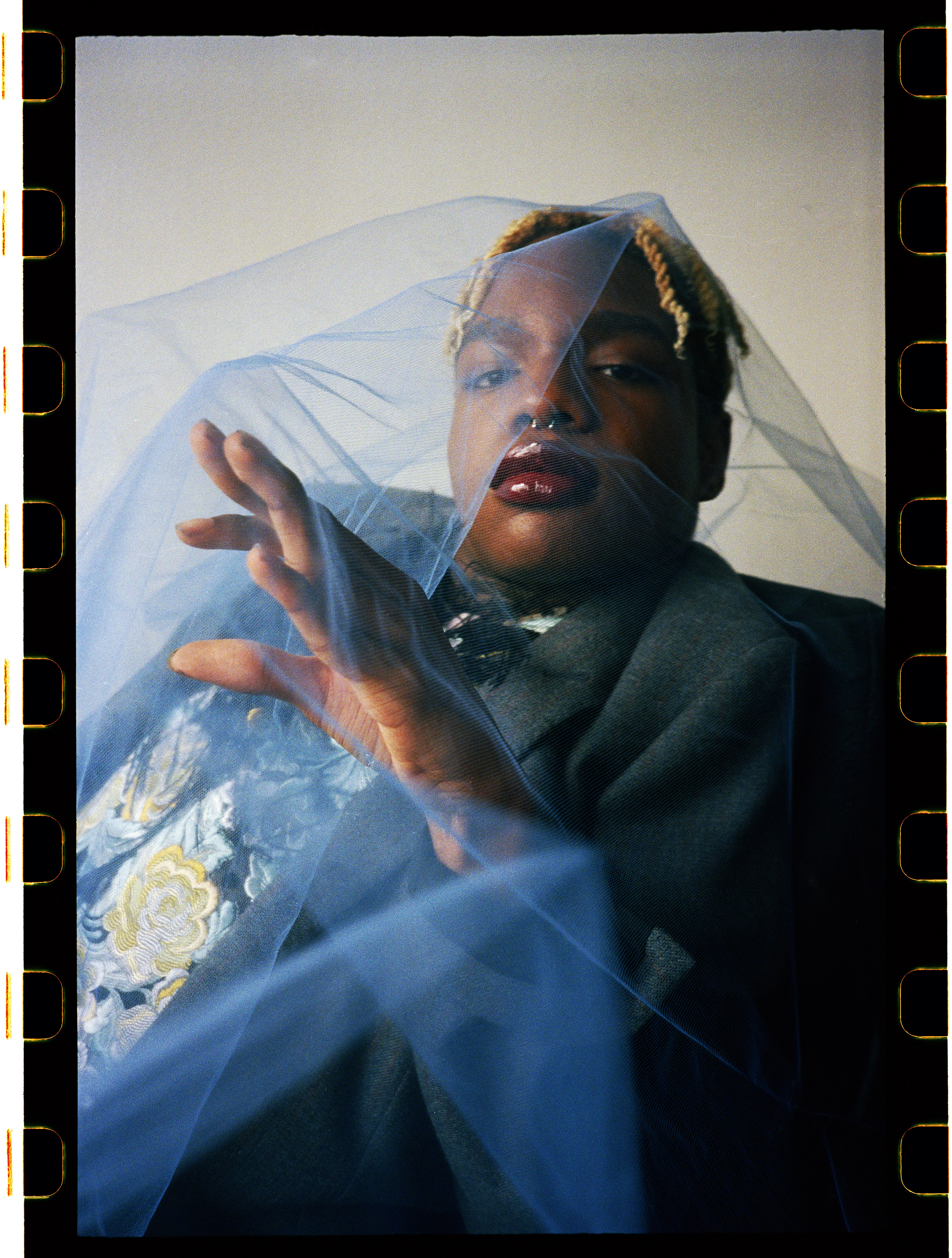 Back in November of last year, the possibility of a disabled model at the front of the fashion industry seemed unlikely. The only model using a wheelchair signed to a major agency was Jillian Mercado. The frustration Aaron felt at this lack of representation was enough for her to switch up her look, take some pictures, and post them to Twitter, with the words: "honestly when i get scouted/discovered by a modeling agency it's OVER for y'all! by y'all i mean the WORLD! it's real inclusivity/diversity hours folks, get into it!" [sic]
Things got interesting from there. "That tweet racked up a lot of attention," Aaron says. "It started my freelance career because I was getting people emailing me and DMing me. It started getting more and more momentum. Then I did editorials for a couple of magazines, and a campaign for American Eagle." Eight months later and Aaron made history by signing with Elite – one of the world's biggest modeling agencies – as their first model who uses a wheelchair.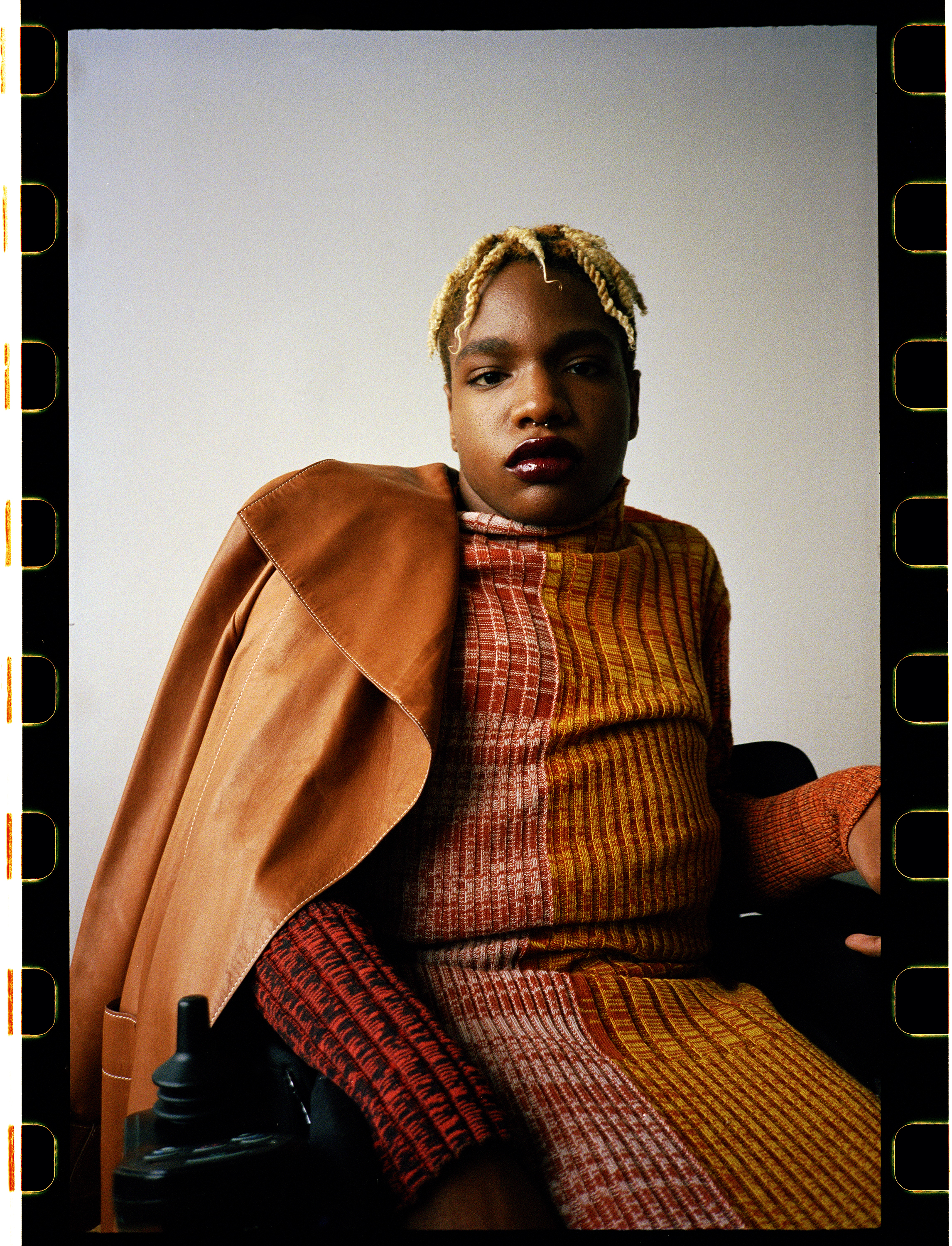 Though it might seem unbelievable that a simple tweet and a couple of pictures could spark a career in an industry that can be notoriously difficult to get into, Aaron has never underestimated the power of social media. Born with quadriplegic cerebral palsy, a neurological disorder that affects the limbs, Aaron has always required a wheelchair. "I've been on the internet a long time, under many different aliases. Growing up I was really isolated from people because I found that so many people were really ableist, even other children. I would go to the playground and kids would stop and stare at me and not bother to come play with me. So, I took myself online... really, I was raised on the internet."
Aaron was born on the Caribbean island of Antigua in 2001. But, in order to get the medical attention she required, her family moved to New York when she was three. At around the age of 11, the costs of her medical bills were so substantial that her family went through a period of homelessness. "We lived in a homeless shelter between the Upper West Side and Harlem," she recalls. "Now that I think back to it, I really hated it. Who doesn't want to have a home to themselves?" Despite the impossibly unjust circumstances, Aaron expresses no pity or sorrow for herself throughout our conversation. "It was really uncomfortable and I felt a lot of shame being there at a young age, but even so I made the best of it with my dad and eventually we got out."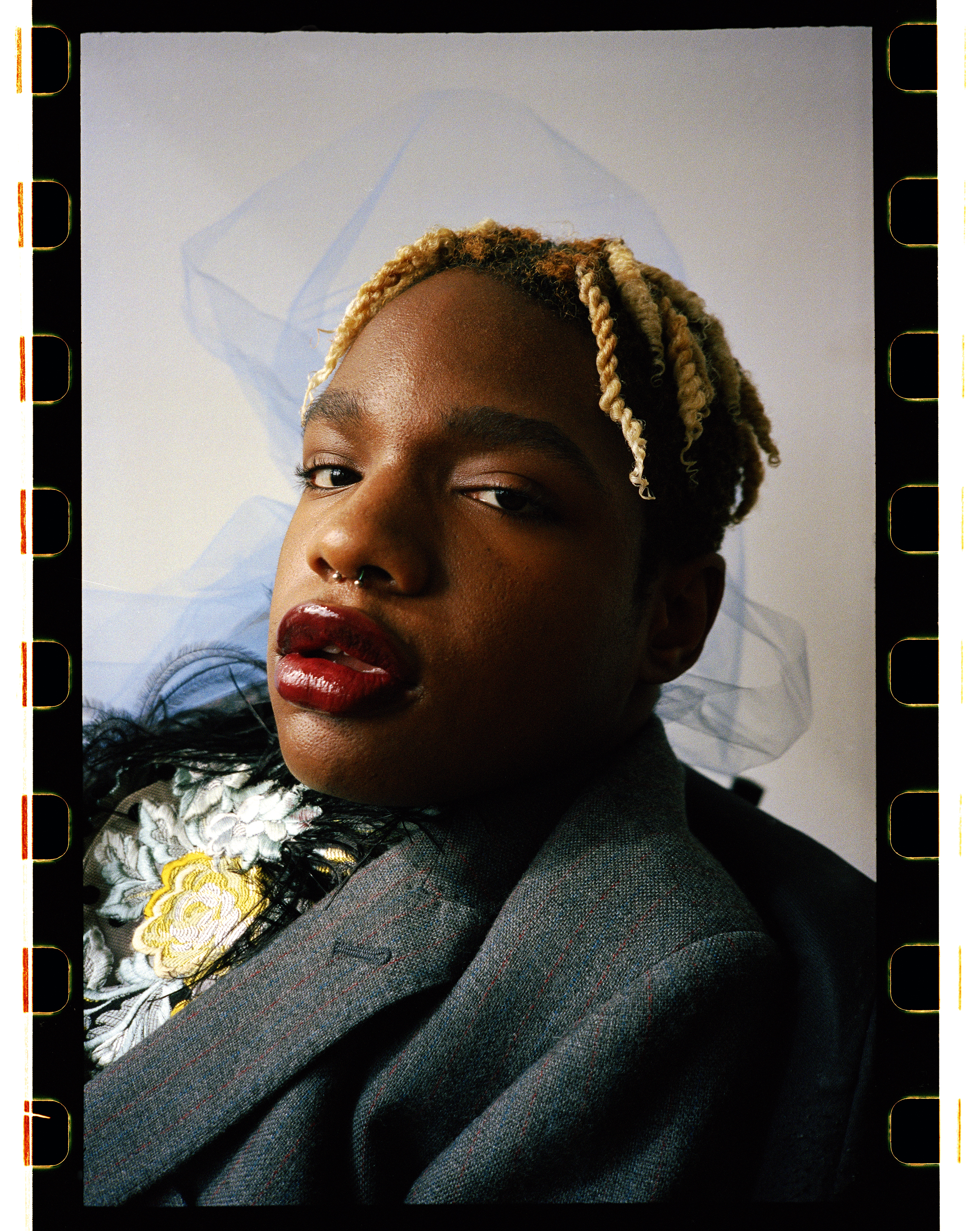 Despite the prejudices she's experienced — at school, online, on dating apps — her family have remained stable and supportive throughout. "My family are really lovely. They're incredible people, my mom is incredible – she lives in Antigua, but she's the biggest part of my life. I live with my dad and my little brother. They make a lot of sacrifices. It's amazing having that force behind you driving you forward." Now a senior in high school, Aaron plans on studying a creative degree — "photography, or drama, or visual arts" — in New York after graduating. Professionally, her energy will be focused on ensuring that disabled models like herself get the opportunity to do runway shows going forward. "I think people think because I'm physically disabled I'm not capable of achieving most things. Well, I'm here."
Credits
---
Photography Zora Sicher
Styling Zara Zachrisson
Hair Takayoshi Tsukisawa at Streeters using Oribe. Make-up Zenia Jaeger at Steeters using Makeup Forever. Styling assistance Erika Golcher and Karolina Frechowicz. Model Aaron Philip at Elite.
This article originally appeared on i-D UK.