pyer moss awarded 2018 cfda/vogue fashion fund
Kerby Jean-Raymond follows in the footsteps of Telfar Clemens.
|
06 November 2018, 11:27am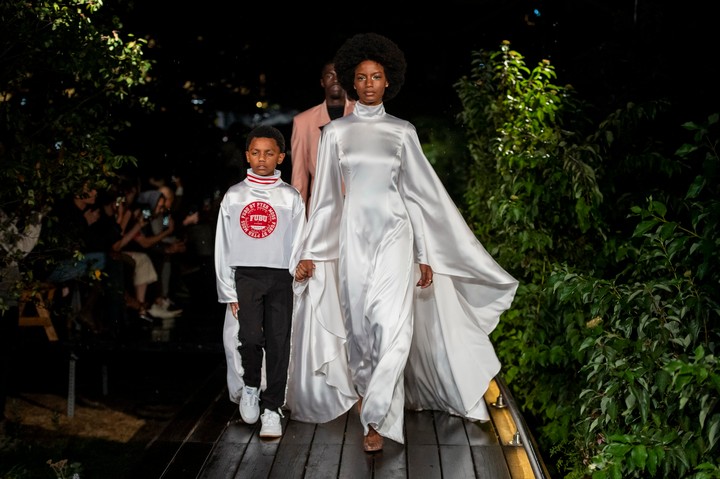 Pyer Moss spring/summer 19, photography Mitchell Sams
After igniting imaginations with collections that have explored the shifting landscape of African-American life in a fraught political landscape, Pyer Moss's Kerby Jean-Raymond was awarded the 2018 CFDA/Vogue Fashion Fund last night and walked away $400,000 richer. He follows in the footsteps of last year's winner, Telfar Clemens.
For spring/summer 19 Pyer Moss celebrated its fifth anniversary and the black-owned, black-powered fashion house invited the fashion circuit to Weeksville in Brooklyn's Crown Heights -- founded by African-American James Weeks 11 years after slavery was abolished in New York -- for a powerful, political sartorial statement. As commissions by New York-based artist Derrick Adams and the gospel choir set the scene, Pyer Moss presented a radical narrative of "black people doing ordinary things" that countered the troubling sociopolitical climate of today. With "see us now?" stitched across a cummerbund and "stop calling 911 on the culture" embroidered onto a shirt, the collection shone a light on just how under threat black lives remain in 2018.
"At a time when our world faces so many challenges, I'm impressed by the winners," American Vogue Editor-in-Chief Anna Wintour explained in a statement. "Their work highlights a high degree of creativity and a deep-rooted commitment to the notion of community. They're not only a credit to the CFDA/Vogue Fashion Fund as it celebrates its 15th anniversary, but also to the optimism and inclusivity of the very best American fashion." At a time in which the US midterm elections have evolved into a referendum and a new generation are "voting for our lives," optimism and a sense of inclusivity are most welcome.
As Kerby Jean Raymond and his community of creatives and collaborators -- Tyler Michell, Ashton Sanders, Ebonee Davies, Kelela -- reject the old world order, the fashion industry will only be more powerful as a result.
This article originally appeared on i-D UK.