thoughts on a$ap rocky's gucci headscarf
I love it.
|
05 November 2018, 6:24pm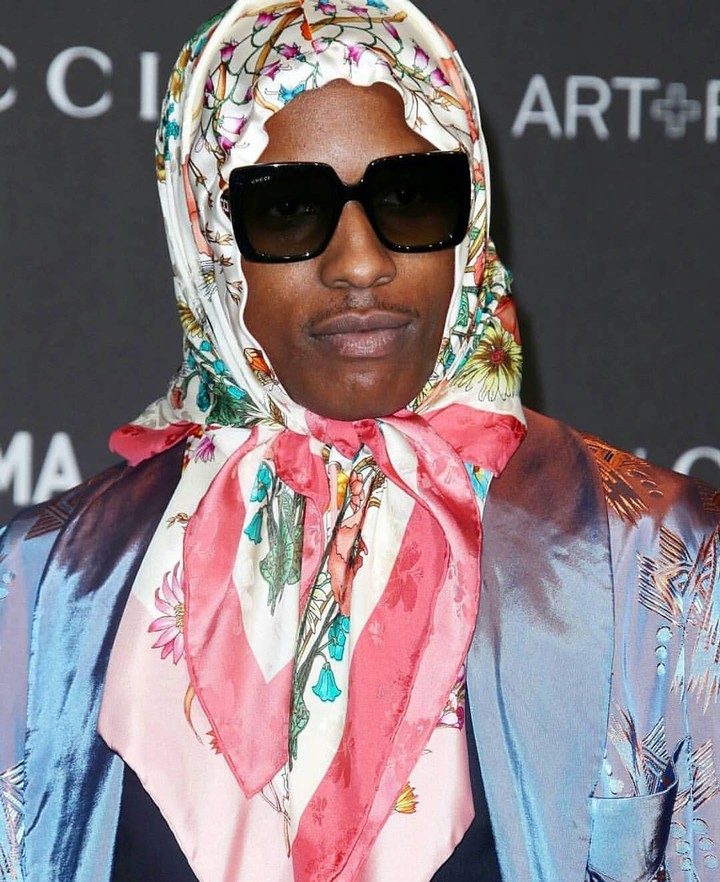 Image via Instagram
There's hot contention for the lofty title of Male Fashion Icon in 2018, among GQ readers and non-GQ readers alike. Is it Timothée Chalamet in a hand-painted Alexander McQueen suit? Is it Harry Styles in a Charles Jeffrey Loverboy one-piece? Is it Kanye West in a pair of socks and slides and a Louis Vuitton suit? What about Luka Sabbat wearing a pair of sunglasses with an inbuilt camera that he has no intention of posting to his Instagram Stories despite an upfront payment of $45,000 to do so?
No, it's none of these. If you were to distill fashion in 2018, every sponsored Instagram post, every condemnatory Instagram story accusing a designer of plagiarism, every Business of Fashion digest story, every celebrity-designed capsule collection, each and every piece of fashion fuckery going on right now, you'd be left with nothing but this picture of A$AP Rocky wearing a Gucci gown, headscarf, and sunglasses stood next to Lana Del Rey at the LACMA Art and Film Gala in Los Angeles this weekend.
It's a look. A moment in time. For those who survived the treacherous path all the way to the top of the fashion content mountain, to stand and gaze over a kingdom of looks, trends, moments, they'd surely return from their perilous journey with news that it's all about this. For this is the only thing that matters now.
Why? Because it has gravitas but it also has sensitivity. It's gentle but full of bravado. It lacks the hubris of Jared Leto's giant hat, while remaining entirely ridiculous. It's the sartorial equivalent of that video in which a journalist tells 2 Chainz to be mindful of spilling his coffee, to which he replies "Darling… this is chamomile tea." And it has fashion kudos but also a sense of humor.
And isn't that what fashion is about right now? Isn't this why Gucci reigns supreme, why Y/Project has created thigh-high UGGs, why Balenciaga is using pervasive souvenir merch designs in its collections. Fashion's become memefied and A$AP's mastered this trend deftly.
But then this isn't his first time at the rodeo. After all he's the master-lyricist who rhymed Oliver Peoples with Ann Demeulemeester -- "I see your Jil Sanders, Oliver Peoples / Costume National, your Ann Demeulemeester" on " Fashion Killa." Back in 2014 he announced himself "the motherfuckin' lord of this fashion shit, don't I deserve just to brag a bit?" on incendiary track " Multiply." I genuinely now believe this to be true. Yes, it's a crowded marketplace, no doubt. The symbiotic relationship between fashion and music means his rulership is and will continue to be under attack. But, in 2018, the conditions under which one can define and in turn, redefine, men's fashion, to hold the title of Most Fashionable Man, is heavily weighted on your ability to in some way subvert the gender binary. And honestly, what could be more binary-breaking than a male rapper channelling, in his own words, a "babushka."
"I just wanted to show off my babushka today, honestly," he told a journalist of his look at the gala. "I thought it was so immaculate. And I feel like I look so handsome right now with the shades on. I'm just encouraging all guys to wear babushkas from here on out. Silk gang, silk city. You know how we do it."
This article originally appeared on i-D UK.