you will always find molly goddard in the kitchen at parties
The who, where, what and wow of Molly Goddard autumn/winter 18.
|
18 February 2018, 1:30pm
Who?
Molly Goddard, frilly and fabulous queen of London Fashion Week fun. Creator of a fashion world full of joy and light and personality. A world it is always a pleasure to enter and spend time in. A world you can't leave without a smile plastered across your face.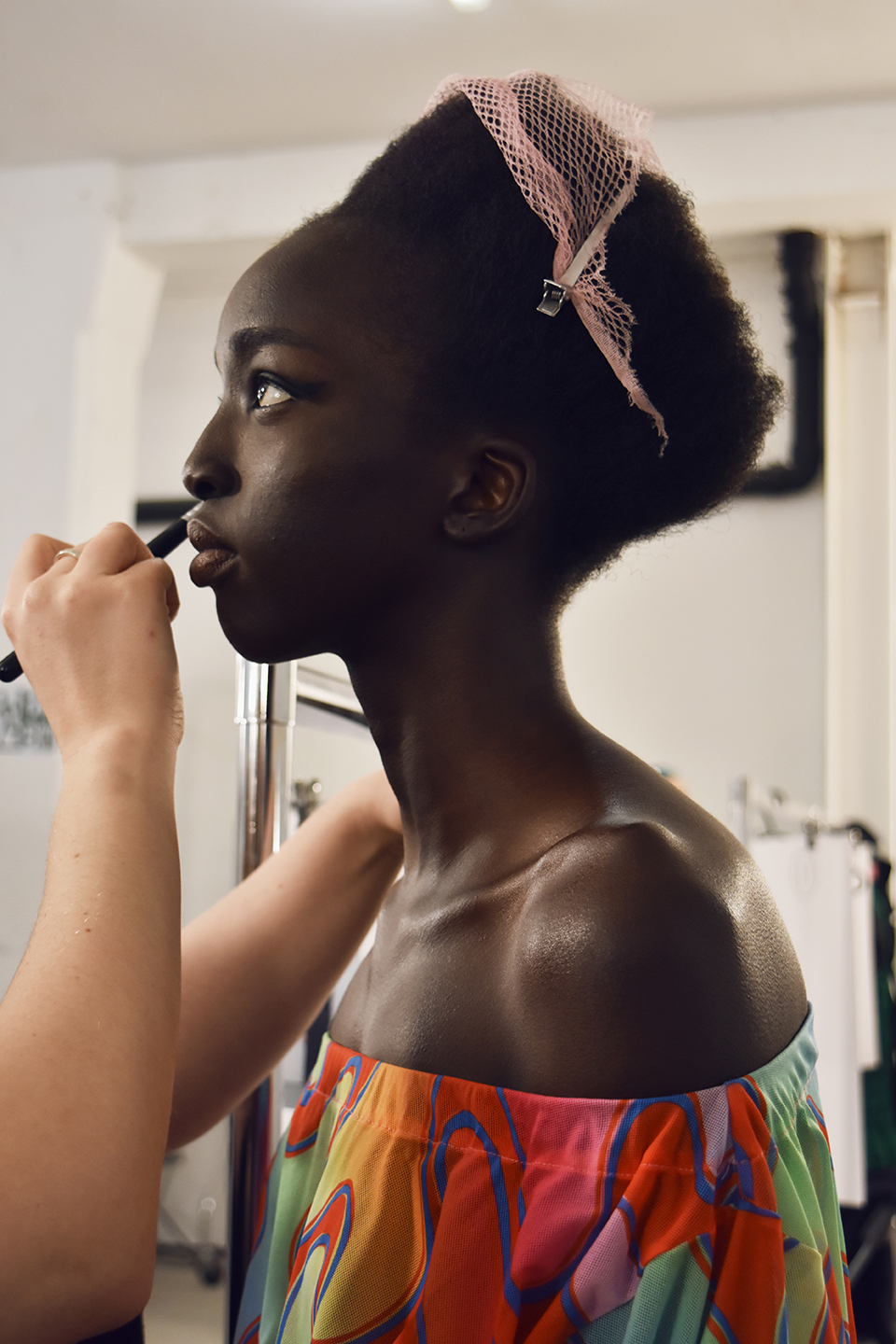 Where?
Upon entering Molly's autumn/winter 18 catwalk -- and the newly opened showspace on Floral Street -- we were transported to Molly's kitchen. The set -- created by Molly's mum Sarah as usual -- was very reminiscent of the kitchen at a house party. Ready for chaos, full of potential.
Big cooking pans, stacks of carrots, pots and saucers and bottles of wine. Bags of onions and potatoes and piles of celery and lettuce. The set, Molly explained afterwards, was about that moment "you find yourself at the party, and all you want to do is hang out with your friends and have a drink" and "feeling all dressed up in that situation". We even spied Fergus and Margot Henderson -- of St. John and Rochelle Canteen -- sat front row to complete the cheffy ambience.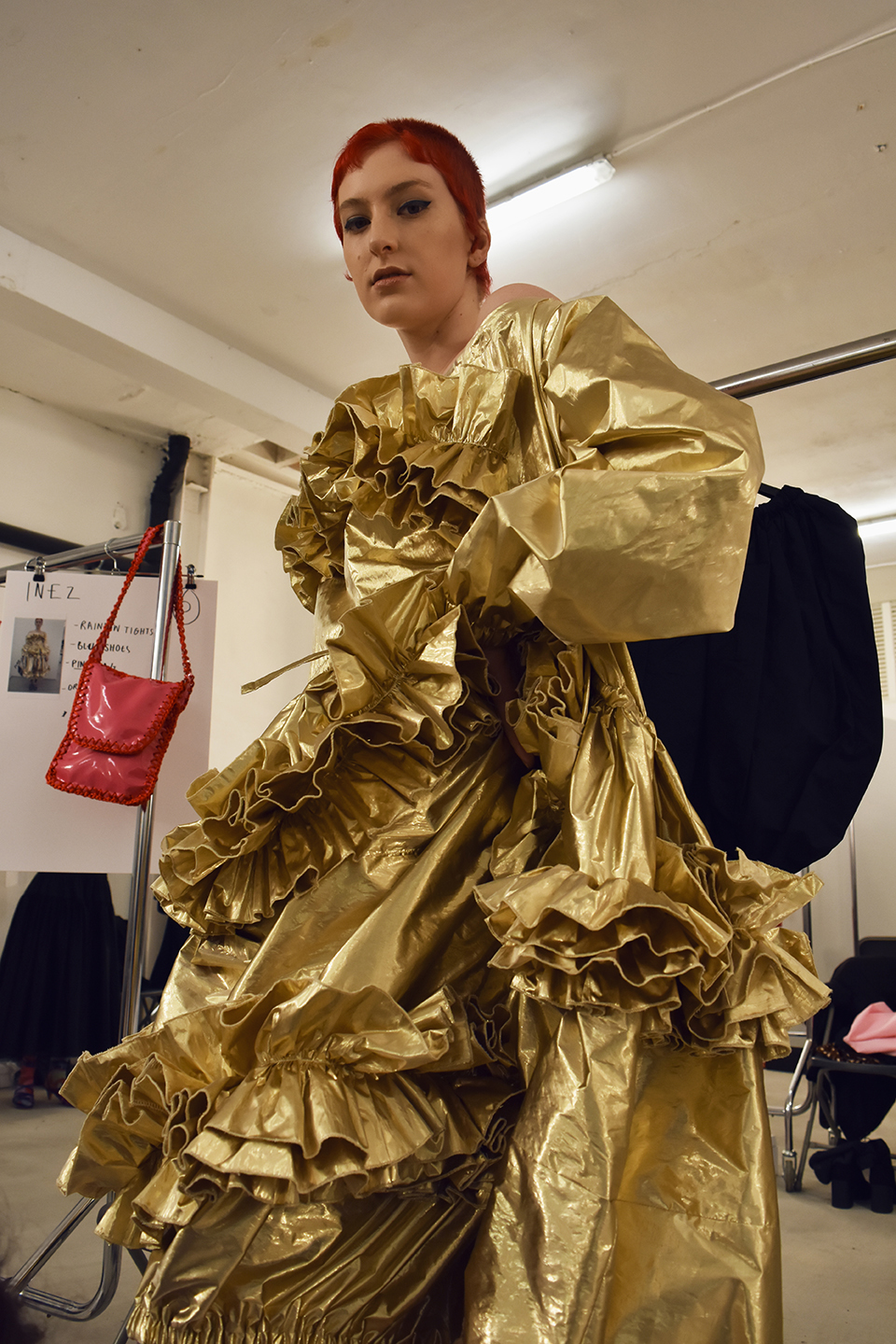 What?
Like last year, the show was opened by Edie Campbell. She entered in a slim cropped boob-tube, voluminous black skirt, and printed, check tights. The basic elements of that look -- crops, volumes, checks, muted tones -- would repeat throughout. It was, Molly said, a little bit about "growing up" and not wanting "to get stuck being labelled as 'pretty' or 'girly'" -- especially when girly is often a synonym for "prim or wishy-washy". These clothes were all about showing the attitude of the Molly Goddard girl, "confident, uninhibited and having fun". After walking, Edie plonked down at a kitchen table and began drinking and eating. It set the tone for the show's eruption of happiness, the kind of smiley setting aside of the pouting norms of fashion we love Molly for.
So the clothes were less girly than previous Molly collections, continuing last seasons more grown up ambience, but keeping it rooted in something carefree and happy. The tulle was paired back, but stronger for it. Molly is so skilled with it by now, that each time the clothes appeared, it drew spontaneous applause from the audience.
It was Molly Goddard goes to a nice dinner party that's guaranteed to turn into a rager, but she's fine chilling near canapés. It was all dressed up and staying at home actually thank you very much. And finishing off that bottle of wine!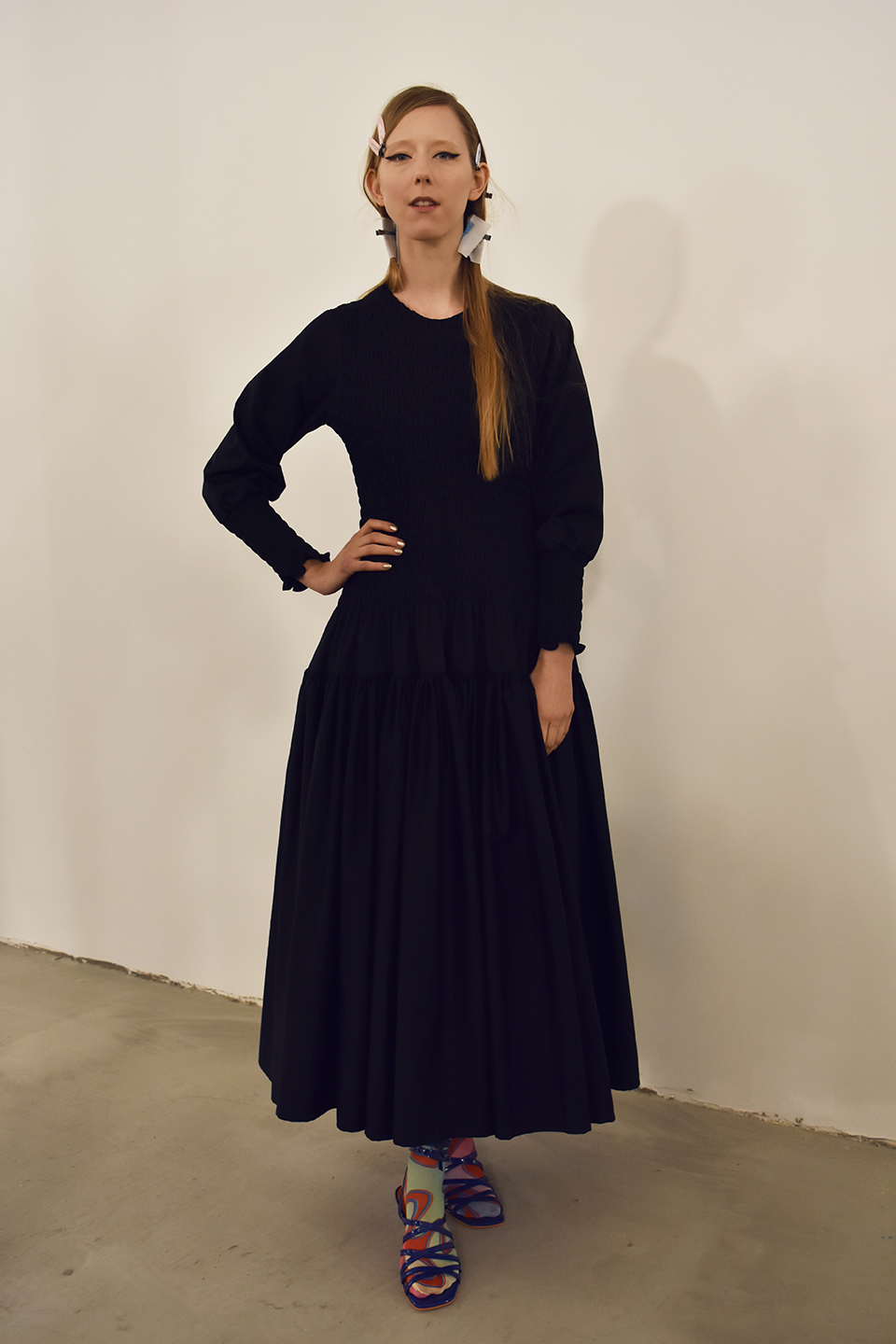 Wow!
Of course that big frilly flounce of orange tulle, ruffled and shaped into huge layers of tulle. And yes, Edie too, who was of course everything.