Photography Mitchell Sams
vetements disrupted men's fashion week as demna turned the dial to 11
This season Demna paid homage to Margiela and explored the power of appropriation.
Photography Mitchell Sams
From the receipt invite that detailed each look to the world's largest antiques market show location, Demna Gvasalia's disruptive label returned to the Paris show schedule -- albeit off-schedule and during men's -- with the most Vetements collection possible. Fashion's prodigal problem child had returned, ruffled a few suits and turned up the volume on autumn/winter 18. Why wear one look when you can wear two… or more? It was a fierce, energetic, layered and remarkably honest collection that mirrored its surroundings perfectly while at the same time, separated Vetements from any other label in 2018. There may be many imitators but there's only one Vetements.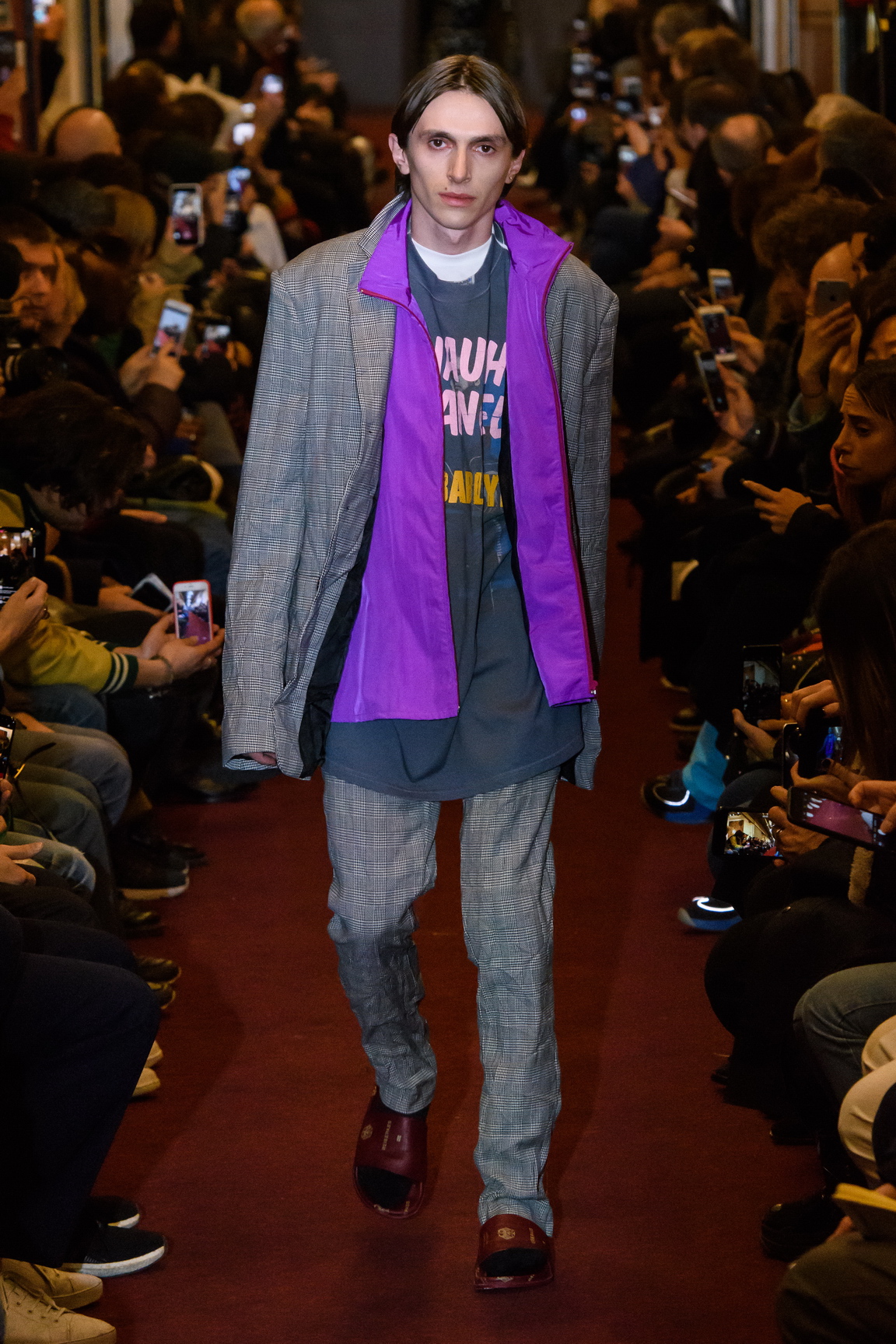 Located in the heart of the Puces de Paris Saint-Ouen -- far from the spectrum of expected show venues in central Paris -- Paul Bert Serpette is surrounded by ten or so markets, each an eclectic location offering antiques and it provided the perfect backdrop for Gvasalia's flea-market aesthetic. From our seat, we could peruse everything from gold jewellery to elaborate glassware, embellished mirrors to vintage trunks. The fashion set and Vetements hype fans were joined by a number of store owners who watched on from their for-sale mid-century furniture or peeked around their various wares. Given the location, there were echoes of Martine Rose's triumphant return for autumn/winter 17 but as the Balenciaga men's consultant celebrated her local community of Seven Sisters, Gvasalia celebrated the collage of curiosities that are markets themselves. Led by Lotta Volkova, Vetements felt like a frenetic sweep through subcultures and the history of fashion design. As goth gangs fused with granny-shoppers and practically everything in-between, the result was akin to discovering a forgotten series in Exactitudes.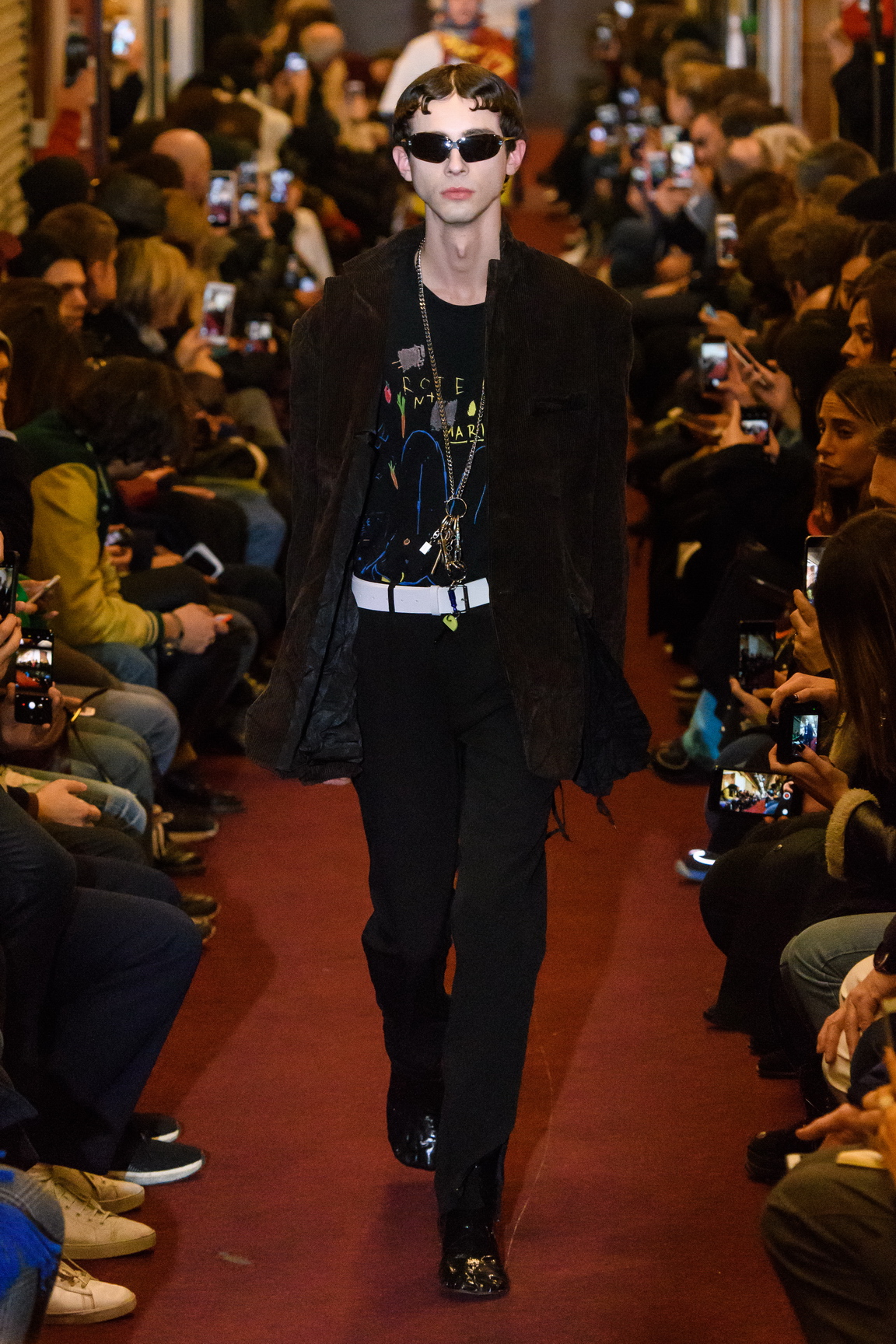 This tour de force of good/bad taste orbited around Maison Margiela, a house in which Gvasalia spent three formative years. "I went back to my roots as a designer, I went back to Margiela," the Georgian-born, Switzerland-based designer explained. "I wanted to show what Margiela means for me and for Vetements. What is it? It's an approach, it's not a person. It's a way of loving clothes, breaking the rules with those clothes. And that's what we did." Taking comments of copy-cat appropriation head on, Gvasalia called upon kindergarten children to doodle an 'Elephant in the room' sketch which adorned a T-shirt in the show. This was Vetements acknowledging the Margiela-shaped elephant on the catwalk, making it their own and turning it to something else entirely.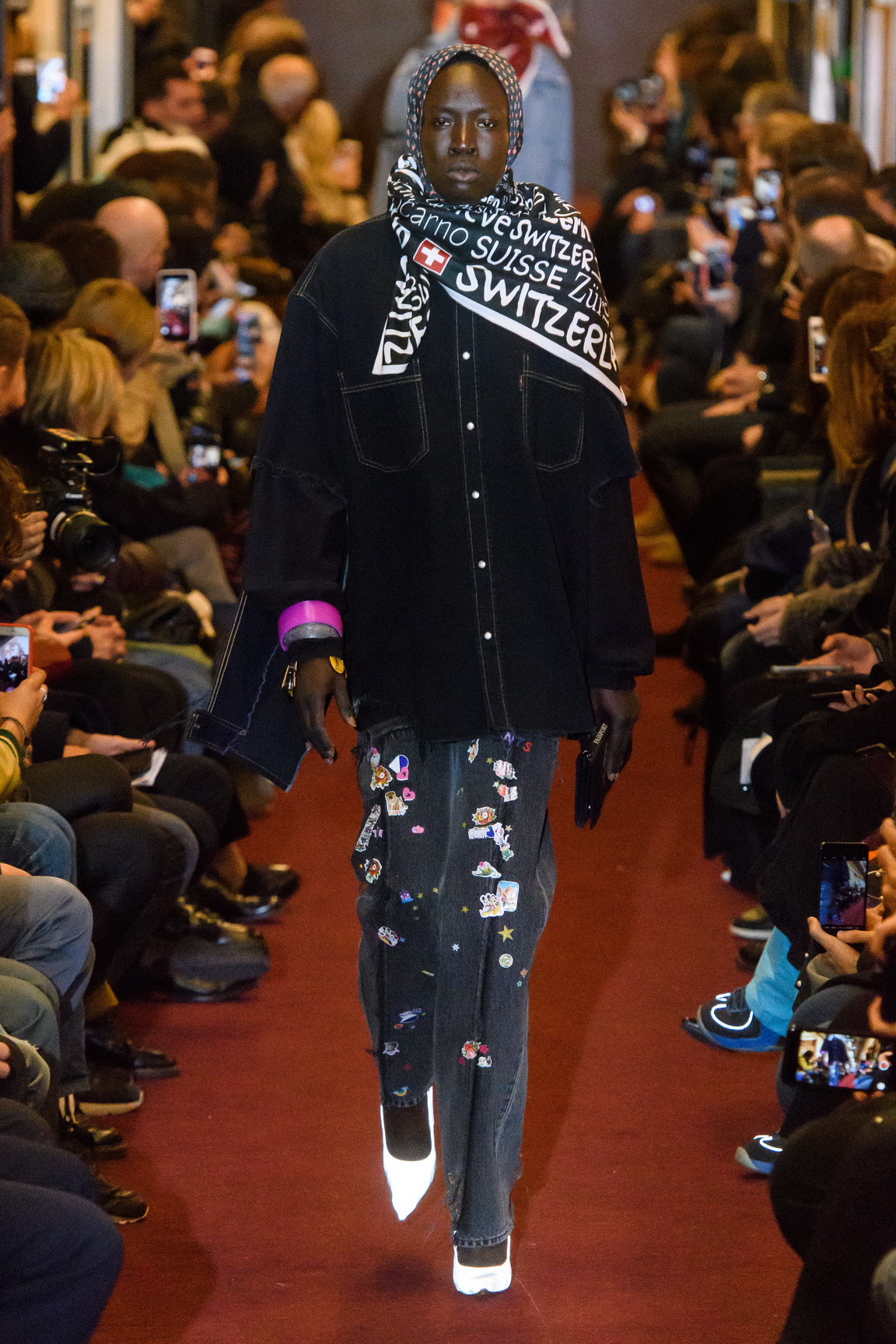 "Everything is an appropriation," Gvasalia explained. "We live in a world that is full of references, and references exist to feed us in order to create something new from them. That's the challenge I set for myself." From supercharged Buffalo boots (a collaboration with SWEAR) to Tabi-toed heels in lurex, Marilyn Manson merch to Swiss postcard scarfs, Vetements peered through an ever revolving kaleidoscope of influences, grounded them in this post-post-post modern world and then focussed on a more transparent, open, freer future.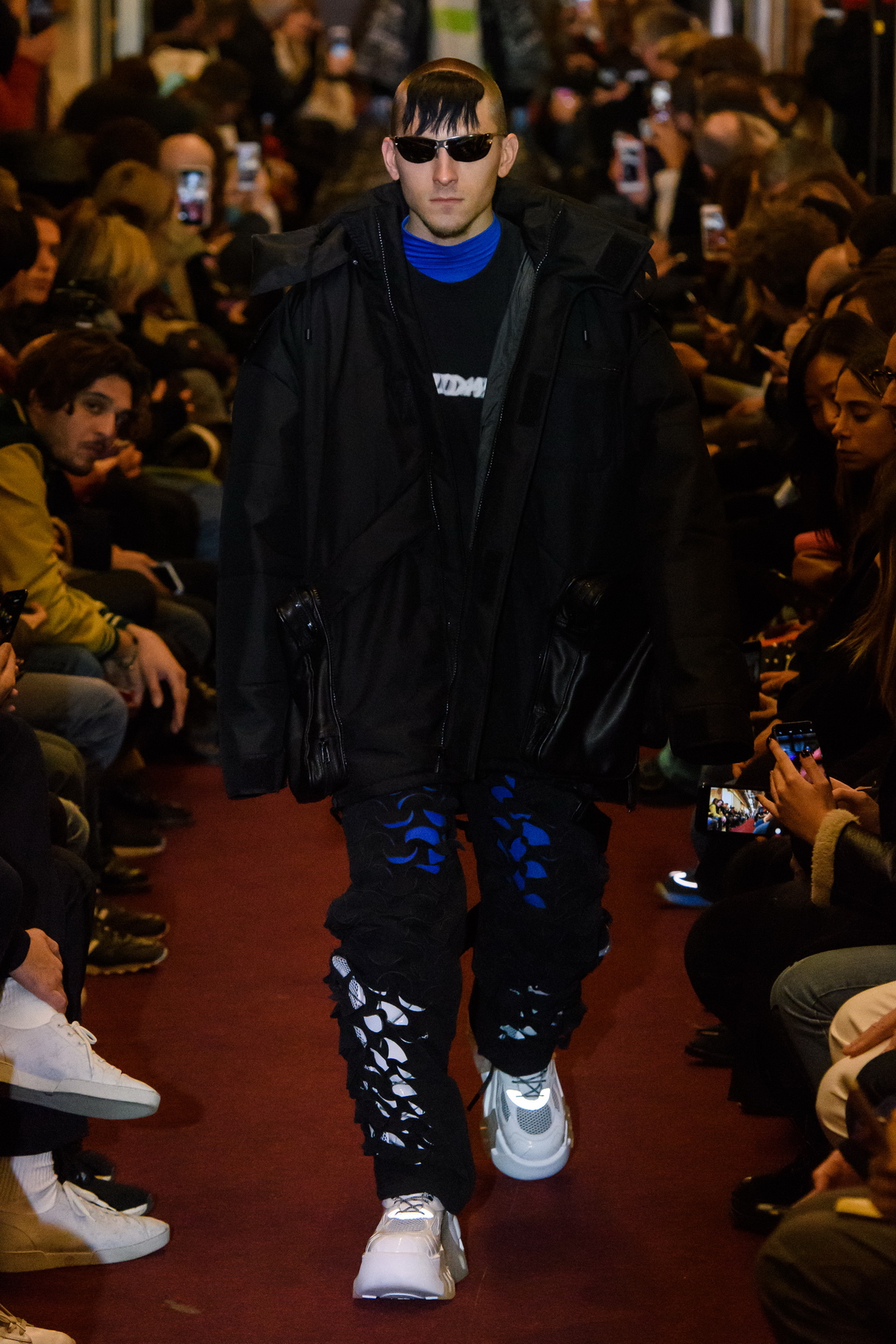 This article originally appeared on i-D UK.
Credits
---
Photography Mitchell Sams