per gotesson's new masculine stereotypes for fall/winter 18
The Swedish designer's debut solo presentation was a triumph.
This article was originally published by i-D UK.
This was Per Gotesson's first solo presentation, his first as a newly minted veteran of the MAN talent incubator. "It's been really quite scary," he said with a laugh, "but also very nice." At MAN Per created performative compositions that mixed sculpture with fashion. They were dedicated to simple yet evocative concepts like denim, shape, lycra, color. Stepping out at MAN can be a daunting, sink-or-swim time, but here he simply worked in refining the calm sensuality and casual functionality of his designs, rather than fruitlessly aiming to stake a claim in new territory.
He staged this presentation at Machine-A, with set design by Tony Hornecker. The small shop space was crammed full of crates and boxes and models. It was a play on the retail element of hosting the show in the shop, and also the utilitarianism of his work. Conceptually it was about, as Per explained, "things emerging". Literally -- with models spilling out and materialising from Per branded crates -- and metaphorically, in the way it talked the dichotomy of under/outerwear.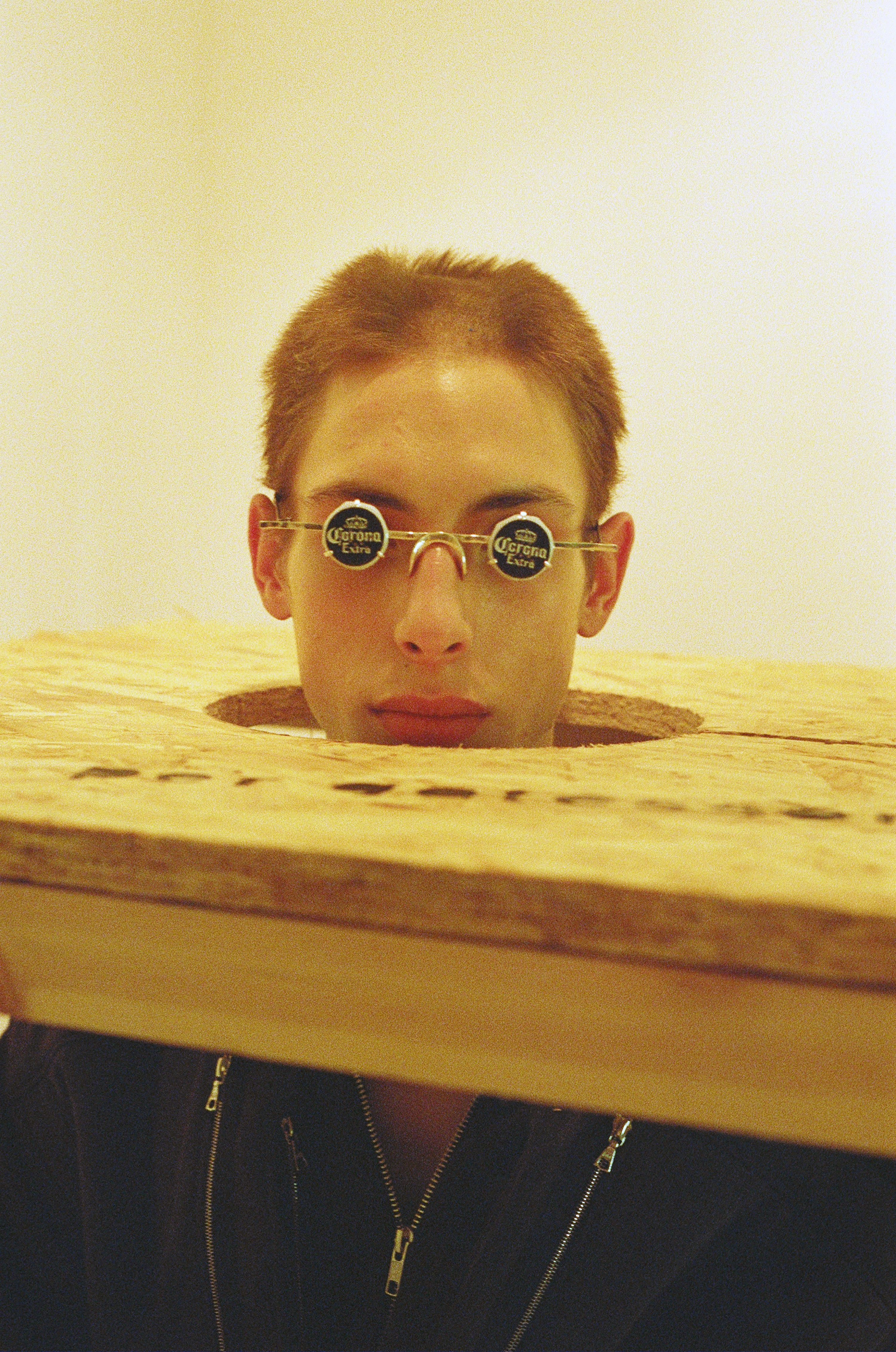 "This was about making a wardrobe for a man," he continued. "I was thinking about the things I like to wear and creating very stereotypical men's pieces. I was looking at army vests and utility wear, but also jeans and denims. It was important to juxtapose that with something more sensual, with lycra tights. I know a lot of guys like to — and I do, too — walk around in them at home. I thought it was a nice proposal to combine those two elements. It's a focus on underwear and outerwear, but also suggesting the underwear as a kind of garment."
One of the most striking elements came from Per's continued collaboration with Husam El Odeh, who crafted a headpiece out of champagne wires and a chainmail vest out of bottle caps. This kind of fantastical functionalism, finding little pockets of the sublime in the quotidian stuff of everyday life, stands as a neat emblem for Per's M.O.