sock-crocs are summer's answer to dad sneakers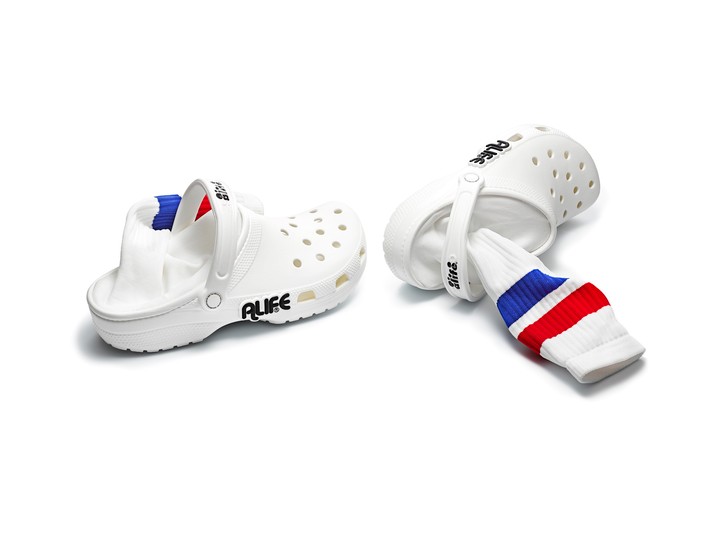 Another day, another fugly hybrid sandal descending on summer to snatch your beer money. This one's courtesy of Crocs and lifestyle concept brand Alife. If you thought it was just a white Croc with a tube sock glued into it, you'd be correct. If you thought it was a surprisingly chic summer update on dad sneakers, you'd also be correct. The Crocs x Alife "Sport" ($140) is a nod to the socks-and-slides look prevalent throughout New York City neighborhoods, according a press release.
The sock-and-Croc isn't all that's on offer from this collaboration. The NYC-centric capsule also includes a classic grey clog, featuring the oversized Alife logo, for $80. And the undeniable crème de la Croc: a clog studded with intricate 3D Jibbitz depicting iconic New York landmarks, such as the Statue of Liberty, the Unisphere, and the Brooklyn Bridge. Those bad boys will set you back a whopping $600, which is probably why those bridge Jibbitz is shown spanning both shoes so as to make them very non-functional: because art.
"Crocs's iconic clog has made a global impact, not only because of its unique design, but because it serves a functional purpose. At Alife, these are the brands that we strive to work with," said Rob Cristofaro, founder and creative director of Alife. "The clog is a fashion misfit, which is why I think our collaboration points out that doing something you love is more important than following the latest trends."
This is hardly Crocs's first fashion rodeo. The brand has also shown up on the runways of Christopher Kane and Balenciaga, and in many a fashion week FROW. Kane's latest Swiftwater Sandals, by the way, look pretty badass paired with stockings.
The Crocs x Alife collection will be available at Alife's website and Rivington Club on June 14, 2018.