watch the trailer for crystal moselle's sundance hit about an all-girl skate crew
'Skate Kitchen' stars Jaden Smith and a real-life crew of NYC sk8er girls.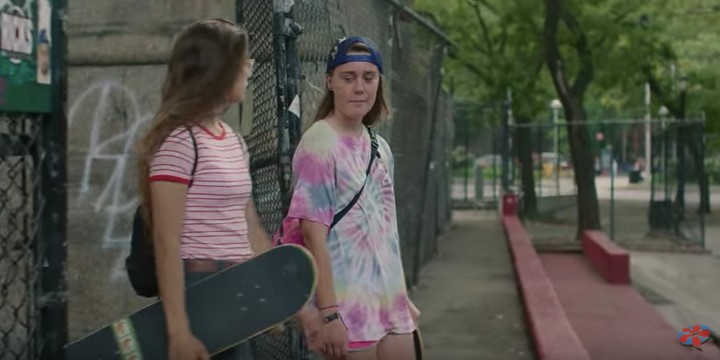 Still via YouTube
"It's going to start a skating epidemic," Jaden Smith said of Crystal Moselle's first narrative feature, about an all-female crew of skateboarders. Smith also appears in Skate Kitchen — as a mysterious maroon-haired Sk8er Boi who threatens to split up the girl squad — but his glowing review isn't exactly off. Judging by the enchanting first trailer for Skate Kitchen, Moselle could be responsible for quite an uptick in rookie skaters (and busted knees) when the film hits screens later this summer.
Rachelle Vinberg is particularly magnetic in the role of Camille, the introverted Long Island teen at the center of Moselle's film. Skate Kitchen is based on Vinberg's IRL experience of coming to New York City and falling in with an all-girl skate crew. Prior to filming, Moselle fully immersed herself in the teens' lives, and even cast them in a 2016 Miu Miu short before embarking on her feature film. Camille goes through the usual teen rites of passage — fighting with her mom, making new friends, and almost fucking it all up for a love interest with Manic Panic hair. But the most spellbinding aspects of the film aren't plot-driven at all. It's Camille and her crew simply existing in a traditionally bro-dominated space, and Moselle's own gritty yet ethereal shooting style. Mix in some spectacular skate sequences and set it to Princess Nokia's brawny summer banger "Kitana," and you've got all the makings of a coming-of-age classic.
See Skate Kitchen in theaters from August 10, 2018.