Photography Lucy Alec Mac
Art direction Matty Bovan and Rory Mullen
Styling and garments made by Matty Bovan
Objects, masks and Breadman Rory Mullen,
Research Gregory Harper
Make-up Charlie Murray
Matty Bovan's new zine is all about heaven and hell and mead
Shot by Dexter Lander and Lucy Alex Mac, the trio discuss their new print project.
Photography Lucy Alec Mac
Art direction Matty Bovan and Rory Mullen
Styling and garments made by Matty Bovan
Objects, masks and Breadman Rory Mullen,
Research Gregory Harper
Make-up Charlie Murray
Have you ever seen a man totally covered in bread? A fabulous crown made of spaghetti and glue? Did you ever get so messed up on mead you hit your mate with a stick? Hid in a bush and covered yourself in tulips? Well all this and more can be found inside Matty Bovan's wonderful new zine, NEED4MEAD.

Matty Bovan is of course one of the UK's most fantastically creative young designers; builder of a world full of fanciful homemade creations. In NEED4MEAD he's turning that towards something crafty, poetic and jolly. Shot by Dexter Lander and Lucy Alec Mac in York, Hartlepool and Manchester, NEED4MEAD is a trippy and surreal make-do-and-mend Divine Comedy. It's a journey through heaven and hell and purgatory. A celebration of bread and mead and folklore, and full of good weird northern fun. We asked Matty, Dexter and Lucy to tell us more…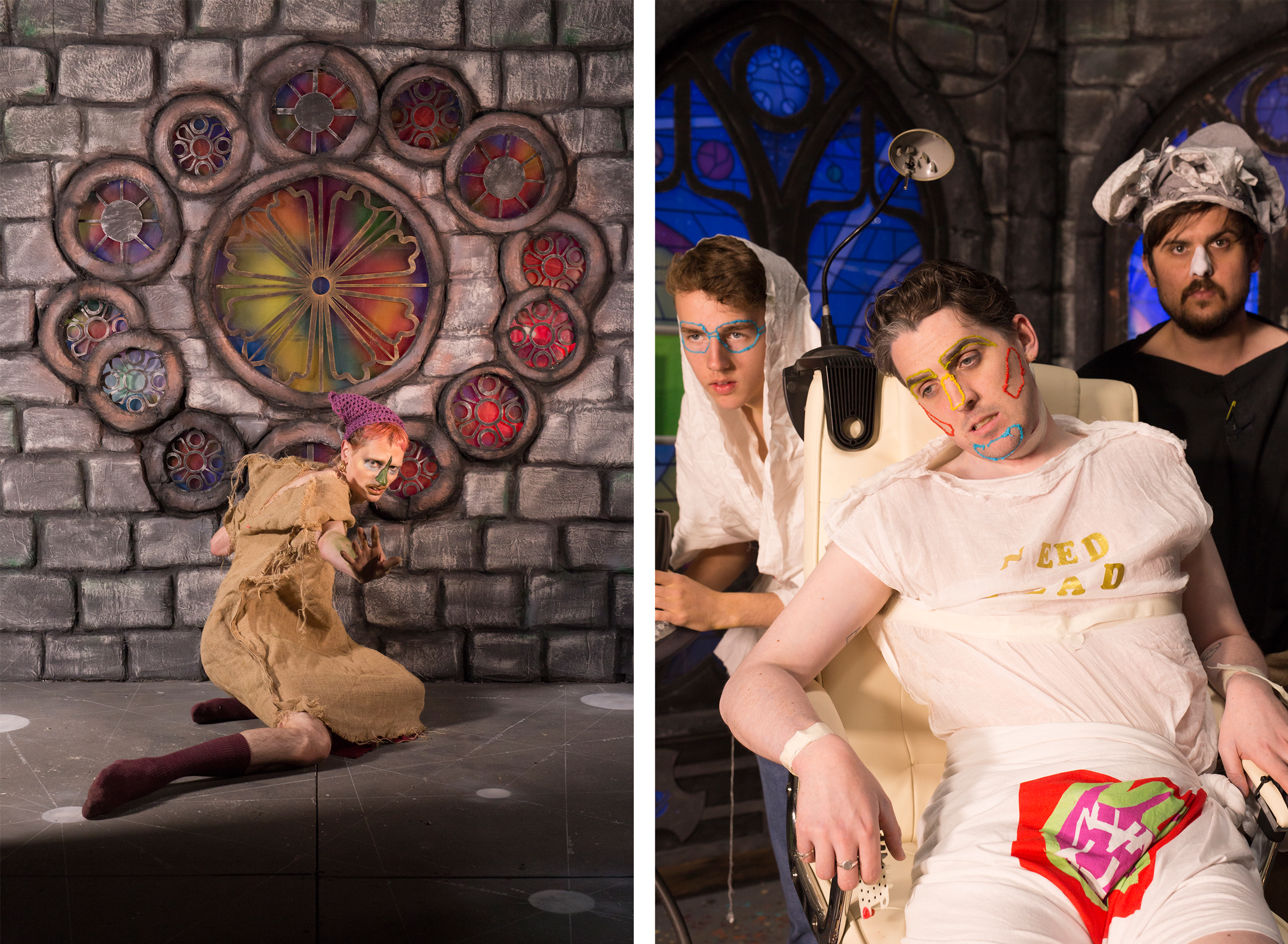 "It's so important for me to be able to showcase this narrative through the medium of print. People are so used to consuming images through their phones and on Instagram, so to have the images this extra-large scale that people can see and touch on real paper in the flesh feels luxurious. I really wanted to shoot in the north of England in locations that feel dynamic and personal to me and the cast, it felt really like a family environment over the five days we shot the zine, and was really joyous and inspiring." Matty Bovan
"Me and Matty had discussed working together on a project for a long time and had thrown back and forth a lot of exciting ideas and references. I loved how textural and chaotic some of these ideas were, they had such a strong sense of character, costume and setting. It was such an organic way of working, Matty and Rory whipping up props or creating costumes on the spot. I'm excited for people to see the finished publication, the sheer size of it really captures the energy of what Matty, Lucy and I set out to do with the project!" Dexter Lander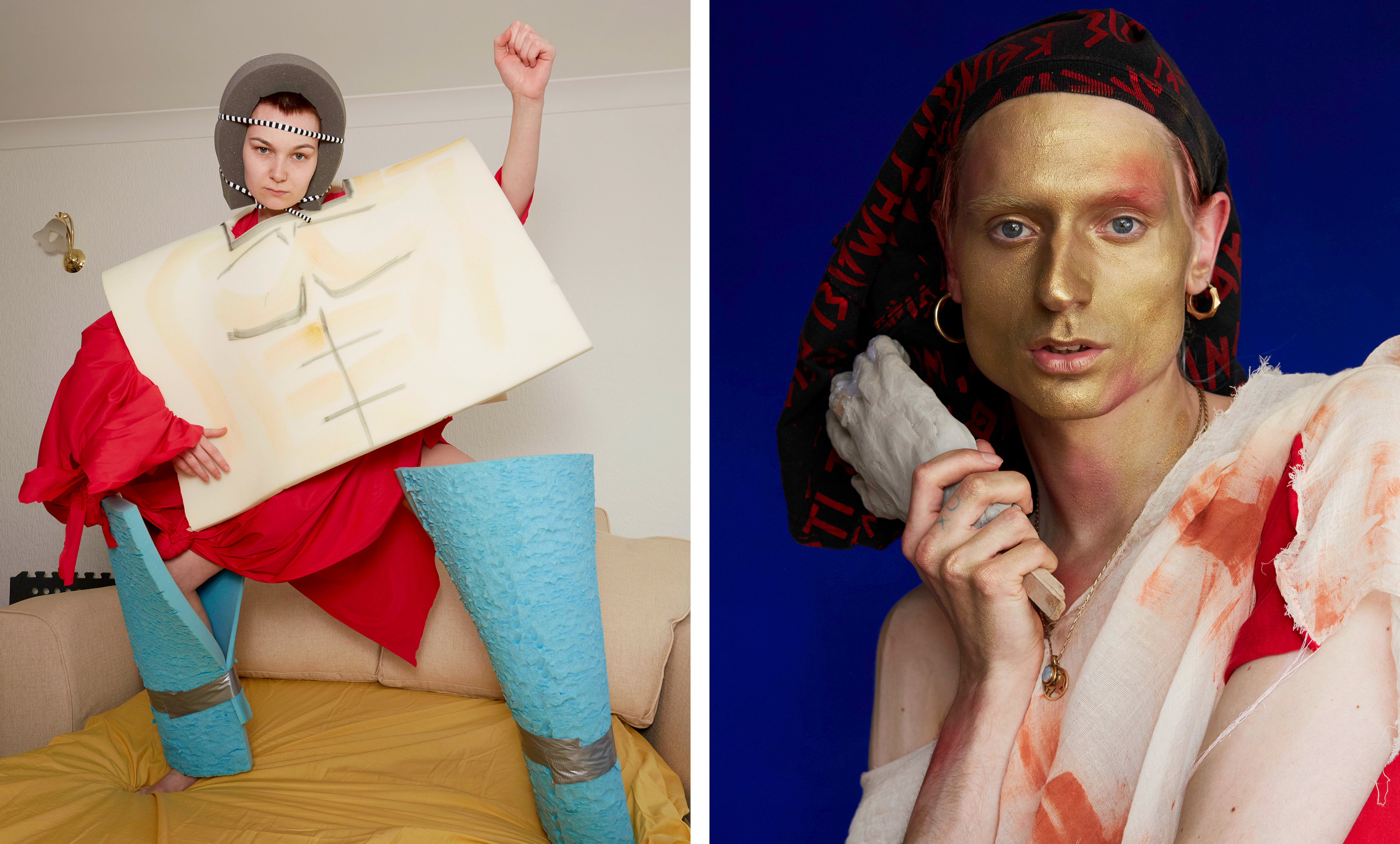 "I'm so used to collaborating with Matty now that we're quite intuitive with each other and what we want. Though our tastes can be quite different, I think when we combine forces it makes for something really interesting. We push each other in different ways and would rather try something out and fail than not try it at all. Being such good friends definitely makes it easier to say if we don't like how things are looking or the direction they're taking.
I love the freedom of our shoots -- for this one we got in the car and drove around where I grew up, just stopping anywhere that we thought could make for a good shot. Having the freedom to just drive around with creative and fun people without a plan is probably my favourite way of working, and I think that comes across in the zine. I think there's a lot to be said for making the most of what's around you, and playing with scenarios until you get the shot that excites you. Wrapping Matty head to toe in cheap white bread, covering him in plastic so my car wouldn't get totally ruined whilst we drove to our location, then trying to bundle him over a fence into a park like an oversized newborn was one of the funniest things I've ever witnessed. Shoots with Matty are always my favourite!" Lucy Alex Mac