everything you need to know about last night's billboard awards
Mainly: Tyra Banks living her best life.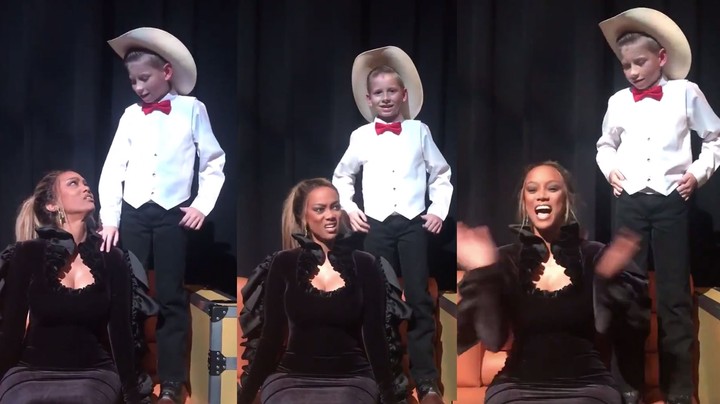 It was the Billboard Music Awards last night. And look, we get it. Between the Grammy's, the VMAs, the EMAs, the MTVMAs and the AOIUFFSAFOJMAs, it's hard to keep track of all the award ceremonies. It's even harder to keep up with everything that happens in them. But all you need to know is: lots of famous people attend, the internet sits at home making memes about it for Twitter, and everything else on this list below.

Ariana Grande opened the show with a very waterproof performance of No Tears Left To Cry
The pop titan obviously nailed her performance of No Tears Left To Cry, the indisputable song of the summer. Paradoxically she was flanked by umbrellas. Unfortunately the full video was removed due to copyright reasons, so in the meantime please enjoy the above video of a screen.
The awards' host Kelly Clarkson demanded gun control reform in her opening monologue
This followed the attack at Santa Fe High School in which 10 people were killed. "I'm a Texas girl and my home state has had so much heartbreak over this past year. And once again we're grieving for more kids that have died for no reason at all." She continued, "[Billboard] wanted me to do a moment of silence, and I'm so sick of moments of silence. It's not working. So why don't we not do a moment of silence, why don't we do a moment of action, a moment of change."
Ed Sheeran is The Top Artist right now, apparently
In what was probably an attempt to distract from the other famous British red head clogging the headlines, Billboard gifted Ed Sheeran the esteemed award for Top Artist. Over Kendrick. Over Drake. (And also over Taylor Swift and Bruno Mars). All round, a good day for gingers.
He also won the Top Male Artist
Well duh.


Taylor Swift won Best Female Artist
Taking a break from Instagramming her international stadium tour, Taylor popped in to pick up her award, which should have gone to Cardi B, if we're honest. In other Tay Tay news, Earth, Wind & Fire's September co-writer described Taylor's recent cover of it as "lethargic as a drunk turtle dozing under a sunflower after ingesting a bottle of valium." Write that on my tombstone.
Tyra Banks was living her best life
She popped up on Taylor's Instagram, she popped up on the red carpet with a smize to launch a thousand more cycles of ANTM, she popped up yodelling next to the yodel boy.
Janet Jackson, Salt N Pepa and Jennifer Lopez all performed because it is actually the 90s
It was the 30th anniversary of Salt N Pepa becoming the first female rap act to land on the Billboard Hot 100 Top 40. To celebrate, we were blessed with a medley of Shoop, Let's Talk About Sex, Push It and Whatta Man, the latter complete with an appearance from En Vogue. Whatta show. Janet Jackson performed for the first time in nine years(!) and also received an Icon award, making her the first black woman ever to do so. Or as we refer to it here, an i-Con award. In her speech, she praised the #MeToo movement, saying "It's a moment that, at long last, women have made it clear that we will no longer be controlled, manipulated, or abused."
Jenny from the block unfortunately didn't play her namesake banger, but she did pop up with Khaled for their collaboration, Dinero. Cardi B, the track's other feature, unfortunately wasn't there in person (they put a video of her rapping on the screens instead). But that's ok because she's busy on Instagram dancing, being pregnant and announcing that the video for Be Careful is coming tomorrow. Never change, Cardi.
Annnndd Chrissy Teigan won twitter.