the 10 most powerful moments from the royal wedding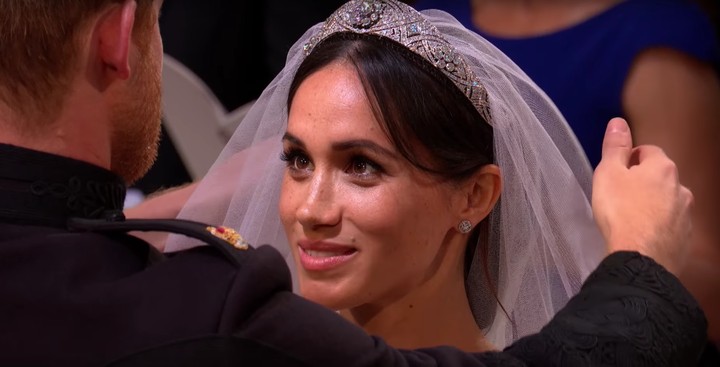 Royal weddings will come and go, and we'll forget them as time passes and they become nothing more than decorative plates and faded tea towels in our mum's house, but it's safe to say that Meghan and Harry's will be one for the ages. It had everything: Celebrity guests (David Beckham looking fancy with an F)! Whispered declarations of love! Dramatic, long sermons and uncomfortable elderly guests probably gasping for a wee! Outfit changes!
Honestly, it was probably too much for us all to take in so early on a hazy Saturday morning. Luckily for you, we've compiled the most powerful, memorable, meme-able, beautiful moments from the wedding of the century, so we can all relive it all over again. Send this to your mum and see if she cries.
1. Harry's dubious whispers

OK, did he say "I'm shitting it?" like most of the 'Harry-is-still-a-massive-banter-lad' British audience wanted to believe, or "I'm so lucky" like the slightly sappier Americans chose to see? Either way, the eternal bachelor prince looked overwhelmed when he saw Meghan stroll resplendent up the aisle, and remembered to tell her that she looked amazing. And in fairness, she did look amazing.
This moment made me irrationally angry at my boyfriend and I don't know why.
2. Bishop Michael Curry's emotional sermon blew everyone away
I don't know about you but, in my experience, sermons in general are incredibly dull affairs. There are some parables and a sprinkling of awkward jokes and everyone kind of lets their eyes glaze over and stares at other guests' hats, thinking wistfully of canapes. But then again maybe that's just because I've never been to a wedding where Bishop Michael Curry was giving the sermon.
Breaking with tradition, the first African-American leader of the US Episcopal Church gave a rousing speech which expounded on love, fire and civil rights. Reading from an iPad, smiling and seemingly totally off-script, Bishop Curry's sermon was incredibly moving -- and retrospectively hilarious when you try to imagine what the queen and the other old school royals thought of it.
3. The littlest royals stole the show
I can't be the only person who was itching to see what little sasspot Prince George was going to pull at the wedding, but he was upstaged by baby sister Charlotte, who stuck her tongue out and waved lacklusterly at the crowd, in a way that had millions muttering "same, honestly". She was joined by equally cute posh rascal baby Brian Mulroney, the gap toothed pageboy who grinned excitedly behind Meghan as she walked down the aisle.
We're sure Harry, who after all, is well known for his childhood escapades with photographers, would be proud.
4. Doria Ragland was overcome with emotion
All mothers surely get choked up at their daughters wedding, but for Meghan's mum Doria Ragland, the sentiment was all the more powerful. Sitting alone behind the bride and groom, the only member of Meghan's family to attend, she exuded pride and dignity and seemed overcome with emotion as she watched her daughter become a bonafide princess. We're getting teary just thinking about it now.
5. There were some serious fairytale moments
Although this was probably the most diverse, modern royal wedding in history, that's not to say it didn't come with some old-school, Cinderella-esque moments. From Meghan and Harry's smiling bashful looks during the vows to the beautiful photos of them taken from above that show them clasping their hands together the whole way from the Church, the whole thing reeked of happily ever after.
6. Sheku Kanneh-Mason's powerful cello performance
When Sheku Kanneh-Mason appeared on Britain's Got Talent in 2015, he surely couldn't have imagined that just three years later he would find hmself performing, not just for the Queen and the royal family, but millions of people around the world. But if the 19-year-old was daunted by the task, he certainly didn't show it.
Sheku, who was named BBC Young Musician of the Year in 2016, was asked to perform at the event, after Harry and Meghan heard him playing in June last year.
"I said yes immediately", he told People. "It was such a surprise and such an honour. It was really exciting for [Elton John] to hear me play." But, not as exciting, he adds, as David Beckham.
7. Britain got a taste of American wedding entertainment
Stereotypical British wedding entertainment: A guy your dad calls 'Uncle Tony' but who isn't really your uncle has roped in his tribute band to play some dodgy Ed Sheeran covers while the couple does the first dance. A DJ -- who is also called Tony, no relation -- plays ABBA classics and Dancing in the Moonlight by Toploader late into the night. There are vol au vents.
Stereotypical American wedding entertainment: A gospel choir sings a beautiful rendition of "Stand By Me" and there's not a dry eye in the crowds, even in the cheap seats.
Well look, okay, The Kingdom Choir, who provided the beautiful arrangement, aren't actually American. In fact they're a Christian gospel group based in the South East of England. But the sound they evoked was so different to the typical stuffy choral music we've come to expect from royal affairs that it could have come from Mars.
According to Kensington Palace: "The Choir is made up of a group of British artists dedicated to creating a sound that demonstrates the community they share, and has been performing both nationally and internationally for over 20 years."
8. The guests turned out some great looks
As mentioned previously, and most importantly, obviously David Beckham looked like a snack. But he wasn't the only one. Serena Williams, Amal and George Clooney, Oprah Winfrey, Elton John in signature low-key specs, Priyanka Chopra – everyone looked amazing. The most impressive guest, of course, was Meghan's rescue dog, Guy the Beagle, who rode to Windsor in the Queen's car because he is the most important.
The only thing missing were the hats. Where, Beatrice and Eugenie, where were the hats?!
9. But obviously, nobody managed to outshine the bride
Let's be honest, we all tuned into the royal wedding for one thing. It wasn't to celebrate the monarchy or true love or just to have an excuse to drink Pimms and eat Victoria sponge before midday on a Saturday. It was too see the dress.
After months of rumours even up to the very moment where she got out of the car, the newly appointed Duchess of Sussex (fun!) didn't disappoint. Looking the pinnacle of a modern princess in a pure white Givenchy gown designed by Clare Waight Keller, Meghan nailed it.
The dress was finished off with a veil of epic proportions; reminiscent of the luxe, super-80's train of Princess Diana's wedding dress, it was finished with an embroidered flower from every country of the Commonwealth (53, altogether).
"A lot of the work she's going to probably do in the future is going to be connected to the Commonwealth", Clare Waight Keller told Reuters. "And I said, 'Wouldn't it be amazing if we took the 53 countries of the Commonwealth and embroidered a flower and some flora and fauna from each one of those and they would go up the aisle, that journey up the aisle with you'."
10. This wasn't just a royal wedding; this was a sustainable royal wedding
What better way to jet off from your fairytale wedding and into your beautiful newlywed life together than in a fully electric -- but still chic -- Jaguar, in a beautiful gown made by sustainable designer Stella McCartney? This is how you nail your exit, royal style.
Good luck kids, we ship this royal wedding.