halima aden makes history in her burkini on the cover of 'sports illustrated'
The Somali-American model is the first to wear a full-body swimsuit and hijab on the cover of the magazine's swimsuit issue.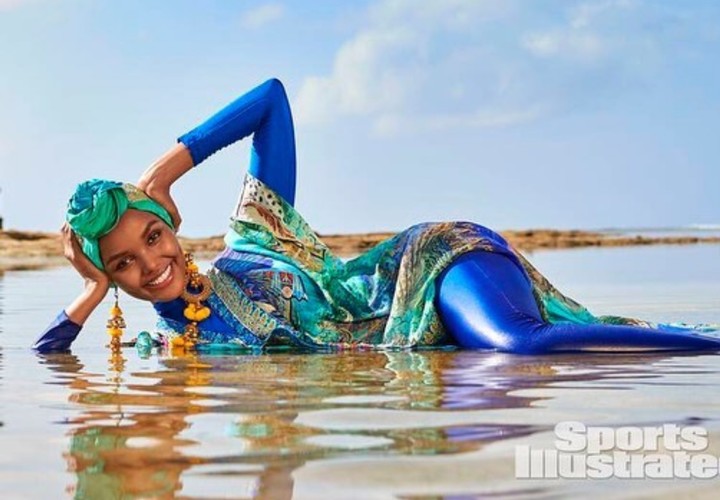 Image via Instagram.
Model Halima Aden might only be 21 years old, but she has no problem making history. In 2016, she was the first Miss Minnesota USA contestant to take the stage in a burkini. In 2017, she became the first model to wear a hijab on a major international runway when she walked in Yeezy Season 5, and now she is adding another history-making moment to her list, as Sport Illustrated announces that the Somali-American model is the first to wear a burkini and hijab on the cover the magazine's annual swimsuit issue.
"Being in Sports Illustrated is so much bigger than me. It's sending a message to my community and the world that women of all different backgrounds, looks, upbringings... can stand together and be celebrated," Aden wrote on Instagram.
The cover shoot for the issue, which is known for its bikini-clad models, features Aden in a bright blue full-body swimsuit on Watamu Beach in Kenya. Aden returned to her birth country for the groundbreaking shoot, which was photographed by Yu Tsai. The international model and activist lived at the Kakuma Refugee Camp until relocating to the US at age seven.
"I keep thinking [back] to six-year-old me who, in this same country, was in a refugee camp," Halima told Sports Illustrated. "So to grow up to live the American dream [and] to come back to Kenya and shoot for SI in the most beautiful parts of Kenya–I don't think that's a story that anybody could make up."
Aden has been a pioneer for modest Muslim women in the fashion industry and has paved the way for other models like i-D's latest cover star Ugbad Abdi.
"Before Halima, I just assumed there was no place for the hijab in the fashion industry," Ugbad told i-D. "I have now realised that Muslim women can be anything we want to be."