Photo by Ron Galella, Ltd./Ron Galella Collection via Getty Images.
7 of Winona Ryder's most iconic outfits
The coolest girl of the 90s is as known for her goth-y fits as her prim courthouse attire.
Photo by Ron Galella, Ltd./Ron Galella Collection via Getty Images.
Winona Ryder is, hands down, one of the coolest girls of the 90s -- or at least one of the most enigmatic. Throughout her early career, Ryder distinguished herself from the rest of the 90s starlets with her predilection for playing freaks, geeks and weirdos, while also displaying some majorly impressive acting chops in more mainstream, dramatic roles. As an actress, she masterfully inhabits the middle ground between cult movie icon and acclaimed lead actress, starring in roles as varied as Beetlejuice's goth-y Lydia Deetz and Heathers' nihilistic, homicidal Veronica Sawyer to Little Women's brainy Jo March and socialite May Welland in Martin Scorsese's The Age of Innocence. At the height of her career -- and perhaps spurred by her involvement in the film Girl, Interrupted -- Winona was extremely, and unprecedentedly for an actress of her calibre, candid about her mental health struggles. Although some of these personal difficulties, and an intensely scrutinized court trial, briefly derailed her career in the early 00s, Winona reemerged, as "strange and unusual" as she ever was (and as we love her) to star in a new string of cult classics including Netflix's massively popular Stranger Things and tongue-in-cheek rom-com Destination Wedding, alongside fellow 90s heartthrob (and partner in marriage?) Keanu Reeves. Here, in honor of the perennially-iconic star, we chart some of Ryder's career-defining looks.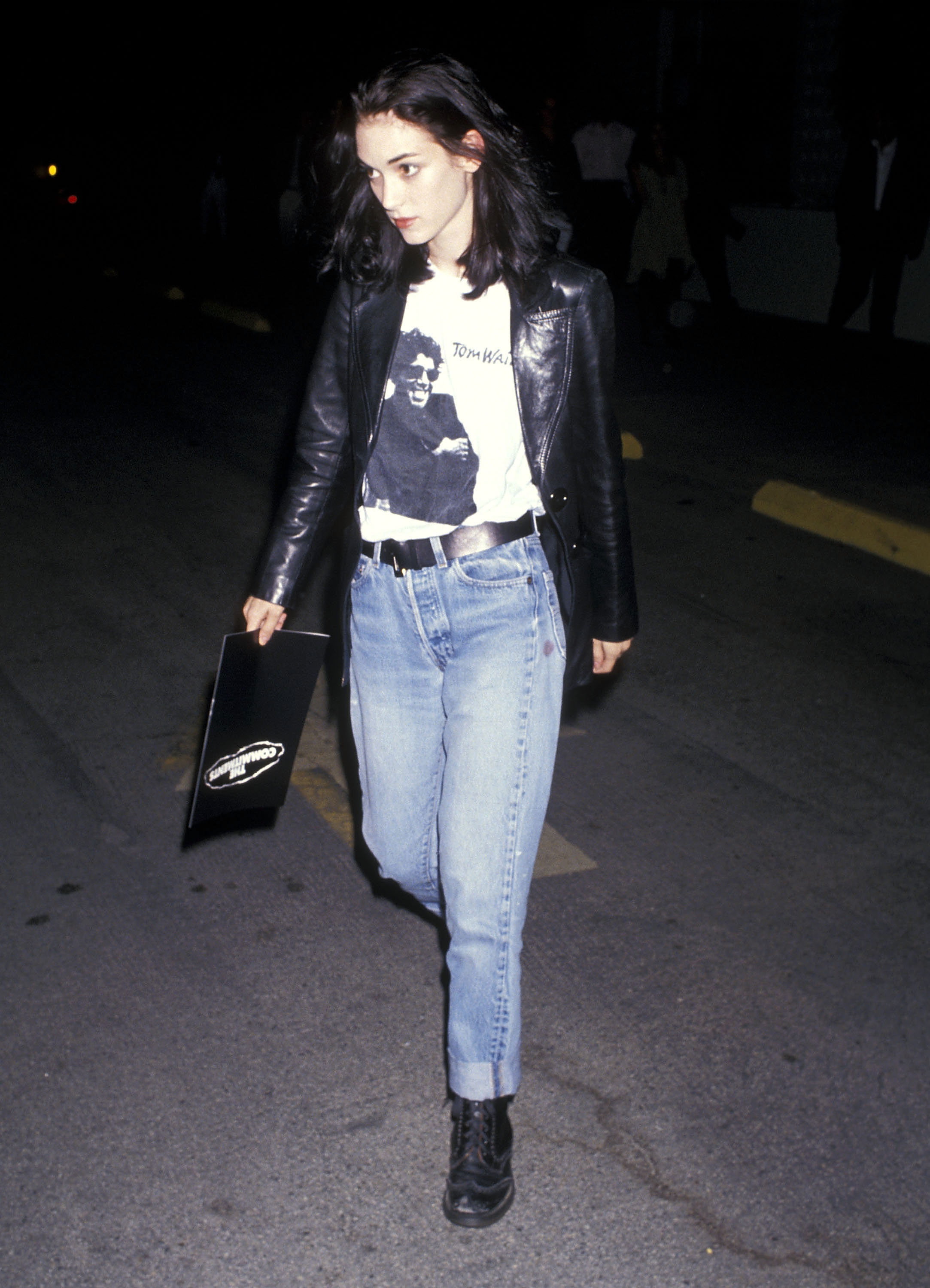 At The Commitments premiere, 1991
No need for an introduction of elaboration. This outfit, which Ryder wore to the premiere of 1991 musical comedy-drama The Commitments, is, without a doubt, one of the most iconic looks of the 90s. You've probably seen the fit on multiple occasions, from moodboards of the Tumblr-era to your current Instagram feed. The combo of an old band T-shirt, lapelled leather jacket and light-wash mom jeans is as timeless -- and timelessly covetable -- as they come. Case in point: Winona continues to wear this Tom Waits T-shirt, to this day, last wearing it during the 2018 press junket for Destination Wedding, alongside Keanu Reeves.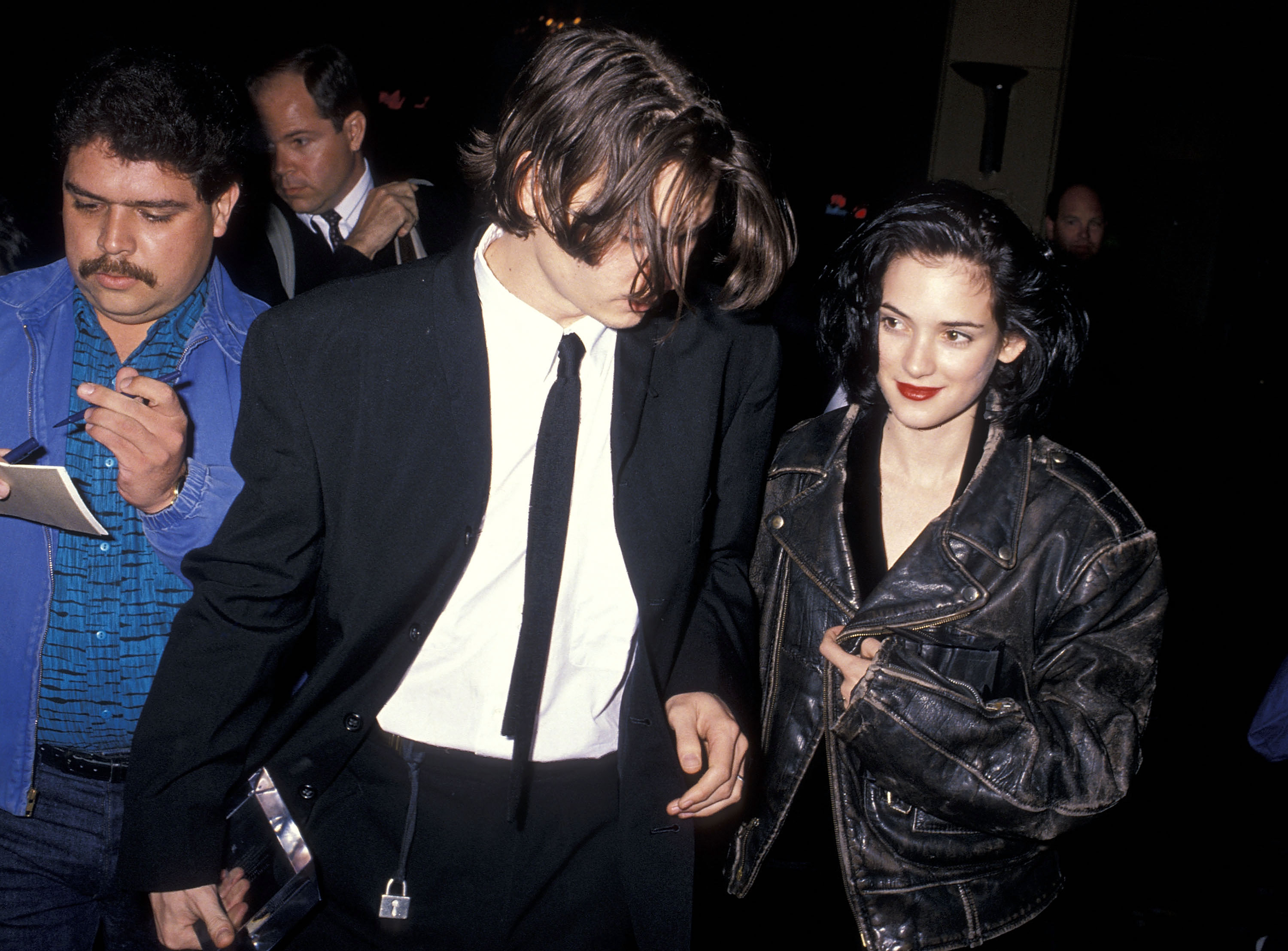 With Johnny Depp, 1990
From the years of 1989 to 1993, Winona Ryder, with Edward Scissorhands co-star Johnny Depp, was one half of the 90s coolest Hollywood couple. The duo drew massive media scrutiny, both for their A-lister statuses and oddball reputations. Her "first everything", Depp and Winona were engaged for three years, with Depp famously immortalizing the relationship in ink. Well, kind of. After their 1993 break-up, Depp amended his "Winona Forever" to "Wino Forever." Here, with Johnny, Winona wears an oversized and much-worn leather jacket. While leather is par for the course when it comes to Winona's wardrobe, the biker jacket looks like it could have been nicked from Johnny's. Ahh, young love.
At the Backdraft Beverly Hills premiere, 1991
During the 90s, Winona loved a power suit moment. She wore a sumptuous brown suit to the premiere of Little Man Tate in 1991, this skirted number on an early-90s red carpet, and who could forget her outrageous 80s shouldered blazers as Veronica Sawyer in cult classic Heathers? Even post-90s, Winona is a huge arbiter of red carpet suiting, going as far as wearing a deconstructed blazer over an entire ballgown to 2020's SAG Awards. Within the annals of Winona Ryder's many suits, this iteration of the look, which she wore to the Backdraft premiere in 1991, stands out for its monochromatic palette and serious late-80s proportions.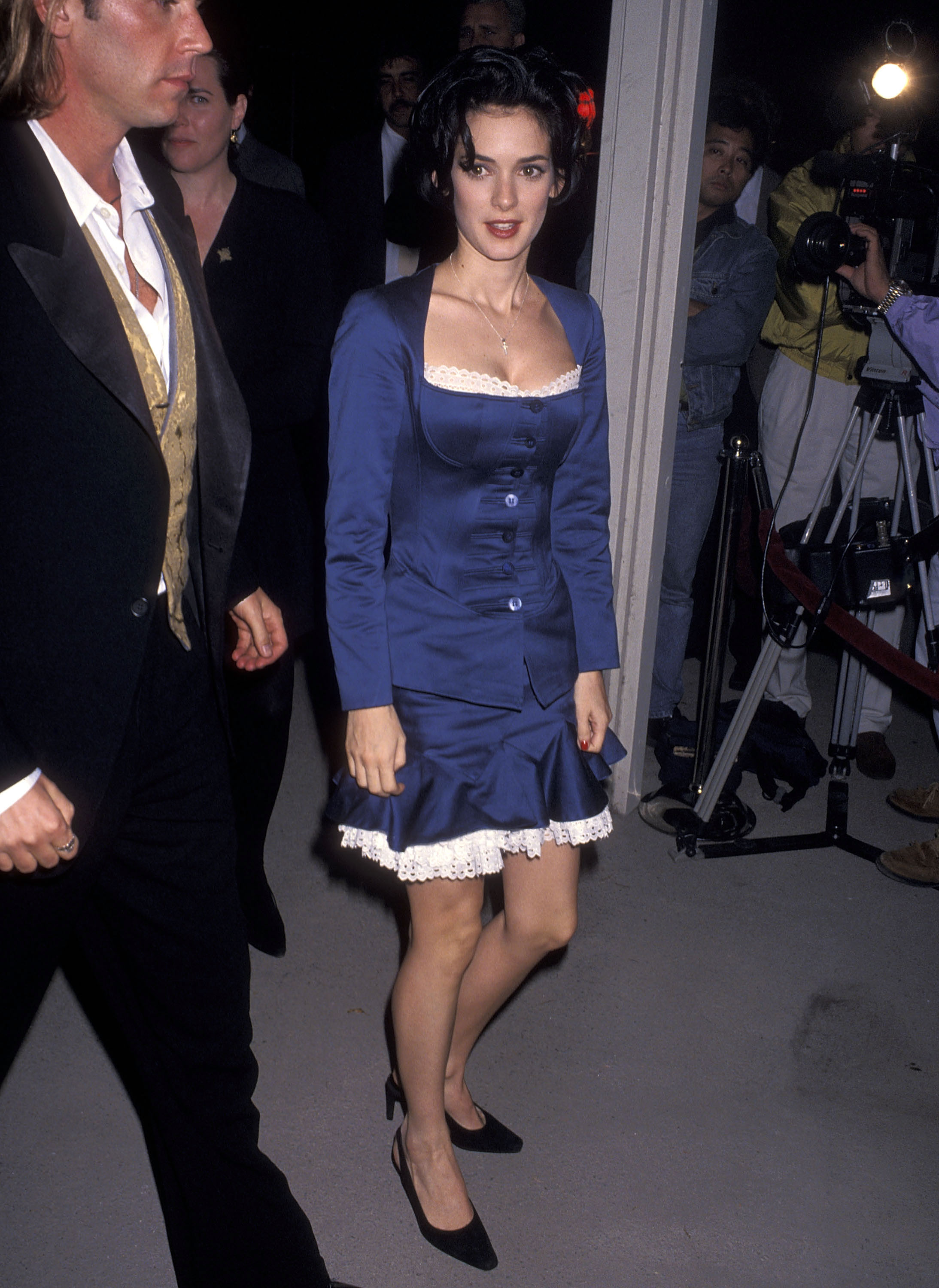 Attends the Dracula premiere, 1992
Did you know that Winona Ryder may, in fact, be married to fellow 90s heartthrob Keanu Reeves? Apparently, the duo may have tied the knot for real during an incredibly realistically staged wedding scene -- officiated by a real Romanian priest -- in Francis Ford Coppola's Dracula. Whether this tidbit -- shared during Ryder and Reeves' press junket for their rom-com Destination Wedding -- is actually fact or fiction, it's undeniable that Ryder's Dracula premiere look is one of her most iconic. Combining the best of the 80s (Heathers shoulders and square neckline) with that of the 90s (skirt suit and Manolo pumps), Ryder's outfit diverged from her favored achromatic get-ups for a look as romantic as the film itself.
At the 66th Annual Academy Awards, 1994
Picture Winona Ryder and you probably imagine her wearing all-black, with some degree of leather and a severe red lip. Winona was notorious for her goth-y attire, which is why it's probably surprising that, on the red carpet of The Academy Awards, film's most important and most-documented night, the actress frequently chose much lighter, airier looks. Due to her leading lady status and serious acting chops, Winona was a frequent attendee to the event, and was nominated twice for roles in Little Women and The Age of Innocence. Here, for the 66th edition of the awards she wears a heavenly off-white beaded number with flapper-esque fringed skirt and soft shawl. Two years later, she wore a similar beaded number -- and took the 20s theme even further -- in a bustier-ed gown with immaculate finger-waved 'do.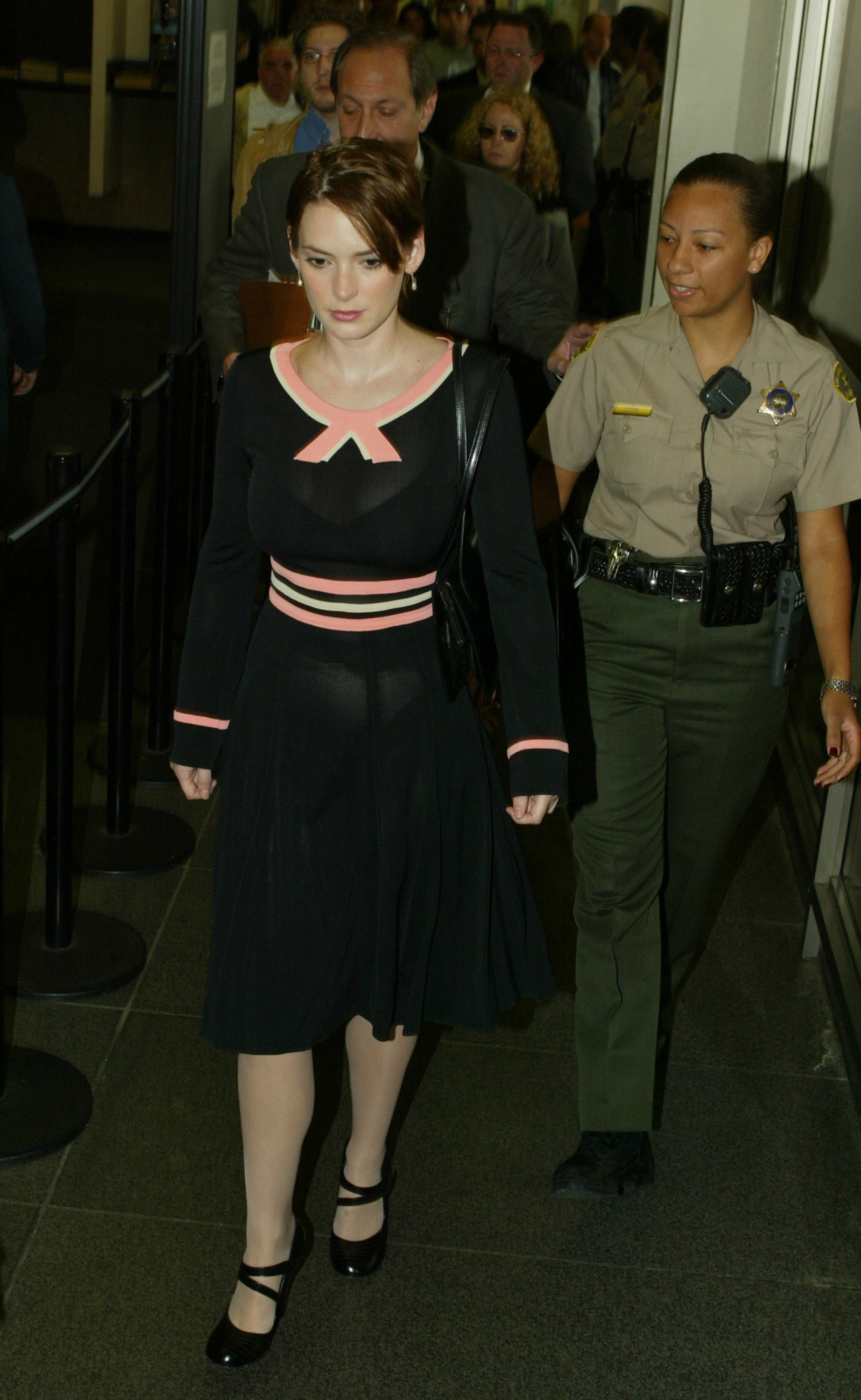 Courthouse fashion, 2001
In 2001, Winona was arrested on shoplifting charges in Beverly Hills, accused of stealing $5,500 worth of designer clothes including a Gucci dress, a Dolce & Gabbana purse, a Marc Jacobs sweater, and Calvin Klein socks from Saks Fifth Avenue. The subsequent trial was a media circus… and also somewhat of a fashion show, with Ryder's outfits garnering just as much scrutiny as the charges themselves. Setting the stage for 00s celebrity courtroom fashion (think Paris Hilton in a cropped herringbone blazer and prim headband, Lindsay Lohan in a wispy cocktail dress and Chanel tote), Winona arrived to her hearings in 50s-style floral dresses, white tights with black Mary Janes, schoolgirl pleats and Peter Pan collars, ankle-length wool coats, Fendi baguettes, and round-neck cardigans. Even the Robin Givham covered Winona's courthouse style, writing for The Washington Post, "Throughout her trial, Ryder looked splendid. For all of her courtroom appearances she was outfitted in a perfectly chic, refined and demure ensemble. She may be a shoplifter, but she has impeccable taste."
Marc Jacobs campaign, 2003
In 2001, Winona Ryder was arrested stealing $5,560 worth of designer clothing, including a $760 Marc Jacobs sweater. Two years later, and after Winona was convicted of the charges, Jacobs cast the actress in his 2003 womenswear campaign. Shot by Juergen Teller, Ryder posed in a skirt suit, similar to those she wore during her trial. It was a pointedly ironic move on Jacob's part, and, in an era before gimmicky marketing became the industry norm, it was genuinely shocking. Jacobs and Ryder have maintained a close designer-muse relationship throughout the years, with the designer labelling Ryder his "forever muse." Since the original 2003 campaign, Ryder has starred in the designer's AW15 campaign and has faced the Marc Jacobs Beauty line.